The Titanic Sub received global minute-by-minute coverage this week, which attracted a lot of different conversations, mainly the hypocrisy of the media for giving it so much attention, when more than 600 refugees drowning in a boat off Greece gained little coverage, and certainly not the logistical support the Titanic Sub received.
And today's news, which will be the week's news, is happening in Russia, after Yevgeny Prigozhin, head of the mercenary group Wagner, called for a rebellion against the army, but he has denied it is a coup. This action could have so many ramifications, so I'll be keeping an eye on it. You too?
Check out this Twitter thread for some interesting commentary on the situation.
However, the biggest story of the moment is the heat events happening across the globe, as well as extreme weather events smashing into communities. All of this is happening when summer in the Northern Hemisphere is just getting started, and records above 50°C are expected to be numerous in the coming months.
Here's a summary of some of the extremes
Abadan in Iran has recorded the highest temperature at 52.2°C on June 21 – the hottest temperature on earth this year!
We've seen reports of nearly 100 people dying in India from wet bulb temperatures, with more deaths being reported.
Off the coast of England and Wales, ocean temperatures are 5°C above normal. This could be catastrophic for life in the ocean, and no one seems to know how it will impact weather events on land. Definitely one to watch. The UK has also had nation-wide flood warnings.
China, which had the 70-day heat wave in 2022, is experiencing heat and extreme rainfall in different parts of the country.
Mexico is baking under a heat dome with children dying of extreme heat, and birds falling from the sky. Initially it was thought the birds were dying from bird flu, but no, it's heat.
Texas is in the "Ring of Fire" because it's being impacted at the edge of the heat dome currently over Mexico, which is feeding intense and severe weather, like the violent tornado in the West of Texas that happened this week, with more tornados, hurricanes, etc expected.
Canada is still on fire, but so is Kazakhstan with 60 million hectares burning since 8th June.
The Arctic is melting, Greenland is melting, the Himalayan Glaciers are melting faster than expected, and there's more talk of Antarctica melting at a rapid rate, not to forget the jet stream is going crazy, which creates extreme weather impacts.
Climate scientists are using the words – insane, astonishing, and at a loss for words. We've never seen these temperatures throughout the entirely paleo history record of earth, so no one knows what is to come.
And Australia's Bureau of Meteorology released this prediction for El Niño this week!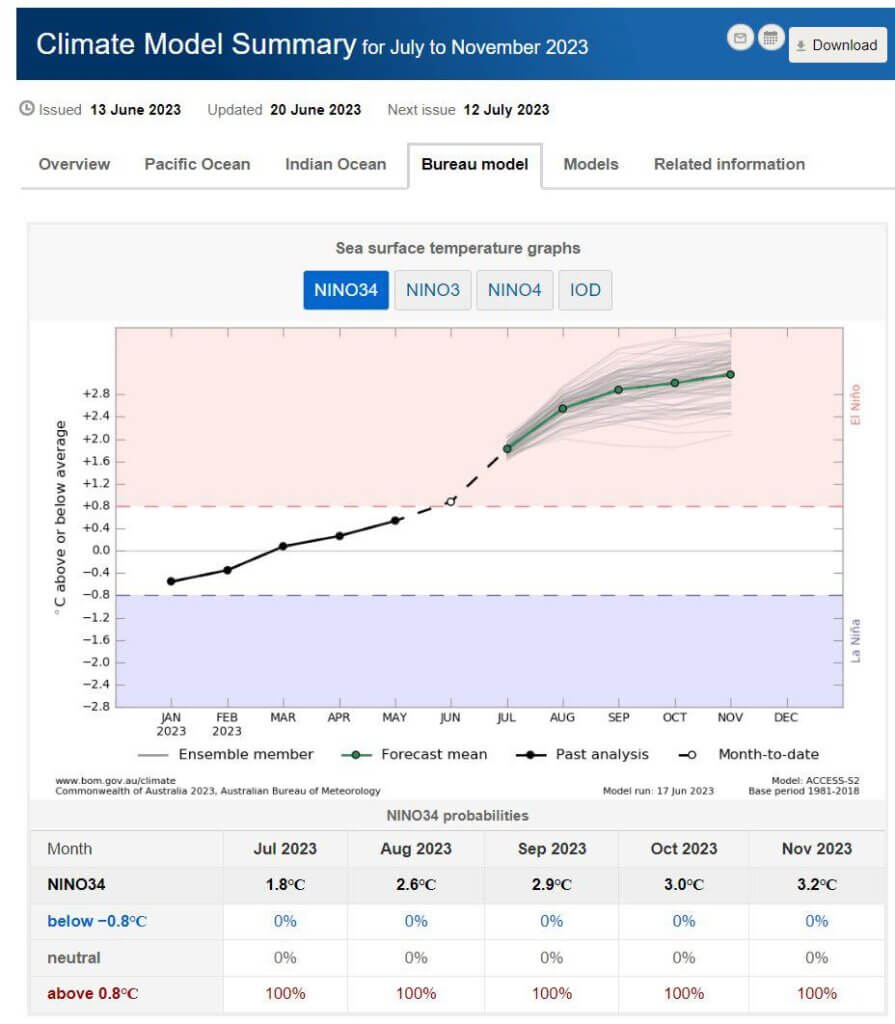 Please prepare for the risks you are facing based on where you live. This year and next will change the world, especially as El Niño is still not here. Here's a link to the ideas I've researched for getting prepared for wet bulb temperatures, which is expected to become the leading cause of deaths worldwide.
Let's get stuck into the reads.
Friend's content and mine
Mountaineer David Lim, Leader Of S'pore's 1st Everest Expedition, Talks About Letting Go In Retirement – terrific interview with David Lim and great advice on retirement too.
Fly Away (Little Bird) – Recycler One ft. Ruby Redl – my friend Gary Crausse wrote, produced and created the film for this song. I love it, because it's dedicated to his lovely wife Debbie, who went home to South Africa to spend time with her family. Love in action.
Donation time
If everyone gave #just10percent of their time, talent, money or voice, we'll change the world. Can you donate? Make it a regular donation to the World Food Programme. Or donate to the UN Refugee Program, Medicine Sans Frontier, PowerOf , Kiva.org , Soi Dog Foundation.  
Content to read
And here's the content I've been reading or watching this last week. Scan the headlines, read the ones that jump out at you, read or watch them all. Knowledge is power, and global knowledge is even more powerful.
Climate crisis
Weather tracker: extreme rainfall and heat hit China amid Asian heatwave
'The Fires Here Are Unstoppable'
"Current Climate Path Will Lead to Collapse of Life on Earth"
How 'tornado alley' is changing
Mexico bakes under killer heat wave
Maps reveal 'extreme' marine heatwave developing off the British coast – after the UK's warmest start to June in decades
Why 40°C is bearable in a desert but lethal in the tropics
'Unheard of' marine heatwave off UK and Irish coasts poses serious threat
In Mexico – Heat Extreme Killing Children, Birds
Triple-digit heat across Texas is forecast to break energy records
Scientists monitoring 'doomsday' glacier in Antarctic warn climate change happening faster than ever before
"Insane", "Astonishing" Jet Stream Leaves Scientists "At a Loss" for Words
Wet Bulb Temperature Soon to Become Leading Cause of Death
Aftonbladet investigation into H&M's recycling: Airtags in items
Ocean heat is off the charts – here's what that means for humans and ecosystems around the world
Ecological tipping points could occur much sooner than expected, study finds
This city records highest temperature in 70 years
Himalayan Glacier Loss Speeding Up, New Report Finds
Vanishing Himalayan glaciers threaten a quarter of humanity
India vows to tackle heatwave deaths as temperature soars
India heatwave: 96 people dead reportedly from heat-aggravated conditions
'We are gambling with the future of our planet for the sake of hamburgers': Peter Singer on climate change
Flood warnings issued for England as parts of the north are deluged
The Atlantification of the Arctic Ocean Is Underway
June 18 votes: results from across Switzerland
Antarctica's sea ice growth is at record lows. But it's more complicated than just climate change
Boeing Sees $8 Trillion Jet Market as Climate Reshapes Travel
Biggest-ever airliner order marks first day of Paris Air Show
"Cooking Them to Death": The Lethal Toll of Hot Prisons
USPS worker collapses, dies on the job in Dallas
A Family Legacy: Leadership or Broken Promises?
Jesus vs. Big Oil: Church of England divests
Ancient Amazon charcoal seen as next big thing in carbon markets
Bill Ford's Vision for a World Beyond Cars
World Refugee Day: How will climate change force us to rethink attitudes to mass migration?
Science Says Earth Is Dangerously Close To Total Chaos
Earlier collapse of Anthropocene ecosystems driven by multiple faster and noisier drivers
The River Rhine Is Starting to Dry Up Already — Two Weeks Into Summer
Needed: Either Degrowth or Two Earths
Open letter to Good Morning Britain
The dull way Americans are being forced to care about climate change risk: Insurance
E.coli 'found in Blackpool sea' following raw sewage discharge and no swim warnings across coast
Oil Lobby Pushed Pollution Loophole For Wildfire Smoke
Campaigners react as Bonn climate talks are dominated by impasse on agenda
Atmospheric Carbon Dioxide Tagged by Source
Concrete is a huge source of carbon emissions. These researchers are working to make it greener
Paris talks to focus on funding poor countries to tackle climate crisis
Swiss approve net-zero climate law
Climate Change Driving Behavior Changes Of 60% Americans, New Study Finds
Climate change is scarring Europe, and southern countries most of all
Europe is world's fastest warming continent: climate report
Climate change denial hit its stride in the Bush-Cheney era, precipitating today's climate disaster
Climate change: why we can't rely on regrowing coastal habitats to offset carbon emissions
Beyond borders: Why new 'high seas' treaty is critical for the world
This New Wildlife Sanctuary will be unlike any other part of the YOU.S. – and it's 6 times the size of Yosemite National Park
Australian mine sites screened for methane leaks by European group seeking full emissions picture
Catch-22: Scientific communication failures linked to faster-rising seas
Sustainability Development Report 2023
Why we should ration the distance each person can fly every year
Redesign Cities to Manage Extreme Heat, UN Official Urges
What does the UN high seas treaty mean for protecting the ocean?
UN adopts historic treaty to protect ecosystems in international waters
The scientist who raised dangers of carbon dioxide in 1950s
Farmers are Struggling With Climate Change, but Yields Continue to Rise. What's Going On?
Just Stop Oil: We are the Real Opposition
Chinese tourists caught handling starfish, corals tks Steve Johnson
Climate Change Will Force a New American Migration
Monday, June 12, 2023! Dr. Greer's Groundbreaking National Press Club Event!
Global politics
Wagner chief vows to topple Russian military leaders
US convenes nuclear weapons meeting with China, France, Russia, UK
US-China tensions: Biden calls Xi a dictator a day after Beijing talks
US and China pledge to stabilise tense relationship after talks
Modi US visit: Why Washington is rolling out the red carpet for Indian PM
Don't Debate Robert F. Kennedy Jr.
Surprise! Judge Cannon Isn't Running The Trump Documents Trial. Jack Smith Is
Hunter Biden to plead guilty to tax crimes and admit gun offence
Honours row grows after claim Charlotte Owen 'worked as maternity cover'
Brexit was bound to fail and has – we must now return to the centre of Europe, Lord Heseltine says
Apac countries 'less transparent' since pandemic
True Democracy Is Incompatible With Capitalism
Business and technology
Complaints about Grab 'anti-public transport' ad dismissed by Singapore advertising watchdog
The mid-career workers pivoting to dream jobs
Elon Musk: Australia threatens to fine Twitter over online hate
Elon Musk and Mark Zuckerberg agree to hold cage fight
Singapore's Grab cuts 1,000 jobs to stay competitive
Raising interest rates won't solve inflation
Social issues
The 3 Great Untruths Destroying Our Kids
Titanic sub search: US Navy detected implosion sounds after sub lost contact
Titan sub debris field: Parts of missing sub's cover found, expert says
Titanic tourist submersible goes missing with search under way
Hamish Harding, Shahzada Dawood and son Suleman: Who was on board Titanic sub?
Underwater noises heard in search for missing sub near Titanic wreck
White Evangelicals, This is Why People Are Through With You
Everybody in the US Is Getting Depressed, CDC Says
Greece boat disaster: BBC investigation casts doubt on coastguard's claims
Dave Bautista Says Getting Rich Made Him Miserable
Austrian police foil alleged Islamic State sympathisers' plot to attack Vienna pride parade
E257: Queer Eye Star Opens Up About Hitting Rock Bottom: Jonathan Van Ness The Diary Of A CEO with Steven Bartlett Podcast
Decades after polio, Martha is among the last to still rely on an iron lung to breathe
Nearly All Covid Deaths in US Are Now Among Unvaccinated
Deadly measles outbreak hits children in Samoa after anti-vaccine fears
Andrew Tate charged with rape and human trafficking
I Lived A Charmed Life. Then My Husband Went To Prison For Embezzling Millions.
Musk Incites Anti-Vaccine Conspiracists By Mischaracterizing Peter Hotez
Children raised under UK austerity shorter than European peers, study finds
New report warns long COVID could be "mass disabling event" tks Tom Abbot
Judge strikes down Arkansas ban on gender-affirming care for transgender minors
What the Teen-Smartphone Panic Says About Adults
One year after Roe v. Wade's reversal, warnings about abortion become reality
Woman who knocked on coffin at her funeral dies after week in hospital
Is there 'incomprehensible military activity' in the United States?
Passion, humour, history
Meet the Man Who Started the Illuminati
He ran out of countries to visit, so he created his own
You really are a mosquito magnet. Here's what you can do about it.
Coldplay add Jan 30 show after selling more than 200,000 tickets for 4 Singapore gigs
Let me know what jumped out at you? Or share with me what you're reading? I love that!
Cheers
Andrea
Want to get in touch?
All of my contact information is here on Linktree.
Environment education
Four environment resources to help you navigate this challenging territory.
Uncommon Courage: an invitation
Uncommon Courage is an invitation to be your courageous best self every day. It's also an antidote to the overwhelm, fear, and rage rolling around the world. But it's more than a book; it's an invitation to join an inclusive community that wants to better understand humanities challenges – both global and personal – in order to take courageous action and create a better world for everyone. If Covid19 has given us the time and space to reflect, Uncommon Courage gives us the nudge we need to create lasting change.
You can buy it on Amazon, Apple Books, Barnes & Noble, Book Depository, Booktopia, Smashwords, Kobo, Gardners, Odilo, Indie Bound, BookShop by BookTrib and Scribd.
Better yet, order it from your local bookstore, so you can #SupportLocal.
You can read the reviews, including a new five-star review on Book Commentary, another five-star review on ReaderViews, a review on BookTrib, and three more on Booklife, another on Book Commentary and Blue Ink Reviews. I'm also collating reviews on my Website too. Have a look and grateful to everyone who has written or recorded one.
Come and join the conversation in my Facebook Group Uncommon Courage.
Listen in to the Uncommon Courage, the podcast on Apple, Spotify and everywhere podcasts are published.
The Know Show
Check out The Know Show. It's a fortnightly wrap up of the news!
Climate Courage
A fortnightly conversation on issues that matter to you and I, focusing on the actions we can all take.
Listed by Book Authority in the 100 Best LinkedIn Books of All Time and 22 Best New LinkedIn eBooks To Read In 2021 and 2022 categories. Grab it today if you want to take your professional presence to the next level! When it comes to LinkedIn, it really is time to ask — can you really afford not to have this book in the hands of every employee?
Are you a Social CEO? The Social CEO: How Social Media Can Make You A Stronger Leader.
Want to claim your stage? Unleash Your Voice – Powerful Public Speaking for Every Woman
Feedback
Have I done a great job for you? Can you write a reference on my LinkedIn profile or on my Google Business page? If not for me, why not write one for someone else who inspires you or has helped you? Join the #GivingEconomy.