The Donald Trump show is in full swing, and the media are lapping it up as it always does, giving Trump a boost in ratings and potentially helping him secure the GOP nomination for the 2024 elections. Will it happen? Who knows, and as you'll see in the politics section, a lot is going on there.
However, there's even more going on with our planet. The record ocean temperatures have been getting actual mainstream media attention this week, and while no one seems to know what this means and how it will impact us, it's great to finally see this wider coverage. See the chart below for the North Atlantic Sea Surface Temperature Anomaly.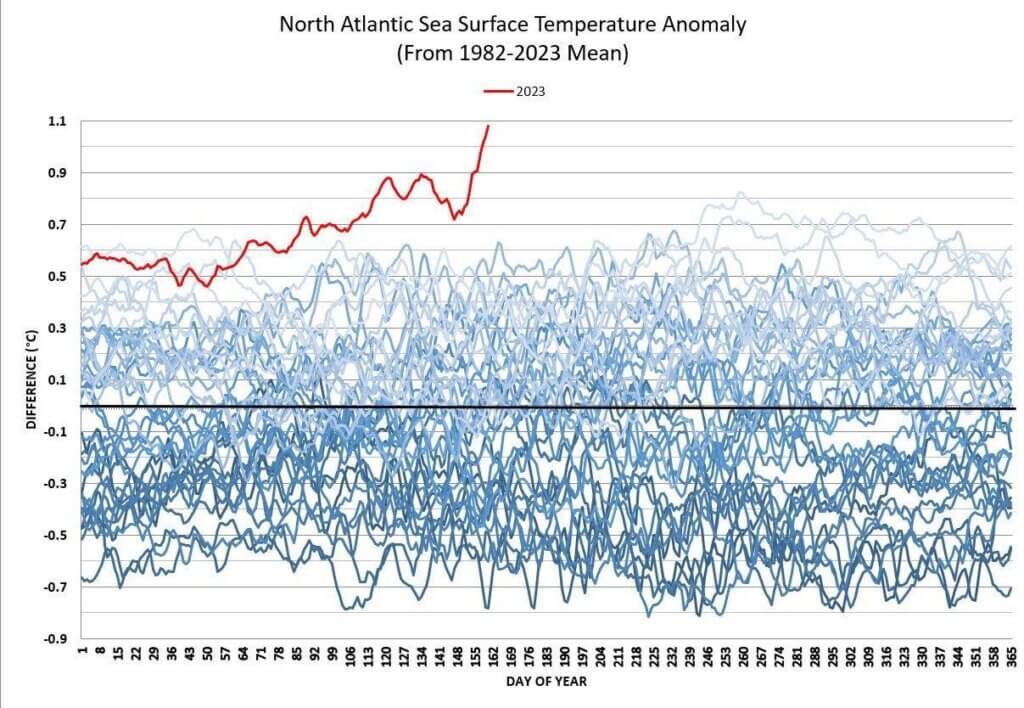 But there's another event, not getting mainstream media attention, and that is the Antarctic Sea Ice Extent Anomaly, which you can see in the graph below. This is even more concerning, as the South is firmly into winter now.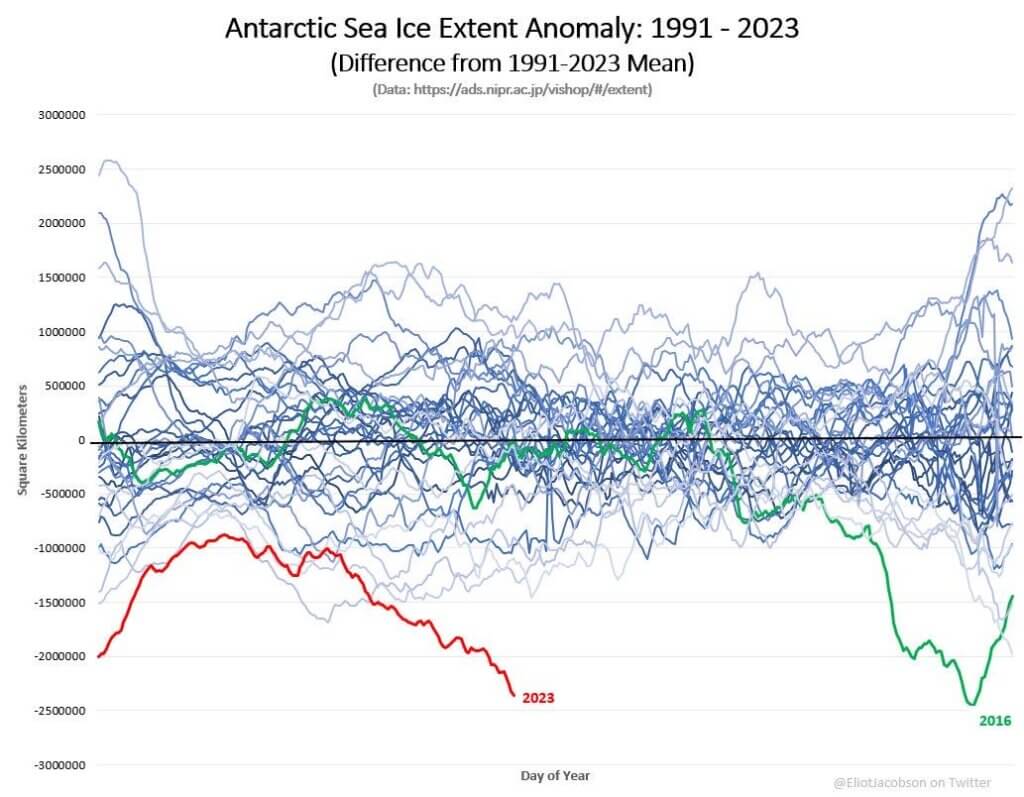 Both images are from Prof. Eliot Jacobson, who shared them on Twitter, he is one of the climate commentators I follow.
This is all extremely concerning for sure, and while many of us feel useless right now, we must rapidly prepare for what is to come or is already here. The risks are wide and varied, including heat extremes, droughts, floods, fire, landslides, hurricanes, typhoons, crop losses and more. We need to prepare our homes, understand what risks we face and work out what we can do about it, support our fire fighters, plant gardens, and we also need to help those who can not afford to do what they need to do to get ready.
I don't understand why we are still in this space of denial, especially with our leaders and the media, but if they are not going to do what is needed to keep their citizens prepare and be as safe as possible, then we must act ourselves.
Please understand the risks you face and start preparing. Then bring your community together and get to work. The next two years are expected to see heat extremes we have never seen before, which is why I wrote this long article on preparing for wet bulb temperatures. I encourage you to read it and implement some of these ideas as quickly as you can.
Right into the reads. Lots and lots going on as always.
Friend's content and mine
Big shout out to my sister, Phillipa Edwards OAM, who was awarded the Medal of the Order of Australia for her services to music through brass bands, in the King's Birthday Honours List. But she also received the Janice Valma Davey OAM Memorial Award too. One the citation for the award said Phillipa demonstrated, "…a passion that speaks volumes about her dedication and love of the brass band movement and the many individuals she has introduced, taught and nurtured throughout the brass band world, specifically within Victoria." Congratulations Mam, proud of you! Double honour for Phillipa Edwards
Shout out to my friend, Andy Milroy for joining me on Climate Courage, with the focus – propaganda, misinformation, lies.
Donation time
If everyone gave #just10percent of their time, talent, money or voice, we'll change the world. Can you donate? Make it a regular donation to the World Food Programme. Or donate to the UN Refugee Program, Medicine Sans Frontier, PowerOf , Kiva.org , Soi Dog Foundation. It's a time for giving and taking care of each other.
Content to read
And here's the content I've been reading or watching this last week. Scan the headlines, read the ones that jump out at you, read or watch them all. Knowledge is power, and global knowledge is even more powerful.
Climate crisis
'The fire equivalent of an ice age': Humanity enters a new era of fire
Oil Change International responds to UN Secretary General António Guterres speech
World breaks average temperature record for early June
Welcome to the Great Unravelling: Navigating the Polycrisis of Environmental and Social Breakdown
US weather: Texas braces for heatwave after deadly tornado
Bonn climate talks stall over money, ramping up pressure on COP28
'We know how to kill it': Irish national park battles slow-motion ecological calamity
Siberia swelters in record-breaking temperatures amid its 'worst heat wave in history'
Heat Index Temps Near 120° in Texas
Brutal Southeast Asia heat wave shatters all-time records across multiple countries
Mumbai Records Hottest Day In 10 Years in June, No Relief From Heat in Coming Days
Spike in ocean heat has scientists questioning; Have we breached a climate tipping point?
With apocalyptic orange skies come fresh thoughts of the climate crisis. Let's take a moment to consider a climate-related food system collapse.
Siberia is suffocating with 40°C and records its worst heat wave in its recent history!
Antarctic tipping points: the irreversible changes to come if we fail to keep warming below 2℃
Climate scientists: concept of net zero is a dangerous trap
Unusual Ocean Anomalies are being detected in the North Atlantic, impacting the Atlantic storm systems as we head into the Summer season
Extremely dry spring leaves southern Albertan farmers on the road to 'zero production'
None of the world's top industries would be profitable if they paid for the natural capital they use
Firefighters battle forest fire in Dumfries and Galloway
ECB flags stark economic risks from biodiversity loss
Coastal biomedical labs are bleeding more horseshoe crabs with little accountability tks David Ko
Montana kids' climate case set to make history
Why buying locally produced food is better for society
Media blames 'climate change' for Canadian wildfires despite arrest of multiple arsonists
The Ocean Is Becoming More Stable, And The Consequences May Be Dire, Scientists Warn
Canada's Wildfires Expose the Climate Change 'Spiral of Silence'
Army of fake social media accounts defend UAE presidency of climate summit
Greenhouse gas emissions are at an all-time high and Earth is warming faster than ever
We must set planetary boundaries wisely
Population Decline Will Change the World for the Better
Look out! Here come The Elders…
Ukraine's Zaporizhzhia nuclear plant shuts down last reactor in face of flooding threat
In Blue Colorado, Oil and Gas Companies Try a New Approach to Woo Democrats
Planet of the Narcissists: Orbiting Towards Unconsciousness
More than 60 billion leaf litter invertebrates died in the Black Summer fires. Here's what that did to ecosystems
Exhausted crews battle Canadian wildfires as experts issue climate warning
The Planet Can't Sustain Rapid Growth Much Longer
'Headed off the charts': world's ocean surface temperature hits record high
125-degree heat index: Puerto Rico faces 'dangerous situation' due to record-breaking conditions
I Spent My Life Saving the Whales. Now They Might Save Us
Physicists predict Earth will become a chaotic world, with dire consequences
Biparjoy: India state on alert over 'extremely severe' cyclone
UK heatwave prompts National Grid to fire up coal plant to meet aircon demand
Physicists predict Earth will become a chaotic world, with dire consequences
Queensland budgets $19bn for shift to renewables, in huge push away from coal
From the oceans to 'net zero' targets, we're in denial about the climate crisis
Salford Quays: Hundreds of fish found dead after hot weather
'Drought is on the verge of becoming the next pandemic'
Carbon dioxide in our atmosphere hits high not seen for millions of years, threatening accelerated global heating
Abrupt expansion of climate change risks for species globally
Fears of hottest year on record as global temperatures spike
Shell drops target to cut oil production as CEO aims for higher profits
Can We Mine the World's Deep Ocean Without Destroying It?
Why recent water temperatures in the North Atlantic have scientists buzzing
Cyclone Biparjoy: India, Pakistan evacuate more than 170,000
IEA chief: Fossil fuel investment 'may not be really profitable' long term tks David Ko
What Happens If… We Actually Exceed 1.5°C In Global Warming?
'Not a chance in heaven' to save Great Barrier Reef, but botanic garden will keep corals
How the Environmental Movement Can Find Its Way Again
Return of the lions: Large protected areas in Africa attract apex predator
Overshoot: Why It's Already Too Late To Save Civilization
Global politics
Russian regions: savings, personnel purge, and the old Beholder
Dmitry Mishov, Russian airman who defected, gives BBC interview Published
Valery Zaluzhny, the man behind Ukraine's counter-offensive
Ukraine war: Putin confirms first nuclear weapons moved to Belarus
North Korea: Residents tell BBC of neighbours starving to death
Nicola Sturgeon arrested in SNP finances inquiry
Caroline Lucas: Why I am stepping down as an MP at the next election
Punishingly brutal report is devastating for Boris Johnson
Tories turning against angry version of Boris Johnson
Anger as Labour Refuses to Back Bid to Stop Government Quietly Changing Definition of Disruptive Protest
Former Italian prime minister Silvio Berlusconi dies at 86
President Biden closes gun control speech with 'God save the Queen'
The Conservative War on Everything
Trump's Latest Indictment Is Also About the Future of the Country The Political Scene | The New Yorker Podcast
Three cheers for Christie's takedown of Jared Kushner | Moran
Special Episode: A Second Trump Indictment The Daily Podcast
Trump Didn't Break America, He Revealed Our Brokenness
Sweeping 37-count indictment alleges Trump hoarded national secrets, orchestrated obstruction of investigation
The Indictment of Donald Trump Is American Democracy's Last and Final Chance
The Full Indictment Read by Ali Velshi Prosecuting Donald Trump Podcast
Fears that Republicans' rhetoric after Trump indictment could spark violence
Trump Indictment Shows Critical Evidence Came From One of His Own Lawyers
Trump's favourability rises in poll despite indictment
Trump's court drama turbo-charges his campaign
The Psychiatrist Who Warned Us That Donald Trump Would Unleash Violence Was Absolutely Right
This County Chose an Election Denier, 9/11 Truther, and QAnon Conspiracist to Run Its Elections
Business and technology
Why millions of usable hard drives are being destroyed tks David Lim
Social issues
Sharp decline in appetite for news in recent years, Reuters Institute says
Heart and Soul: Swiss Christians and conversion therapy The Documentary Podcast
Ted Kaczynski, known as the Unabomber for years of attacks that killed 3, dies in prison at 81
Hunter Valley: Ten people killed in wedding bus crash in Australia
Congenital Syphilis Rates Up 900% Among Mississippi Babies, Expected to Grow
Nine out of 10 people are biased against women, says 'alarming' UN report
Jocelyn Chia: US comedian calls Malaysia's reaction to MH370 joke 'ridiculous'
Norovirus situation improves in Phuket, health chief confirms
Local residents mobilise to help survivors of deadly migrant shipwreck off Greek coast
Greece boat disaster: Capsized boat had 100 children in hold, BBC told
COVID-19 is a leading cause of death in children and young people in the US
Why Spotify's big bet on Meghan fell flat
Passion, humour, history
Kylie Minogue – Padam Padam (Official Video)
Kylie Minogue scores her first top 10 hit since 2010 – but what does Padam Padam mean?
Trombonist soldier tries to play on after fainting
How Saudi Arabia Took on Pro Golf — and Won The Daily Podcast
Let me know what jumped out at you? Or share with me what you're reading? I love that!
Cheers
Andrea
Want to get in touch?
All of my contact information is here on Linktree.
Environment education
Four environment resources to help you navigate this challenging territory.
Uncommon Courage: an invitation
Uncommon Courage is an invitation to be your courageous best self every day. It's also an antidote to the overwhelm, fear, and rage rolling around the world. But it's more than a book; it's an invitation to join an inclusive community that wants to better understand humanities challenges – both global and personal – in order to take courageous action and create a better world for everyone. If Covid19 has given us the time and space to reflect, Uncommon Courage gives us the nudge we need to create lasting change.
You can buy it on Amazon, Apple Books, Barnes & Noble, Book Depository, Booktopia, Smashwords, Kobo, Gardners, Odilo, Indie Bound, BookShop by BookTrib and Scribd.
Better yet, order it from your local bookstore, so you can #SupportLocal.
You can read the reviews, including a new five-star review on Book Commentary, another five-star review on ReaderViews, a review on BookTrib, and three more on Booklife, another on Book Commentary and Blue Ink Reviews. I'm also collating reviews on my Website too. Have a look and grateful to everyone who has written or recorded one.
Come and join the conversation in my Facebook Group Uncommon Courage.
Listen in to the Uncommon Courage, the podcast on Apple, Spotify and everywhere podcasts are published.
The Know Show
Check out The Know Show. It's a fortnightly wrap up of the news!
Climate Courage
A fortnightly conversation on issues that matter to you and I, focusing on the actions we can all take.
Listed by Book Authority in the 100 Best LinkedIn Books of All Time and 22 Best New LinkedIn eBooks To Read In 2021 and 2022 categories. Grab it today if you want to take your professional presence to the next level! When it comes to LinkedIn, it really is time to ask — can you really afford not to have this book in the hands of every employee?
Are you a Social CEO? The Social CEO: How Social Media Can Make You A Stronger Leader.
Want to claim your stage? Unleash Your Voice – Powerful Public Speaking for Every Woman
Feedback
Have I done a great job for you? Can you write a reference on my LinkedIn profile or on my Google Business page? If not for me, why not write one for someone else who inspires you or has helped you? Join the #GivingEconomy.