There is a lot of very important news this week to dive into, but I wanted to give a hat tip to Prince Harry for taking the Mirror Group to court in a hacking trial. Now I know he's a figure that attracts lots of attention – positive and negative – and honestly, I couldn't care less about any of it, but this story is a good one!
I have never been a reader of the tabloid press, in fact, the type of stories and how journalists go about getting them, has always revolted me. The other side, of course, is tabloid media is the ultimate shiny stuff spinner, designed to distract us from the more serious matters of the day. So no, it's not for me and never has been.
Will he win? Who knows and I don't even think it matters. He is getting an important message out into the British market and it's a long overdue reckoning. I'd like to see it make a difference, but maybe a few more thousand people will stop spending their money on this terrible source of media, who knows?
In case you didn't know, Prince Harry, the Duke of Sussex, is the first senior member of the Royal Family in more than 130 years to give evidence to a civil court. He is also one of the British establishment's very own – a prince of the realm, no less – to expose what he alleges was illegal information gathering by one of this country's major tabloid newspaper groups.
Lots of great information is coming out, but one of the headline statements is: 'If they're supposedly policing society, who on earth is policing them?' Obviously referring to the media.
Who indeed. So many of the media groups across the world are doing a terrible job right now, some worse than others. Always in my line of sight is anything the Murdoch empire owns, but most media are failing audiences and not uniting humanity and moving us forward in the direction we need to go. This is an issue that needs to be fought in every corner of the world.
So yeah, it's time for a reckoning and if the person to start that is Prince Harry, then he gets a big bravo from me.
Just a quick final point, if you feel compelled to share with me why you hate Prince Harry, I want you to know in advance, I just don't care. I really really don't. I'm not being unkind; I literally just don't care.
Right let's get stuck into the reads – another big week in the news.
Friend's content and mine
Have you ever checked out The Know Show? Great job Joe Augustin and Rae Fung. Really enjoyed this conversation.
Adaptation for wet bulb temperatures (the short version) – I shared my wet bulb temperature tome last week, and this version is shorter, focusing on the actions we can take to get prepared. Preparing for wet bulb temperatures is critical, and as you'll see below, the Singapore Government will soon be releasing guidance to its citizens on getting prepared for hotter temperatures. The time to adapt is now, not when the heat hits.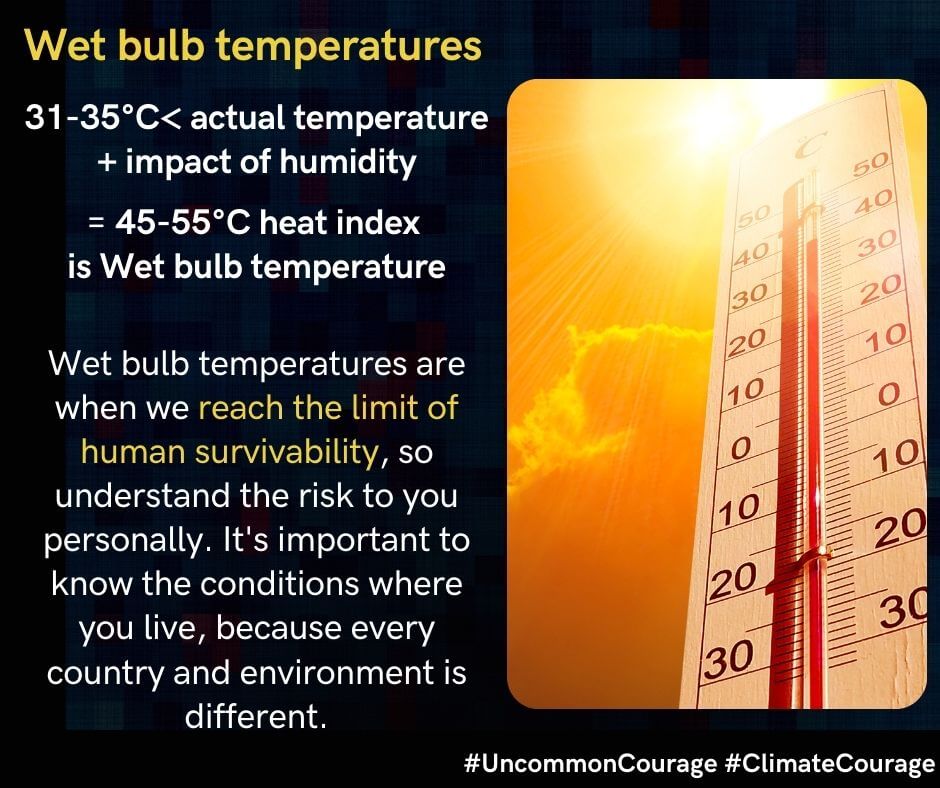 Donation time
If everyone gave #just10percent of their time, talent, money or voice, we'll change the world. Can you donate? Make it a regular donation to the World Food Programme. Or donate to the UN Refugee Program, Medicine Sans Frontier, PowerOf , Kiva.org , Soi Dog Foundation. It's a time for giving and taking care of each other.
Content to read
And here's the content I've been reading or watching this last week. Scan the headlines, read the ones that jump out at you, read or watch them all. Knowledge is power, and global knowledge is even more powerful.
Climate crisis
Countries must put aside national interests for climate crisis, UN says
BP and Shell bosses among oil execs given £15m for 'protecting environment'
Too late now to save Arctic summer ice, climate scientists find
Australia issues El Niño warm weather alert
Indonesia preparing 'very well' for haze amid possible return of El Nino, says minister
How climate change is causing 'mega-fires' and forcing people to migrate in Portugal
El Niño may push heating past 1.5C but urgent action could avert catastrophe
Broken record: Atmospheric carbon dioxide levels jump again
Bangladesh forced to shut biggest coal units in heatwave due to lack of coal
World has lost battle to stop glaciers melting and sea level rising, UN meteorological chief says
Water Crisis Threatens Alcoholic Drinks Supply, Top Distiller Diageo Warns
Japan releases seawater into tunnel built for Fukushima nuclear contaminated water
Qatar Airways CEO says aviation industry will miss 2050 net zero target
Climate Crisis Is on Track to Push One-Third of Humanity Out of Its Most Livable Environment
Countries have not yet agreed to put fossil fuel phase-out on Cop28 agenda
Degrowth and Aotearoa Politics: Notes from Europe
Carbon capture and storage is 'no free lunch', warns climate chief
Millions breathing hazardous air as smoke from Canadian wildfires streams south over US
Even As Smoke Engulfs Us, We Can't Wrap Our Heads Around Climate Change
The uncomfortable reality of life on Earth after we breach 1.5°C
"Current Climate Path Will Lead to Collapse of Life on Earth"
To create serious movement on climate change, we must dispel the myth of indifference
"Green" finance bankrolls forest destruction in Indonesia
I spend my days staring at the ocean. Trust me, plastic in our waters is a global crisis
Plastic bottles harm human health at every stage of their life cycle
Microplastics found in every sample of water taken during the Ocean Race
I love electric vehicles – and was an early adopter. But increasingly I feel duped
Regardless of What Mr. Bean Says, EVs Are Much Better for the Environment than Gasoline Vehicles
Fact check: why Rowan Atkinson is wrong about electric vehicles
How climate change is causing housing market chaos
Heavy rain triggers evacuation warnings in Japan
'Only going to get worse': Asia's record-shattering heatwaves raise fears over climate change
The Science We Need to Assess Marine Carbon Dioxide Removal
Singapore coordinating action plans amid higher haze risk tks Kevin Cottam
Why Singapore is the only place in the world selling lab-grown meat
Australia: Watch moment trapped humpback whale is cut free
The Age of the Idiot Versus the Age of Extinction
Carnival Sunshine was battered by rough weather. 'It was terrifying,' passenger says
How Collective Climate Anxiety Is Shaping What We Wear
Iraq's oil boom blamed for worsening water crisis in drought-hit south
3M Heads to Trial in Existential $143 Billion Forever-Chemicals Litigation
Dinosaurs Survived When CO2 Was Extremely High. Why Can't Humans?
The multinational companies that industrialised the Amazon rainforest
The killer orcas aren't winning. They could be self-sabotaging
As summer opens gates of hell on cities, heatwaves get deadlier than ever
A Path-breaking Innovation in Climate Journalism
Opinion | The Climate Solution That's Horrible for the Climate
Is Wisconsin heading toward a drought?
Is a post-car future actually possible? Experts say yes — here's how we could get there
World Environment Day brings solutions to plastic pollution into focus
UK no longer following EU guides on cutting safe levels of BPA plastic containers
Excessive Heat Watch Is In Effect for the USVI and Puerto Rico This Weekend
Federal data forecasts grim wildfire season this summer
Air quality improves in New York City, Tri-State after smoke from Canada wildfires
Phuket bans small boats from leaving shore until end of week
The earth has Bipolar Disorder: and so do we
Stop Telling Kids They'll Die From Climate Change
Climate change puts chief heat officers in the hot seat tks Susannah Hasenoehrl
Calls for landlords to face mandatory solar installation for tenants as energy divide widens
An oil state hired the biggest PR firms to buff its climate image. It didn't help.
Pigs, rabbits and fish are dying from searing temperatures in China
Greenhouse gas emissions at 'all-time high' causing unprecedented rate of global warming, warn scientists
El Niño planet-warming weather phase has begun
The Climate Crisis Was Always Real. Now It's in Your Lungs
Singapore to launch guide on how to live and play in hotter weather tks Susannah Hasenoehrl
Eco-Anxiety and Climate Change by a College Freshman
Global politics
Poland: Thousands protest over new law
Zelenskyy slams 'Russian terrorists' for blowing up Nova Kakhovka dam in Kherson region
War zone villagers flee after massive Ukraine dam destroyed
Water gushes through damaged Ukraine dam
China's war chest: how Beijing has rearranged the diplomatic pieces ahead of a potential conflict
I've been forced out over Partygate report, says Boris Johnson
How misinformation feeds authoritarian politics
Donald Trump told he could face charges over classified documents
Donald Trump indictment: Seven charges over classified documents case
Video shows Florida Republican begging Latinos not to leave
Florida Republicans Admit They Made a Big Mistake With Anti-Immigrant Law
Ex-Vice-President Mike Pence joins White House race
Mark Meadows' Lawyer Denies Report of Plea Deal
Congressional 'Gang of 8' gains access to Trump, Biden and Pence documents
What's in the Trump indictment: US nuclear secrets and files kept in shower
How Republican voters reacted to Trump's indictment
NATO/Ukraine: Playing Russian Roulette with Complex Life | Frankly #33
Business and technology
Prince Harry Takes a Stand for Us All: 'If They're Supposedly Policing Society, Who On Earth is Policing Them?'
Prince Harry appears to fight back tears and says press intrusion has been 'a lot' during evidence in Mirror Group hacking trial – as it happened
Ducking hell! Apple to tweak autocorrect that replaces one of the most common expletives
A company replaced all of its managers with coaches. Employees became 20% more productive–and much happier
Chris Licht To Step Down At CNN
Fox News tells Tucker Carlson he violated his contract with new Twitter show
CNN's Christiane Amanpour says she disagrees with Trump town hall, confronted boss Chris Licht
Tucker Carlson Posts First Installment of New Show on Twitter
Psychologists have finally figured out why your toxic colleagues climb to the top at work
F45 co-founder buys $25.5m Barangaroo apartment
Social issues
The Bill establishing Creative Australia, Music Australia & Creative Workplaces has passed the House
Former Gun Company Executive Explains Roots of America's Gun Violence Epidemic
Inside the Taliban's war on drugs – opium poppy crops slashed
How Target went from loud and proud — to silent
Odisha train crash: Why derailments are a problem for Indian Railways
Agutaya archipelago doctor who cared for 13,000 people on her own
Catching the men who sell subway groping videos
Kathleen Folbigg: Misogyny helped jail her, science freed her
How to speak so that people want to listen
What's in melatonin—and is it giving you nightmares?
Foreign Man Shot in a Car in Phuket, Suspect Flees
John Cleese's War on Wokeism
A heartwarming rescue has turned sour after M'sian climber was accused of blocking his rescuer on Instagram tks David Lim
Wolverine spotted for the second time ever in California in the last 100 years
More people than ever are looking for a flatmate, with more 55+ people searching
Singapore Foreign Minister Vivian Balakrishnan condemns comedian Jocelyn Chia's act
Hospitals inundated as norovirus infections rise
Moment 113 – Why You're Not Having Sex & How To Get It Back: Jay Shetty The Diary Of A CEO with Steven Bartlett Podcast
A Conversation with Trevor Noah and Melinda French Gates
Passion, humour, history
The Vatican just revolutionized the way it investigates apparitions and other mystical phenomena around Virgin Mary sightings tks Claire Kielty
What did Stonehenge sound like?
Sinéad O'Connor Documentary 'Nothing Compares' Reexamines Her Complicated Story
11 Hannah Waddingham Moments That Cemented Her Status As A Queen Of The Screen
Prehistoric cave paintings discovered in Spain using drones
Let me know what jumped out at you? Or share with me what you're reading? I love that!
Cheers
Andrea
Want to get in touch?
All of my contact information is here on Linktree.
Environment education
Four environment resources to help you navigate this challenging territory.
Uncommon Courage: an invitation
Uncommon Courage is an invitation to be your courageous best self every day. It's also an antidote to the overwhelm, fear, and rage rolling around the world. But it's more than a book; it's an invitation to join an inclusive community that wants to better understand humanities challenges – both global and personal – in order to take courageous action and create a better world for everyone. If Covid19 has given us the time and space to reflect, Uncommon Courage gives us the nudge we need to create lasting change.
You can buy it on Amazon, Apple Books, Barnes & Noble, Book Depository, Booktopia, Smashwords, Kobo, Gardners, Odilo, Indie Bound, BookShop by BookTrib and Scribd.
Better yet, order it from your local bookstore, so you can #SupportLocal.
You can read the reviews, including a new five-star review on Book Commentary, another five-star review on ReaderViews, a review on BookTrib, and three more on Booklife, another on Book Commentary and Blue Ink Reviews. I'm also collating reviews on my Website too. Have a look and grateful to everyone who has written or recorded one.
Come and join the conversation in my Facebook Group Uncommon Courage.
Listen in to the Uncommon Courage, the podcast on Apple, Spotify and everywhere podcasts are published.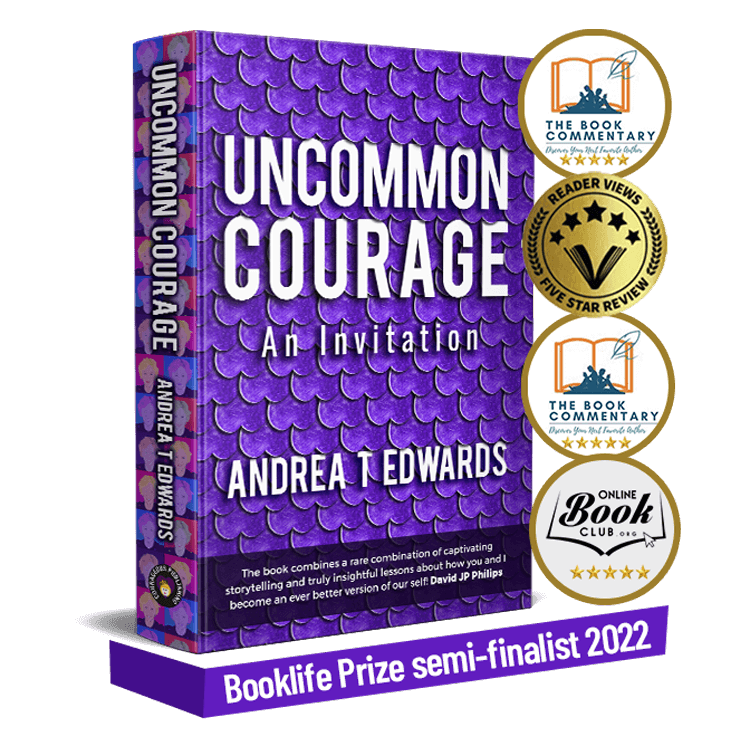 The Know Show
Check out The Know Show. It's a fortnightly wrap up of the news!
Climate Courage
A fortnightly conversation on issues that matter to you and I, focusing on the actions we can all take.
Listed by Book Authority in the 100 Best LinkedIn Books of All Time and 22 Best New LinkedIn eBooks To Read In 2021 and 2022 categories. Grab it today if you want to take your professional presence to the next level! When it comes to LinkedIn, it really is time to ask — can you really afford not to have this book in the hands of every employee?
Are you a Social CEO? The Social CEO: How Social Media Can Make You A Stronger Leader. 
Want to claim your stage? Unleash Your Voice – Powerful Public Speaking for Every Woman 
Feedback
Have I done a great job for you? Can you write a reference on my LinkedIn profile or on my Google Business page? If not for me, why not write one for someone else who inspires you or has helped you? Join the #GivingEconomy.