In the news this week, we saw the US debt ceiling deal agreed averting economic collapse, a devastating Indian train crash with deaths increasing, Andrew Tate's interview on the BBC, crazy fires in three parts of Canada, the EU threatening to ban Twitter across the whole continent, the rise of drought impacts on food supplies (Georgia has lost 90% of its peaches), Erdogan has retained power in a very divided Turkey, and so much more, but the story that got my attention is, the earth's health is failing in seven out of eight key measures.
The report by the Earth Commission, is a group of scientists that have presented disturbing evidence that our planet faces growing crises of water availability, nutrient loading, ecosystem maintenance and aerosol pollution. These pose threats to the stability of life-support systems and worsen social equality.
Prof Johan Rockström, who is one of the lead authors, is quoted as saying: "We have reached what I call a saturation point where we hit the ceiling of the biophysical capacity of the Earth system to remain in its stable state. We are approaching tipping points, we are seeing more and more permanent damage of life-support systems at the global scale."
It's an interesting approach, comparing it to vital signs of the human body. Rather than a measure of pulse, temperature and blood pressure though, it looks at water flow, phosphorus use and land conversion. The good news is we aren't terminal yet.
Joyeeta Gupta, the Earth Commission co-chair and professor of environment and development in the global south at the University of Amsterdam, said: "Our doctor would say the Earth is really quite sick right now in many areas. And this is affecting the people living on Earth. We must not just address symptoms, but also the causes."
Here's the report in Nature: Safe and just Earth system boundaries
And here's a great Guardian take on it: Earth's health failing in seven out of eight key measures, say scientists
And another from Euronews: 'Sick' planet: Earth is past almost all of its safe limits for humans, scientists say
What can we do?
We need to transform how we live, work, travel, and play – right across the board.
We need to live in harmony and balance with earth, as we've been in overshoot for decades.
We need to rewild the world, making nature the priority, not us, and we need to do it rapidly.
I've put an action plan together on adapting to hotter temperatures, and there are many ideas in here we can all embrace. Give it a read, it's in the section below.
I really recommend reading this article too – The Former Extinction Rebellion Campaigners Rallying A Climate Majority – let's build that majority. It's our best chance of success, coming together and working together.
Friend's content and mine
Unlocking the Secrets of Dairy: Say Goodbye to Bloating and Discomfort! – great piece by Elika Tasker on dairy, a journey I've been on for a while, attempting to move away from it.
Eatery owners bring travels to the table to hook locals – a great story on my pals Donna and Scot Toon, who've set up the cafe Brighton Beach House in Christchurch, New Zealand. Check it out it out and say hi from me if you go.
Love of paper books continues in digital age for this avid reader with 3,000-plus books in her shed a childhood friend, Melissa Boyes, is sharing her love of books and getting some recognition for it – congratulations woman, Genevieve and Emma would be so proud.
I published this tome this week Climate courage: get ready for wet bulb temperatures aka when it's 'too hot to live' – essentially a blueprint for how we can get ready for wet bulb temperatures because the urgency is now here. From simple to complex, I've attempted to think through it all, but open to feedback on anything I've missed, as well as translation partners. I'd love to get this in front of the most vulnerable in the Global South.
Donation time
If everyone gave #just10percent of their time, talent, money or voice, we'll change the world. Can you donate? Make it a regular donation to the World Food Programme. Or donate to the UN Refugee Program, Medicine Sans Frontier, PowerOf , Kiva.org , Soi Dog Foundation. It's a time for giving and taking care of each other.
Content to read
And here's the content I've been reading or watching this last week. Scan the headlines, read the ones that jump out at you, read or watch them all. Knowledge is power, and global knowledge is even more powerful.
Climate crisis
How Plants Cool the Planet
Earth's health failing in seven out of eight key measures, say scientists
'Sick' planet: Earth is past almost all of its safe limits for humans, scientists say
More than 800m Amazon trees felled in six years to meet beef demand
New research suggests wheat crops may be threatened by unprecedented heat and drought
Warming climate could turn ocean plankton microbes into carbon emitters – British Ecological Society
Climate change protest: a single radical gets more media coverage than thousands of marchers
Pesticide firms withheld brain toxicity studies from EU regulators, study finds
'Degrowth' starts to move in from Europe's policy fringes
Georgia peach crop decimated by bad weather, warming climate
JOHN DeMONT: The wildfires are my environmental tipping point
Temperature in Oman continues to rise, crosses 46 degrees
Climate paradox: Emission cuts could 'unmask' deadly face of climate change, scientists warn
Climate change could increase inflation by 1% a year over the next decade, but it's your food that's going to get really expensive
U.N. slams carbon removal as unproven and risky
Earth system justice needed to identify and live within Earth system boundaries
Why Climate Change Is Not an Environmental Issue tks Andy G. Schmidt
Breathing is going to get tougher
What we now know about the 2023 El Niño
'Don't F&*! The Planet': Atlassian issues net zero guide for companies cutting climate impact
Antarctic Sea Ice Is at Record Lows. Is It an Alarming Shift?
'Isn't Journalism about Finding New Stories?': The Climate News the Media Ignores
How Global Rice Farming Is Being Transformed by Climate Change The UN's low-ambition plastics plan supports industry at humanity's expense
El Nino costs trillions in lost economic growth, study shows
Rising global temperatures point to future widespread droughts
As Ocean Oxygen Levels Dip, Fish Face an Uncertain Future
Is COP28 destined to be a flop?
Rapidly increasing likelihood of exceeding 50 °C in parts of the Mediterranean and the Middle East due to human influence
Even 50-year-old climate models correctly predicted global warming
James Hansen Warns of a Short-Term Climate Shock Bringing 2 Degrees of Warming by 2050
Record levels of heat worldwide in next five years
Shanghai breaks more than century-old heat record in sweltering May
Prolonged, intense heat expected from June to October, raising risk of haze, fires in south Asean
Climate change can cause a collapse of life on earth, claim scientists
As Asian heatwaves require burning more fossil fuels, fears of a slower transition grow
'In a hot oven': India heatwaves take a toll on most vulnerable
Record heat waves push India closer to limit of human survival
Drought fuels water conflict in France, Spain as farmers face fury
'Unprecedented' Nova Scotia wildfires expected to worsen, officials warn
California's epic melting snowpack means cold, deadly torrents ahead of Memorial Day weekend tks Steve Johnson
Your Coming Summer of Blackouts
Aussie tourist left in tears after Thailand 'monkey show'
Trolled in science: "Hundreds of hateful comments in a single day"
For Your Phone and EV, a Cobalt Supply Chain to a Hell on Earth
Knowledge overconfidence is associated with anti-consensus views on controversial scientific issues
Envisioning environmental equity: climate change, health, and racial justice
Impossible Burger Attacks Moms for Publishing Pesticide Results
The aviation industry has emerged as a significant contributor to greenhouse gas emissions.
Insurance giant halts sale of new home policies in California due to wildfires
Tear gas fills the air as TotalEnergies AGM rejects climate activist resolution tks Susanna Hasenoehrl
Glaciers, Expeditions, & the Amazing Dr. HeÏdi Sevestre Part 1 South of 2 Degrees – The Science Behind Climate Change Podcast
Glaciers, Expeditions, & the Amazing Dr. HeÏdi Sevestre Part 2 South of 2 Degrees – The Science Behind Climate Change Podcast
Venice canal patch turns fluorescent green
Beyond the poles: How melting ice affects everyone tks Andy G Schmidt
Vietnam To Cut Annual Rice Exports By 44% By 2030
Plants remove cancer-causing toxins from the air
Mars bars trialling paper wrappers in effort to cut plastic waste
Cop28 president's team accused of Wikipedia 'greenwashing'
Amtrak is the climate-friendly option — if extreme weather doesn't disrupt your trip.
Plastic pollution: Treaty talks get into the nitty-gritty tks Steve Johnson
Rock 'flour' from Greenland can capture significant CO2, study shows
Montreal Protocol has slowed loss of Arctic sea ice, say scientists
World should prepare for new heat records – UN
How to Prepare for a Hot Summer
Insurance firms need more climate change information. Scientists say they can help
Fast fashion has spawned a mountain of leftover clothes in the Chilean desert that's so massive it can now be seen clearly from space
Why Does Earth Have an Atmosphere?
A Breakthrough Model For Solar: Meet The Startup Democratizing The Energy Revolution
Global Warming in the Pipeline
Global politics
Kyiv hit by new massive Russian drone attack
Large-scale drone attack hits Moscow for first time in Ukraine war
Wagner boss blames Russian military for drone attacks, US aid, nuclear plant attack ban
No, the US didn't "provoke" the war in Ukraine
Turkey presidential election decides if Erdogan should have five more years
Turkish election victory for Erdogan leaves nation divided
US debt ceiling deal ready for Congress vote, Joe Biden says
Biden says debt ceiling deal averted 'economic collapse'
Tara Reade, who accused Joe Biden of sexual assault, defects to Russia
What Happens When You Tax Billionaires at 90 Percent?
Business and technology
CNN's Chris Licht could be in trouble with David Leavy as COO
Here's What Happens When Your Lawyer Uses ChatGPT
The Godfather of A.I. Has Some Regrets The Daily Podcast
US air force denies running simulation in which AI drone 'killed' operator
Ted Lasso's successes show how emotional intelligence can be a leadership superpower
2023 NYU Commencement Speaker Sanna Marin, Prime Minister of Finland
Social issues
India train crash: More than 260 dead after Odisha accident
America's Dysfunction Has Two Main Causes tks Claire Kielty
Parents clash in Pride protest at US primary school
The Gray Area with Sean Illing: Simone Weil's radical philosophy of love and attention Podcast
Cancer mystery as cases rise among younger people around the world
There's another invisible injustice for working women – the gender pension gap
Ben Roberts-Smith: How decorated soldier's defamation case has rocked Australia
Influencer marketing on social media is a multi-billion-dollar industry, but is not without pitfalls
We Wouldn't Be Having This Conversation If Taylor Swift Was a Man
Andrew Tate BBC interview: Influencer challenged on misogyny and rape allegations
"The poison in Australia's bloodstream" tks Phillipa Edwards
Cambodia crocodile farmer killed after falling into enclosure Published
Passion, humour, history
BBC Strictly 'want Phillip Schofield' after ITV This Morning exit
Phillip Schofield latest: Fears for disgraced TV star as 'plenty more revelations' to be exposed tomorrow
Scientists discover never-before-seen brain wave after reading octopuses' minds
Let me know what jumped out at you? Or share with me what you're reading? I love that!
Cheers
Andrea
Want to get in touch?
All of my contact information is here on Linktree.
Environment education
Four environment resources to help you navigate this challenging territory.
Uncommon Courage: an invitation
Uncommon Courage is an invitation to be your courageous best self every day. It's also an antidote to the overwhelm, fear, and rage rolling around the world. But it's more than a book; it's an invitation to join an inclusive community that wants to better understand humanities challenges – both global and personal – in order to take courageous action and create a better world for everyone. If Covid19 has given us the time and space to reflect, Uncommon Courage gives us the nudge we need to create lasting change.
You can buy it on Amazon, Apple Books, Barnes & Noble, Book Depository, Booktopia, Smashwords, Kobo, Gardners, Odilo, Indie Bound, BookShop by BookTrib and Scribd.
Better yet, order it from your local bookstore, so you can #SupportLocal.
You can read the reviews, including a new five-star review on Book Commentary, another five-star review on ReaderViews, a review on BookTrib, and three more on Booklife, another on Book Commentary and Blue Ink Reviews. I'm also collating reviews on my Website too. Have a look and grateful to everyone who has written or recorded one.
Come and join the conversation in my Facebook Group Uncommon Courage.
Listen in to the Uncommon Courage, the podcast on Apple, Spotify and everywhere podcasts are published.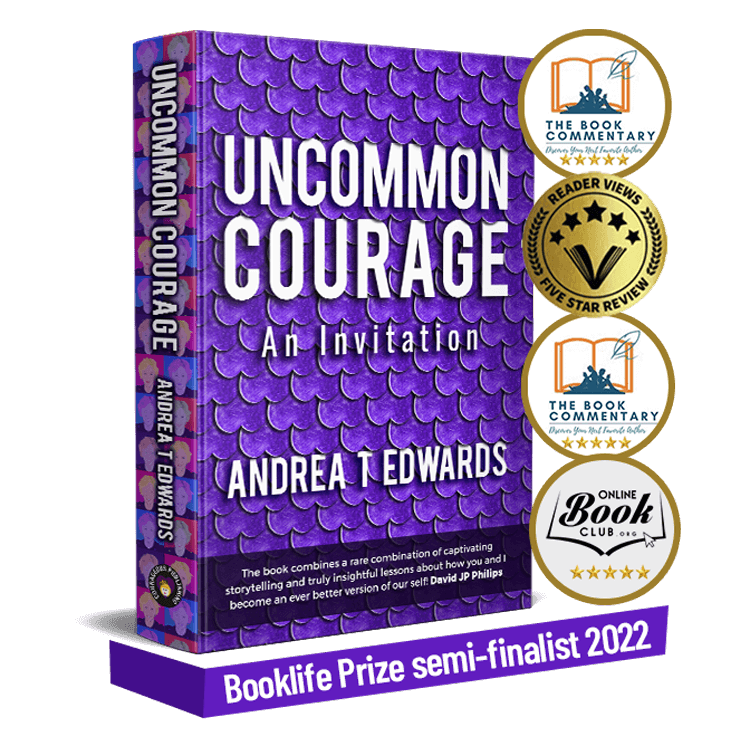 The Know Show
Check out The Know Show. It's a fortnightly wrap up of the news!
Climate Courage
A fortnightly conversation on issues that matter to you and I, focusing on the actions we can all take.
Listed by Book Authority in the 100 Best LinkedIn Books of All Time and 22 Best New LinkedIn eBooks To Read In 2021 and 2022 categories. Grab it today if you want to take your professional presence to the next level! When it comes to LinkedIn, it really is time to ask — can you really afford not to have this book in the hands of every employee?
Are you a Social CEO? The Social CEO: How Social Media Can Make You A Stronger Leader.
Want to claim your stage? Unleash Your Voice – Powerful Public Speaking for Every Woman
Feedback
Have I done a great job for you? Can you write a reference on my LinkedIn profile or on my Google Business page? If not for me, why not write one for someone else who inspires you or has helped you? Join the #GivingEconomy.