We've seen a lot of news about Ukraine in the last couple of weeks, including a lightning advance that reclaimed more than 1,000 square miles of land and a key military hub. The media has made the call that victory is imminent, however, it is not being supported by military and political experts.
The experts I've been tracking for months have called this war every step of the way. Right now, they are wary and believe this war has a long way to go, with many more ramifications expected. That said, there is more confidence Ukraine can succeed, and because of that, more weapons will be supplied to ensure it claims victory.
But there is a second story line on the war in Ukraine not getting as much attention, and I believe it requires equal attention. It's focused on what's next for Russia. Will Putin be ousted? And if he is, who will step into the void in a country with no succession plan? Will they be a better leader in the world, or even worse than what we know right now?
As an example, a group rising in Russia is a far far right movement, and it is furious about the losses in Ukraine. This group is considered the new opposition in Russia and these guys are right on the edge. If they get into power or can influence power, who knows what could unfold?
China was back in the news in regards the war this week too, as we saw the subtle conversation between President's Xi and Putin, where China expressed 'questions and concerns.' India's Modhi was more point blank – 'this is not an era of war.'
From all I'm reading, the war is shocking, but what's next could be even more destabilizing, not just for Russia, but for the world. And of course, a desperate Putin could go further than is good for humanity, so nuclear is still on the table.
Content to read in the global politics section below
Vladimir Putin and Xi Jinping: An increasingly unequal relationship
Russian Lawmakers Call for Putin to Be Removed From Power Over Ukraine
Putin Has a New Opposition—and It's Furious at Defeat in Ukraine
Russian Army Collapses—and Revolution—Near-Certain as Russia Loses War: When/Where Harder to Predict
It's Time to Prepare for a Ukrainian Victory
Short-term versus long-term thinking – in war and climate
One of the challenges I believe we face (and something I've been thinking about a lot lately), is short-term versus long-term thinking. This war is an example of that. Our entire Western society is structured around short-term thinking – how we vote, run our businesses, how we educate children, and more.
Right now, we're thinking of a Ukraine victory – and we'll celebrate it in the streets when it is finally called (if it is called) – but what will this war mean to the world after it's over? It's critical we pay attention to this.
With war and the climate crisis, we must start looking and thinking long-term. We must start looking at the bigger picture all the way to the end, to work out how to take the next best steps.
I'm seeing disastrous decisions being made everywhere (especially with the climate crisis), and they have long-term consequences. It requires a switch from short-term solutions that have not been thought through all the way, to end-to-end thinking BEFORE investment and implementation. Carbon capture machines are an example of this.
Another example is, when China and many other countries started building wealth, did we stop and think – what will that many more homes, cars, fridges, luxury items, food and more, mean for the environment? Do we need a different model before we go down that path?
As we know, those questions may have been asked, but the people asking them were ignored, and here we are. I do wonder if we'll ever get that message?
Lots to read as always, so please, dig in. Time to think long-term and plan our next steps in alignment with climate science, versus being stunned when chaos strikes, a chaos that is already obvious to many, but not enough are paying attention.
Friend's content and mine
This week I launched my new fortnightly livestream, Climate Courage. Here is the first one, explaining the goal and purpose of this content.
I Visited Singapore on Holiday 25 Years Ago. Here's Why I Never Ended Up Leaving – David Goldwich's daughter, Cherisse Goldwich, wrote this lovely article on why her dad moved to Singapore and stayed. Nicely honoured David.
How Being Unseen and Unheard Helped Kerrie Phipps Develop a Sensitivity to People's Voices Wholehearted Podcast – congratulations to my friend Coen Tan on launching his new podcast, Wholehearted – a perfect topic for him. I really enjoyed the launch interview with another fabulous friend, Kerrie Phipps.
The Fog and The Bounce – a truly heartfelt piece from my friend, Tom Radford, who thinks he might be struggling with ADHD, something often missed and providing real challenges for adults who haven't been diagnosed. Worth a look if you have been wondering if you're struggling with it yourself.
For five years I've watched a massive tangle of fishing rope wash into shore and then back out to sea in the high season. So I grabbed my family and friends, and here is our first attempt to remove the "Rope Monster." We're going back for a second go today.
Donation time
If everyone gave #just10percent of their time, talent, money or voice, we'll change the world. Can you donate? Make it a regular donation to the World Food Programme. Or donate to the UN Refugee Program, Medicine Sans Frontier, PowerOf , Kiva.org , Soi Dog Foundation.  It's a time for giving and taking care of each other.
Content to read
And here's the content I've been reading or watching this last week. Scan the headlines, read the ones that jump out at you, read or watch them all. Knowledge is power, and global knowledge is even more powerful.
Climate crisis
What Does Earth Really Need From Patagonia?
51 Just Stop Oil supporters jailed after mass civil resistance in court
One in four people don't want to have children as climate anxiety reaches record levels
Climate Change Is the Express Train to Hell — And We're On It
NGO retracts 'waste colonialism' report blaming Asian countries for plastic pollution
Billionaire No More: Patagonia Founder Gives Away the Company tks Samantha Gayfer
EU expects to raise €140bn from windfall tax on energy firms
A NASA scientist designed a platform to track the carbon in every tree on the planet
EU aims to lessen dependency on China with Raw Materials Act
Pakistan is owed reparations, not aid, by U.S. and China
Climate change & doomsday: Irreversible tipping points may mean end of human civilization
The Elusive Future of San Francisco's Fog
Why you need a 'wellbeing wardrobe'
Oil Executives Privately Contradicted Public Statements on Climate, Files Show
Swiss mountain pass ice to melt completely within weeks
Africa losing up to 15% of GDP growth to climate change, African Development Bank says
California becomes first US state to begin ranking extreme heat wave events
MIT Prediction of Civilization Collapse Appears to be On Track
That 'Obama Scientist' Climate Skeptic You've Been Hearing About
H&M to Remove Sustainability Labels from Products Following Investigation by Regulator
First climate lawsuit against Russian government launched over emissions
Fast-warming, ailing Med Sea may be a sign of things to come
'Mind-blowing' marine heat waves put Mediterranean ecosystems at grave risk
France bracing for 'catastrophic' food shortages following drought, farmers and unions warn
Switching to renewable energy could save trillions – study tks Damian Corbet
World heading into 'uncharted territory of destruction', says climate report
Megadrought in the American south-west: a climate disaster unseen in 1,200 years
What's the real price tag of renewable energy for the planet?
Richard Powers: "Climate change is a psychological problem"
Charles will not cool on climate action, say friends
Environmentalists, NSW Forestry Corporation at loggerheads over native timber harvesting in key koala habitat
'Climate neutral' products are counterproductive greenwashing bluff – NGO
More people now work in clean energy than in fossil fuels
Where Will Mainstream Climate Propaganda Take Us? – Podcast
Six tipping points 'likely' to be crossed
Cancer rules rewritten by air-pollution discovery
We're moving into a more optimistic era for climate action
The Entire Food Chain has Started collapsing, Scientists Warn
Collapse of terrestrial mammal food webs since the Late Pleistocene
How do we clean up the Klongs (canals) in Phuket? Chantal Fernandes, Joshua O'Neill and CK Weeks joined me in Phuket Town to look at the waste challenge and we're asking for help to solve it! Do you have ideas?
Global politics
'This is not as era of war': Indian PM Modi tells Russian President Putin on sidelines of SCO summit.
Russian Lawmakers Call for Putin to Be Removed From Power Over Ukraine
Vladimir Putin and Xi Jinping: An increasingly unequal relationship
Putin Has a New Opposition—and It's Furious at Defeat in Ukraine
Putin acknowledges China may have 'questions and concerns' about the war.
Russian Army Collapses—and Revolution—Near-Certain as Russia Loses War: When/Where Harder to Predict
It's Time to Prepare for a Ukrainian Victory
Ukraine Routs Russian Forces in Northeast, Forcing a Retreat
The Economist Asks: Could Vladimir Putin lose the war in Ukraine? The Economist Podcasts
Russia gives up key northeast towns as Ukrainian forces advance
Why is Vladimir Putin so obsessed with Ukraine?
Viktor Orbán sparks outrage with attack on 'race mixing' in Europe
Graham's abortion ban stuns Senate GOP  
Justice Dept. Appeals Part of Special Master Review in Trump Case
New Book Divulges Melania Trump's Blunt Warning To Her Husband About Coronavirus In 2020
Queen's lying-in-state: China blocked from Westminster Hall
Bonus cap scrap would be dubious Brexit dividend
How Will Liz Truss Govern a Britain in Crisis? The New Yorker: Politics and More Podcast
Facile, empty and cliched – Liz Truss's first week has been a disaster
Jill Lepore on Why Biden Is No F.D.R. The New Yorker: Politics and More Podcast
Babble hypothesis shows key factor to becoming a leader
DeSantis sent 50 migrants to Martha's Vineyard by plane as an anti-liberal stunt. The locals pulled together to help them.
Mass firing at UAE newspaper raises censorship concerns
Business and technology
Yahoo Finance 'The S&P is forming a bottom,' says technical analyst
In Wall Street's Worst Day Since June 2020, Dow Falls 1,250
Morning Bid: Unstoppable dollar
Shell picks gas veteran Sawan as CEO to lead transition
The stock market is plunging and could fall a lot further with the U.S. at the center of a huge global bubble, says chief investment officer of world's largest hedge fund
Markets Plunge as Inflation Data Undercuts Wall Street's Optimism
There are now 210 U.S. housing markets at risk of 15% to 20% home price declines, says Moody's
Inflation driving increased demand for catastrophe reinsurance in run-up to 1.1
Why America's Floors Turned Gray
Social issues and humanity
Jack Charles And Archie Roach: We Won't Cry – tks Willie Wahlin
Uncle Jack Charles: Revered Aboriginal actor and elder dies aged 79
Little Mermaid reboot: Why is everyone arguing about it?
How an Esperance wood cutting service is chipping in thousands of dollars for the Royal Flying Doctor Service tks Jen Kaufmann
The future of American religion? Christians will finally be in the minority
Chrissy Teigen: I Didn't Have A Miscarriage, I Had An Abortion 'To Save My Life'
Modern slavery shoots up by 10 million in five years
Queen Elizabeth II: 'This experience is meant to be shared' – David Beckham
King Charles's staff given redundancy notice during church service for the Queen
Along with the Queen, Britain is laying to rest a sacred national image that never was tks Tim Hamons
Queen Elizabeth II's Bees Have Been Informed of Her Death
William And Kate Surprise Crowds At Windsor With Meghan And Harry Reunion
Fascism Is Spreading — And It's a Sign of Civilizational Collapse
There's Terrific News About the New Covid Boosters, but Few Are Hearing It
Margaret Atwood Doesn't Think We're Doomed
Burnout in doctors doubles chances of patient safety problems, study finds
One of Long COVID's Most Misunderstood Symptoms
My father's family kept slaves – and he defended it. Acknowledging it matters
'Parents are frightened for themselves and for their children': an inspirational school in impossible times
Kenneth Starr: Clinton investigator dead at 76
Passion, humour, history
Madonna Debuts New Look In Rare Public Appearance With Daughter Lourdes And Son Rocco
Just another rom-com? Not when Julia Roberts and George Clooney reunite on the big screen
Woman who owns queen-sized bed interviewed about her connection to Queen Elizabeth
Venice Review: In Tár, Cate Blanchett Gives a Dazzling Performance as an Orchestra Conductor on the Edge
Let me know what jumped out at you? Or share with me what you're reading? I love that!
Cheers
Andrea
Environment education
Three environment resources to help navigate this challenging territory. 1. Knowledge, constantly updating. 2. Individual action and awareness, so we do our part. 3. Resources for those struggling with eco-anxiety. Please share with your community.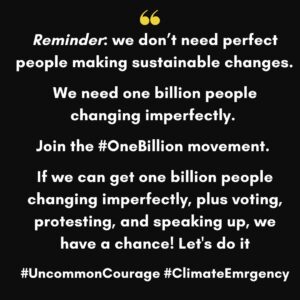 Uncommon Courage: an invitation – my latest book
Uncommon Courage is an invitation to be your courageous best self every day. It's also an antidote to the overwhelm, fear, and rage rolling around the world. But it's more than a book; it's an invitation to join an inclusive community that wants to better understand humanities challenges – both global and personal – in order to take courageous action and create a better world for everyone. If Covid19 has given us the time and space to reflect, Uncommon Courage gives us the nudge we need to create lasting change.
You can buy it on Amazon, Apple Books, Barnes & Noble, Book Depository, Booktopia, Smashwords, Kobo, Gardners, Odilo, Indie Bound, BookShop by BookTrib and Scribd.
Better yet, order it from your local bookstore, so you can #SupportLocal.
You can read the reviews, including a new five-star review on Book Commentary, another five-star review on ReaderViews, a review on BookTrib, and three more on Booklife, another on Book Commentary and Blue Ink Reviews. I'm also collating reviews on my Website too. Have a look and grateful to everyone who has written or recorded one.
Come and join the conversation in my new Facebook Group Uncommon Courage.
Uncommon Courage, the podcast – Apple, Spotify and everywhere podcasts are published.
The Know Show
Check out The Know Show. It's a fortnightly wrap up of the news!
Listed by Book Authority in the 100 Best LinkedIn Books of All Time and 22 Best New LinkedIn eBooks To Read In 2021 and 2022 categories. Grab it today if you want to take your professional presence to the next level! When it comes to LinkedIn, it really is time to ask — can you really afford not to have this book in the hands of every employee?
Connect with me
andreatedwards.com , uncommon-courage.com
LinkedIn, Twitter, Facebook, YouTube, Instagram, Tik Tok, Medium, Amazon.
Feedback
Have I done a great job for you? Can you write a reference on my LinkedIn profile or on my Google Business page? If not for me, why not write one for someone else who inspires you or has helped you? Join the #GivingEconomy.
Are you a Social CEO? The Social CEO: How Social Media Can Make You A Stronger Leader. 
Want to claim your stage? Unleash Your Voice – Powerful Public Speaking for Every Woman