It's celebration time, as I've been doing my Weekend Reads for 100 weeks now, with only two weeks off at the end of 2021! Actually, when I took that time off, I felt lost, because all I was reading was not being fully utilized, as I didn't have a place to pass it on.
Of course we have social media, but if I share everything I think is important, everyone would be overwhelmed 😊 and overwhelming your audience is never a good social leadership strategy.
I really believe in my Weekend Reads, because, to me, knowledge is everything. Knowing what's going on, understanding why, reading between the lines, reading different perspectives, drawing conclusions when there's so much distraction and obfuscation is, I believe, the most important way I can spend my time. I know many are completely overwhelmed by the news cycles too, and so I see my ability to decipher it as a gift I can give to my community.
I don't do it for any other reason than to serve. I believe this is the essence of social leadership and I don't even look at the data to see if it's being read. I know people are reading it and valuing it, how many is never the point. It would be nice if it picked up a larger audience, but if one person values it, that is enough. It's a big commitment though, so to those who have made it part of their week, thank you. Your support means the world to me.
When it comes to anything on social media, to be a social leader, you have to go for consistency. You go and you keep going, regardless. This is very challenging, because anyone who does it knows it's hard work putting content out there every week. My advice is, you have to make the decision before you even start, and then once you begin, you're already committed and you keep going regardless.
If you're pondering starting something that you know is going to take a lot of extra time, as well as impact your family life (I publish this every Saturday, it impacts my family life) then also speak to your family before you start too. I spoke to my husband about this and The Know Show as well, because that show means our Friday afternoons are significantly more challenging for everyone. But we believe in what I'm doing, so we made the commitment.
I am very grateful to have amazing support from my husband, Steve Johnson, and our two teenage boys – who think their mum is a complete dork! But Steve's backing of what I'm doing is truly sensational and he must be acknowledged, especially as today is his birthday.
So it's not just a happy anniversary to my Weekend Reads, it's a very big happy birthday to my biggest supporter, Steve! I am so grateful to you for your support and the additional work you take on to make it possible. Thank you. I am a lucky gal.
A reminder of why I do it
I started my Weekend Reads after Covid hit. Here's the first one, published May 8th 2020 – it's progressed since then. Why did I decide to do it? I could feel the anguish and confusion of the moment, and while I'd already been sharing multiple links on important news before this, I hadn't bunched it up as a weekly commitment, covering the various topics you see below.
With Covid, I was seeing the patterns in the news and information being shared, and I have learnt to spot bullshit from a million miles away. AND there was A LOT of bullshit. Remember Plandemic? It was startlingly false immediately, as it had video footage I'd seen in other news stories that was not linked to the story being told, but others weren't consuming information like I was, which is why it nearly succeeded!!
Since the pandemic started, there was so much coming at us, and of course it created confusion, but that never bothers me. I see it as a challenge and it just makes me work harder to make sense of what's going on in the world. So as I was reading across different media and considering very different perspectives, making sense of the maelstrom, I believed this collection could help people. I hope it has.
But there's another motivation on top of that too. One of my core messages has always been spend time with information that matters. Don't feed or be distracted by the attention economy – aka the whole short attention span malarkey we've been made to believe is how we operate. That's a choice. We can make different choices.
We have allowed ourselves to get so distracted by the meaningless, that we are just not paying attention to what matters, and we MUST start paying attention to what matters. Our future is on the line.
When we look at the fury of the news cycle, there was another classic example this week. Elon Musk wants to buy Twitter – just another distraction in my opinion. But looking at my social media feeds, it got more attention than the Will Smith slapping Chris Rock incident, and that was a news cycle and a half!! It's all shiny stuff, and we have got to stop allowing ourselves to be consumed and distracted by it. None of that stuff matters.
My Weekend Reads was launched to address all of that, and while it's not always a pretty read, we have to face up to what's going on around the world and get to work on solving the huge challenges we face.
Looking back, looking forward
These years of isolation haven't been all bad for me. I know many don't feel the same. But it gave me the time and space to consume the world's news and that is something I love to do. That time feels like it's slowly ending, and while I see many thinking we'll be going back to what we left behind, we won't. We can't.
However, I do think it's important to reflect on this time. I was just saying to my husband I'm going to miss these two years when the world slowed down. Yes it has been a hard, intense and grief-filled time for many, economically devastating for many more, but I know we will look back on these times as a time of peace, because what is before us is the decade of destruction – unless we start to pay attention and make sure that's not the case. I can see us heading towards a dystopian hell, but we don't have to go there. We really don't.
Every day I continue to hope more will see what we need to see. The amount of eco-anxiety being expressed on social media tells me the needle is definitely moving, but it's still not fast enough. We need billions waking up.
To do that, we must pay attention to the information that matters. If you don't know how to do that, start with my Weekend Reads. That's why I started it in the first place.
A big shout out to my amazing assistant, Priscilla Joseph, who puts all of these links together into a Word doc, so I can do the intro and get it out. I appreciate it so much my friend. You're the best. And also the people in my community who share their own amazing content, or other's content. I always say thanks beside each article. Appreciate all of you deep thinking people in my life.
OK let's get stuck into the Weekend Reads. And do me a favour, leave me a comment on the article that grabbed your attention. It's a real boost for me when people do it.
Friend's content and mine
I launched my daily tips for everyone to help address climate change and here is week five. I will also be updating these ideas at this blog – What can I do to act on climate change? Actions we can all embrace. Favorite it and check in often.
Donation time
If everyone gave #just10percent of their time, talent, money or voice, we'll change the world. Can you donate? Make it a regular donation to the World Food Programme. Or donate to the UN Refugee Program, PowerOf , Kiva.org , Soi Dog Foundation. It's a time for giving and taking care of each other.
If you want to support Ukraine Red Cross Ukraine, Medicine Sans Frontier, Defend Ukraine, as well as World Food Programme and UN Refugee Program.
Content to read
And here's the content I've been reading this last week. Scan the headlines, read the ones that jump out at you, read or watch them all. Knowledge is power, and global knowledge is even more powerful.
Climate crisis
Rethinking Energy 2020-2030: 100% Solar, Wind, and Batteries is Just the Beginning – tks Robert Kirubi, this gives me a lot of hope!
Climate change: Key UN finding widely misinterpreted
Pinterest bans misinformation about climate change
Even the Cactus May Not Be Safe From Climate Change
The three Fs: why UK farmers fear the soaring cost of fertiliser, feed and fuel
68% of U.S. execs admit their companies are guilty of greenwashing
'Historic': global climate plans can now keep heating below 2C, study shows
'Black carbon' threat to Arctic as sea routes open up with global heating
Our food system isn't ready for the climate crisis
KFC faces backlash over 'misleading' portrayal of UK chicken farming
I went on TV to explain Just Stop Oil – and it became a parody of Don't Look Up
Empowered Chief Sustainability Officers
Farming for a Fairer Future tks Rohit Bassi
Vegan diets are healthier and safer for dogs, study suggests
Our civilizational predicament: Doubling economic activity and energy use while cutting emissions by half
Chile announces unprecedented plan to ration water as drought enters 13th year
Wind Turbine Blades Can't Be Recycled, So They're Piling Up in Landfills
Gen Z cares about sustainability more than anyone else – and is starting to make others feel the same tks Rohit Bassi
IPCC clarion call puts spotlight on fossil fuel industry's hypocrisy
How UK newspapers changed their minds about climate change tks Susanna Hasenoehrl
If this is not a call for action, what is?
Shein: the unacceptable face of throwaway fast fashion
As a science journalist I'm reconsidering having kids. I'm not the only one
Hydrogen 11 times worse than CO2 for climate, says new report
Air pollution linked to higher risk of autoimmune diseases
We have the tools to slow warming
Climate graduates have become hot property in the jobs market
The world is 'perilously close' to irreversible climate change. 5 tipping points keep scientists up at night
Climate Change Is Making Afghanistan's Hunger Crisis Worse
Wake up call for humanity: Q&A with climate expert on IPCC report
First come floods, then domestic violence. We need to prepare for the next inevitable crisis
"Getting integrated in daily life and society, while documenting the beauty as well as impact on this vulnerable arctic region, is an important, fulfilling, yet sometimes difficult task".
In California, an army of genetically engineered mosquitoes awaits release. Will it backfire?
Global politics – Ukraine
'I'm shocked by my church leaders in Moscow' – priest in Ukraine
Ukraine's President Zelensky to BBC: Blood money being paid for Russian oil
Ukrainian Military Claims It Has Blown Up A Bridge Carrying A Russian Convoy In Kharkiv
Russia warns of nuclear weapons in Baltic if Sweden and Finland join Nato
Russia says warship 'seriously damaged' by explosion as Putin builds forces in east Ukraine
Defining Ukraine war as battle between democracies and autocracies makes things more difficult: PM Lee
CELEBRITY Julian Lennon Performs 'Imagine' For First Time To Benefit Ukraine
'Everything Was Destroyed': War Hits Ukraine's Farms
Italy seizes properties belonging to Russian racer Mazepin-police sources
Other politics
'A plot to destroy democracy': civil rights group raises alarm at threats to US elections
Fresh calls for Boris Johnson to resign over Partygate fines
Air Force Offers Help To Military Families Hurt By States' New Anti-LGBTQ Laws
'The enemies of America are laughing at us': US Air Force pushes leftist gender ideology by recognizing Transgender Day of Visibility
How to stop China and the US going to war
Dan Stevens wins all the awards for this glorious takedown of Boris Johnson on The One Show
Covid
This invisible Covid-19 mitigation measure is finally getting the attention it deserves tks Angela Frechette
How dangerous is the new Covid variant XE? A doctor explains symptoms, severity
Will the new COVID-19 variant BA.2 cause another wave of infections?
List of Official Covid Symptoms Expanded to Include Sore Throat and Fatigue
Grieving families will never forgive or forget Boris Johnson's rule-breaking
Business and technology
Warren Buffett praises Elon Musk, applauds Jeff Bezos, and discusses old age in a new interview. Here are the 12 best quotes.
Elon Musk claps back as Saudi prince speaks out on potential Twitter takeover
Musk's Twitter Buyout Offer Means the Endgame Is Near
Jamie Dimon sees 'storm clouds' ahead for U.S. economy later this year
An economist's warning for stock market investors
Elon Musk Offers To Buy Twitter for 43 Billion
Wealthiest Americans pay just 3.4% of income in taxes, investigation reveals tks Brian Sibley
'Big Short' investor Michael Burry warns US stocks are heavily overvalued and poised to tumble
Fuel leak thwarts NASA's dress rehearsal for moon rocket
Nasa's Mars helicopter completes record breaking flight
'Big Short' investor Michael Burry trumpets what Warren Buffett and Elon Musk have called him — and jokingly seeks another nickname from Jeff Bezos
The top 3 skills needed to do a PhD are skills employers want too
Elon Musk reclaims his legal right to mock Twitter after quitting its board, asks whether it's dying, and suggests its HQ become a homeless shelter
Wall Street is predicting a 2023 recession. Here are the red flags you should know about
Elon Musk suggests people who subscribe to Twitter Blue should be able to pay with dogecoin
Social issues and humanity
Poland builds a border wall, even as it welcomes Ukrainian refugees
Girls interrupted: Afghanistan The Economist Podcasts
14 Moments That Made People Realize Religion Isn't That Great
Molly Shannon Says Gary Coleman Sexually Harassed Her: 'He Was Relentless'
My Son Asked Me How Two Men Have Sex. My Reaction Surprised Me.
WHY THE PAST 10 YEARS OF AMERICAN LIFE HAVE BEEN UNIQUELY STUPID
In an age of division, Billy Bragg wants us to stop the 'war on empathy' and focus on the common good tks Kevin Cottam
Rereading Jane Austen has transformed my life and at almost 90, I've never been happier
Like it or not, many teens watch porn — so why not use it to teach positive lessons? tks Priscilla Joseph
Passion, humour, history
Nicolas Cage did an 'Ask Me Anything' session and here are 15 amazing answers that left us in awe
Hubble Confirms Largest Comet Nucleus Ever Seen
Nasa spots record breaking, huge comet headed towards Earth
Maisie Williams 'resented' her Game of Thrones character when she started 'becoming a woman'
Let me know what jumped out at you? Or share with me what you're reading? I love that!
Cheers
Andrea
Uncommon Courage: an invitation – my latest book
You can buy it on Amazon, Apple Books, Barnes & Noble, Book Depository, Booktopia, Smashwords, Kobo, Gardners, Odilo, Indie Bound, BookShop by BookTrib and Scribd.
Better yet, order it from your local bookstore, so you can #SupportLocal.
You can read the reviews, including a new five-star review on Book Commentary, another five-star review on ReaderViews, a review on BookTrib, and three more on Booklife, another on Book Commentary and Blue Ink Reviews. I'm also collating reviews on my Website too. Have a look and grateful to everyone who has written or recorded one.
Come and join the conversation in my new Facebook Group Uncommon Courage.
Uncommon Courage, the podcast – Apple, Spotify and everywhere podcasts are published.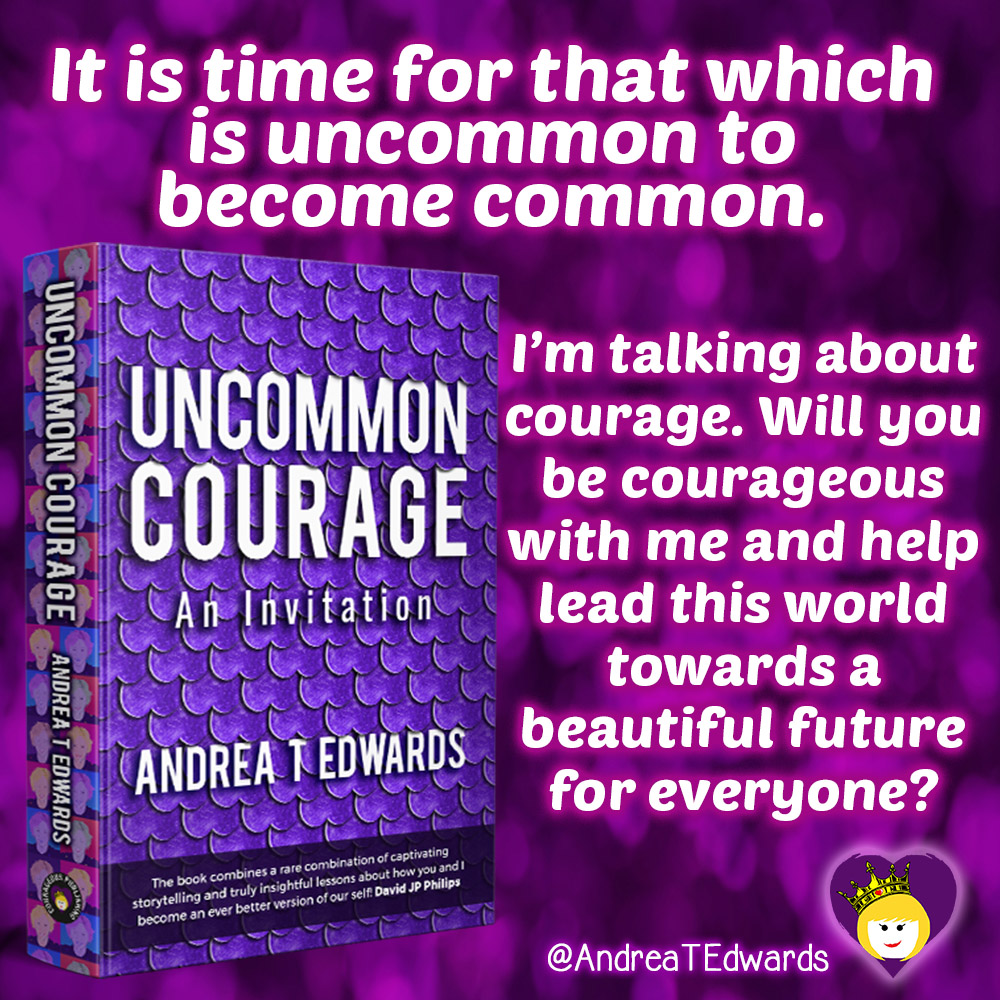 The Know Show
Check out The Know Show. It's a weekly wrap up of the news!
Listed by Book Authority in the 100 Best LinkedIn Books of All Time and 22 Best New LinkedIn eBooks To Read In 2021 and 2022 categories. Grab it today if you want to take your professional presence to the next level! When it comes to LinkedIn, it really is time to ask — can you really afford not to have this book in the hands of every employee?
Connect with Andrea
andreatedwards.com , uncommon-courage.com
LinkedIn, Twitter, Facebook, YouTube, Instagram, Medium, Amazon.
Feedback
Have I done a great job for you? Can you write a reference on my LinkedIn profile or on my Google Business page? If not for me, why not write one for someone else who inspires you or has helped you? Join the #GivingEconomy.
Are you a Social CEO? The Social CEO: How Social Media Can Make You A Stronger Leader.
Want to claim your stage? Unleash Your Voice – Powerful Public Speaking for Every Woman