After nearly two and a half years, we've made it back to Singapore. It's a practical trip – banks, doctors, dentists, accountants – and it's quite startling being in a different environment in Covid times. Every country has dealt with this crisis differently, and adjusting to the changes or protocols requires patience and compassion.
Patience is something I've written about in the past, especially anything to do with the tourism and hospitality sector. Most of the staff are new or not fully trained, so nothing is really working seamlessly yet. When you get back on the road just take a deep breath and smile.
As an example, the first encounter of 'new' was the technology in place to track Covid, and it's all based around the app 'Trace Together.' It's all beautifully done of course (it's Singapore), but everyone here has adjusted to it over time, for us, it was just confusing. Expect it to take a few days to get it.
Then eating out. Because Singapore is a physically small place with a large population, the distance between people is something taken seriously. And I mean really seriously. The staff in restaurants and cafes are working overtime to make sure you're not sitting anywhere near anyone you don't know.
And the booking requirements – this blew me away I must say. It's hard to be spontaneous, because if you don't have a booking, well you might not get a seat anywhere. There's also a time on bookings, so expect to be chased out when the time comes for the next group to arrive.
You can also only be with 10 people, and as there are four of us, our ability to catch up with people is limited. My apologies to anyone we can't see. We'd normally have done a 'Last Friday of the Month' type gathering and told everyone to come join us. Not this time, unfortunately.
Of course, the important observation is the impact on society, and that's a more subtle aspect, but you can definitely see it. Singapore is just emerging from the pandemic, and while many places around the world look like they're fully past the pandemic, it's definitely not the case everywhere.
While you see the pain, you also see the pleasure. I've been delighted in taxis, bars and restaurants by people who are just so happy to be out in the world, with customers in their businesses, and a feeling that the end of this long ordeal is close.
I know a lot of people think life can get back to 'normal' now, but if you read the Covid content below, we have a way to go. Then again, if you read the environment content, I hope you recognise we can never get back to normal. We need to create a new way of living. This is something I'm not seeing widely understood yet, and we've got to get it, we really do. We all need to shrink our lives in every way we can. Until then, I'll keep sharing what's going on.
Friend's content and mine
How I got 20k TikTok Followers in 50 days! – my mate Tom Radford has experienced some spectacular success on TikTok, a platform I've only recently started looking at again. I don't love it, but it's continuing to grow and become an important platform in the social media domain, so check out Tom's suggestions and follow him, he's brilliant.
Why we need to become more exploratory to get to NetZero – I was also thrilled to interview Grant 'Axe' Rawlinson to talk about how we all need to have an explorers mindset if we want to get to NetZero. The thinking that got us here won't get us where we need to go. Take some inspiration from Grant.
I launched my daily tips for everyone to help address climate change and here is week four. I will also be updating these ideas at this blog – What can I do to act on climate change? Actions we can all embrace. Favorite it and check in often.
Donation time
If everyone gave #just10percent of their time, talent, money or voice, we'll change the world. Can you donate? Make it a regular donation to the World Food Programme. Or donate to the UN Refugee Program, PowerOf , Kiva.org , Soi Dog Foundation. It's a time for giving and taking care of each other.
If you want to support Ukraine Red Cross Ukraine, Medicine Sans Frontier, Defend Ukraine, as well as World Food Programme and UN Refugee Program.
Content to read
And here's the content I've been reading this last week. Scan the headlines, read the ones that jump out at you, read or watch them all. Knowledge is power, and global knowledge is even more powerful.
Climate crisis
Video message by UN Secretary General at the WGIII AR6 press conference –
IPCC Report – mitigation summary for policy makers
The end of the world is coming, even if you've heard it all before
Climate scientists are desperate: we're crying, begging and getting arrested
'It's a media war': the UK's top anti-oil campaigner fights on aged 80
Five Key Takeaways From the Latest IPCC Report on Climate Change
Enormous storm could produce blizzard, widespread severe weather next week
Peter Mather appointed to BEIS board to support plans to bolster energy security tks Damian Corbet
Amazon lines up satellite launches to take on Musk's Starlink
IPCC report urges climate action: 'It's now or never'
Satellite pollution is threatening to alter our view of the night sky tks Samantha Gayfer
It's over for fossil fuels: IPCC spells out what's needed to avert climate disaster
The Razor's Edge of A Warming World
IPCC scientists report five ways to save the planet
There's good reason to worry about the health risks of plastics
The Latest IPCC Report: What is it and why does it matter?
Climate change: IPCC scientists say it's 'now or never' to limit warming
Greta Thunberg to publish a 'go-to source' book on the climate crisis tks Damian Corbet
To prevent climate catastrophe, abandon the idea we can limit overheating to 1.5C
Extraordinary Antarctica heatwave, 70 degrees above normal, would likely set a world record
NASA Makes First-of-Its-Kind Detection of Reduced Human CO2 Emissions
A Plastic Bag's 2,000-Mile Journey Shows the Messy Truth About Recycling
Business Italy Introduces New Legislation to Promote Organic Production
Dire warning on climate change 'is being ignored' amid war and economic turmoil
How to Defeat Putin and Save the Planet
Global politics – Ukraine and Putin's war
Russia's Nobel winning editor Muratov doused with paint
Kremlin spokesman Peskov admits 'significant' Russian losses
Ukraine, the UN and history's greatest broken promise
Sharing space with the dead – horror outside Chernihiv
The United Nations has the power to punish Putin. This is how it can be done
Putin and Xi Exposed the Great Illusion of Capitalism
Who are Putin's daughters? What we know about his family
Russian soldiers opened fire on a cyclist in Bucha, new video shows. tks David Lim
A 'nightmare' Russian debt default is now very likely after the US blocked payments, BlueBay strategist says
Inside Chernobyl: We stole Russian fuel to prevent catastrophe
Putin's War Has Started a Global Food Crisis
Evidence of alleged Russian atrocities mounts near Kyiv
Bucha massacre is a game changer – Ukraine foreign minister
The Return of the Third Horseman tks Mark Thorburn
Ukraine investigates alleged execution of civilians by Russians
Anonymous claims it hacked Russia's central bank and will soon release thousands of files
Ukraine: Why the cartoon Masyanya was banned in Russia tks Avi Liran
The heavy losses of an elite Russian regiment in Ukraine
Germany faces steep recession if Russian oil and gas halted, bank lobby says
Other politics
Ketanji Brown Jackson: US Senate votes to confirm judge to top court
"I Don't Trust You," Sean Penn Tells Sean Hannity Right To His Face
Australia election: Pensioner berates PM Scott Morrison at pub photo-op
India blocks 22 YouTube news channels citing national security
The cost of corporate kowtowing to China: podcast
Biden called Fox News 'destructive' and Murdoch 'the world's most dangerous man', new book claims tks Ken Berg
The New Yorker: Politics and More – Podcast
Investigating January 6th – Podcast
Iraq says March oil exports stand at $11bn, highest in 50 years
Covid
China's widening COVID-19 curbs exact mounting economic toll
Coronavirus blind spots in Nigeria
Shanghai lockdown tests the limits of Xi Jinping's zero-Covid policy tks Richard Turrin
Thailand sinking in COVID-19 resilience ranking amid slow reopening
COVID-19 isolation rules changed for Sydney airport staff as passengers hit with third day of long delays
Shanghai hospital pays the price for China's COVID response
Business and technology
No 'union,' 'living wage,' or 'restrooms': A planned Amazon internal app could ban words in employee chats
Elon Musk, Twitter's largest shareholder, polls followers for an edit button
Five key takeaways from Jamie Dimon's letter to JPMorgan's investors
Two key tech execs quit Truth Social after troubled app launch
Musk takes 9% stake in Twitter to become top shareholder, starts poll on edit button
Social issues and humanity
"It's not about the bloody money." What teachers in crisis actually want tks Claire Kielty
To have a child or not is a huge decision. So why is there so little discussion of it?
Find More Ways to Be an Outsider
Grammys 2022 viewers in uproar as Louis CK wins Best Comedy Album: 'Proof that cancel culture is fake'
Why Millennials, Gen X & Retiring Boomers Need To Find Their Happy Place
Sacramento shooting: At least six dead in centre of California state capital
Gen Zers are rebelling against their parents and striking fear into corporate America by publicly quitting
Just a Heads-Up That I'm Running Late Because of The Deterministic Nature of the Universe
The Science of Stuck – Britt Frank – Podcast
Bridgerton's South Asian representation shows the beauty of our culture and sisterhood, but it just scratches the surface
Martin Luther's Ninety-five Theses, as E-mailed by Your Passive-Aggressive Co-Worker
Passion, humour, history
Straight to the pool room: a love letter to The Castle on its 25th anniversary
Tanis: Fossil of dinosaur killed in asteroid strike found, scientists claim
Alternatives To Resting Bitch Face tks Tabatha Tee
Machu Picchu has been called the wrong name for over 100 years. Historians reveal its true name
Bridgerton season 2: 19 of the funniest memes from the Netflix show tks Gina Giachetti
The 2022 Oscar Gift Bags Are Worth Over $100,000 and Include a Plot of Land in Scotland
Let me know what jumped out at you? Or share with me what you're reading? I love that!
Cheers
Andrea
Uncommon Courage: an invitation – my latest book
You can buy it on Amazon, Apple Books, Barnes & Noble, Book Depository, Booktopia, Smashwords, Kobo, Gardners, Odilo, Indie Bound, BookShop by BookTrib and Scribd.
Better yet, order it from your local bookstore, so you can #SupportLocal.
You can read the reviews, including a new five-star review on Book Commentary, another five-star review on ReaderViews, a review on BookTrib, and three more on Booklife, another on Book Commentary and Blue Ink Reviews. I'm also collating reviews on my Website too. Have a look and grateful to everyone who has written or recorded one.
Come and join the conversation in my new Facebook Group Uncommon Courage.
Uncommon Courage, the podcast – Apple, Spotify and everywhere podcasts are published.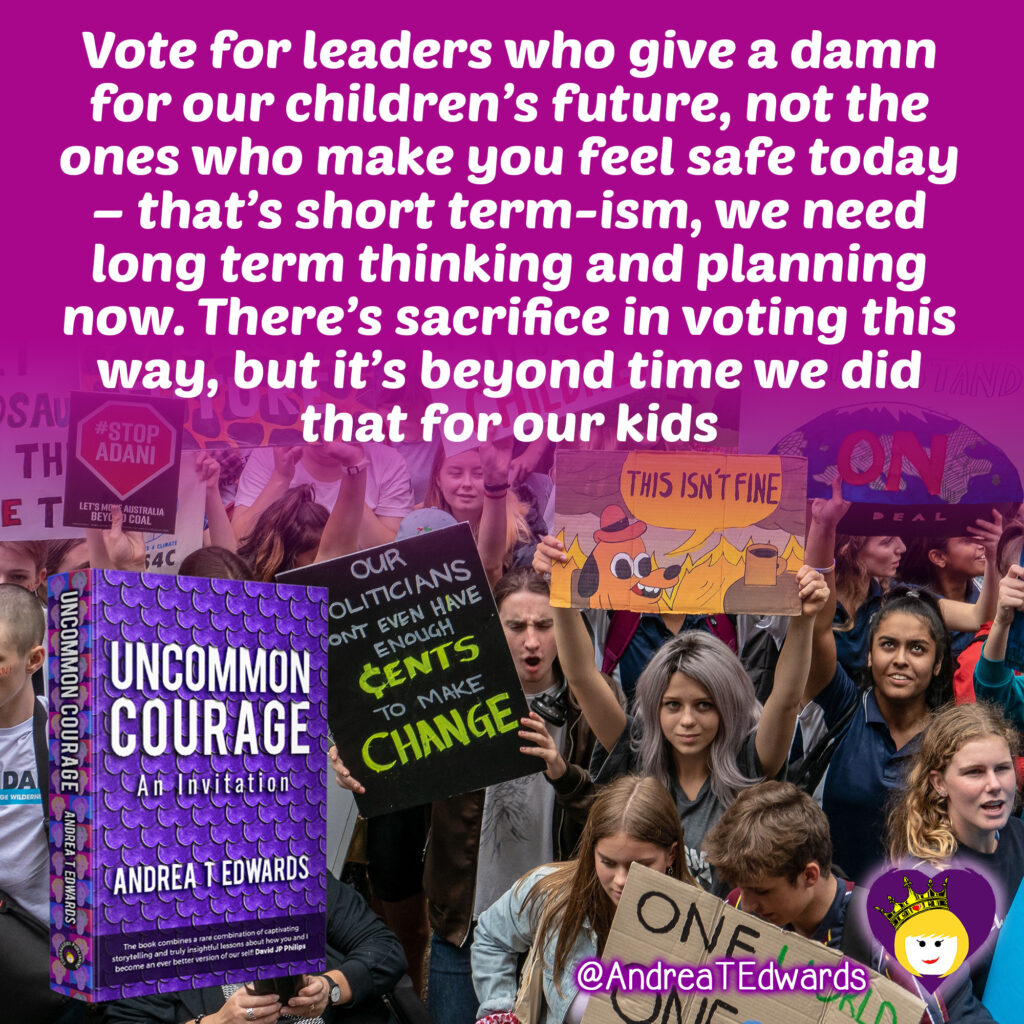 The Know Show
Check out The Know Show. It's a weekly wrap up of the news!
Listed by Book Authority in the 100 Best LinkedIn Books of All Time and 22 Best New LinkedIn eBooks To Read In 2021 and 2022 categories. Grab it today if you want to take your professional presence to the next level! When it comes to LinkedIn, it really is time to ask — can you really afford not to have this book in the hands of every employee?
Connect with Andrea
andreatedwards.com , uncommon-courage.com
LinkedIn, Twitter, Facebook, YouTube, Instagram, Medium, Amazon.
Feedback
Have I done a great job for you? Can you write a reference on my LinkedIn profile or on my Google Business page? If not for me, why not write one for someone else who inspires you or has helped you? Join the #GivingEconomy.
Are you a Social CEO? The Social CEO: How Social Media Can Make You A Stronger Leader.
Want to claim your stage? Unleash Your Voice – Powerful Public Speaking for Every Woman