Knowledge is power, and far reaching reading habits – across multiple sources and platforms – is critical if we want to understand the world and what is happening.
It's always been important to be fully versed in the knowledge of our time, however we've become too dependent on our social media echo chambers, which means it is harder to get wider or more diverse opinions. During a pandemic, this can literally kill people.
In the time of COVID-19, reading widely will help everyone understand what is going on, where the scientists are in this crisis, and hopefully get people away from sharing misinformation, or unverified research.
It's also important to read beyond just the crisis. The climate challenge is still looming over us, and there are important social issues to be aware of too. Not to mention, we also need a laugh sometimes…
Therefore I have decided to share a weekly reads, across a wide range of topics – from leadership, COVID-19, the environment, social issues, humour, extinction and more – hoping that this will help you manage the information onslaught or Infodemic we're all facing, and that you will gain insights from this collection.
When I can, I will honour the original sharer of the knowledge, but I track so many different publications and groups, it's not always easy to do this.
So here is week one, which will be a bit longer than normal, because there's a backlog of knowledge to share.
I share without opinion or agreement – you can find that on my social media channels 😊. Read them all, or the read the article if a headline grabs your attention. Please just read read read. Knowledge really is power.
In no particular order….
Why the Coronavirus Is So Confusing
Woman Makes Sign Telling Neighbors to Start "Silly Walking" and They Don't Disappoint
Why PRUDENCE is Paramount in Uncertain Times – beautiful post by Lakshmi Ramachandran
Coronavirus tracked: the latest figures as countries fight to contain the pandemic – Financial Times free tracker
Misinformation During a Pandemic
The Virus Is Winning – Magical thinking won't protect us.
From Trump to Erdoğan, men who behave badly make the worst leaders in a pandemic
Doctors Are Holding Up Their End of the Bargain. Society Is Not.
Scientists warn worse pandemics are on the way if we don't protect nature
Parallel threats of COVID-19, climate change, require 'brave, visionary and collaborative leadership': UN chief
The New Normal or the New Extraordinary? Written by the fabulous Natalie Turner
50 Years From Now, Many Densely Populated Parts of the World Could be Too Hot for Humans
Flattening the Truth on Coronavirus – All your questions about the pandemic, answered. Sort of.
Marcus Aurelius on Embracing Mortality and the Key to Living with Presence
Satellite data show 'highest emissions ever measured' from U.S. oil and gas operations
In a Victory for Women in Sudan, Female Genital Mutilation Is Outlawed
'A phantom plague': America's Bible Belt played down the pandemic and even cashed in. Now dozens of pastors are dead
Coronavirus: UK warned to avoid climate change crisis
Meet Marley, The Permanently Disappointed Cat Who Looks Like He Is Judging Your Poor Life Choices
How covid-19 gave peace a chance, and nobody took it
Logging made last summer's bushfires worse, expert review finds -tks Willie Wahlin
Eight Lessons from COVID-19 to Guide Our Climate Response
'The Real Virus Is Bolsonaro': Pandemic Helps Fuel Amazon Deforestation Surge In Brazil
China is Turning the Rainforest into Cheap Furniture for the U.S. #SayNoToFastFurniture
'Focus on right now': how to mentally prepare for more Covid-19 uncertainty
Once Upon a Virus – thanks Denise Chai. Maybe we should be looking in our own backyards at the propaganda we're being fed?
Biggest shark fin seizure in Hong Kong history recovers 26 tonnes, mostly from endangered species, in shipments from Ecuador – tks Vicki Keily. OK I have to add an opinion. If you wipe out the top end of an ecosystem, you destroy the balance of the natural world. These acts will kill us all! It has to stop!!
Reinventing Your Career in the Time of Coronavirus
Leaders Are Crying on the Job. Maybe That's a Good Thing.
The Coronavirus Is Rewriting Our Imaginations – tks Caroline Rivers
The new normal in sustainable investing post-COVID-19
Katharine Hayhoe on Climate and Corona Crisis
'Very unusual': Arctic air set to hit Eastern US with record-low temperatures for May
Download Coronation Street Backgrounds For Video Calls
Justice Dept. scrutinizes White House-connected doctor linked to disputed coronavirus treatment
Airlines and oil giants are on the brink. No government should offer them a lifeline
Is there such a thing as too much gratitude? Yes, and it's been harmful to our work – tks Brian Sibley
Bill Gates's vision for life beyond the coronavirus
Why universal basic income could help us fight the next wave of economic shocks
Leadership communications during a crisis
The world is on lockdown. So where are all the carbon emissions coming from?
How does coronavirus kill? Clinicians trace a ferocious rampage through the body, from brain to toes.
The Uber driver evicted from home and left to die of coronavirus
The Covid-19 Riddle: Why Does the Virus Wallop Some Places and Spare Others?
Why are Chinese fishermen destroying coral reefs in the South China Sea?
COVID-19's Body Count Will Go Beyond Those Who Die From the Disease. It Didn't Have to Be This Way
'A phantom plague': America's Bible Belt played down the pandemic and even cashed in. Now dozens of pastors are dead
To give migrant workers a fairer deal, hold developers and the supply chain to account
What Is R0? Gauging Contagious Infections
Antivaccination Activists Are Growing Force at Virus Protests
How Long Will a Vaccine Really Take?
A Time to Save the Sick and Rescue the Planet
Fauci: No scientific evidence the coronavirus was made in a Chinese lab
Lingering and painful: the long and unclear road to coronavirus recovery
Author of book about victim blaming bombarded with misogynist abuse
Tunisia's Last Mohrr Gazelle Dies, Species Goes Extinct – tks David Lim
That Discomfort You're Feeling Is Grief
Infect volunteers to speed a coronavirus vaccine?
How effective is Sweden's controversial pandemic strategy?
What the Proponents of 'Natural' Herd Immunity Don't Say
How to demonstrate calm and optimism in a crisis – tks Marco Leoncelli
A Time to Save the Sick and Rescue the Planet
How did Michael Moore become a hero to climate deniers and the far right?
An ounce of education for a pound of cure – wonderful reflection on the future of education by Samantha Gayfer-M-cBride
EXCLUSIVE: Illegal wildlife market raided and shut down by Thai authorities | 60 Minutes Australia
And some final entertainment. One of the joys of this time is the incredible creativity coming out of homes around the world. This is Glenferrie Brass in Melbourne, Australia. Conducted by my sister, Phillipa Edwards. I love it!
And yes, I read a lot. Like everyone, I'm trying to get to the bottom of the situation we're in, and this is how I do it.
I hope this becomes useful and provides a great weekend read. I'll keep it going if there is an interest in it, so leave a comment if you think it's of value.
So far, the only person who has seen the articles I read or the videos I watch, is my husband. Poor man.
Cheers
Andrea
18 Steps to An All-Star LinkedIn Profile – free until 24th May 2020
I want to help, so I've made the eBook version free for 60 days. I can't do much during this time, but I am focusing on what I can control and you can control this too – taking your professional presence on social media seriously. After this pandemic is over (and it could take a long time), your professional presence is something that matters in securing work. Prioritize it!
However, if you are not in the right frame of mind to do this right now – which is completely understandable – get it now, and go back to it when you can do this.
This book is the starting point for LinkedIn success. If you want to buy it (although books aren't shipping everywhere at the moment) it's available on Amazon.com Amazon.co.uk Amazon.in and Flipkart. It's also available as an eBook on Amazon Kindle, Kobo, Google Play and iBooks.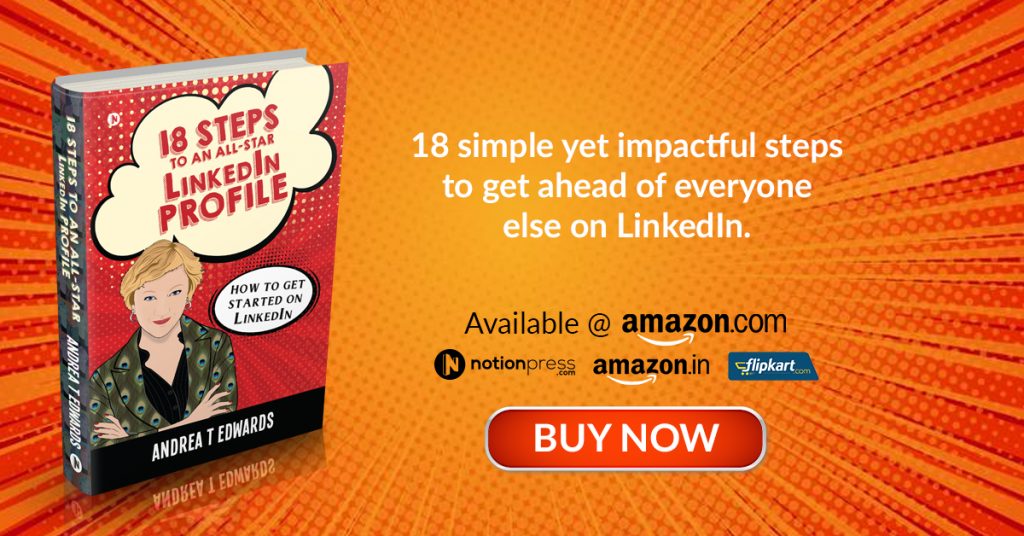 Are you a Social CEO?
I'm proud to be a contributing author to The Social CEO: How Social Media Can Make You A Stronger Leader. You can order it on Amazon today.
Want to claim your stage?
Check out our co-authored Best Selling Book – Unleash Your Voice – Powerful Public Speaking for Every Woman – proud to be part of this too!
Want proof social leadership transforms business and attracts customers?
Check out this case study with IBM Asia Pacific. Incredible results.
Want to be a super star online?
Don't know where to start, check out my e-learning course How to build a rock star personal brand today.
I believe it's time for all of us to embrace our voice and embrace the future. We do this by working and living 'out loud' with meaning, intention, integrity and by being true to ourselves. If you own your voice, you will own your future.
Connect with me
If you like my style and what I talk about, feel free to follow me on any of these platforms on social media.
My blog andreatedwards.com
Twitter @AndreaTEdwards
LinkedIn AndreaTEdwards
LinkedIn The Digital Conversationalist
Facebook AndreaTEdwards
YouTube Andrea Edwards
SlideShare AndreaTEdwards
Medium AndreaWTBEdwards
Instagram AndreaWTBEdwards