We "celebrated" Earth Day this year, which started in 1970, the year of my birth. Here's a little video of one thing we've achieved in this time…
Like I said, grim!
The big statement that took me by surprise in recent weeks (and knocked me hard), is the message from scientists – they weren't expecting what is happening in the environment to happen until 2050. So the escalation is real, frightening and the voices are more extreme.
Is it any wonder scientists are super gluing themselves to buildings? They're sick of crying in anguish and horror at what we are doing to ourselves, and they want to do something more to help focus the attention where it needs to go! We ignore them at our peril.
We've seen some massive news in regards to the climate in recent weeks. From the extreme heat in the two poles at the same time, the Conger Ice Shelf in Antarctica collapsing (always considered a safe shelf), and the Thwaites Glacier (or Doomsday Glacier) is expected to break off any time now (within a decade) and while a precise forecast is impossible, it's clear where sea level is headed: Up, possibly a lot, possibly soon.
Two feet minimum is predicted.
There are two other trends you'll see on social media right now. The rise of the Doomers and people sharing their eco-anxiety in public.
The Doomers do not think there is any hope left, because we have gone too far. I do not disagree with them. We have. BUT the one thing they all say consistently is, we can't succeed because our leaders won't do the work needed, and we won't change to ensure a live-able planet.
This is where I'm taking my message – to all of us, so we can change to ensure a live-able future. You, me, everyone on this planet. We are the hope.
And to those expressing eco-anxiety. I feel your pain. It is a VERY challenging truth to face. My advice is to feel all of the emotions rushing through your bodies and when you're ready, come and get involved. We have no time and action everywhere is what's needed right now. But you can't avoid this stage – try not to resist it, or it will last longer.
Some headlines to look out for
Less Than Three Years Left For World To Avoid Climate Catastrophe
Mastercard Links Compensation for All Employees to ESG Goals
Stop climate change? We have the tools to end greenhouse emissions now
Global Warming Drove a Deadly Burst of Indian Ocean Tropical Storms
1.5 vs 2C: What difference can a lousy half a degree of global warming make?
Some other beauties….
Thawing permafrost is roiling the Arctic landscape, driven by a hidden world of changes beneath the surface as the climate warms
India weather: subcontinent swelters in hottest March in 122 years | Fortune
Delhi To Experience Severe Heatwave Conditions On 17th-18th April
Explained: How heatwave might thwart India's dream to feed the world
'Snow' set to end UK heatwave as temperatures set to drop
Oh and this one – The Great Starvation is coming, and the world must prepare for it.
And on it goes.
Please read and learn. We have no time to lose (none at all) and the only way to get committed to action, is to know what we're dealing with.
We have to change how we live and we will make these changes one way or another. We decide or nature decides. There is no other way. But we can decide. Every single one of us has to decide. WE are our only chance. Please, join the fight of our lives.
Friend's content and mine
How I get it done: Stephanie Dickson, founder of Green Is The New Black – inspiring as always from Stephanie Dickson. Steph has achieved incredible results, but it's not always an easy ride!
Women Continue To Be Underrepresented In Tech Leadership great article by Arati Ranade laying out the path for more women in technology leadership roles.
The social leadership manifesto, managing teens on social media, and so much more – thrilled to speak with Tara Moody on this podcast, where we discussed The Social Leadership Manifesto and so much more, she even started interviewing me ?
A chapter from my book Uncommon Courage: an invitation, and a reminder to learn to Trust your own counsel – we ignore our wisdom within all the time. It always has the answer.
I launched my daily tips for everyone to help address climate change and here is week five. I will also be updating these ideas at this blog – What can I do to act on climate change? Actions we can all embrace. Favorite it and check in often.
Donation time
If everyone gave #just10percent of their time, talent, money or voice, we'll change the world. Can you donate? Make it a regular donation to the World Food Programme. Or donate to the UN Refugee Program, PowerOf , Kiva.org , Soi Dog Foundation. It's a time for giving and taking care of each other.
If you want to support Ukraine Red Cross Ukraine, Medicine Sans Frontier, Defend Ukraine, as well as World Food Programme and UN Refugee Program.
Content to read
And here's the content I've been reading this last week. Scan the headlines, read the ones that jump out at you, read or watch them all. Knowledge is power, and global knowledge is even more powerful.
Climate crisis
The Great Starvation is coming, and the world must prepare for it
Oil Trade Group Drafts Carbon-Tax Proposal That Could Raise Prices at the Pump
Navigating through muddied water or is it an oil spill?
Do we need to stop flying to save the planet? We ask an expert
Podcast: ESG – how can we measure how 'good' companies are?
Lesser known ozone layer's outsized role in planet warming
Housing Crisis Propels High Death Toll in South Africa Floods
'Impossible to work after 10 o'clock in the morning': India swelters in hottest March in 122 years
How heatwave might thwart India's dream to feed the world
'Mountain of trash': how Gibraltar was almost buried under post-Brexit rubbish pile
Flooding has killed hundreds in South Africa. What is behind the disaster?
Why is the number of heatwave days rising in India? Scientists blame climate change
'Snow' set to end UK heatwave as temperatures set to drop
Trivial Energy Return For $Billions Squandered on Unreliable Wind Power
Halliburton's profit jumps, outlook improves as drilling activity increases tks Samantha Gayfer
Global banks form group to decarbonise aviation industry
The Fertilizer Shock Might Change Agriculture—for the Better
Across the Boreal Forest, Scientists Are Tracking Warming's Toll
The Climate Expert Who Delivered News No One Wanted to Hear from 2009
No, Global Warming Will Not Be Overturned By A Paradigm Shift
Sustainability x Advertising: "Without the Work the Ad Industry is Doing on Behalf of Fossil Fuel Clients, It Is Much Harder for Putin to Carry Out This War" tks Alexis Eyre
How Working for Fossil Fuel Clients Blocks climate Change
What Is a Blue Ocean Event and How Will It Impact Global Climate?
Delhi to experience severe heatwave conditions on 17th – 18th April
Less Than Three Years Left For World To Avoid Climate Catastrophe – UN tks Susanna Hasenoehrl
Watch the ground-breaking NEW documentary about our net-zero carbon future
Research reveals how much fossil fuel industries get from government subsidies
Thawing permafrost is roiling the Arctic landscape, driven by a hidden world of changes beneath the surface as the climate warms
1.5 vs 2C: What difference can a lousy half a degree of global warming make? tks Susanna Hasenoehrl
These young climate activists are breaking through the language barrier around the world
Biofuels lobby 'immoral' over food crisis and Russian oil
An ocean of noise: how sonic pollution is hurting marine life
Global Warming Drove a Deadly Burst of Indian Ocean Tropical Storms
As Russia's War In Ukraine Disrupts Food Production, Experts Question the Expanding Use of Cropland for Biofuels
Here's the thing about that dire climate report: We have the tools we need to fix things
Russia's war should accelerate the green transition
Why everything will collapse
Global politics – focus on Ukraine
Mariupol steelworks: 'We have wounded and dead inside the bunkers'
American 'Ghost' drones for Ukraine designed for attack: Pentagon
Russia releases video of intercontinental ballistic missile launch
How Russia replaces Ukrainian media with its own
Russia-Ukraine War: More Russian soldiers refusing to fight in Ukraine – GUR
Mariupol defenders will fight to the end says PM
The war in Ukraine has exposed the west's refugee hypocrisy
China Buys Cheap Russian Coking Coal as World Shuns Moscow
Newsmax Host Eric Bolling Implores Tucker Carlson To Stop Siding With Russia
Russian teacher rejected Kremlin propaganda, then paid the price
Supermarkets set limits on sale of cooking oil tks Mark Thorburn
Other politics
ABC Breakfast interview with Dr. Scott Burchill – tks Phillipa Edwards
Disney World Losing Its Special District Status Could Be 'Catastrophic' For Local Taxpayers
Rorters, rooters and the country's lost decade tks Phillipa Edwards
STOP THE TRAFFIK GROUP STATEMENT ON UK GOVERNMENT RWANDAN PROPOSAL
French election: Macron and Le Pen clash in TV presidential debate
Alex Jones' Infowars files for bankruptcy in fallout after Sandy Hook lawsuits
Partygate: Boris Johnson says full facts needed before vote on investigation
Why I can't be part of this election tks Phillipa Edwards
Tucker Carlson Exposes His Insecurities In 'The End Of Men' Trailer
Grieving families will never forgive or forget Boris Johnson's rule-breaking
Rwanda plan is 'against the judgment of God', says archbishop of Canterbury
The great American demographic shift
Joint Press Conference between PM Lee Hsien Loong and NZ PM Jacinda Ardern
Covid
COVID-19 group size limit to be removed in Singapore, all employees can return to the workplace from Apr 26
Passengers Rejoice in Viral Videos as Airlines Ditch Mask Mandate
85% of Shanghai Expats Rethinking Their Future in China
The German Expat Phone Call That Went Viral in Shanghai
For Airlines, the Mask Mandate Couldn't End Soon Enough
Surprisingly low Shanghai COVID death count spurs questions
Shanghai's Moldy Covid Food Packages Prompt Outcry From Public
Shanghai allows 4 million people to leave their homes as coronavirus rules ease
Never Had Covid? You May Hold Key To Beating the Virus
Expatriates leave Shanghai, seeking respite from lockdown
Business and technology
Obama calls for more regulatory oversight of social media giants.
Barack Obama said social media is 'turbocharging some of humanity's worst impulses' and called for reform to Section 230
Why Netflix is suddenly losing subscribers
The truth about the 'great resignation'
Amazon has commissioned a 'racial equity audit' to study potential discrimination impacts on its 1 million hourly workers after shareholder pressure
Mastercard Links Compensation for All Employees to ESG Goals tks Mike Barry
World's richest man Elon Musk says he's homeless and 'rotates' among friends' houses
Social issues and humanity
Why we fawn in the face of fear tks Phillipa Edwards
Fox News viewers changed their minds after getting paid to watch CNN for a month
'People Thought I Didn't Care — I Did.' Nicolas Cage Sets the Record Straight
Australia spent a million dollars training me – and now I'm leaving tks Willie Wahlin
Ukrainian workers flee 'modern slavery' conditions on UK farms
Canadians consider certain religions damaging to society: survey
I Moved Back In With Mom And Dad At 45 – And I Have No Plans To Leave
Florida Continues Attack On Education After Rejecting 54 Math Textbooks Due To 'CRT'
As New Zealand emerges from pandemic isolation, citizens queue up to leave
Passion, humour, history
Madeleine McCann: Christian Brueckner declared formal suspect
Michelle Yeoh Breaks Down In Tears: This Role Is 'Something I've Been Waiting For'
The Cast of The Wire, Then and Now
Let me know what jumped out at you? Or share with me what you're reading? I love that!
Cheers
Andrea
Uncommon Courage: an invitation – my latest book
You can buy it on Amazon, Apple Books, Barnes & Noble, Book Depository, Booktopia, Smashwords, Kobo, Gardners, Odilo, Indie Bound, BookShop by BookTrib and Scribd.
Better yet, order it from your local bookstore, so you can #SupportLocal.
You can read the reviews, including a new five-star review on Book Commentary, another five-star review on ReaderViews, a review on BookTrib, and three more on Booklife, another on Book Commentary and Blue Ink Reviews. I'm also collating reviews on my Website too. Have a look and grateful to everyone who has written or recorded one.
Come and join the conversation in my new Facebook Group Uncommon Courage.
Uncommon Courage, the podcast – Apple, Spotify and everywhere podcasts are published.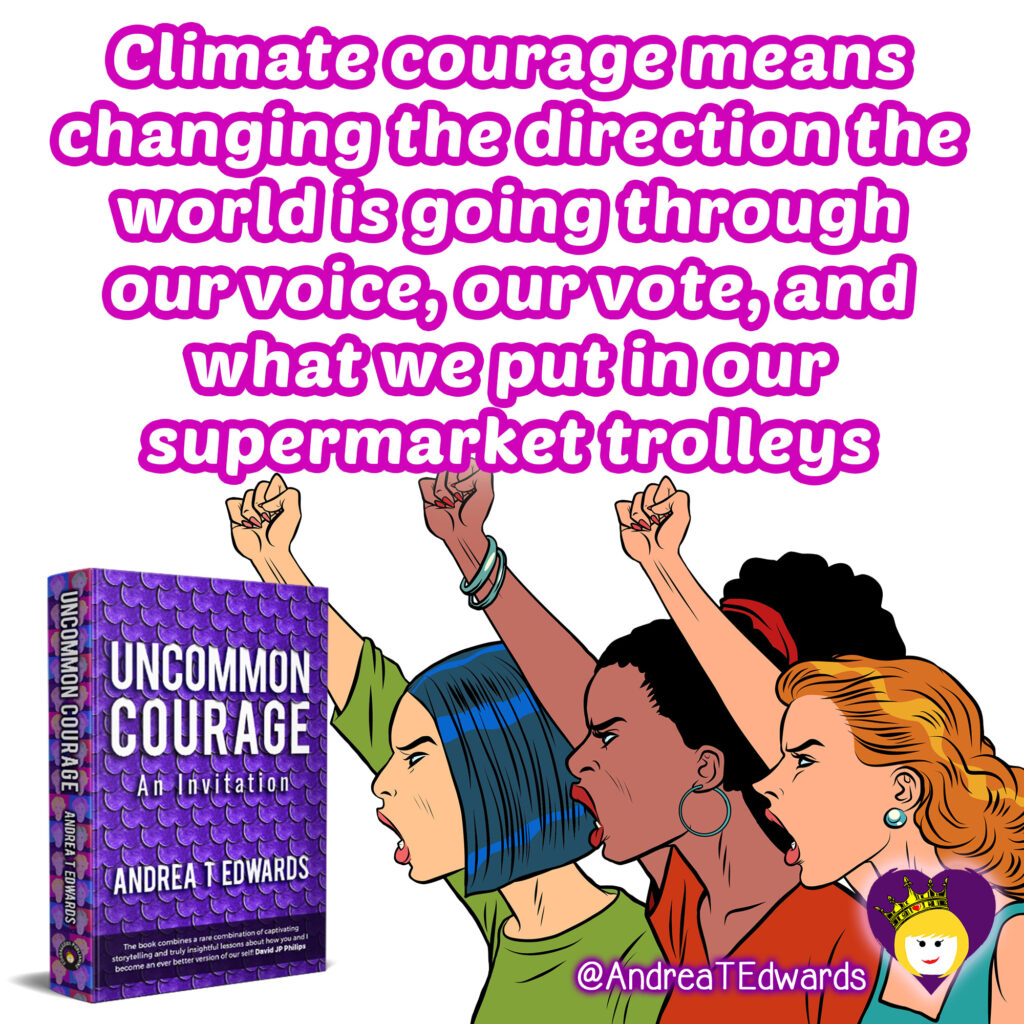 The Know Show
Check out The Know Show. It's a weekly wrap up of the news!
Listed by Book Authority in the 100 Best LinkedIn Books of All Time and 22 Best New LinkedIn eBooks To Read In 2021 and 2022 categories. Grab it today if you want to take your professional presence to the next level! When it comes to LinkedIn, it really is time to ask — can you really afford not to have this book in the hands of every employee?
Connect with Andrea
andreatedwards.com , uncommon-courage.com
LinkedIn, Twitter, Facebook, YouTube, Instagram, Medium, Amazon.
Feedback
Have I done a great job for you? Can you write a reference on my LinkedIn profile or on my Google Business page? If not for me, why not write one for someone else who inspires you or has helped you? Join the #GivingEconomy.
Are you a Social CEO? The Social CEO: How Social Media Can Make You A Stronger Leader.
Want to claim your stage? Unleash Your Voice – Powerful Public Speaking for Every Woman