When you dig deeply into the polycrisis and all its issues, one the most important focus areas is making sure we have the leaders who are capable of understanding the complexities of the challenges we face, and they need to be leaders who serve their people, not themselves. This type of leader is an adult, not a child in an adults' body.
This Tweet from Republicans against Trump is a showcase of what a non-adult leader looks like.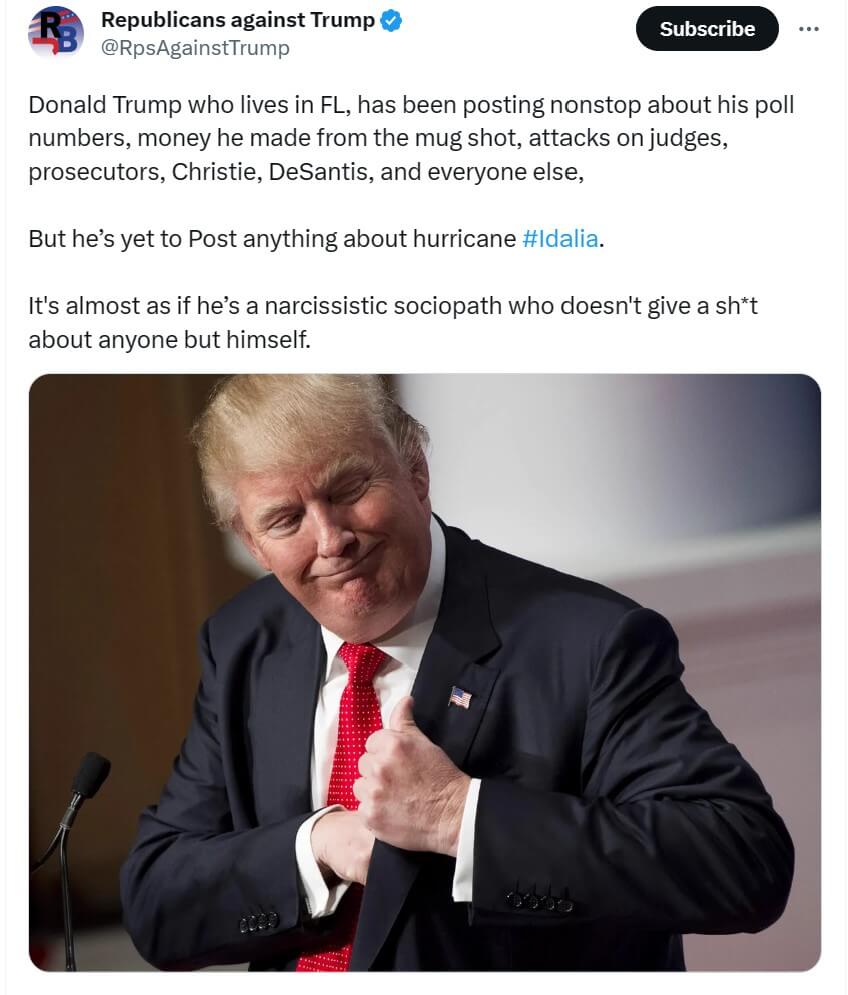 I don't want to talk about Trump, because he's just a symptom of the crazy stuff going on in societies all over the world and honestly my friends, what we are facing as a global community is so complex, so all encompassing, that it requires the best minds, the best leaders, and all of us coming in behind them to ensure they succeed. If we don't get that message, how can we possibly handle what is coming at us?
But there's another massive challenge staring us in the face – the type of leaders we need will not step up, because the amount of hatred, abuse, and vitriol makes it completely impossible. Who would want to deal with that every day?
We must create the environment that attracts them to lead, and that means it's time for all of us to rise up, speak up and drown out the small percentage of people who have taken over our digital and media landscapes, because they do not speak for all of us. The good people have stepped away from the ugliness in the world – which is perfectly understandable – but it's time to step in again.
The rise of authoritarian leadership is happening across the world, with Spain the most recent country that thankfully had some sense. But it was a close call. Authoritarian leadership is not what we need right now, in fact, if we go down this path, it will be impossible to overcome these challenges and it will be a disaster.
Please, it is time to get involved, in anyway you can, and if you are a leader the world needs right now, claim it, step up, because we sure do need you.
Have a look at the news from this last week, look at the selection of extreme weather events happening everywhere, look at future risks too – Australia's fire season has started, extreme heat will be a huge factor for Australia too, the coral reefs of the Southern Hemisphere are at enormous risk after massive devastation in the Northern Hemisphere, global food shortages and inflation are here and getting worse, extreme heat will hit the Global South when the hot season kicks off from February, etc, etc, etc…
We need to look ahead, understand what's coming, prepare for it and do all we can to reduce how bad it gets. We're not even doing the basics yet, and adaptation is one of the basics. How can so many not see it? How can our governments not be leading it? Most governments seem to be going in the wrong direction, approving new fossil fuels permits all over the planet. They really aren't getting the message.
It's a confusing world to live in, I must say. Onto the reads.
Friend's content and mine
Looking for a strong solution to the challenges we face in winding down our fossil fuel use? Check out Transformational Ownership, by Dr. David Ko and Richard Busellato #ItsTime2Act Transformational Ownership – point by point | LinkedIn
Donation time
If everyone gave #just10percent of their time, talent, money or voice, we'll change the world. Can you donate? Why not make a regular donation to the World Food Programme. Or donate to the UN Refugee Program, Medicine Sans Frontier, PowerOf, Kiva.org, Red Cross, and so many more, including urgent fundraising and those supporting animals, like the Soi Dog Foundation. A fabulous organisation I support is B1G1 – check it out and set up an account. It's a time for giving and taking care of each other.
Content to read
And here's the content I've been reading, listening to or watching. Scan the headlines, read the ones that jump out at you, read, listen to or watch them all. It's time to pay attention to the information that matters.
Climate crisis
The summer ahead: The climate disasters unfolding in the northern hemisphere are a sign of what's in store here, as governments fail to act on the unfolding emergency | The Monthly
'The burns can cook them': searing sidewalks cause horrific injuries in US | US news | The Guardian this is horrific!!
Women working in Antarctica say they were left to fend for themselves against sexual harassers | AP News
India will be losing groundwater three times faster in 2041-2080, finds study (downtoearth.org.in)
Plan for 55,000-acre utopia dreamed by Silicon Valley elites unveiled | Silicon Valley | The Guardian
A Cooler Future Means a World With Less Pavement | The Nation
The planet is too important to be left to activists: The guiding philosophy of the Climate Majority Project – ABC Religion & Ethics
The Daily: Arizona's Pipe Dream on Apple Podcasts
Cookstove offsets produce millions of junk carbon credits (climatechangenews.com)
Baby emperor penguins drown in thousands after Antarctica sea ice melts – ABC News
Australia's greenhouse emissions are a national disgrace that are destroying the planet and costing households | Greg Jericho | The Guardian
Using evidence from last Ice Age, scientists predict effects of rising seas on coastal habitats | ScienceDaily
Researchers find Antarctic ice shelves thinner than previously thought (phys.org)
Heat records topple across sweltering Asia (phys.org)
Hawaii wildfires: Oprah and The Rock pledge direct payments to victims in Maui – BBC News
Pope Francis to lay bare 'terrible world war' on nature in papal letter | Pope Francis | The Guardian
In New Scramble for Africa, an Arab Sheikh Is Taking the Lead – Yale E360
Idalia: Florida assesses storm damage amid sense of relief – BBC News
It turns out all those paper straws are bad for the environment too | National Post (ampproject.org)
Is spirituality the missing pillar of sustainability? (substack.com)
"Negligent manslaughter": Study finds climate change could kill 1 billion mostly poor people | Salon.com
The 7 climate tipping points that could change the world forever – Grist | Grist
Microplastics infiltrate all systems of body, cause behavioral changes | ScienceDaily
Why did tourists keep coming as Rhodes and Maui burned? It's about far more than denial | Moya Lothian-McLean | The Guardian
Chinese people are living two years longer thanks to 'war on pollution,' report says | CNN
Idalia to hit Florida as 'extremely dangerous' hurricane, forecasters say | Florida | The Guardian
Extreme weather events linked to increased child marriage (phys.org)
This Brutal Summer in 10 Alarming Maps and Graphs | WIRED
A Fossil Fuel Economy Requires 535x More Mining Than a Clean Energy Economy (distilled.earth)
Prehistoric bird once thought extinct returns to New Zealand wild | Birds | The Guardian
Crops significantly deteriorate during scorching week – Iowa Capital Dispatch
Leeds Festival clear-up volunteer's dismay at 'littering on the grandest scale' | ITV News Calendar
China continues coal spree despite climate goals | China | The Guardian
Greece wildfire declared largest ever recorded in EU | Greece | The Guardian
Rainforest study: Scientists now know the temperature at which photosynthesis stops | Grist
Climate activists target jets, yachts and golf in a string of global protests against luxury | AP News
6.0 magnitude quake felt in Aussie city (news.com.au)
Hurricane Idalia: Floridians evacuate as storm hurtles towards coast – BBC News
What Your Insurer Is Trying to Tell You About Climate Change – The Atlantic
Recycling and other myths about tackling climate change. – The Washington Post
Climate crisis to create 'acute' challenges for Australia's economy, incoming RBA governor says | Australia news | The Guardian
UN seeks to help children battling climate change in court | Reuters
Vaclav Smil: 'Growth must end. Our economist friends don't seem to realise that' | Science and nature books | The Guardian
'Off-the-charts records': has humanity finally broken the climate? | Climate crisis | The Guardian (ampproject.org)
FEMA announces $3 billion for climate resiliency as time runs low for Congress to replenish its disaster fund | CNN Politics
Dramatic climate action needed to curtail 'crazy' extreme weather | Climate crisis | The Guardian
Climate change is making hurricanes more destructive (theclimatebrink.com)
'No civilisation without agriculture': David Pocock says gas fields show environmental laws are broken | Environment | The Guardian
Environmental crisis looms as Murray cod virtually disappear from NSW Lower Darling | Australia news | The Guardian
11 years ago…
Planet: Critical: Mainstreaming Behaviour Change | Bill Ryerson on Apple Podcasts
Record Heat Scorches Dallas As Hell Summer Continues Across U.S. | HuffPost Latest News
How 19th-century pineapple plantations turned Maui into a tinderbox | Hawaii fires | The Guardian
Norway to spend $6 million a year stock-piling grain, citing pandemic, war and climate change | AP News
Bank of England warns of 'apocalyptic' global food shortage (telegraph.co.uk)
You're Not Going to Make It (okdoomer.io)
Abnormalize The Empire – by Caitlin Johnstone
Dozens of wildfires burn in Louisiana amid scorching heat: "This is unprecedented" – CBS News
Personal emergency kits are a growing market in an uncertain world | CNN Business
After America's summer of extreme weather, 'next year may well be worse' | Climate crisis | The Guardian
Climate change complacency is biggest risk to our economy and security – report (inqld.com.au)
Is Beekeeping Wrong? | The New Yorker
Microplastics infiltrate all systems of body, cause behavioral changes – Rhody Today (uri.edu)
Our forests have reached a tipping point | Canada's National Observer: News & Analysis
Maui officials release list of hundreds missing since deadly wildfire | Reuters
David Spratt | Anthony Albanese government refusing to release declassified climate security report | Newcastle Herald | Newcastle, NSW
Global politics
Tharman Shanmugaratnam: Singapore picks a president who could've been much more – BBC News
The Power Of Women Voters – Climate Change, Abortion. Women's Equality Day (forbes.com)
Julie Bishop says no result in Indigenous voice referendum would send 'very negative message' to world | Indigenous voice to parliament | The Guardian
It can be a battle to get information from the Albanese government – ABC News
Ukraine war: Putin influencers profiting from war propaganda – BBC News
Prigozhin alluded to threats in new video release – BBC News
Ukraine war: Kyiv 'liberates' village, night time drone attacks on Moscow, Ukrainian elections | Euronews
The Daily: A Plane Crash, 10 Dead People and a Question: Was This Putin's Revenge? on Apple Podcasts
Private funeral held in St Petersburg for Wagner boss Prigozhin | Euronews
Wagner boss Prigozhin confirmed dead in plane crash – Moscow – BBC News
Lies, mutiny and Bakhmut: Ex-Wagner fighter shares his chilling story | Euronews
Ukraine war: Fighter ace and two other pilots killed in mid-air crash – BBC News
Nadine Dorries resigns: Conservative MP attacks PM as she quits Commons – BBC News
Why I joined 70 economists and human rights experts urging Labour to change course | Kate Pickett | The Guardian
Nikki Haley calls for 'mental competency tests' for ageing US leaders – BBC News
Mitch McConnell freezes for second time during press event – BBC News
The Open Secret of Trump's Power – The Atlantic
Trump trial set for March 4, 2024, in federal case charging him with plotting to overturn election | AP News
SILENT: DeSantis campaign won't respond to drop out rumor (washingtonpress.com)
Business and technology
Modi-linked Adani family secretly invested in own shares, documents suggest | India | The Guardian
Rishi Sunak says airlines must help stranded passengers after 'dodgy flight plan' caused meltdown – as it happened | Airline industry | The Guardian
Meta closes nearly 9,000 Facebook and Instagram accounts linked to Chinese 'Spamouflage' foreign influence campaign | Meta | The Guardian
Online Ratings Are Broken – The Atlantic
Social issues
Johannesburg fire: 'Others jumped too, but they didn't make it' – BBC News
At least 73 killed as fire engulfs five-storey building in Johannesburg | South Africa | The Guardian
Johannesburg fire 'wake-up call', President Ramaphosa says – BBC News
FBI finds 200 sex trafficking victims, 59 missing children in two-week sweep (nbcnews.com)
Mohamed Al Fayed: Former Harrods owner dies at 94 – BBC News
Andrew Tate: Chats in 'War Room' suggest dozens of women groomed – BBC News
Schools in England told to be ready to evacuate buildings at risk of collapse | Schools | The Guardian
'Avoid getting drunk': row erupts over rape comments by Italy PM's partner | Italy | The Guardian
Britain is no longer a Christian country, say frontline clergy (thetimes.co.uk)
Live worm found in Australian woman's brain in world first – BBC News
Welcome to the "You Do You" Pandemic | The Nation
Brain fog after Covid linked to blood clots – study – BBC News
These Are the Vaccines You Should Get This Fall and Winter | Time
Pandemics Don't Really End—They Echo | Time
Ruby Franke: '8 Passengers' parenting mum arrested on child abuse suspicion – BBC News
Pope says some 'backward' conservatives in US Catholic Church have replaced faith with ideology | AP News
Laurence Fox post about 'hard men' goes viral again (thelondoneconomic.com)
The Gray Area with Sean Illing: The benefits of utopian thinking on Apple Podcasts
Pep Talk – For Dear Life with Maggie Smith (substack.com)
An infamous Spanish kiss overshadowed meritorious women doing their job — can you believe it? – ABC News
A revolution 40 years in the making: how the Spanish women's team fought back | Spain women's football team | The Guardian
Luis Rubiales kissing Jenni Hermoso unleashes social tsunami in Spain – BBC News
'It's over': World Cup kiss becomes Spanish football's #MeToo moment | Spain | The Guardian
Spain's Soccer Federation Forces Reckoning With Sexism – The New York Times (nytimes.com)
Luis Rubiales: Spain coaching staff resign over Hermoso kiss row – BBC Sport
Passion, humour, history
Exciting Photos Of The Loch Ness Monster Emerge – Network Ten (10play.com.au)
Woman wears 'terrible wigs' to work after boss banned her pink hair (thelondoneconomic.com)
This couple's hilarious wedding sign will surely never be bettered – The Poke
High-altitude heist shocks Switzerland – BBC News
So, what did you read? What jumped out at you? Or share with me what you're reading? I love that!
Cheers
Andrea
Want to support my work?
You can buy me a coffee. 
Want to get in touch?
All of my contact information is here on Linktree.
Environment education
Four environment resources to help you navigate this challenging territory.
Uncommon Courage: an invitation
Uncommon Courage is an invitation to be your courageous best self every day. It's also an antidote to the overwhelm, fear, and rage rolling around the world. But it's more than a book; it's an invitation to join an inclusive community that wants to better understand humanities challenges – both global and personal – in order to take courageous action and create a better world for everyone. If Covid19 has given us the time and space to reflect, Uncommon Courage gives us the nudge we need to create lasting change.
You can buy it on Amazon, Apple Books, Barnes & Noble, Book Depository, Booktopia, Smashwords, Kobo, Gardners, Odilo, Indie Bound, BookShop by BookTrib and Scribd.
Better yet, order it from your local bookstore, so you can #SupportLocal.
You can read the reviews, including a new five-star review on Book Commentary, another five-star review on ReaderViews, a review on BookTrib, and three more on Booklife, another on Book Commentary and Blue Ink Reviews. I'm also collating reviews on my Website too. Have a look and grateful to everyone who has written or recorded one.
Come and join the conversation in my Facebook Group Uncommon Courage.
Listen in to the Uncommon Courage, the podcast on Apple, Spotify and everywhere podcasts are published.
The Know Show
Check out The Know Show. It's a fortnightly wrap up of the news!
Climate Courage
A fortnightly conversation on issues that matter to you and I, focusing on the actions we can all take.
Listed by Book Authority in the 100 Best LinkedIn Books of All Time and 22 Best New LinkedIn eBooks To Read In 2021 and 2022 categories. Grab it today if you want to take your professional presence to the next level! When it comes to LinkedIn, it really is time to ask — can you really afford not to have this book in the hands of every employee?
Are you a Social CEO? The Social CEO: How Social Media Can Make You A Stronger Leader.
Want to claim your stage? Unleash Your Voice – Powerful Public Speaking for Every Woman
Feedback
Have I done a great job for you? Can you write a reference on my LinkedIn profile or on my Google Business page? If not for me, why not write one for someone else who inspires you or has helped you? Join the #GivingEconomy.