The biggest news for me this week is global heating will drive billions of people out of the "climate niche," a range of temperatures where humanity has flourished for millennia. This heat will expose us to unprecedented temperatures and extreme weather, not to forget, according to the scientists, we are on track for 2.7C warming and 'phenomenal' human suffering. Terrific.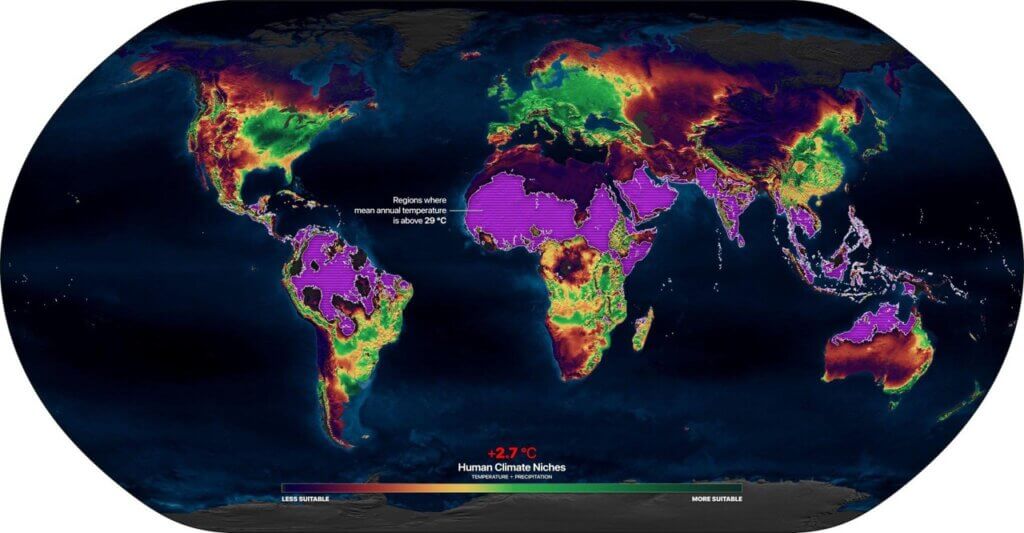 In the map, the purple colour is where it will become too hot to live, based on 2.7C warming – which is predicted later this century, not tomorrow. However, being on the path towards this warming (which we are) will see events escalate and become more extreme.
Once we get to this level, up to one billion climate migrants (which feels very conservative) will be seeking cooler places to live, however, the green spots on the map aren't necessarily heaven on earth, as those areas will still experience more frequent heatwaves and droughts.
Alarming? Well, it should be a wakeup call, even though we've had plenty of them already. The message is very clear – if we take the urgent action required to lower carbon emissions and keep global temperature rise to 1.5C – which I believe is impossible at this point, but anything lower than 2.7C is worth attempting – the number of people pushed outside the "climate niche" reduces by 80%, which is 400 million people.
I'd suggest that sounds like a goal worth pursuing, you?
Here's a couple of things to keep in mind when looking at the map.
Data visualisations of one aspect of the climate emergency are always problematic. You might think, great, I'll buy a house in the green part to secure my children's future. However, by the time we hit 2.7C warming, we will also have much higher seas. I would like to see that reflected in this map, because then we'll really know what we're facing and maybe that will help us get the message?
There are many other aspects to global heating of 2.7C. Methane release from permafrost melt and its implications, ecosystem collapse, famine and food shortages globally, nuclear meltdowns of existing infrastructure, etc…. Or here's a simple one. We will have lost the coral reefs long before 2.7C, which will result in mass ecosystem collapse in the oceans, potentially meaning a dead ocean. Let's just say, that won't be good for us
And industrial civilization will have long since fallen apart by 2.7C, because that is the path we're on now – maintaining the system leading us towards this point, which guarantees we hit it, which will tear our societies apart, and we still refuse to see and act. Our leaders are also failing us, and we need to start taking action with or without them.
So have a read of the article: Global heating will push billions outside 'human climate niche'
And another really interesting one: France is preparing for a 4C rise and I'm just thrilled to see serious adaptation plans being discussed France Prepares For 4 °C Rise: "We Can't Escape The Global Reality"
James Hansen was busy this week +10C warming re-confirmed – Just Collapse
And two more: Denial Doesn't Change Our Climate Reality: Earth Is Becoming a Sacrifice Zone
The Upper Atmosphere Is Cooling, Prompting New Climate Concerns
I know it's not good news and I would rather share beauty and delight, but we must wake up to the situation we are in. Escalation really started in 2022 and it's going to get worse every year, but we can pull things back.
It will never be perfect or the same – we waited too long for that – but it does not have to be as catastrophic as that map is reflecting. The outcome in now firmly in all our hands. Ready to get involved?
Six things you can get started on
Learn about it – here's my annual blog, going back four years, which is a curation of all I'm reading and watching on the climate and social issues. The Weekend Reads is also published to help you stay up to date
Clean up your own life – top to bottom, go through your home, change your diet, how you clean, the chemicals you use, what you buy, get rid of your car if you can, consciously reduce the waste leaving your home, plant a garden, compost, get a Bokashi bin, holiday locally, check your investments, is your house safe, what about your pension – is it good for earth, etc… It's not an overnight job, it takes time and even better if you do it together as a family. We need to shrink our lives and the impact we have on our beautiful earth
Share on social media the changes you are making and show people what you're doing and talk about why. In-person, especially with families, talk about it and normalize speaking about it. This needs to be front and centre now, especially adaptation plans. You do not want to be hit with extreme weather events and not be prepared. Please get prepared. That includes planting a garden, because part of the adaptation plans is to get ready for global famine, it's coming.
Get involved – join a climate action group that is aligned to your values or get involved in beach clean ups, or any other community action that appeals to you. Whatever you enjoy, do it and find like-minded people too. It's a wonderful way to make new and meaningful friendships.
Be a community leader – wherever you live, bring your community together and brainstorm ways you can create shared value in your community and get ready for the challenging years ahead. Examples are pooling together to invest in community solar as grid independence is a smart move. How about sharing cars, tools, and all the big-ticket items we never use enough to justify owning? Plant a community garden, take care of the elderly and disabled, etc… One great project you can do together in your community is to rewild it – look back 50 years and plant what has been chopped down, reintroduce species that have been lost! If we did that everywhere on earth, what a difference it would make
Vote wisely – we need the right sort of leaders to take us through this era, and many of the world's leaders are not fit for purpose. So, let's vote wisely, and let's vote for people who speak to the real problems (versus the ridiculous divisive rhetoric happening today) and they must be capable of bringing us together so we can prepare to face it together. We need to support these leaders too, because they cannot succeed if they are under constant attack and abuse. We need to build a new world, and the right leaders required for this work are critical.
Friend's content and mine
From fashion devotee to green warrior: Stephanie Dickson shares ways to make sustainable living enjoyable and impactful – great interview with the fabulous Stephanie Dickson. Love it.
The Know Show – it was awesome having Arewa Olanrewaju on the show this week, providing a unique perspective on what's going on in Africa and Nigeria, from both a political and environment perspective. Thanks also to Tim Wade and Joe Augustin. Joe showed amazing commitment being on the show this week. Have a listen and you'll understand why.
Donation time
If everyone gave #just10percent of their time, talent, money or voice, we'll change the world. Can you donate? Make it a regular donation to the World Food Programme. Or donate to the UN Refugee Program, Medicine Sans Frontier, PowerOf , Kiva.org , Soi Dog Foundation. It's a time for giving and taking care of each other.
Content to read
And here's the content I've been reading or watching this last week. Scan the headlines, read the ones that jump out at you, read or watch them all. Knowledge is power, and global knowledge is even more powerful.
Climate crisis
Reflections on 'Beyond Growth' | Frankly #31
The Upper Atmosphere Is Cooling, Prompting New Climate Concerns
Recycling can release huge quantities of microplastics, study finds
John Gibbons: Wildlife population decline is more acute than we once thought
California fossil fuel divestment bill – SB 252 – passes Senate with massive momentum
Glaciers, Expeditions, & the Amazing Dr. HeÏdi Sevestre Part 1 South of 2 Degrees – The Science Behind Climate Change Podcast
Climate scientists flee Twitter as hostility surges
France Prepares For 4 °C Rise: "We Can't Escape The Global Reality"
UN urged to stop the fossil fuel industry sabotaging new Global Plastic Treaty
India's RBI chief says inflation moderated, flags El Nino worries tks David Ko
Unusual Ocean Anomalies are being detected in the North Atlantic, impacting the Atlantic storm systems as we head into the Summer season
Plastic waste puts millions of world's poorest at higher risk from floods
3 million hectares of Colombian Amazon deforested for illegal pasture
With global warming of just 1.2°C, why has the weather gotten so extreme?
Tyre-makers under pressure as too much rubber hits the road
Technology Will Not Restore Our Pre-Climate Crisis Future
Oil companies owe the world trillions in climate reparations. This study calculates the exact cost
El Nino on the way, could wipe out $3 trillion of world economy
One Planet, Two Crises: Tackling Climate Change and Biodiversity in the Fight for Our Future
A 'Canadian Armageddon' Sets Parts of Western Canada on Fire
Global heating will push billions outside 'human climate niche'
Antarctic alarm bells: observations reveal deep ocean currents are slowing earlier than predictedOrcas have sunk 3 boats in Europe and appear to be teaching others to do the same. But why?
More than half of the world's largest lakes are shrinking. Here's why that matters
Panama Canal Imposes Additional Shipping Restrictions Amid Worsening Drought
Fear of Kamala landslides prompts MP-elect action
Australia bushfires may have caused global climate phenomenon La Niña: Study
Scientist defects as CSIRO is co-opted in controversial deep sea mining venture
Methane must fall to slow global heating – but only 13% of emissions are actually regulated
World Bank: Brazil faces $317 billion in annual losses to Amazon deforestation
Meet the Money Behind The Climate Denial Movement
After the flood, storms lie ahead for Formula One in race to hit carbon zero
Italy: over 36,000 people displaced by floods as Giorgia Meloni departs G7 summit early
It's beyond time for the Faroese grindadráp hunts to stop
Record-hot day fails to dampen Lilac spirit at Torchlight Parade
How humans derailed the Earth's climate in just 160 years
As Warming Melts the Permafrost, Toxic Waste from 10,000 Contaminated Areas Could Spill Into the Arctic!
France bans short-haul flights to cut carbon emissions
Global loss of wildlife is 'significantly more alarming' than previously thought, according to a new study
Why is extreme weather killing fewer people?
Turns out that huge spider invading the U.S. is incredibly … shy?
Heat Wave In Malaysia Claims Another Child tks Samantha Gayfer
Denial Doesn't Change Our Climate Reality: Earth Is Becoming a Sacrifice Zone
Half of Phoenix, Arizona, would end up in the ER if the city has a blackout during a heat wave, study finds
Asia's heatwave made 30 times more likely by climate change: study
'Worthless': Chevron's carbon offsets are mostly junk and some may harm, research says
Is Twitter trying to reduce impact of climate change Tweets?
Quantifying the human cost of global warming
German police conduct nationwide raids against climate activists Radina Gigova
Killer whales learn to sink yachts off Gibraltar
Equilibrium Warming = Committed Warming?
Sounding the alarm: Half of Earth's species are experiencing rapid population decline
The 'net zero' hoax: Chevron's fraudulent climate plan exposed.
Slowing ocean current caused by melting Antarctic ice could have drastic climate impact, study says
UK students pledge 'career boycott' of insurers over fossil fuels
Three Aussie towns set to become unliveable due to extreme heat
How To Crack Climate Misinformation
Michael Crichton: Environmentalism Is a Religion
Global politics
Zelensky dominates summit as G7 leaders call out China tks Willie Wahlin
G7 takes stand against China's "economic coercion
'We in the west were blinded': China crackdown on business has Maoist roots
Sudan conflict: Air strikes and clashes as new ceasefire begins
Anti-Putin militia claims to have overrun village in Russia border region of Belgorod
Belgorod raid: Insurgents defeated after rare cross-border incursion – Russia
Ukraine war: Russia border raid, 20,000 Wagner dead in Bakhmut, Americans support giving arms
No Parliamentary Investigation Into Jacob Rees-Mogg's Comments that Conservatives Introduced Voter ID to 'Gerrymander' Elections
The GOP Primary Might Be Over Before It Starts
McCarthy, Bracing for Defections, Eyes a Fraught Path to a Debt Limit Deal
Did Donald Trump Seriously Sell Pardons?
Ron DeSantis thinks his feud with Disney will pay off. Here's why
Ron DeSantis tries to make light of disastrous Twitter launch by saying he 'broke the internet': Calls Biden a 'listless vessel' and lays out his 2024 blueprint after wobbly start
DeSantis's Campaign of Trolling
Billionaire Asserts His Absolute Right to Own a Supreme Court Justice: Will He Get Away With It?
Top Democratic Redistricting Group Gears Up For Era Of 'Perpetual' Combat
Twitter engineering boss Foad Dabiri quits day after DeSantis launch glitches
DeSantis says, if elected president, he'd consider pardons for Jan. 6 offenders
Default on U.S. Debt Risks 'Permanently' Denting Nation's Credit Rating
House ERUPTS in laughter as Marjorie Taylor Greene accidentally HUMILIATES herself
Business and technology
JP Morgan CEO Jamie Dimon deposed over bank's Jeffrey Epstein ties
Nobel Peace Prize winner Maria Ressa compares Zuckerberg to dictator
Social issues
Stan Grant sends a message to his abusers in last Q+A before stepping away | ABC News tks Suzie Cecilia
The Human Microbiome Is Going Extinct, Scientists Say. The End Will Be Devastating.
US surgeon general issues advisory on 'profound' risks of child social media use
Teenagers Resent Social Media. They Also Resent Efforts to Take It Away.
When the Culture Wars Came for NASA The Daily Podcast
I'm 65 with more than $5 million saved and I can't figure out how to spend it fast enough to avoid an RMD disaster
Australian media's racism reckoning: Indigenous journalist quits over 'unrelenting' abuse
Australia Reckons With TV Host's Exit Over Racist Abuse
Stan Grant is not part of the problem. Others have questions to answer
Patricia Karvelas: "What's happened to Stan Grant is unacceptable" | ABC News
China braces for new Covid wave with up to 65 million weekly cases
Worker infected with bird flu travelled to Scotland and risked 'creating new pandemic'
Bird flu: Brazil declares animal health emergency after several cases found Published
Passion, humour, history
Tina Turner, Magnetic Singer of Explosive Power, Is Dead at 83
Designs by Stolen Generations survivor and her daughter feature at Australian Fashion Week
Cannes Film Festival: Cate Blanchett among the stars on the fourth day
Let It Go: Austrian town that looks just like Frozen builds fence to stop selfie-taking tourists
Melissa McCarthy: 'I spend a lot of my work shredding people'
Martin Amis was Mick Jagger in literary form, I was besotted with his electrifying prose
Ray Stevenson: Thor, Volstagg and Star Wars actor dies aged 58
Rolf Harris: Serial abuser and ex-entertainer dies aged 93
What Up With That?: Robert De Niro and Robin Williams – SNL
Let me know what jumped out at you? Or share with me what you're reading? I love that!
Cheers
Andrea
Want to get in touch?
All of my contact information is here on Linktree.
Environment education
Four environment resources to help you navigate this challenging territory.
Uncommon Courage: an invitation
Uncommon Courage is an invitation to be your courageous best self every day. It's also an antidote to the overwhelm, fear, and rage rolling around the world. But it's more than a book; it's an invitation to join an inclusive community that wants to better understand humanities challenges – both global and personal – in order to take courageous action and create a better world for everyone. If Covid19 has given us the time and space to reflect, Uncommon Courage gives us the nudge we need to create lasting change.
You can buy it on Amazon, Apple Books, Barnes & Noble, Book Depository, Booktopia, Smashwords, Kobo, Gardners, Odilo, Indie Bound, BookShop by BookTrib and Scribd.
Better yet, order it from your local bookstore, so you can #SupportLocal.
You can read the reviews, including a new five-star review on Book Commentary, another five-star review on ReaderViews, a review on BookTrib, and three more on Booklife, another on Book Commentary and Blue Ink Reviews. I'm also collating reviews on my Website too. Have a look and grateful to everyone who has written or recorded one.
Come and join the conversation in my Facebook Group Uncommon Courage.
Listen in to the Uncommon Courage, the podcast on Apple, Spotify and everywhere podcasts are published.
The Know Show
Check out The Know Show. It's a fortnightly wrap up of the news!
Climate Courage
A fortnightly conversation on issues that matter to you and I, focusing on the actions we can all take.
Listed by Book Authority in the 100 Best LinkedIn Books of All Time and 22 Best New LinkedIn eBooks To Read In 2021 and 2022 categories. Grab it today if you want to take your professional presence to the next level! When it comes to LinkedIn, it really is time to ask — can you really afford not to have this book in the hands of every employee?
Are you a Social CEO? The Social CEO: How Social Media Can Make You A Stronger Leader.
Want to claim your stage? Unleash Your Voice – Powerful Public Speaking for Every Woman
Feedback
Have I done a great job for you? Can you write a reference on my LinkedIn profile or on my Google Business page? If not for me, why not write one for someone else who inspires you or has helped you? Join the #GivingEconomy.