Welcome back to the Weekend Reads. It was great to have a break and I'm not even remotely ready to tackle this year (still trying to come to terms with 2022) but step by step as they say. A lot has been going on in the news, as always, but this week, the World Economic Forum released its annual Global Risks Report 2023.
It begins with this: As 2023 begins, the world is facing a set of risks that feel both wholly new and eerily familiar. We have seen a return of "older" risks – inflation, cost-of-living crises, trade wars, capital outflows from emerging markets, widespread social unrest, geopolitical confrontation and the spectre of nuclear warfare – which few of this generation's business leaders and public policymakers have experienced. These are being amplified by comparatively new developments in the global risks landscape, including unsustainable levels of debt, a new era of low growth, low global investment and de-globalization, a decline in human development after decades of progress, rapid and unconstrained development of dual-use (civilian and military) technologies, and the growing pressure of climate change impacts and ambitions in an ever-shrinking window for transition to a 1.5°C world. Together, these are converging to shape a unique, uncertain, and turbulent decade to come.
That's why I'm not ready for 2023. It's going to continue to be challenging and we really need to focus on building our resilience skills to get through the years and decades ahead, that's for sure.
This report looks out two years, 10 years and the mid-term future, when we enter the era of "polycrisis," which is centred around natural resource shortages by 2030. Here's an effective graphic to capture all of the risks and the order of priority. Note, no blue and plenty of green.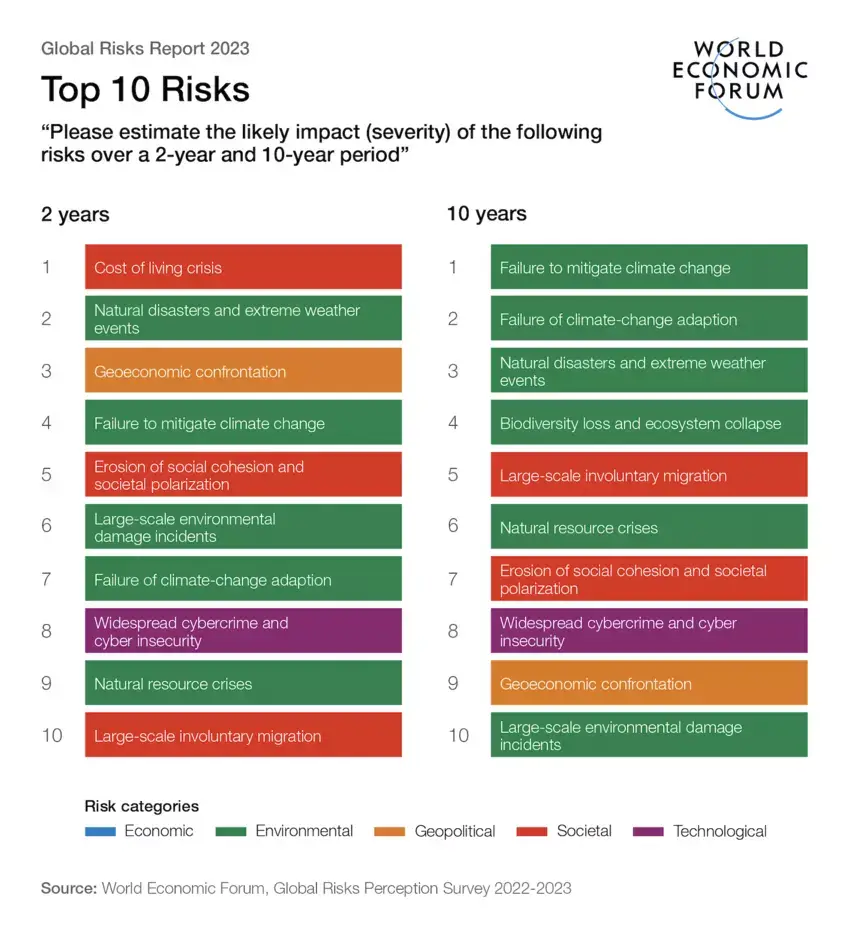 If you're not the sort of person to read a report like this in full, I STRONGLY encourage you to read the key findings section. It's hard to read and it also feels strange that we made it to this point so quickly, but if we know, we can act. Ignoring reality is never a good strategy, even if it's ugly. Here's a quick summary.
The sections highlighted:
As an economic era ends, the next will bring more risks of stagnation, divergence and distress – The knock-on effects (due to the end of low inflation) will be felt most acutely by the most vulnerable parts of society and already-fragile states, contributing to rising poverty, hunger, violent protests, political instability and even state collapse.
Geopolitical fragmentation will drive geoeconomic warfare and heighten the risk of multi-domain conflicts – Geographic hotspots that are critical to the effective functioning of the global financial and economic system, in particular in the Asia-Pacific, also pose a growing concern.
Technology will exacerbate inequalities while risks from cybersecurity will remain a constant concern – In all economies, these technologies also bring risks, from widening misinformation and disinformation to unmanageably rapid churn in both blue- and white-collar jobs.
Climate mitigation and climate adaptation efforts are set up for a risky trade-off, while nature collapses – Without significant policy change or investment, the interplay between climate change impacts, biodiversity loss, food security and natural resource consumption will accelerate ecosystem collapse, threaten food supplies and livelihoods in climate-vulnerable economies, amplify the impacts of natural disasters, and limit further progress on climate mitigation.
Food, fuel and cost crises exacerbate societal vulnerability while declining investments in human development erode future resilience – Continued supply-side pressures risk turning the current cost-of-living crisis into a wider humanitarian crisis within the next two years in many import-dependent markets.
As volatility in multiple domains grows in parallel, the risk of polycrises accelerates – Eroding geopolitical cooperation will have ripple effects across the global risks landscape over the medium term, including contributing to a potential polycrisis of interrelated environmental, geopolitical and socioeconomic risks relating to the supply of and demand for natural resources.
How do we make sure it doesn't get so bad?
Well to start, we need to really look at the leadership in our own countries. Are they up to the task of facing polycrises'? Are we voting in the right people? If not, who are the people we need leading today? Because right now, in too many countries, our leaders are holding onto power at all costs, while spending their time in-fighting versus really looking at these challenges and getting ready to tackle them. This is a recipe for failure.
The qualities needed require the ability to see the big picture, to work with the experts and stop politicizing science, as well as long-term thinking to ensure we address the challenges we face before we are consumed by them. Few seem capable of doing that right now.
We also must elect leaders who are collaborators not dividers, we need to focus on rebuilding trust across the board, and equality/diversity/inclusion has to be on the table in every boardroom and ministers office, because it's our best chance of getting where we want to go. Our leaders also must start to be honest about the challenges we are facing and what it will mean to all of us. Transparency is critical.
Please read the report. Yes, it's hair raising, but until we acknowledge and face these challenges, we will not do the necessary to overcome them.
Can you do me a favour this year?
If you value the Weekend Reads, perhaps your community will as well? If so, please share it. The goal of this is to help us all start paying attention to the information that matters, and we need that to be a global priority, especially when looking at the information in this report, and some of the alarming stories below.
Friend's content and mine
25 sustainable resolutions to inspire you for 2023 – chuffed to be invited by Susannah Jaffer to contribute to this inspiring collection of resolutions. Have a read through and take some ideas by a wonderful group of people taking this seriously.
We must accept OUR role in the global waste crisis – the waste crisis is a BIG priority for me and we must address it. We have to starting "seeing" our role in this crisis and stop buying or accepting single use products. Spread the word, because many are not getting the connection between what they accept/buy and what is washing up on the world's beaches.
Donation time
If everyone gave #just10percent of their time, talent, money or voice, we'll change the world. Can you donate? Make it a regular donation to the World Food Programme. Or donate to the UN Refugee Program, Medicine Sans Frontier, PowerOf , Kiva.org , Soi Dog Foundation. It's a time for giving and taking care of each other.
Content to read
And here's the content I've been reading or watching this last week. Scan the headlines, read the ones that jump out at you, read or watch them all. Knowledge is power, and global knowledge is even more powerful.
Climate crisis
William E. Rees: "The Fundamental Issue – Overshoot" | The Great Simplification #53 – really recommend this!
Welcome to the age of the polycrisis: the Global Risks Report 2023 World Economic Forum Podcast
'Out-of-control financial collapse': Fossil fuel market crash could cost UK £674bn
'Ticking timebomb' as ageing landfill dumps threaten English beaches
UK could face 'banking crisis worse than 2008' if City fails to prepare for fossil fuel collapse
The Fall of The Amazon Could Trigger a Global Cascade of Tipping Points
Great Salt Lake on track to disappear in five years, scientists warn tks Denise Chai
Australia flood crisis: 'Once in a century'
Welcome to the World's Biggest Problems Quiz! tks Andy G. Schmidt
Mystery of why Roman buildings have survived so long has been unravelled, scientists say
England's new ban on single-use plastics sounds good – but it is a surrender to big business
Individual action makes little difference to the climate crisis – we need to go after Big Oil, says author
Flies are taking over thanks to climate change — while moths and other pollinators disappear
Germany's biggest weekly magazine asks: "Was Marx right after all?"
Climate change is forcing wildlife to move north — and they're bringing diseases with them tks Kevin Cottam
Fashion brands paid Bangladesh factories less than cost
A gray whale gave birth as a whale watching tour looked on
Millions at risk of flooding as fierce storm lashes California Published
Joshimath: The trauma of living in India's sinking Himalayan town
We're taking Danone to court over plastic pollution
Collapse Now and Avoid the Rush
The Toxic Legacy of 3M's 'Forever Chemicals'
How California could save up its rain to ease future droughts — instead of watching epic atmospheric river rainfall drain into the Pacific
Banks and countries pledge over $9bn to rebuild Pakistan after catastrophic floods
Landslides, sinkholes, floodwaters plague soggy California
Green jobs are booming, but too few employees have sustainability skills to fill them – here are 4 ways to close the gap
Storms relentless as California drenching goes on
What are El Niño and La Niña, and how do they change the weather?
A disturbing 1995 prediction by Carl Sagan accurately describes America today
Oceans were the hottest ever recorded in 2022, analysis shows
Overshooting climate targets could significantly increase risk for tipping cascades
Disaster in the sea and a warning of more
In a Famed Game Park Near the Foot of Mount Kilimanjaro, the Animals Are Giving Up
The New Soldiers in Propane's Fight Against Climate Action: Television Stars
Today's Contemplation: Collapse Cometh XC
HSBC made a secretive multimillion-dollar loan to an energy company that is bulldozing a village in western Germany
Climate change: UAE names oil chief to lead COP28 talks
Race to find survivors after tornadoes tear through southern US
Breakaway iceberg raises concerns over Antarctica's 'doomsday glacier'
California's hydro-climate whiplash explained
Greenwashing terms to avoid at any cost
Watch our World's social and environmental challenges
Net zero: Climate action delay will hurt economy, Tory MP's review says
How to Save the Planet: Degrowth vs Green Growth?
Global politics
Pro-Bolsonaro rioters storm Brazil's top government offices
Brazil Congress: 'Sad to think we've come to this point'
How Trump's allies stoked Brazil Congress attack
Brazil Congress: Mass arrests as Lula condemns 'terrorist' riots
Brazil Congress: Big pro-democracy rallies held to condemn rioters
The 'Trump of the Tropics' Goes Bust
The Trump-Bolsonaro Connection
The GOP Goes Down the Rabbit Hole
Dr. Dre Has Choice Words For Marjorie Taylor Greene After She Uses His Song
Classified documents from Joe Biden's vice presidency found in private office
Amazingly, George Santos Is a Member of Congress
Biden 'surprised' about classified files discovery at former office
Expect the Republican House to be just like the speaker debacle: pure chaos
Joy Reid's Aggressive, Inept Interview of Congressman Byron Donalds Demonstrates What Her Show is All About tks Barry Graubart
Business and technology
Google's management has reportedly issued a 'code red' amid the rising popularity of the ChatGPT AI
FAA outage: Further delays to US flights expected after technical glitch
Himachal Pradesh: Thousands despair as India Adani plants shut down
I Found the Perfect Replacement for Twitter. It's LinkedIn tks Damian Corbet
Tesla's biggest bear says the company has reached the end of 'hyper growth' mode—and it's beginning a totally different chapter
Temple Grandin: Society Is Failing Visual Thinkers, and That Hurts Us All
Social issues
Male inequality, explained by an expert | Richard Reeves tks Emile Bloemen
Divisive and influential: Australia's highest-ranking Catholic Cardinal George Pell dies at 81 tks Philippa Penfold
Late Cardinal George Pell called Pope a 'catastrophe' in anonymous memo
Cardinal Pell's death brings few tears in Australia
Andrew Tate loses legal appeal to end detention in Romania
Consuming cannabis in Thailand: what tourists need to know about marijuana rules
Death of Myanmar maid: Woman jailed for joining daughter in one of Singapore's worst maid abuse cases tks Miguel Bernas
Iran protests: Jailed activist Sepideh Qolian describes brutality in letter
A few hours as a patient in A&E confirmed it to me – the Tories are bleeding out the NHS
Emergency room death highlights Canadian healthcare crisis
'A great day for the country': Uganda declares an end to Ebola outbreak
China Is Likely Seeing 1 Million Covid Cases, 5,000 Deaths a Day
No pre-departure COVID-19 tests for travellers from China as severe cases can originate from anywhere: Ong Ye Kung
Who can die? Canada wrestles with euthanasia for the mentally ill
British drone user raises shark alarm in Australia
Passion, humour, history
Lisa Marie Presley, singer and daughter of Elvis, dies aged 54
Noma, Rated the World's Best Restaurant is Closing Down tks Jade Lama
The 80 For Brady Trailer Has Me Questioning My Very Existence
Henry Cavill Isn't going back to the WITCHER – He is doing something even cooler
Gordon Ramsay Sparks Chaos During Radio Interview As He Drops F-Bomb At 8.40 In The Morning
'He just wants to live in peace': Brad Pitt 'steps back from Hollywood business ventures but plans to continue acting'… after selling huge stake in his production company
Golden Globes 2023: Banshees of Inisherin and Fabelmans win big
The Messy 2023 Golden Globes Failed to Justify Its Existence
Jamie Lee Curtis' Reaction To Michelle Yeoh's Golden Globes Win Totally Summed Up The Moment
Demi Lovato poster banned for being offensive to Christians
UK Meteorite That Fell To Earth Contains Building Blocks For Life
The Mail used a picture of Emily Clarkson without permission and the photographer's response gets better and better
Piers Morgan's Wild Alex Jones Interview Is A Tire Fire That Doesn't End Well
Let me know what jumped out at you? Or share with me what you're reading? I love that!
Cheers
Andrea
Want to get in touch? All of my contact information is here on Linktree.
Environment education
Three environment resources to help you navigate this challenging territory. 1. Knowledge, constantly updating. 2. Individual action and awareness, so we do our part. 3. Resources for those struggling with eco-anxiety. Please share with your community.
Uncommon Courage: an invitation
Uncommon Courage is an invitation to be your courageous best self every day. It's also an antidote to the overwhelm, fear, and rage rolling around the world. But it's more than a book; it's an invitation to join an inclusive community that wants to better understand humanities challenges – both global and personal – in order to take courageous action and create a better world for everyone. If Covid19 has given us the time and space to reflect, Uncommon Courage gives us the nudge we need to create lasting change.
You can buy it on Amazon, Apple Books, Barnes & Noble, Book Depository, Booktopia, Smashwords, Kobo, Gardners, Odilo, Indie Bound, BookShop by BookTrib and Scribd.
Better yet, order it from your local bookstore, so you can #SupportLocal.
You can read the reviews, including a new five-star review on Book Commentary, another five-star review on ReaderViews, a review on BookTrib, and three more on Booklife, another on Book Commentary and Blue Ink Reviews. I'm also collating reviews on my Website too. Have a look and grateful to everyone who has written or recorded one.
Come and join the conversation in my Facebook Group Uncommon Courage.
Listen in to the Uncommon Courage, the podcast on Apple, Spotify and everywhere podcasts are published.
The Know Show
Check out The Know Show. It's a fortnightly wrap up of the news!
Climate Courage
A fortnightly conversation on issues that matter to you and I, focusing on the actions we can all take.
Listed by Book Authority in the 100 Best LinkedIn Books of All Time and 22 Best New LinkedIn eBooks To Read In 2021 and 2022 categories. Grab it today if you want to take your professional presence to the next level! When it comes to LinkedIn, it really is time to ask — can you really afford not to have this book in the hands of every employee?
Are you a Social CEO? The Social CEO: How Social Media Can Make You A Stronger Leader.
Want to claim your stage? Unleash Your Voice – Powerful Public Speaking for Every Woman
Feedback
Have I done a great job for you? Can you write a reference on my LinkedIn profile or on my Google Business page? If not for me, why not write one for someone else who inspires you or has helped you? Join the #GivingEconomy.