The news is SO intense right now. The whole Musk/Twitter fiasco, Ukraine and Russia, the US midterms that could make the US pretty much useless for the next two years, Netanyahu back in power maybe, North Korea setting off missiles, Brazil protests, UK politics and its economy, and so MUCH more.
Then on the climate side, we have the build up to Cop 27, the Colorado River is at risk of drying out which will impact millions, the scale of the Zombie Fires in Siberia are finally being understood, a global famine is coming, the world's glaciers are melting at a phenomenal speed and not expected to be around by 2050, Europe is warming at twice the global rate, and permafrost melt is accelerating at a rate not expected with dire consequences for humanity.
It's a HUGE time for the world and it's so hard to keep hold of your mental health, when all around seems to be going in the wrong direction. I know, I feel it too. Energetically, I think this is the lowest year I've ever had, and I don't think 2023 is looking much better.
But what can we do? Get educated, get involved, act locally, speak up globally, do what we can to reduce our emissions personally and fight for emissions to be reduced dramatically globally. We must all start to reduce our impact in the world right now and bring our community with us. We also need to vote in leaders who are going to fight for a future in alignment with nature and support those leaders to make sure they are successful.
This is where the hope lies. There is a lot we can do!
Because we must keep fighting, we must, for our children's future. Please also remember the voices dominating the global conversation represent only 30% of the population. The other 70% need to come together, agree on a consensus moving forward, stop allowing the minority to define our future, and then we need to drive the future WE want to see.
We can do it. We really can, but we need everyone on board.
If you haven't done it yet, please listen to the latest episode of Climate Courage, which is focused on the issues relevant to you and I, so we can be better positioned to make informed decisions for ourselves, our families and our communities.
The show from yesterday is: how do we prepare financially for the climate crisis? I have to tell you, listening to two world-class experts discuss the economy and understanding how it all works, shared in language accessible to anyone, within the context of the climate crisis, is such a worthwhile listen. It is definitely worth your time!
Dr. David Ko and Richard Busellato will help you understand the wider economic perspective, and you'll get why climate and the economy is inextricably linked, which is why it's so important to understand. You'll also gain deep insight on what you should be thinking about, so you can start planning to get yourself in the best position for a very uncertain future.
Please, buy their book: The Unsu$tainable Truth – how investing for the future is destroying the planet and what to do about it. This is a brilliantly written book, full of stories and real-world examples, it's accessible to everyone and very very powerful when it comes to understanding the global economy, where it's gone wrong, and why that matters to every single one of us. It is definitely time for revolution.
Climate Courage: how do we prepare financially?
Friend's content and mine
Wholehearted Podcast: Living the OutdeBOX Life with Harish Kumar  love love loved this podcast, hosted by Coen Tan and featuring massive hearted Harish Kumar. Want some inspiration to be the best version of yourself? Have a listen.
Donation time
If everyone gave #just10percent of their time, talent, money or voice, we'll change the world. Can you donate? Make it a regular donation to the World Food Programme. Or donate to the UN Refugee Program, Medicine Sans Frontier, PowerOf , Kiva.org , Soi Dog Foundation.  It's a time for giving and taking care of each other.
Content to read
And here's the content I've been reading or watching this last week. Scan the headlines, read the ones that jump out at you, read or watch them all. Knowledge is power, and global knowledge is even more powerful.
Climate crisis
Question Time Julia Hartley Brewer on climate change and protest
Is the IMF fit for purpose? | International Monetary Fund (IMF)
Effects | Facts – Climate Change: Vital Signs of the Planet
Injustice is everywhere, so what are our moral duties?
Iconic glaciers of Kilimanjaro, Yellowstone to disappear by 2050 due to global warming: UN tks Kevin Cottam
Almost Half of Earth's Vital Signs Are Now 'Code Red', Scientists Warn : ScienceAlert
Permafrost collapse is accelerating carbon release
Climate negotiations: 30 years of melting hope and US power
Climate change: Zombie fires and soaring temperatures: What happens when it gets to 100ºF in Siberia
Wednesday briefing: The public order bill that will make dissent a lot more difficult  tks Rebecca Kynaston
Feds to consider sending less Colorado River water to Arizona, California and Nevada
A List Of 33 Things We Know About The Coming Food Shortages
Opinion | Climate Change Is Real. Markets, Not Governments, Offer the Cure.
Can Marketing Save the Planet?: No Awards on a Dead Planet – Marketing Activism – Gustav Martner, Head of Creative, Greenpeace Nordics
Study confirms ecosystems more sensitive to nitrogen pollution than previously assumed
Rishi Sunak accepted cash from fossil fuel investors in campaign to become PM 
Switching to renewable energy could save trillions – study   tks Susannah Hasenoehrl
The World Is Awful. The World Is Much Better. The World Can Be Much Better.
Business schools must start producing activists and stop enabling the prevailing elite
Coca-Cola increased plastic use ahead of COP27 summit it is sponsoring
What collapse?. I've been contemplating a lot recently…
Suella Braverman hits out at 'selfish' climate activists as she presses on with new anti-protest laws  tks Rebecca Kynaston
In-depth: Russia's war means fossil fuels will peak within five years, IEA says
Spanish minister urges Sunak to commit to climate crisis fight
Revealed: How the livestock industry funds the 'greenhouse gas guru'
Cop27 climate summit: window for avoiding catastrophe is closing fast
Can Marketing Save the Planet?: Episode 44: How Marketers Can Tell a True Story about Climate Change with Seth Godin
Economic lifeline or climate peril? East African pipeline is a new flashpoint
Opinion | Climate Change Is Real. Markets, Not Governments, Offer the Cure
Appalachian "Apple Hunter" Finds and Rescues 1200 Lost Varieties
'Worst Possible News': Scientists Urge Immediate Action as Greenhouse Gas Levels Hit All-Time High
In numbers: The state of the climate ahead of Cop27
New Greenpeace Report: Plastic Recycling Is A Dead-End Street—Year After Year, Plastic Recycling Declines Even as Plastic Waste Increases 
Record-breaking heatwave will be an average summer by 2035, latest Met Office Hadley Centre data shows
Understanding Forests' Full Climate Benefits
What if East Coast Park and other coastal areas in Singapore go under water?
Enormous emissions gap between top 1% and poorest, study highlights tks Kevin Cottam
In-depth: Russia's war means fossil fuels will peak within five years, IEA says
Communicating the scientific consensus on climate change: Diverse audiences and effects over time
Where does global warming go during La Niña? | NOAA Climate.gov
Extinctions – Our World in Data
'Green hush': Are fears of getting called out for greenwashing hurting firms' climate ambitions?  
Nations are placing an unrealistic demand on land to fulfil climate pledges, which could severely hamper food production
Mines, pipelines and oil rigs: what HSBC's 'sustainable finance' really pays for  
Determining ecological thresholds for dairy farming
Europe's climate warming at twice rate of global average, says report
Fossil fuel burning once caused a mass extinction – now we're risking another
Adaptation Gap Report 2022 | UNEP – UN Environment Programme
Delhi's air branded 'hazardous', spurs calls to close schools
Climate gets personal – activists protest at Chubb CEO's home
'Will no longer be considered' | Hydrogen trains up to 80% more expensive than electric options, German state finds tks Peter Kerr
"All those complicit in Neom's construction are already destroyers of worlds"
Weather warning issued for Phuket
Nothing will change on climate until death toll rises in west, says Gabonese minister
Phuket Opinion: The road ahead
Today's Contemplation: Collapse Cometh LXXIII
Permacrisis declared Collins Dictionary word of the year
Dead whale recovered from Racha
Global politics
Should politicians, en masse, do 'shrooms?
Brazil's Bolsonaro and Lula battle it out for top job
Brazil election: Lula makes stunning comeback
Brazil's Bolsonaro silent on Lula victory, transition talks begin
Lula stages astonishing comeback to beat far-right Bolsonaro in Brazil election
Opinion | Why Bolsonaro's stunning loss should give humans a glimmer of hope
Liz Truss phone hack claim prompts calls for investigation
Bank of England expects UK to fall into longest ever recession
Tories set to make ALL Brits pay more tax as people warned 'it's going to be rough'
Nancy Pelosi breaks silence on husband Paul's attack: 'Heartbroken and traumatized'
The Dark Heart of the Republican Party
The bottom is dropping out of the 2022 election for Democrats
US midterms: How Gen Z and Tik Tok could influence election
What Happens if the GOP Wins the Midterms? Take a Look at Collapsing Britain
A Closing Argument for Democracy
Midterms turnout: Could Australia-style voting help in US?
US midterms: What does Trump want from the elections?
Russian Military Leaders Discussed Use of Nuclear Weapons, US Officials Say
Why 'General Winter' is not good news for the Russan army
Ukraine war: Putin endorses evacuations from occupied Kherson
The Daily: Xi Jinping Opens a New Chapter for China
Business and technology
Positive Leadership: Becoming a courageous leader (with Paul Polman, ex-Unilever CEO and IMAGINE Co-Founder) tks Kate Steele loved it
Women in the Workplace 2022: Key Findings & Takeaways
Musk Tasks Twitter Staff with Creating a New, $19.99 Twitter Blue Offering Which Includes Verification
Stephen King has another very blunt response to Elon Musk's Twitter plans
Elon Musk says Twitter Blue will cost $8, and include blue tick verification
Elon Musk Meeting With Advertisers, Begging Them Not to Leave Twitter
Elon Musk Begins Layoffs at Twitter As Some Employees File Lawsuit
Twitter Managers Told Staff to Work 12-Hour Shifts, 7 Days a Week
How Elon Musk Became a Geopolitical Chaos Agent
Payments are the reason Elon Musk bought Twitter
To save Eskom, BEE rules must go — former MTN and Microsoft boss
Meta is no longer one of the 20 biggest U.S. companies
Apple: Chinese workers flee Covid lockdown at iPhone factory
10 Must-know Travel Trends For 2023
NASA Crowdsourcing Investigation of Otherworldly "Sprites" in Sky
Serena among big-name investors behind Woods and McIlroy's TMRW Sports
Yeezy Rejects: Can Adidas and Gap Turn 'S*** Into Champagne?'
Social issues and humanity
The philosophical necessity of long-term thinking
New Surveys Show Burnout Is An International Crisis tks Pattie Grimm
#UNTRUTH- Mini-Film on Vimeo tks Phillipa Edwards
Taronga Zoo: Five lions escape exhibit at Sydney zoo
South Korea Halloween crush kills 120, injures 100 – officials
S Korea Halloween crush: 'I was trapped on ledge, watching people die'
Itaewon crush: First emergency call came hours before crush
India bridge collapse: Death toll rises to 141, many still missing – BBC News
Somalia Mogadishu bombings: Twin blasts kill 100 in capital
Trevor Noah: I never said entire UK racist, says comic after Rishi Sunak row
Poor face challenges as living costs rise
Somalia Mogadishu bombings: Twin blasts kill 100 in capital – BBC News
Manston migrant centre like a zoo, says asylum seeker
Let's Declare a Pandemic Amnesty
Super-rich get rare chance to join Singapore's billionaire row
'It will be WAR': Unions prepare for biggest-ever National Shutdown
First crash test dummy designed to protect women 
Passion, humour, history
Zulu coronation: King Misuzulu crowned in historic South Africa ceremony
Taylor Swift makes history as she takes over the entire US top 10
Paul Hogan reveals why he can't move back to Australia
Taylor Swift makes history as she takes over the entire US top 10
Taronga Zoo: Five lions escape exhibit at Sydney zoo
Let me know what jumped out at you? Or share with me what you're reading? I love that!
Cheers
Andrea
Environment education
Three environment resources to help navigate this challenging territory. 1. Knowledge, constantly updating. 2. Individual action and awareness, so we do our part. 3. Resources for those struggling with eco-anxiety. Please share with your community.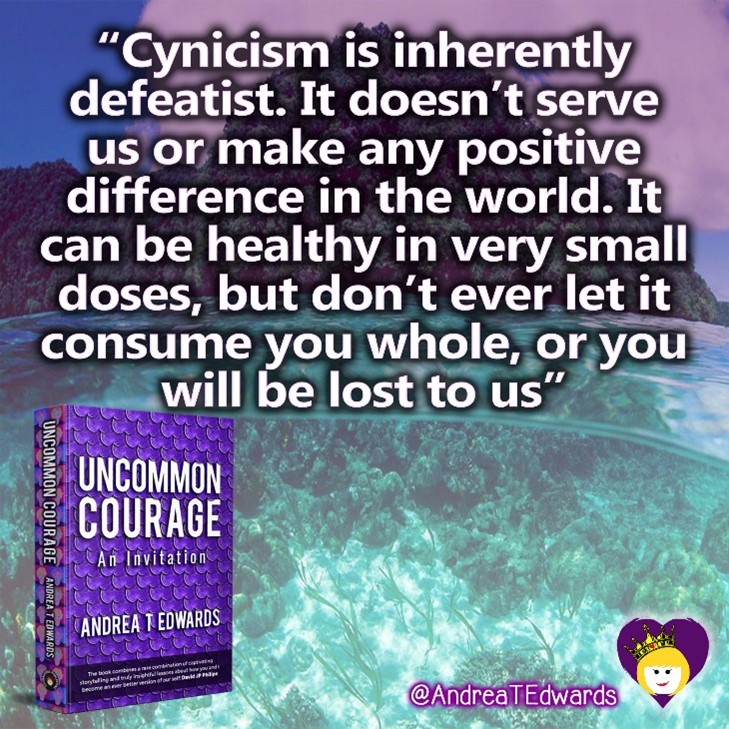 Uncommon Courage: an invitation – my latest book
Uncommon Courage is an invitation to be your courageous best self every day. It's also an antidote to the overwhelm, fear, and rage rolling around the world. But it's more than a book; it's an invitation to join an inclusive community that wants to better understand humanities challenges – both global and personal – in order to take courageous action and create a better world for everyone. If Covid19 has given us the time and space to reflect, Uncommon Courage gives us the nudge we need to create lasting change.
You can buy it on Amazon, Apple Books, Barnes & Noble, Book Depository, Booktopia, Smashwords, Kobo, Gardners, Odilo, Indie Bound, BookShop by BookTrib and Scribd.
Better yet, order it from your local bookstore, so you can #SupportLocal.
You can read the reviews, including a new five-star review on Book Commentary, another five-star review on ReaderViews, a review on BookTrib, and three more on Booklife, another on Book Commentary and Blue Ink Reviews. I'm also collating reviews on my Website too. Have a look and grateful to everyone who has written or recorded one.
Come and join the conversation in my new Facebook Group Uncommon Courage.
Uncommon Courage, the podcast – Apple, Spotify and everywhere podcasts are published.
The Know Show
Check out The Know Show. It's a weekly wrap up of the news!
Climate Courage
A fortnightly conversation on issues that matter to you and I, focusing on the actions we can all take.
Listed by Book Authority in the 100 Best LinkedIn Books of All Time and 22 Best New LinkedIn eBooks To Read In 2021 and 2022 categories. Grab it today if you want to take your professional presence to the next level! When it comes to LinkedIn, it really is time to ask — can you really afford not to have this book in the hands of every employee?
Connect with me
andreatedwards.com , uncommon-courage.com
LinkedIn, Twitter, Facebook, YouTube, Instagram, Tik Tok, Medium, Amazon.
Feedback
Have I done a great job for you? Can you write a reference on my LinkedIn profile or on my Google Business page? If not for me, why not write one for someone else who inspires you or has helped you? Join the #GivingEconomy.
Are you a Social CEO? The Social CEO: How Social Media Can Make You A Stronger Leader.
Want to claim your stage? Unleash Your Voice – Powerful Public Speaking for Every Woman