I published The humility of four extreme weather events in four months this week. In it I detailed my personal experiences of going through four extreme weather events in four months across three continents – and the absolute humility you feel when you do – as well as the fact that barely any country is ready to deal with extreme weather.
Everyone country appears to be responding after the fact, and no country is looking 50+ years out – apart from Singapore and a few other Asian nations. When we look to the future, we must prioritize infrastructure investments on the reality of what the climate scientists are telling us will happen. This lack of preparedness is incredibly alarming.
A couple of days after publishing this, the UN released this report: Climate change: No 'credible pathway' to 1.5C limit, UNEP warns.
In coverage on the BBC it reported there is "no credible pathway" to 1.5C, and going beyond 1.5C would see dangerous impacts for people all over the world.
For those of us tracking developments, 1.5C has been out of the question for years, and most believe 2C warming is becoming out of reach too. Let me tell you something for nothing, if we hit 2C, well… let's make sure we don't. Check out the impact here.
The UN report is the emissions gap study, and it analyses the gap between the rhetoric and the reality.
In the BBC article it says: this analysis finds that new efforts to cut carbon would see global emissions fall by less than 1% by 2030, when according to scientists, reductions of 45% are needed to keep 1.5C in play.
Looking at the impact on temperatures, the study finds that with the current policies in place, the world will warm by around 2.8C this century. We'll hit 2.4 if we do everything we committed to in Paris.
You clicked on what 2C warming looks like, yes? Every .1 of heating is exponential from now on.
"We had our chance to make incremental changes, but that time is over," Inger Andersen, Executive Director of UNEP. This statement is true, but the window for incremental changes closed about 20-30 years ago. Rapid, full-scale change is now our only path.
Inger continues: "Only a root-and-branch transformation of our economies and societies can save us from accelerating climate disaster."
She is correct. But the other side of the conversation is readiness and adaptation.
Progress is painfully slow to stop global warming, but Government failures to get ready is also putting the lives of millions of people at risk. Are you one of them?
In the UK, a committee of MPs and peers says the government needs to "get a grip" on the risk to critical infrastructure posed by a warming climate.
"The thing I find most disturbing is the lack of evidence that anyone in government is focusing on how all the impacts can come together, creating cascading crises," said the chair of the Joint Committee, Dame Margaret Beckett MP.
"There are simply no ministers with focused responsibility for making sure that our infrastructure is resilient to extreme weather and other effects of climate change."
Going through extreme weather events, and watching what is going on around the world, one of the things I'm listening to is how the leaders of countries are speaking after the fact.
One example. The Prime Minister of Australia, Anthony Albanese, was in Tasmania after the recent floods. Someone asked if him if they will increase the height of the damn wall, which burst and contributed to the flooding. He said something along the lines of: we will look into it, the cost will go into the billions, blah, blah, blah.
I have been listening to these speeches and news conferences and would like to make a suggestion to Anthony Albanese's script writers, but this is relevant for any country. I believe this is the language leaders must speak today and most are not.
My suggested response…
We are reviewing the entire nations infrastructure, from roads to dams, trains to homes, farms, energy, and more. We are going to work out what we need to do to keep Australians safe for the next 50 years and beyond. We are doing this assessment based on the climate scientists who are advising our government, and our whole country must come together to do what we need to do, to ensure we do not experience mass suffering in our country. We have many challenges ahead, including relocating communities who can no longer stay where they are. This is going to be a hard time for all of us, but our greatest chance of success is coming together and doing it together.
If your leaders are not speaking this language, you need to call it out. It's time to get prepared and we have no time to lose. It's going to get worse before it will get better, however, if we refuse to stop what's causing it, it will never get better.
The doorway for action is closing rapidly now. It is time to act in every way we can. Protest, speak up, change, inspire others to change, consume less, and let's all commit to living in harmony with our beautiful earth. If we get the message, what we co-create together will mean a better life for all, but it will be very different to what we know today.
Friend's content and mine
How This Sustainability Advocate Is Making Green The New Black a great interview with champion Stephanie Dickson. She has been relentless in her mission to wake people up to living more in harmony with earth.
Building Resilience with the Public Sector another powerful voice in my community is Susannah Hasenoehrl. Great blog on how technology is solving enormous challenges. Technology is definitely an important part of the climate story.
The humility of four extreme weather events in four months and my recent blog, including a list starting with 10 things our governments must start focusing on. Would love to hear what you would add to the list?
Donation time
If everyone gave #just10percent of their time, talent, money or voice, we'll change the world. Can you donate? Make it a regular donation to the World Food Programme. Or donate to the UN Refugee Program, Medicine Sans Frontier, PowerOf , Kiva.org , Soi Dog Foundation.  It's a time for giving and taking care of each other.
Content to read
And here's the content I've been reading or watching this last week. Scan the headlines, read the ones that jump out at you, read or watch them all. Knowledge is power, and global knowledge is even more powerful.
Climate crisis
Top 10 Arguments for Degrowth
Climate change: No 'credible pathway' to 1.5C limit, UNEP warns
UN Warns of 'Total Societal Collapse' Due to Breaching of Planetary Boundaries
Climate change: UN warns key warming threshold slipping from sight
'Nature is striking back': flooding around the world, from Australia to Venezuela tks Sophia Henri
Svalbard: The race to save the fastest-warming place on Earth
Beyond Catastrophe A New Climate Reality Is Coming Into View
Climate Plans Would Allow Up To 2.6C Of Global Warming: UN
Brazil's Presidential Election Will Determine the Planet's Future
River longer than the Thames beneath Antarctic ice sheet could affect ice loss
Majority of people in the European Union and beyond say the current crisis should accelerate the green transition
World close to 'irreversible' climate breakdown, warn major studies
UK security in danger as govt fails to prepare for extreme weather sparked by climate change – report
France becomes latest country to leave controversial energy charter treaty
Current emissions pledges will lead to catastrophic climate breakdown, says UN
China's Revolution Turns Green
A science communicator's 4 rules of persuasion
The 'Climate 10' – the world's most skilled actors in the theater of predatory climate delay
Wild supercell storms ahead over spring and summer for Australia's east coast, BOM warns
More than 600 killed in Nigeria's worst flooding in a decade
Kilimanjaro: Firefighters containing blaze on Tanzania mountain
Do we really care more about Van Gogh's sunflowers than real ones? tks Rebecca Kynaston
Members of The European Parliament Have Decided to Support a Hydrogen Based Green Transition in The Transport Sector
COP27 climate change summit: World leaders urged to act as report reveals 768 million are underfed
In Brazil, the World's Largest Tropical Wetland Has Been Overwhelmed With Unprecedented Fires and Clouds of Propaganda
Shell, Total continue buyback bonanza after record profits
Australian farmers have no defences left against 'extraordinary' weather events that have become all too common
Most productive NSW agricultural shire counts hundreds of millions of dollars in crop losses
UN Warns of 'Total Societal Collapse' Due to Breaching of Planetary Boundaries #auspol #EcologicalCrisis #ClimateCrisis #EconomicCrisis Time for #PlanE
Climate anxiety is spreading all over the planet
France's president gave ordinary people the power to formulate national climate policies. He got more than he bargained for
More than 80% of US waterways contaminated by 'forever chemicals'
More droughts are coming, and the Amazon can't keep up: Study
Don't get angry at climate activists. Get angry at climate inaction
Landowners call for scrapping of plans to ban solar energy from England's farmland
The hypersane are among us, if only we are prepared to look
Which major US city will be first to become uninhabitable due to climate change? Salt Lake City? Vegas? Phoenix? Miami? Answers and explanations please.
Dangerous land excavation investigated in Kathu
Living in the shadow of a Phuket landslide
Mini Wind Turbines For Rooftops: 'Up to 50% More Power' and No Spinning Blades
HSBC greenwashing ban will change markets
European pension funds take Volkswagen to court over climate-related lobbying
How a third of all fish caught in the ocean are turned into something that no one eats
Arctic sea ice loss to increase strong El Niño events linked to extreme weather: Study
East Antarctic glacier melting at 70.8bn tonnes a year due to warm sea water
Just Stop Oil protesters arrested after throwing cake at King Charles III waxwork
Dreaming of clean green flying machines
A Future Without Fossil Fuels Is Impossible Without Lifestyle Changes
Using the ocean to fight climate change raises serious environmental justice and technical questions
Let fallen leaves lie, gardeners in Netherlands town urged
Ominous 'giant hail' warning as storms ramp up yet again
The EU calls for phasing-out oil, gas and coal production in COP27 resolution
Just Stop Oil activists spray think tank hub 55 Tufton Street with orange paint
Hurricane Roslyn: At least three dead on Mexico's coast
Canadian farmers plowed up about 1.8 million acres of Great Plains grasslands to plant crops in 2020
Pervasive ice sheet mass loss reflects competing ocean and atmosphere processes
The ecological crisis in the Arctic Ocean
In a paradox, cleaner air is now adding to global warming
Next pandemic may come from melting glaciers, new data shows
The Climate Book by Greta Thunberg review – global warning
Lost rainforest could be revived across 20% of Great Britain
2022's Imperative: Letting Go of Our Past to Birth Our Future
UNSTITCHED: How the Fashion Industry is Destroying the Planet – Susannah Jaffer
Just Stop Oil says only threat of death sentence would stop its protests
Battle of the Alps? Water woes loom amid climate change
The Climate Dots Need to Be Connected
Crustacean Decimation Due to Climate-Change-Driven Cannibalization
Windfall tax must change in face of 'excessive' oil profits, Alok Sharma says
Carl Sagan's Pale Blue Dot OFFICIAL – Joshua O'Neil
Global politics
Putin Speech: "America Has Nothing to Offer the World Except Domination"
October 28, 2022 Russia-Ukraine news
Putin's Play for the Western Right
War in Ukraine Likely to Speed, Not Slow, Shift to Clean Energy, I.E.A. Says
Ukraine war: Russian tactics on eastern front 'crazy', says Zelensky
World faces most dangerous decade since WW2 – Putin
China's Communist Party endorses Xi's 'core' position; Premier Li absent from new leadership lineup
Xi Jinping's party is just getting started tks Karsten Warnecke
UK finance minister Hunt is mulling up to 20 billion pounds of tax rises, the Telegraph reports
Liz Truss has thrown her party and the country into chaos
Boris Johnson pulls out of leadership race: Statement in full
New Tory leader Rishi Sunak says party facing 'existential threat
Diwali delight for Indians as Rishi Sunak set to become UK PM
Liz Truss Decimated U.K. Climate Policy. Campaigners Hope Rishi Sunak Will Fix It
Sunak's Britain is already broken. We need more than a general election to fix it
Jacob Rees-Mogg quits with handwritten letter dated 'St Crispin's Day'
How the U.K. Became One of the Poorest Countries in Western Europe
Rishi Sunak will keep ban on fracking in UK, No 10 confirms
'His humility is genuine': Rishi Sunak's father-in-law, the billionaire who does the dishes
Britain's New Leader Faces a Tough Winter
Newsnight's farewell montage to Liz Truss (and the music!) is simply magnificent tks Avis Easteal
Democrats retract call for Biden change of course on Ukraine
What to Expect When You're Expecting a Republican House
Paul Pelosi attack: Violent extremism warning ahead of US election
Nancy Pelosi's husband Paul recovering after hammer attack surgery
If Trump Runs Again, Do Not Cover Him the Same Way: A Journalist's Manifesto
Nancy Pelosi: Intruder was searching for US Speaker in attack on husband
Rishi Sunak Selected as U.K. Prime Minister & U.S. Test Scores Drop
Business and technology
Markets Break When Interest Rates Rise Fast: Here Are the Cracks
Within a 24 hour period, German manufacturing has been rocked by four separate century-old companies declaring insolvency as energy costs and inflation continue to spiral across Europe.
Becoming a courageous leader (with Paul Polman, ex-Unilever CEO and IMAGINE Co-Founder) Positive Leadership Podcast tks Kate Steele
Billionaire Red Bull Founder Dietrich Mateschitz Dies At Age 78
Burned Out on Your Personal Brand
WhatsApp back online after worldwide outage Published
Software maker SAP's revenue and outlook sends shares higher
Mark Cuban took a trip to celebrate selling his company for $5.7 billion – and ended up in coach in a middle seat
Apple to put USB-C connectors in iPhones to comply with EU rules
Apple Quietly Rolled Out a Change That Could Be the End of Facebook
Meta spent $45 billion on stock buybacks last year at $330 a share. The stock is worth $100 today after a post-earnings crash.
The metaverse is coming. Cathy Hackl explains why we should care.
Welcome to hell, Elon tks Phillipa Edwards
Elon Musk owns Twitter: The story so far
Elon Musk reportedly wants to lay off 75% of Twitter's staff
With 7 short Words, Elon Musk Just taught a POwerful Lesson in Leadership
Musk Takes Over Twitter And Fires CEO—Here's What It Could Mean
What happens to your Twitter data now that Elon's taken over
Entire industries may disappear in Europe and the Czech Republic
Social issues and humanity
More charges laid against WA man accused of murdering Indigenous teen Cassius Turvey
Scientist Fed the Fibonacci Sequence into A Quantum Computer and Something Strange Happened
TikTok blamed by filmmaker for allowing abusive comments on video
COVID-19 surges linked to spike in heart attacks
American singer Kelis shares video showing 2 women in Singapore touching her hair without permission
New Study Finds Rich Boomers Are Stressed About Handing Down Fortunes To Their Kids
Diwali will be honored as an official holiday in New York City schools
#GinaRinehart explains herself with a tightly-scripted TV address to the nation… tks Phillipa Edwards
Tough New Growth tks Laural Ramirez
Bruce Lehrmann: Australia parliament rape trial abandoned over juror 'misconduct'
The criminal 'justice' system is medieval in concept and medieval in practice tks Phillipa Edwards
Brittany Higgins shares emotional statement following jury discharge decision
World Cup 2022: Australia players criticise human rights record of hosts Qatar in video
People Who Worship Celebrities Have Lower Cognitive Abilities, Study Suggests
Adidas ends Kanye West partnership over antisemitism, hate speech
Kanye West's Donda Academy Reverses Abrupt Closure As Businesses Cut Ties With Rapper
Kanye West has a disturbing history of admiring Hitler, sources tell CNN
Kanye West wax figure removed from public view at Madame Tussauds
The Bleak Spectacle of the Amber Heard-Johnny Depp Trial tks Kate Marsden
10 Stoic quotes we need right now
Passion, humour, history
Scientists Puzzled Because James Webb is Seeing Stuff That Shouldn't Be There
Philippines: Student 'anti-cheating' exam hats go viral tks Steve Johnson
DOUBLE TAKE Katie Price fans are saying the same thing as she poses for snap after fourth round of lip fillers tks Colin Tate
Hugh Jackman on infamous Sarah Jessica Parker Tony Awards moment
'Black Adam' Hands Dwayne Johnson His Biggest Box Office Weekend As Leading Man
Step aside, Dutch people. Montenegro is the tallest nation on Earth
A moment that changed me: 'My best friend and I would go clubbing and dream of a glamorous destiny. But then she died'
'Tom Clancy's Jack Ryan' season 3 trailer promises more John Krasinski with a gun
Homo naledi: Archaeologists recover the fragmented skull of an elusive species of ancient human
Mysterious 'Blip' Detected Near The Titanic Decades Ago Finally Identified
Let me know what jumped out at you? Or share with me what you're reading? I love that!
Cheers
Andrea
Environment education
Three environment resources to help navigate this challenging territory. 1. Knowledge, constantly updating. 2. Individual action and awareness, so we do our part. 3. Resources for those struggling with eco-anxiety. Please share with your community.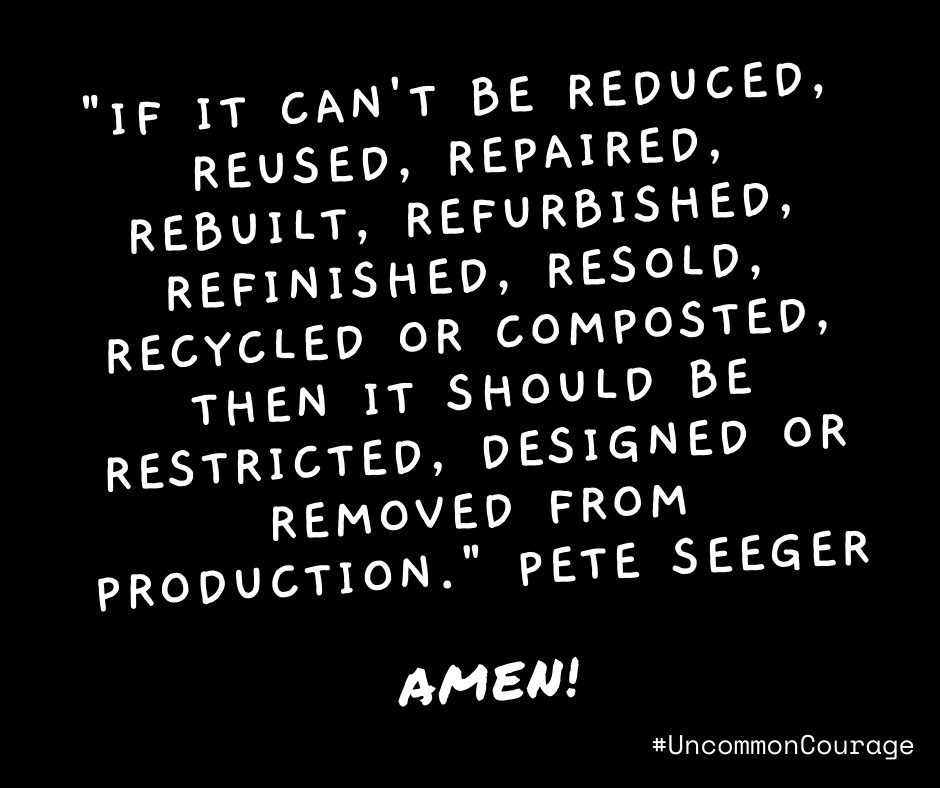 Uncommon Courage: an invitation – my book
Uncommon Courage is an invitation to be your courageous best self every day. It's also an antidote to the overwhelm, fear, and rage rolling around the world. But it's more than a book; it's an invitation to join an inclusive community that wants to better understand humanities challenges – both global and personal – in order to take courageous action and create a better world for everyone. If Covid19 has given us the time and space to reflect, Uncommon Courage gives us the nudge we need to create lasting change.
You can buy it on Amazon, Apple Books, Barnes & Noble, Book Depository, Booktopia, Smashwords, Kobo, Gardners, Odilo, Indie Bound, BookShop by BookTrib and Scribd.
Better yet, order it from your local bookstore, so you can #SupportLocal.
You can read the reviews, including a new five-star review on Book Commentary, another five-star review on ReaderViews, a review on BookTrib, and three more on Booklife, another on Book Commentary and Blue Ink Reviews. I'm also collating reviews on my Website too. Have a look and grateful to everyone who has written or recorded one.
Come and join the conversation in my new Facebook Group Uncommon Courage.
Uncommon Courage, the podcast – Apple, Spotify and everywhere podcasts are published.
The Know Show
Check out The Know Show. It's a fortnightly wrap up of the news!
Climate Courage
A focus on what we can do in our own lives, to contribute to the change needed.
Listed by Book Authority in the 100 Best LinkedIn Books of All Time and 22 Best New LinkedIn eBooks To Read In 2021 and 2022 categories. Grab it today if you want to take your professional presence to the next level! When it comes to LinkedIn, it really is time to ask — can you really afford not to have this book in the hands of every employee?
Connect with me
andreatedwards.com , uncommon-courage.com
LinkedIn, Twitter, Facebook, YouTube, Instagram, Tik Tok, Medium, Amazon.
Feedback
Have I done a great job for you? Can you write a reference on my LinkedIn profile or on my Google Business page? If not for me, why not write one for someone else who inspires you or has helped you? Join the #GivingEconomy.
Are you a Social CEO? The Social CEO: How Social Media Can Make You A Stronger Leader.
Want to claim your stage? Unleash Your Voice – Powerful Public Speaking for Every Woman