Greetings from Melbourne, where after nearly three years, I can finally reconnect with my family again. The good news is, everyone seems to be in a great place, which is a relief, because the impact of the pandemic on so many has been so hard. An issue we'll be dealing with for years to come.
Like everyone, this time is having a massive impact on me too. It all feels very dark, and as I'm always saying, we can face this time together and move towards the best outcome for the majority of us, or we can let the dark forces take us in another direction – a direction none of us will benefit from.
What can we do? We can speak up and drown out the dividing voices in our communities. We can vote for leaders who speak the language of unity, not division. We can elect leaders who are determined to face the challenges head on, bringing us with them on the collective journey needed to succeed. We can influence our families and friends to join us.
We can be the change we want to see.
We can believe, we can hope, we can act.
But we also must take care of ourselves. It's not easy to face the onslaught of news-shocks which seem to happen every day now. Honouring those feelings is so important, and strong self-awareness is a great asset here. I see a lot of people projecting these feelings onto those closest to them, and the reality is, it's just a projection of the pain, fear and hopelessness that is consuming so many right now.
Go within, understand what is triggering these feelings and do all you can not to project onto others, because great damage is done when you do. Sometimes that damage is irreparable too.
I'm going to have a week off next week to make sure I'm very present with my family. In the meantime, stay safe, stay hopeful and let's keep up the fight for our collective future.
Friend's content and mine
Why being Nice is BAD Advice – great piece from Andrew Bryant, sometimes you shouldn't be nice!
Preparing Phuket for climate change – a great article by Palmer Owyoung. A lot of these lessons apply globally, particularly in Island paradises.
Donation time
If everyone gave #just10percent of their time, talent, money or voice, we'll change the world. Can you donate? Make it a regular donation to the World Food Programme. Or donate to the UN Refugee Program, Medicine Sans Frontier, PowerOf , Kiva.org , Soi Dog Foundation.  It's a time for giving and taking care of each other.
Content to read
And here's the content I've been reading or watching this last week. Scan the headlines, read the ones that jump out at you, read or watch them all. Knowledge is power, and global knowledge is even more powerful.
Climate crisis
The 7 Stages of Climate Awareness | Frankly #10
Tens of thousands of salmon found dead after Canada drought
COP27: Activists 'baffled' that Coca-Cola will be sponsor
Could This Breakthrough Make Plastic Production Truly Circular?
Eliminating waste is a climate solution
The beauty industry is a climate disaster – by Emily Atkin
Biodiversity Of Cultural Knowledge For Food System Change Is Promoted At Slow Food Conference
A Gore-Kerry Political Climate Hit
Northern Australian beaches inundated by thousands of tonnes of plastic waste from Asia
'It shouldn't fall on us all the time': Nestlé CEO pushes back on corporate responsibility for plastic pollution
UN Human Rights Committee finds Australia violated Torres Strait Islanders' rights by failing to protect them from climate change
World Bank 'has given nearly $15bn to fossil fuel projects since Paris deal'
Methane "belching" lakes discovered in Alaska as permafrost thaws
HOPE? How To Grieve The Planet
Accelerating the transition to net-zero travel
Is it safe to burn hydrogen in the home? Let's look at the evidence
How community-led renewables could help solve the energy crisis
Pakistan floods: 'It's like fighting a war with no end'
Why you should rethink your next fashion purchase
Study suggests La Niña winters could keep on coming
15ft Storm Surge Washes Away Homes in Ft. Myers Beach – Hurricane Ian
Somalia drought: The fight for survival as famine looms
The Amazon will reach tipping point if current trend of deforestation continues
How much carbon was in the atmosphere when you were born?
Financial Times joins Business Declares climate coalition
Tesco Pledges To Halve Food Waste By 2025
AT Harvard, researchers work to Hold BIG OIL accountable for misinformation
Three Ways to Build Back Smarter After Hurricane Ian
Canola field selfies: Australian farmers warn tourists against 'dangerous' social media trend tks Kerrie Phipps
Quality Street axes plastic wrappers for recyclable paper
We may be doomed to respond too slowly to climate change
Australia's great energy transition reaches a 'tipping point' as clock winds forward for coal tks Susanna Hasenoehrl
UK power station owner cuts down primary forests in Canada
Cold Season to arrive in late October tks Edgar Toral
Hurricane Ian: One for the history books
Methane gas: What's the big deal?
More Americans are moving into hurricane zones even as climate risks mount
Adverts with unregulated climate claims are barrier to real emission cuts
An observation-constrained assessment of the climate sensitivity and future trajectories of wetland methane emissions
Bill Gates Speaks on Global Food Security Crisis; Radhika Batra EXCLUSIVE | Global Dialogues
Global politics
Russia's Vladimir Putin at 70: Seven key moments that made him
Russia's Small Nuclear Arms: A Risky Option for Putin and Ukraine Alike
Trump, Putin, and the Assault of Anarchy
Putin is A Fool: Intercepted Calls Reveal Russian Army in Disarray
Truss takes aim at 'anti-growth coalition' on final day of turbulent conference
Welcome to Tory conference 2022 – so bad even Michael Gove has drawn the line tks Tony Whybrow
Rightwing thinktanks run this government. But first, they had to capture the BBC
Five reasons why China's economy is in trouble
US midterms: The Trump voters who see a coming storm
These Tories are heading for oblivion, and no amount of U-turns can change that
Humiliated Liz Truss is in office but barely in power. Rebel MPs have the whip hand now
Britain Is Committing Economic Suicide
Confidence Man: Key revelations from new book on Donald Trump
Egypt is stifling climate activism ahead of Cop27, human rights group reports
Bolsonaro Might Be Beaten, and It Feels Too Good to Be True
Brazil's Lula and Bolsonaro face run-off after surprisingly tight result
Kwasi Kwarteng U-turns on plans to scrap 45p tax rate
Business and technology
Adidas puts partnership with Kanye West under review
Musk's U-turn on Twitter has investors like billionaire Carl Icahn laughing all the way to the bank
Banks close painful Citrix debt chapter with $700 mln loss -source
Banks financing Musk's Twitter deal face hefty losses
5 signs the world is headed for a recession
Degrowth: The Case for Constraining Consumption By Philip Kotler
Elon Musk's Texts Shatter the Myth of the Tech Genius
Social issues and humanity
Munich Oktoberfest emerges as COVID superspreader event in Germany
Thailand: Many children among dead in nursery attack
Loretta Lynn Didn't Pretty Things Up
Mahsa Amini: How one woman's death sparked Iran protests
This Professor Teaches a Class on 'Doing Nothing.' It's the Most Popular One on Campus
Are You The Same Person You Used To Be?
Menopause estimated to cost Australian women $17 billion a year in lost earnings, super
Rising cases of variants BQ.1 and XBB could make COVID drugs all but useless, study finds
'I've always thrown myself into work – now it keeps me alive': the over-65s forced to join the 'great unretirement'
Covid has left a third of young people feeling life is out of control
The Third Thing: Poet Donald Hall on the Secret to Lasting Love – The Marginalian
Passion, humour, history
Whoopi Goldberg Responds To Critic's 'Fat Suit' Comment In Review Of New Film: 'That Was Me'
Saudi Arabia to host the 2029 Asian Winter Games at NEOM tks Mireille Barber
Now we're Tolkien! After six glacial hours, The Rings of Power is finally worth watching
18 uplifting movies on Netflix for a feel-good escape
Let me know what jumped out at you? Or share with me what you're reading? I love that!
Cheers
Andrea
Environment education
Three environment resources to help navigate this challenging territory. 1. Knowledge, constantly updating. 2. Individual action and awareness, so we do our part. 3. Resources for those struggling with eco-anxiety. Please share with your community.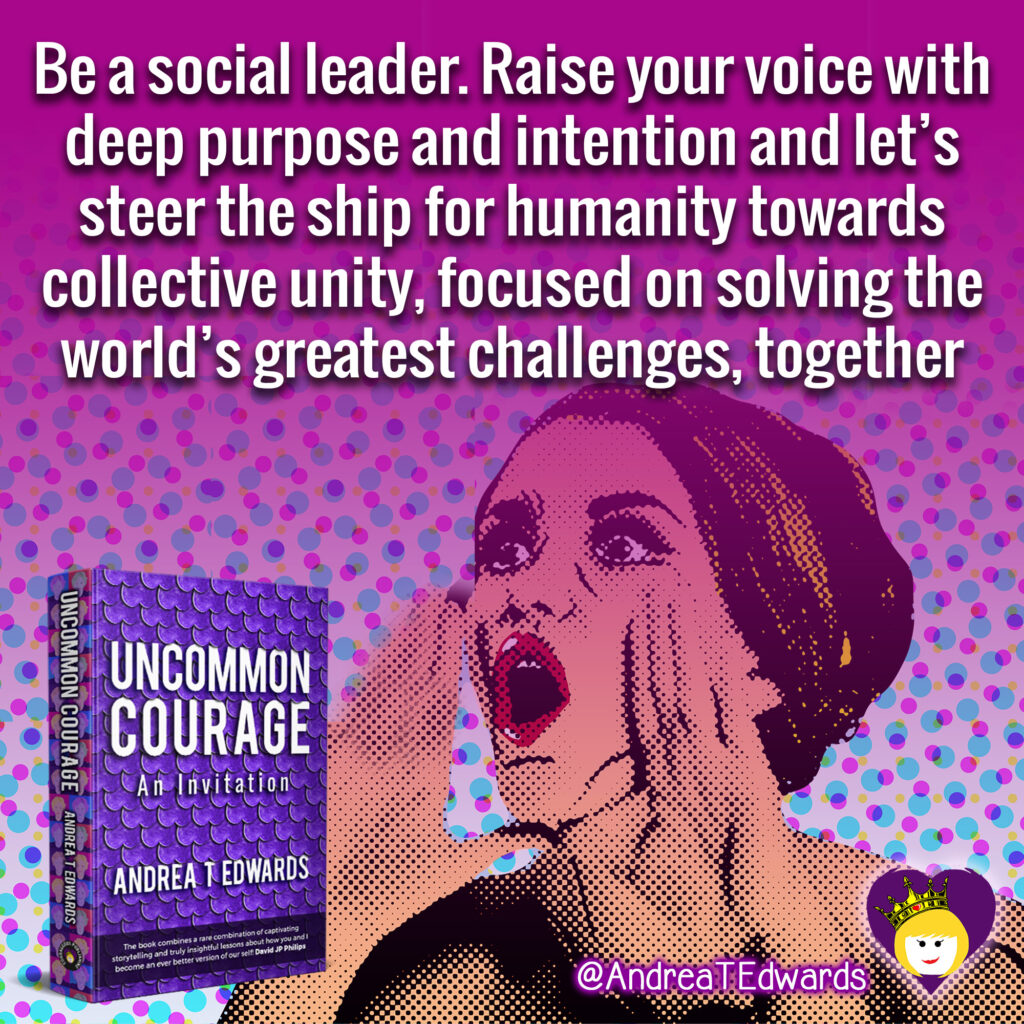 Uncommon Courage: an invitation – my latest book
Uncommon Courage is an invitation to be your courageous best self every day. It's also an antidote to the overwhelm, fear, and rage rolling around the world. But it's more than a book; it's an invitation to join an inclusive community that wants to better understand humanities challenges – both global and personal – in order to take courageous action and create a better world for everyone. If Covid19 has given us the time and space to reflect, Uncommon Courage gives us the nudge we need to create lasting change.
You can buy it on Amazon, Apple Books, Barnes & Noble, Book Depository, Booktopia, Smashwords, Kobo, Gardners, Odilo, Indie Bound, BookShop by BookTrib and Scribd.
Better yet, order it from your local bookstore, so you can #SupportLocal.
You can read the reviews, including a five-star review on Book Commentary, another five-star review on ReaderViews, a review on BookTrib, and three more on Booklife, another five-star review on Book Commentary and another on Blue Ink Reviews. I'm also collating reviews on my Website too. Have a look and grateful to everyone who has written or recorded one.
Come and join the conversation in my Facebook Group Uncommon Courage.
Uncommon Courage, the podcast, is on Apple, Spotify and everywhere podcasts are published, and keep your eyes peeled for my two live streams – The Know Show and Climate Courage.
The Know Show
Check out The Know Show. It's a fortnightly wrap up of the news!
Climate Courage
A fortnightly livestream and podcast, discussing how we can all act on climate change. This week, is where I'm living safe?
Listed by Book Authority in the 100 Best LinkedIn Books of All Time and 22 Best New LinkedIn eBooks To Read In 2021 and 2022 categories. Grab it today if you want to take your professional presence to the next level! When it comes to LinkedIn, it really is time to ask — can you really afford not to have this book in the hands of every employee?
Connect with me
andreatedwards.com , uncommon-courage.com
LinkedIn, Twitter, Facebook, YouTube, Instagram, Tik Tok, Medium, Amazon.
Feedback
Have I done a great job for you? Can you write a reference on my LinkedIn profile or on my Google Business page? If not for me, why not write one for someone else who inspires you or has helped you? Join the #GivingEconomy.
Are you a Social CEO? The Social CEO: How Social Media Can Make You A Stronger Leader.
Want to claim your stage? Unleash Your Voice – Powerful Public Speaking for Every Woman