Fascism is now ascendant across the West, particularly in Europe – a region known for keeping its fascism in check since WWII. Alas, in Italy and Sweden, they now have parties rooted in Nazi-style fascism. Of course, Poland and Hungary have already gone down this path, not to forget, other European countries, like Germany and France, are working hard to keep the fascists in check, but the power and influence is growing.
It's critical we understand we don't need to see a clean sweep of fascism across Europe before its impact ripples out and consumes the world. As discussed in some of the articles shared below, it was only a handful of countries in WWII that became fascist and it resulted in global war and destruction, so yes, it's a very frightening reality.
Add Putin in the mix, the economic collapse we are witnessing, climate breakdown, and well, we are on a challenging path…. Definitely not the path we need to be on right now.
There are three articles I really want to encourage everyone to read – they're at top of the global politics section below:
The Battle For the Soul of the West
Fascism Is Spreading — And It's a Sign of Civilizational Collapse
Opinion | Forget 'polarization.' The problem is right-wing extremism
The first two are written by Umair Haque, a member of the Thinkers50 "club" and someone I admire. He really lays out the challenge:
"The West — all of it — has a very serious, real, and immense problem now. The name of that problem is fascism, and the first step is admitting that there is a problem, which so far, the West is loath to do. And yet nothing less than the future of the West is at stake here. Why?
"The correct way to see nationalism-fascism — I hyphenate them for just that reason — is as a kind of death spiral. The death spiral goes like this. Nations begin to have problems — usually economic stagnation, high levels of personal debt, and people's lives begin to feel precarious, desperate, and broken, as living standards decline."
Well, we're seeing that, right?
Another key sign of rising fascism is scapegoating, and boy we've seen that in recent years – immigrants, LGBTIQ+, foreigners, all the way through to women. It's their fault that I'm suffering, and of course, we know this isn't true. The failure of governments over decades, an economic system that doesn't respect a finite planet, and the division politicians have built within our societies, have put us on this path.
There is no question this is a really challenging time for the news. But here's the really important thing. As painful as this time is, if we turn away from it, the bad actors will continue to take us down a nationalistic, protectionist path. Towards a dystopia. And this is not good for any of us.
We need to face this time and work out how we can move through it together, as a global community, focusing on the transformational changes we must make to our societies, so the majority can live with safety and dignity. We must urgently address issues like extreme poverty, fuel poverty, food poverty, inflation and more. We must also demand our governments do not give up on green ambitions now that the time is hard! Climate action is imperative, and every delay means what we face is worse. We CAN NOT accept this.
We are not going back to normal. We cannot continue to grow our economies as we have done in the past, because our planet cannot sustain it, and if we try, the collapse will accelerate. It is time for radical change, and we need to get our heads around this. We must accept what needs to change, in order for our children not to have to suffer unbearable lives.
A final point from Umair…
"Where does all this end? It doesn't end well. We are now in what you might call the cresting phase of a fascist super-cycle. Fascism is now rising across the West…."
"The future of the West is very much in question. Ironically, that's the same thing the fascists say. The Big Lie they used to seduce the increasing numbers of desperate masses to their side. It's not under threat, though, from without. But from within. We should have learned the lesson a century ago. And yet here we are, again. Now, we're in a battle for the soul of the West."
"Enlightenment versus fascism, wisdom versus ignorance, truth versus lies, demagoguery versus democracy, Trumps in every nation, masses screeching in rage, hypnotized by Big Lies. The West stood for something once, and despite the cynics on the woke left, that thing was never just brutality, but the highest accomplishment of human civilization so far, which was social democracy. It's in that sense that the battle for the soul of the West is lethally real. But to win it, to even fight it, first, the West has to admit it."
Friend's content and mine
Aussie Outback adventure on a BMW 310 GS
My old school friend David Geraghty, who has been a professional photographer for decades, put together this awesome journey to outback Australia. Just beautiful.
My friend, Fredrik Haren, has an Island in Sweden and it's for creatives. You can apply to stay there for free, so check it out. Ideas Island looks amazing.
Seven more tips we can all embrace!
Donation time
If everyone gave #just10percent of their time, talent, money or voice, we'll change the world. Can you donate? Make it a regular donation to the World Food Programme. Or donate to the UN Refugee Program, Medicine Sans Frontier, PowerOf , Kiva.org , Soi Dog Foundation.  It's a time for giving and taking care of each other.
Content to read
And here's the content I've been reading or watching this last week. Scan the headlines, read the ones that jump out at you, read or watch them all. Knowledge is power, and global knowledge is even more powerful.
Climate crisis
Climate Change Solutions with Neil deGrasse Tyson & Katharine Hayhoe
Ending the onslaught on the Amazon
The Oil Peak Is Here as Steep Rate Hikes Curb Consumption
'History is Calling' via The Monkeys, part of Accenture Song tks Kerrie Phipps
European leaders blame sabotage as gas pours into Baltic from Nord Stream pipelines
Analysis: Nord Stream gas leaks raise climate fears, but impact hard to quantify
Emails exposing dubious net-zero claims show Big Oil 'does not deserve' PR counsel: campaigner
Arctic Ocean acidifying up to four times as fast as other oceans, study finds  tks Kevin Cottam
China's Fishing Operations Raise Alarms Worldwide
Half of world's bird species in decline as destruction of avian life intensifies
Carbon-resource circulation through recycling of plastics
Orion Magazine – Speaking of Nature
Fortescue's (ASX: FMG) $9b spend to end fossil fuel use by 2030 revealed
Climate Week NYC Was a Greenwashing Bonanza
Comprehensive Evidence Implies a Higher Social Cost of CO2  tks Mark Mulkerin
New Plan Suggests Re-Freezing Earth's Poles by Spraying Chemicals With Huge Military Jets
Finally we have a Global Registry of Fossil Fuels – Carbon Tracker Initiative
Most governments miss UN deadline to improve climate plans
Hydrogen is unsuitable for home heating, review concludes
Old volcanoes, big energy tks Kevin Cottam
Will Capitalism Ever Support a Truly Green Leader?
Buzz stops: bus shelter roofs turned into gardens for bees and butterflies  tks Kerrie Phipps
Influence of climate change seen in features of Hurricane Ian
Ian: DeSantis seeks help from Biden, no more 'Don't Tread on Florida'
Can animals feel hurricanes? Sharks are one example
Facing a Dire Storm Forecast in Florida, Officials Delayed Evacuation
Cyclone Ian batters South Carolina in second US landfall
In Florida's Fort Myers Area, Scenes of Paradise May Be Lost for Good
Flooding and Power Outages Grow as Ian Moves Inland
In pictures: Floridians take in Hurricane Ian's impact
What Makes Ian Different From Other Hurricanes – The Atlantic
Hurricane Ian makes landfall with catastrophic wind and rain
Hurricane Ian: Cuba begins restoring power after storm
Hurricane Ian now heading toward Florida where officials urge evacuations
Hurricane Ian is going to flood out Florida — and this is a constant climate change problem
Typhoon Karding: Philippines on red alert as Noru roars in
Super Typhoon Noru slams into the Philippines
Typhoon Noru: Five rescuers dead as typhoon hits Philippines
Super Typhoon Noru hits the Philippines forcing thousands to flee
Weather warning for Andaman coast
Storm Fiona hammers Canada's east coast; thousands without power
Hurricane Fiona: Canada hit by 'historic, extreme event'
Storm Fiona: Houses washed into sea as storm batters Canada
Typhoon Noru: Five dead in Philippines – BBC News
Biggest Plastic Polluter named Sponsor for COP27 – Greenpeace Reaction
Environmental destruction is part of Liz Truss's plan
The alternative to growth that could save the planet
Lights out, heaters off: Europeans prepare for winter energy crisis after Russia turns off gas tks Samantha Gayfer
Over 1,700 environment activists killed in decade – report
Abu Dhabi researchers discover alarming changes in Arabian Gulf waters tks Rohit Bassi
BP in oil field where 'cancer is rife'
Revealed: 5,000 empty 'ghost flights' in UK since 2019, data shows tks Kevin Cottam
What Will Earth Look Like When These 6 Tipping Points Hit?
Italy's plan to save Venice from sinking
'I'd rather eat an actual burger': why plant-based meat's sizzle fizzled in the US
As Carbon Dioxide Grows More Abundant, Trees Are Growing Bigger, Study Finds
Truths We Can't Bear Alone: Facing an 'Inconvenient Apocalypse'
Calculating Your Vacation's Carbon Footprint, One Travel Mode at a Time
Adapting to climate change faster will save Canada billions, new analysis shows  tks Kevin Cottam
Why the horrific heatwave in China matters to you
Global politics
The Battle For the Soul of the West | by umair haque
Fascism Is Spreading — And It's a Sign of Civilizational Collapse | by umair haque
Opinion | Forget 'polarization.' The problem is right-wing extremism
Morning Bid: Dysfunction and intervention
Ukraine war: Putin raises stakes in speech full of anti-Western bile
Ukraine war: Biden says US will not be intimidated by reckless Putin
Putin in the Bunker – The Atlantic
Vladimir Putin's ship of fools is sinking fast. Will he take everyone down with him? | Simon Tisdall
Ukraine war: Hundreds arrested as Russian draft protests continue
Ukraine war: Russia admits mobilisation errors, amid growing public opposition
The Russian Clocks Are All Ticking – The Atlantic
Russia's Nuclear Threats Are All Putin Has Left – The Atlantic
Russia's economy will 'die by winter' because of military mobilization
Exclusive: China's state banks told to stock up for yuan intervention
EU vows to protect energy network after 'sabotage' of Russian gas pipeline
Italy elections: Far-right leader Meloni tells Italians 'don't be afraid'
Italian elections: far right set to take power with Meloni as first female PM
Brazil election: 'We'll vote for Bolsonaro because he is God'
UK warned 'significant' rate rise is coming, as calls for mini-budget U-turn rise – as it happened
'Cruel and greedy': high earners on Kwasi Kwarteng ditching top tax rate
Mini-Budget: An audacious "new era" of greed
IMF openly criticises UK government tax plans
Bank of England intervenes to stabilize U.K. economy as pound crashes
Bank of England launches £65bn move to calm markets
The short-term political futures of PM Liz Truss | British Politics and Policy at LSE
Biden ramps up meetings with his economic team amid rattled global markets
Ken Paxton tried to avoid being served with subpoena, court record says
13 Reported Killed as Iran Revolutionary Guards Target Dissident Sites in Iraq
Women's resistance in Iran, and why it matters for women's rights everywhere
'I Think the Women Are Winning': Roya Hakakian on Iran – The Atlantic
Claims That Capitalism Is Eradicating Global Poverty Are Wildly Misleading
Roger Waters gigs in Poland cancelled amid Ukraine backlash
Anonymous Message To Iranian President
Business and technology
Global Economy Headed Into Recession
Optus: How a massive data breach has exposed Australia
NSW gov to help reissue driver's licences after Optus breach
The Dow is in a bear market. What does that mean?
Wall Street Silver on Twitter: "Santelli nails it here. The one guy on CNBC who really isn't afraid to call out what is actually happening
Two Blockchain Sleazebags May Have Crashed the Entire Crypto Market
LinkedIn Ran Social Experiments on 20 Million Users Over Five Years
Jack Dorsey Sends Private Texts to Elon Musk About Twitter
Phuket real estate shifts tide in wake of urban flight tks Edgar Toral
Waste no time, delete your TikTok
Social issues and humanity
How enlightenment permanently alters your brain
The new gender gap — it's not what you think
Watch the moment NASA's DART spacecraft crashed into an asteroid
For a Healthier Society, Ditch the Myth of Normal
What my parents mean when they call my daughter 'naughty'
The brain undergoes a great "rewiring" after age 40
Humans are evolving a new artery
41 S'poreans, PRs nabbed for suspected drug abuse overseas from Jan to Aug 2022
Queen Elizabeth II: Picture of chapel ledger stone released
The breakthrough biological explanation of the human condition – video
Shania Twain: I was touch and go with Covid
Passion, humour, history
Dimorphos: Nasa flies spacecraft into asteroid in direct hit
James Earl Jones signs over rights to voice of Darth Vader setting plans in motion to retire
Hugh Jackman is returning as Wolverine in 'Deadpool 3'
Let me know what jumped out at you? Or share with me what you're reading? I love that!
Cheers
Andrea
Environment education
Three environment resources to help navigate this challenging territory. 1. Knowledge, constantly updating. 2. Individual action and awareness, so we do our part. 3. Resources for those struggling with eco-anxiety. Please share with your community.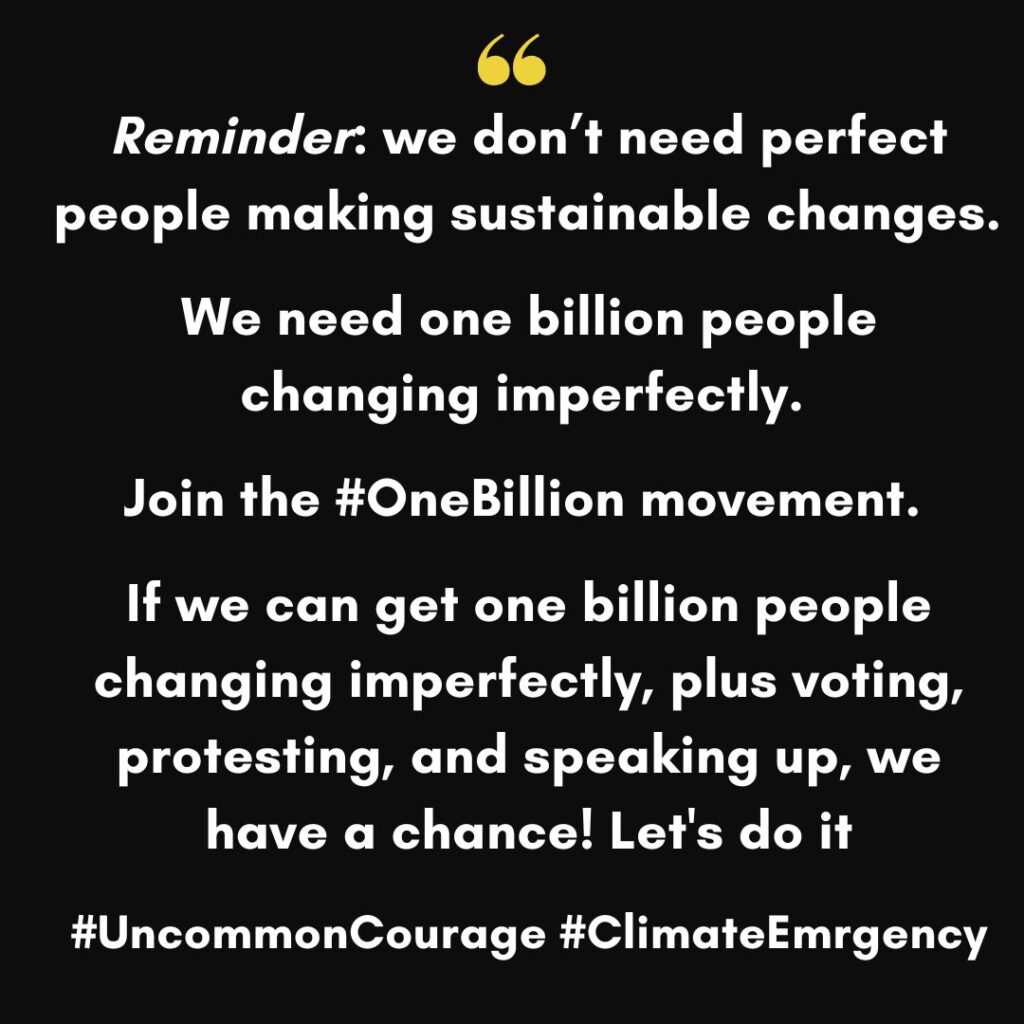 Uncommon Courage: an invitation – my book
Uncommon Courage is an invitation to be your courageous best self every day. It's also an antidote to the overwhelm, fear, and rage rolling around the world. But it's more than a book; it's an invitation to join an inclusive community that wants to better understand humanities challenges – both global and personal – in order to take courageous action and create a better world for everyone. If Covid19 has given us the time and space to reflect, Uncommon Courage gives us the nudge we need to create lasting change.
You can buy it on Amazon, Apple Books, Barnes & Noble, Book Depository, Booktopia, Smashwords, Kobo, Gardners, Odilo, Indie Bound, BookShop by BookTrib and Scribd.
Better yet, order it from your local bookstore, so you can #SupportLocal.
You can read the reviews, including a five-star review on Book Commentary, another five-star review on ReaderViews, a review on BookTrib, and three more on Booklife, another five-star review on Book Commentary and another on Blue Ink Reviews. I'm also collating reviews on my Website too. Have a look and grateful to everyone who has written or recorded one.
Come and join the conversation in my Facebook Group Uncommon Courage.
Uncommon Courage, the podcast, is on Apple, Spotify and everywhere podcasts are published, and keep your eyes peeled for my two live streams – The Know Show and Climate Courage.
The Know Show
Check out The Know Show. It's a fortnightly wrap up of the news!
Climate Courage
A fortnightly livestream and podcast, discussing how we can all act on climate change. This week, is where I'm living safe?
Listed by Book Authority in the 100 Best LinkedIn Books of All Time and 22 Best New LinkedIn eBooks To Read In 2021 and 2022 categories. Grab it today if you want to take your professional presence to the next level! When it comes to LinkedIn, it really is time to ask — can you really afford not to have this book in the hands of every employee?
Connect with me
andreatedwards.com , uncommon-courage.com
LinkedIn, Twitter, Facebook, YouTube, Instagram, Tik Tok, Medium, Amazon.
Feedback
Have I done a great job for you? Can you write a reference on my LinkedIn profile or on my Google Business page? If not for me, why not write one for someone else who inspires you or has helped you? Join the #GivingEconomy.
Are you a Social CEO? The Social CEO: How Social Media Can Make You A Stronger Leader.
Want to claim your stage? Unleash Your Voice – Powerful Public Speaking for Every Woman