This Tuesday I'm heading off to Europe with my boys for nearly six weeks. We haven't spent time with our English family and friends since the start of the pandemic, and well, it's overdue. During this time, I'm going to take a break from publishing my Weekend Reads, The Know Show, and all normal work.
The reason? I'm tired. But it's not just me, because I know you're tired too. We're all tired. Exhausted. Done in. In fact, the news of Roe Vs Wade being overturned last night didn't even make me feel outraged. Just tired. So tired.
Tired of all the idiocy I see around the world.
The rage that is driving us apart.
The ignorance of what is before our eyes.
The apathy, the non-thinking, the slide into chaos that is not good for any of us.
We cannot allow it to happen my friends, we just can't.
I love doing my Weekend Reads, because through this, I am working hard to show anyone who's willing to listen – as gently as I possibly can, even though I know it's scary – that we are in a very dangerous time for humanity, on multiple levels. I do this because I believe information that matters MUST get our attention, versus constantly being distracted by shiny things, and there are so many shiny things distracting us….
However, doing work like this is not easy. It's not easy at all. Those who know me know I don't do this for ego or for any benefit. I do it because I have such a deep fear for our future and I want to alert my community to the dangers we face, as well as what we can do to make sure we don't go there. The future is not written. It's ours to write and we still have time.
But all of this has a cost, and in 2022, the cost has been very high. Just the weekly 'news bombs' on the environment are like nothing I've ever seen before. Truly, I have NEVER seen a rhythm of environment news as we are witnessing this year, and it is ALARMING.
So, if you have people in your community who are really paying attention to what's going on in the world and like me, are trying to help other's see the incredible dangers we face, please make sure you're doing a couple of things for them.
Support the work they're doing, because if it doesn't reach a bigger audience, it can be very demoralizing for them. This work is about waking people up, and it needs to be heard and seen. If it's not being heard and seen, the champions in your community may start wondering why they bother. We don't want that to happen, we really don't
Second, check in on them. They are doing the hard yards at a very challenging time for humanity. Your support and care will mean the world to them. They also can't be strong all the time, even though it might appear that they are! No one is superhuman
If you're one of the people paying attention, you know that our future, and our children's future is on the line. You also know, it's up to every single one of us to start paying attention – no matter how ugly the truth is. Because if we don't have the courage to face what is happening in the world now, it's only going to be harder for all of us later.
Please, try not to get angry or frustrated with those not ready to see. The awareness tipping point is coming, but anger and frustration will not help us achieve it. Scream into your pillow perhaps? It helps me.
But that's the big struggle right now, especially when you're looking this time right in the face. We know that if we start acting immediately, it will still be challenging, but it will be easier now than if we keep waiting. The longer we close our eyes and ears to the challenges that must be addressed, the harder and more chaotic it's going to be for all of us. Deep despair and misery lie ahead the longer we wait. Now, it's possible to achieve something, the longer we wait to act…
However, the most important truth is, we need consensus. Massive consensus. It is only then that we can achieve what many don't believe is possible. But building consensus is exhausting!!
So, it's time to have a bit of a break from all that heaviness and if you need to take a break, please do it. This tiredness is not something a day off or even a week off can help, it needs much more time. It's a bone aching kind of tiredness, right? The sort of tiredness that goes deep into your soul.
I am ready to rest, reflect, think, and detach from the world now. And I'll come back, strong again, and I'll keep going, hoping I can help people see what is necessary, hoping I can contribute to the army seeking to build consensus, so we can move forward, united, and address the very important issues we must act on, as quickly as possible.
Friend's content and mine
I was delighted to record this podcast with Bavani Periasamy. Bavani is a gratitude advocate (among many other things) and she told me recently she's been struggling, as others don't believe she has the right to talk about negative feelings, because, well… she's a gratitude advocate. We all have the right to struggle. Have a listen. Even gratitude advocates struggle sometimes…
Donation time
If everyone gave #just10percent of their time, talent, money or voice, we'll change the world. Can you donate? Make it a regular donation to the World Food Programme. Or donate to the UN Refugee Program, PowerOf , Kiva.org , Soi Dog Foundation. It's a time for giving and taking care of each other.
If you want to support Ukraine Red Cross Ukraine, Medicine Sans Frontier, Defend Ukraine, as well as World Food Programme and UN Refugee Program.
Content to read
And here's the content I've been reading or watching this last week. Scan the headlines, read the ones that jump out at you, read or watch them all. Knowledge is power, and global knowledge is even more powerful.
Climate crisis
This is all just a part of a natural cycle, right
Science and Philosophy of Sustainability (illuminem.com)
Global tipping points: Climate change and the coronavirus – POLITICO
Tracking the ocean's deepest diving animals into the twilight zone (knowablemagazine.org)
The Ukraine Crisis Shows How Fragile Our Food Systems Are
Rare birds' arrival an 'unmissable sign' climate emergency has reached Britain | Birds | The Guardian
How Long It Takes 50 Common Items to Decompose | Stacker
Almost Half the World's Rivers Poisoned With OTC, Prescription Drugs: Study (newsweek.com)
column Hans Stegeman – Green growth is an illusion (triodos-im.com)
Five highly protected marine areas planned for English waters | Conservation | The Guardian (ampproject.org)
The farmers restoring Hawaii's ancient food forests that once fed an island | Hawaii | The Guardian
Villagers spot giant 'mouth to hell' in Siberia, scientists alarmed by its growth – World News (wionews.com)
"The idea of children in this country starving seems absurd" – Prospect Magazine
Welcome to a new age of food insecurity | Prospect Magazine
Burning planet: why are the world's heatwaves getting more intense? | Extreme weather | The Guardian
Republican Drive to Tilt Courts Against Climate Action Reaches a Crucial Moment – The New York Times (nytimes.com) tks Denise Chai
Opinion | What's Worse: Climate Denial or Climate Hypocrisy? – The New York Times (nytimes.com)
Heat wave to send AccuWeather RealFeel Temps to 115 F | AccuWeather
Stage-storming Greenpeace Activist Banned From Cannes Lions Despite Climate Focus | The Drum
Hundreds of thousands evacuated in China after severe flooding | World News | Sky News
Europe and UK pour 17,000 tons of cooking oil into vehicles a day | Environment | The Guardian (ampproject.org)
Scientific evidence on the political impact of the Sustainable Development Goals | Nature Sustainability
Secretary-General's virtual remarks to Major Economies Forum on Energy and Climate | United Nations Secretary-General
What Is Net Zero? A Global Overview On Climate Change. (greengardenliving.com)
Young people go to European court to stop treaty that aids fossil fuel investors | Climate crisis | The Guardian (ampproject.org)
Heatwave: Americans face blistering temperatures – BBC News
Growing Indigenous Empowerment and Our Climate Future | by David Bengston | The Futurian | Medium
If we can't save the Great Salt Lake, what chance do we have of saving the planet? (sltrib.com)
Food crisis 2022: the many rethinks needed to feed the world | News | Eco-Business | Asia Pacific
Plastic Recycling Doesn't Work and Will Never Work – The Atlantic
World's protected natural areas too small and isolated to benefit wildlife – new study (theconversation.com)
Sustainability and the new Approach to Business Travel – SAP Concur
Toxic dust warnings might be our future as the Great Salt Lake shrivels up | KUER
'Take Responsibility For Your Clients': UN Backs Crackdown On Adland's Climate Impact | The Drum
India and Bangladesh floods displace millions and kill dozens – BBC News
The Secret Diary of a 'Sustainable Investor' — Part 4 (Epilogue) | by Tariq Fancy | Jun, 2022
New data reveals extraordinary global heating in the Arctic | Climate crisis | The Guardian (archive.org)
'We beg God for water': Chilean lake turns to desert, sounding climate change alarm | Reuters
Create my Garden – Pollinator Pathmaker
China announces ban on industrial projects to combat climate change in key zones – JURIST – News
Photos, Maps: Extreme Heat Strikes 100 Million in US, Could Last Weeks (ampproject.org)
Chinese tornado rips through buildings and power cables – BBC News
F1 driver says 'what happens in Alberta is a crime,' feels responsibility to speak about climate change (ampproject.org)
Climate change: Bonn talks end in acrimony over compensation – BBC News
Global politics
America Is Growing Apart, Possibly for Good
Mick Lynch: rail union bruiser who's more than a match for the media | RMT | The Guardian
Brexit will leave workers poorer than they would have been and has damaged Britain's competitiveness, new study says | Business News | Sky News
January 6 hearing: Trump was 'detached from reality', says Bill Barr – BBC News
Capitol riot hearing: Lawyers threatened to quit over Trump election pressure – BBC News
Shaye Moss: 'I don't want anyone knowing my name' – BBC News
Ben Stiller: Actor speaks about 'distressing' scenes on visit to Ukraine – BBC News
US must accept Southeast Asia wants China to play a central Indo-Pacific role | South China Morning Post (scmp.com)
French elections: Macron loses majority as French vote fragments – BBC News
Business and technology
Explainer: Why is there a worldwide oil-refining crunch? | Reuters
Bali's new digital nomad visa will let you live there tax free | The Independent (ampproject.org)
Forget Western models, Asian philanthropists should give boldly and champion local leaders: AVPN CEO | News | Eco-Business | Asia Pacific
CEOs are increasingly stuck between employees and politicians. We should side with our people – Fortune (ampproject.org) tks Damian Corbet
How Inflation Works: An Illustrated Guide for the Rest of Us (finmasters.com)
Digital News Report 2022 | Reuters Institute for the Study of Journalism (ox.ac.uk)
Energy Stocks Jump As Oil Surges Again—Prices Will Remain Elevated Through Summer (forbes.com)
Here's What Billionaires Are Saying About The Next Recession (forbes.com)
Apple battery lawsuit: Millions of iPhone users could get payouts in legal action – BBC News (ampproject.org)
How to Be a Supportive Manager When Times Are Tough (hbr.org)
Sheryl Sandberg's Wedding Expenses Distract From Facebook Scandals – Bloomberg
Sheryl Sandberg and the Crackling Hellfire of Corporate America – The Atlantic
Qantas' reputation is trashed. Why is Alan Joyce getting away with it? (smartcompany.com.au) tks Paul Dunn
Peter Thiel helped build Facebook, now he's building a new anti-tech right – The Washington Post
Free Speech Champion Elon Musk Fires Employees for Criticizing Him (ampproject.org) tks Miguel Bernas
Social issues and humanity
My Statement with Michelle on the Draft Supreme Court Decision to Overturn Roe v. Wade | by Barack Obama | May, 2022 | Medium
If the Supreme Court Can Reverse Roe, It Can Reverse Anything
WELCOME TO GILEAD: HOW POPULATION FEARS DRIVE WOMEN'S RIGHTS ABUSES
Vessel For Male Sexual Gratification Very Sad Today
What philosophy can tell us about the right to abortion
Roe v Wade: Abortion clinics start to close after Supreme Court ruling
'In to the streets': US Supreme Court overturns abortion rights
Roe v Wade: US Supreme Court ends constitutional right to abortion – BBC News
Decisions Are Still Being Made For Women, Instead of By Them | Time
US Supreme Court: The woman who helped to end Roe v Wade – BBC News
Teachers the fall guys for a failing system (smh.com.au) tks Phillipa Edwards
The Whistleblowers: Inside the UN review – a horrific tale of misogyny, rape and 10,000 deaths | Documentary | The Guardian
Polio virus is found in the U.K. for the first time in nearly 40 years : Goats and Soda : NPR
As a Student, I Couldn't Afford a College Sweatshirt. As a Professor, I Keep That in Mind. | EdSurge News tks Evelyn Lee
Devastating Afghanistan Earthquake Leaves More Than 1,000 Dead – The New York Times (nytimes.com)
Afghan earthquake: At least 1,000 people killed and 1,500 injured – BBC News
Nearly 1 in 5 adults who had COVID have lingering symptoms – U.S. study | Reuters
Outcomes of SARS-CoV-2 Reinfection | Research Square
South Coast council begs holiday homeowners to rent out properties as housing crisis escalates – ABC News tks Willie Wahlin
Elon Musk: Billionaire's daughter cuts ties with her father – BBC News
Passion, humour, history
The Black Hole | Future Shorts tks Joe Augustin
Rupert Murdoch already has a new Tinder profile | The Shovel
Rupert Murdoch and Jerry Hall are getting a divorce – NYT | Reuters
First joint portrait of UK's Prince William and wife Kate released | Reuters
Pink Floyd Set Physical Release for New Single 'Hey Hey Rise Up' – Rolling Stone
The tiny mites that have sex on our faces have a problem – BBC News tks Andrew Psarianos
Hong Kong's iconic Jumbo Floating Restaurant sinks in South China Sea – YP | South China Morning Post (scmp.com) tks Amber Pearl
If you made it this far, see you when I get back.
Cheers
Andrea
Environment education
Three environment resources to help navigate this challenging territory. 1. Knowledge, constantly updating. 2. Individual action and awareness, so we do our part. 3. Resources for those struggling with eco-anxiety. Please share with your community.
Uncommon Courage: an invitation – my latest book
Uncommon Courage is an invitation to be your courageous best self every day. It's also an antidote to the overwhelm, fear, and rage rolling around the world. But it's more than a book; it's an invitation to join an inclusive community that wants to better understand humanities challenges – both global and personal – in order to take courageous action and create a better world for everyone. If Covid19 has given us the time and space to reflect, Uncommon Courage gives us the nudge we need to create lasting change.
You can buy it on Amazon, Apple Books, Barnes & Noble, Book Depository, Booktopia, Smashwords, Kobo, Gardners, Odilo, Indie Bound, BookShop by BookTrib and Scribd.
Better yet, order it from your local bookstore, so you can #SupportLocal.
You can read the reviews, including a new five-star review on Book Commentary, another five-star review on ReaderViews, a review on BookTrib, and three more on Booklife, another on Book Commentary and Blue Ink Reviews. I'm also collating reviews on my Website too. Have a look and grateful to everyone who has written or recorded one.
Come and join the conversation in my new Facebook Group Uncommon Courage.
Uncommon Courage, the podcast – Apple, Spotify and everywhere podcasts are published.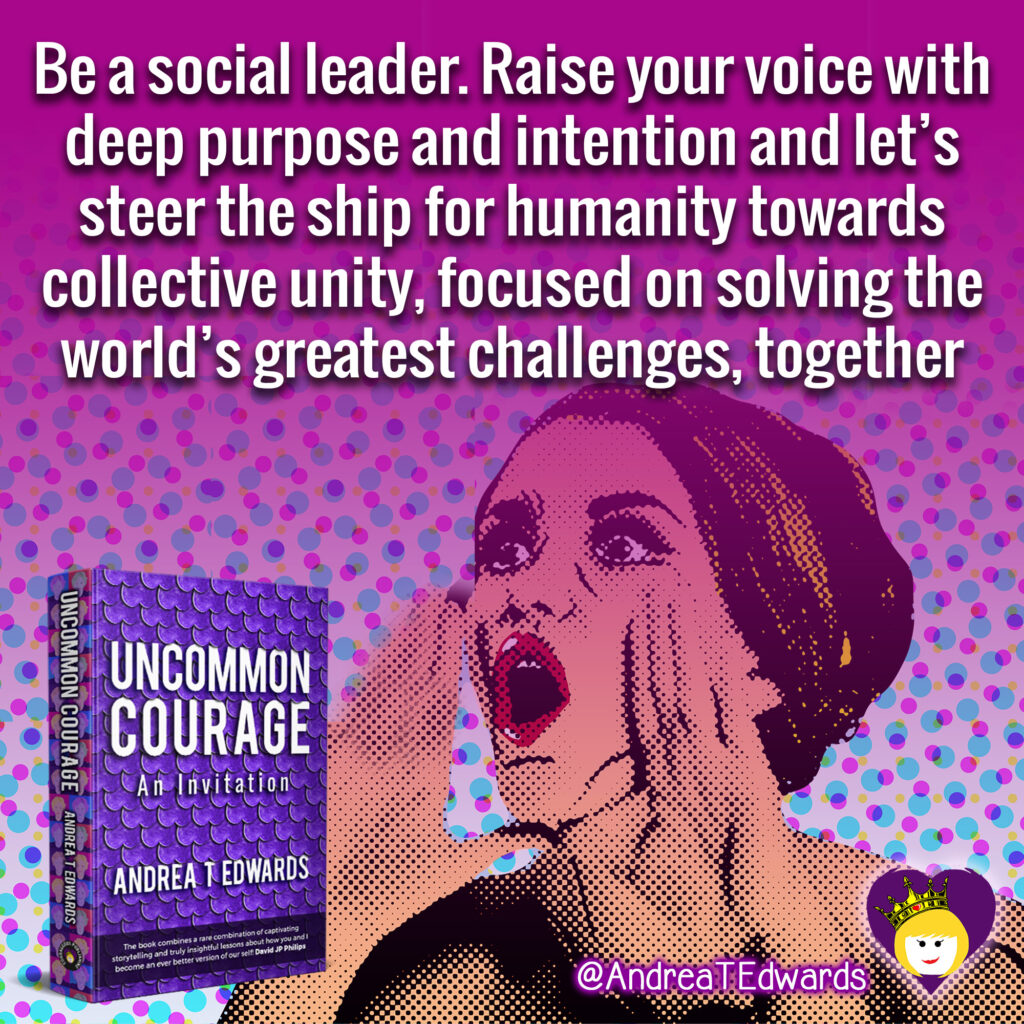 The Know Show
Check out The Know Show. It's a weekly wrap up of the news!
Listed by Book Authority in the 100 Best LinkedIn Books of All Time and 22 Best New LinkedIn eBooks To Read In 2021 and 2022 categories. Grab it today if you want to take your professional presence to the next level! When it comes to LinkedIn, it really is time to ask — can you really afford not to have this book in the hands of every employee?
Connect with me
 andreatedwards.com , uncommon-courage.com
LinkedIn, Twitter, Facebook, YouTube, Instagram, Tik Tok, Medium, Amazon.
Feedback
Have I done a great job for you? Can you write a reference on my LinkedIn profile or on my Google Business page? If not for me, why not write one for someone else who inspires you or has helped you? Join the #GivingEconomy.
Are you a Social CEO? The Social CEO: How Social Media Can Make You A Stronger Leader. 
Want to claim your stage? Unleash Your Voice – Powerful Public Speaking for Every Woman