It's a conversation that has been happening for some time now and many will think these words are too extreme – a war on women? Well… yes. There are communities across our world who want women to shut up and stay in their place, but they are NOT the majority of us.
However, if we let these people win, it harms all of us, because when we do not have equality, businesses are not as successful, GDP shrinks, and when it comes to the environment, women leadership sees significant results in the right areas.
Equality has never been more important. I've said it before and will say it again – equality is good for everyone.
Unfortunately, these groups, usually with extreme religious views, are long term planners and as we saw in the US this week, patience pays off.
It was, of course, the breaking news that the US Supreme Court has voted to overturn abortion rights (or Roe Vs Wade) and we heard this because it was leaked. Just the leak was news, because it was unprecedented! Who leaked it? No one knows. Lot's of opinions, of course.
We're seeing all sorts of news and opinions from around the world on this, and one thing that has given me hope is men jumping in, because this is not a women's issue, it's a human right's issue.
But it's also important to notice a very important part of this story. The reasoning they have used for overturning this right could be used on other rights – like the right for anyone to marry. It could also ricochet around the globe, and well, we cannot let that happen.
According to this article in Politico – 'Supreme Court has voted to overturn abortion rights, draft opinion shows.'
"The draft opinion is a full-throated, unflinching repudiation of the 1973 decision which guaranteed federal constitutional protections of abortion rights and a subsequent 1992 decision — Planned Parenthood v. Casey — that largely maintained the right. "Roe was egregiously wrong from the start," Alito writes.
"We hold that Roe and Casey must be overruled," he writes in the document, labelled as the "Opinion of the Court." "It is time to heed the Constitution and return the issue of abortion to the people's elected representatives."
One article I recommend, is this one in The New Yorker: 'Of Course the Constitution Has Nothing to Say About Abortion.'
This perspective is one that has been really interesting to me in the coverage of this story, both in the media and across my community. But I think this commentary nails it:
There is no mention of the procedure in a four-thousand-word document crafted by fifty-five men in 1787. This seems to be a surprise to Samuel Alito.
As it happens, there is also nothing at all in that document, which sets out fundamental law, about pregnancy, uteruses, vaginas, fetuses, placentas, menstrual blood, breasts, or breast milk. There is nothing in that document about women at all. Most consequentially, there is nothing in that document—or in the circumstances under which it was written—that suggests its authors imagined women as part of the political community embraced by the phrase "We the People." There were no women among the delegates to the Constitutional Convention. There were no women among the hundreds of people who participated in ratifying conventions in the states. There were no women judges. There were no women legislators. At the time, women could neither hold office nor run for office, and, except in New Jersey, and then only fleetingly, women could not vote. Legally, most women did not exist as persons.
And finally, this is really worth a watch!
Why this former anti-abortion activist regrets the movement he helped build – thanks for this share Vicky Coburn!
We must move the world in another direction. A world that brings us together to face the challenges we have to overcome. This decision not only moves us backwards and harms women and the poorest people in America, it also deepens the divisions that are already tearing the world apart.
This decision is not about life, because if it was, they would change the system to take care of the children once they are born. We know that will not happen. It binds women deeper into poverty, and guarantees more children will suffer trauma and not be able to live a full life. It cannot stand.
We have to get the people who have one goal – divide and control – out of power, all around the world! If you are being sold fear – of anyone or anything – those are the people who need to go. Enough!
Friend's content and mine
Recycling in Phuket, Thailand, with Michelle Mouille – my friend Michelle Mouille is completely amazing. This video talks about how you can recycle in Phuket, but is relevant to Thailand. Wherever you live, take inspiration from this and find these solutions in your area. Let's get the rubbish out of landfills and incinerators, and let's stop it flowing into our rivers and oceans.
Believe in the Impossible it was awesome having Dr David Ko on The Know Show yesterday. Please read his article. It is time to believe in the impossible and help both Richard Busellato and David achieve this goal. It's a real chance to overcome an enormous challenge.
How the hell do we get to equality, surely it's time? – The amazing Dr Zsuzsanna Tungli, talking about what it's really going to take to get to equality. Please please listen to this. We have much work to do.
Ep:106—Author & Communications Expert, Andrea T Edwards super grateful to Mike Capuzzi, for hosting me on his podcast to talk about the authors journey. It was great to be able to reflect on that.
Testing a Mini Scuba Tank with a Hand Pump That Lets You Dive for 10 Minutes The Scorkl – Jay doesn't know this, but we donated these tanks to 5 Star Marine, because we couldn't blow them up either! Thanks for the giggle Jay Lashark.
I launched my daily tips for everyone to help address climate change and here is week eight. I will also be updating these ideas at this blog – What can I do to act on climate change? Actions we can all embrace. Favorite it and check in often.
Donation time
If everyone gave #just10percent of their time, talent, money or voice, we'll change the world. Can you donate? Make it a regular donation to the World Food Programme. Or donate to the UN Refugee Program, PowerOf , Kiva.org , Soi Dog Foundation. It's a time for giving and taking care of each other.
If you want to support Ukraine Red Cross Ukraine, Medicine Sans Frontier, Defend Ukraine, as well as World Food Programme and UN Refugee Program.
Content to read
And here's the content I've been reading this last week. Scan the headlines, read the ones that jump out at you, read or watch them all. Knowledge is power, and global knowledge is even more powerful.
Climate crisis
'Record after record': Brazil's Amazon deforestation hits April high, nearly double previous peak
The secret world beneath our feet is mind-blowing – and the key to our planet's future
India and Pakistan heatwave is 'testing the limits of human survivability,' expert says tks Susanna Hasenoehrl
A Concerning Change Is Happening to Earth's Water Cycle, Satellite Data Reveal
Companies confront a new climate challenge: home offices
Earth Day 2022: few can correctly identify actions which are best at cutting carbon emissions
Climate sceptic thinktank received funding from fossil fuel interests
Exclusive: Influential UK net-zero sceptics funded by US oil 'dark money'
Flying insect numbers have plunged by 60% since 2004, GB survey finds
'A worldwide public health threat': Rob Bilott on his 20-year fight against forever chemicals
10 ways you can help fight the climate crisis
Europe's oil major discount grows ever more stark
Shell Reports Record $9 Billion Quarterly Profit As Oil And Gas Prices Surged
The Red Team Analysis Weekly – 28 April 2022
Use of 'too hot' climate models exaggerates impacts of global warming
Stanford Doerr School of Sustainability, university's first new school in 70 years, will accelerate solutions to global climate crisis
India's Heatwaves Are Testing the Limits of Human Survival
The climate apocalypse is coming. To prepare for it, we need to admit that we can't prevent it.
15 Reasons Why Having Too Much Stuff Holds You Back in Life tks Muriel Muriel
'We cannot afford greenwashing': Guterres highlights key role of Net-Zero experts
RETHINKING DEMAND: Tackling Consumption Can Deliver 40-70% Cut in End Use Emissions
Climate Change Is on Track to Wipe Out Most Ocean Life
How vested interests rewrote the IPCC's latest report
This Eminent Scientist Says Climate Activists Need To Get Real
National responsibility for ecological breakdown: a fair-shares assessment of resource use, 1970–2017
How to Be a Climate-Change Activist without Becoming an Alarmist
This AI-Designed Enzyme Can Devour Plastic Trash In Hours: Video tks Wendi Stewart
Apple Suppliers Move Toward Renewable Power to Fight Climate Change
Scientists just issued a chilling warning about climate change
10 Ways Your Business Can Reduce Its Carbon Footprint
Climate change: Don't let doom win, project tells worriers
Texas stumbles in its effort to punish green financial firms
Australia can still become a world leader in climate action tks Damian Corbet
Few People Care Enough About the Climate Crisis to Make Serious Changes, Poll Shows
Recycling needed to meet Europe's green metals needs-study
The west can cut its energy dependency on Russia and be greener
Early Season Heat Waves Strike India
Global nightmare: What happens if humanity doesn't take real action against climate change
Mow problem: gardeners encouraged not to cut lawns in May
'Looks like it's going to get worse': When Australia's heavy rainfall is predicted to end
Fortescue says regenerative "Infinity Train" may be on tracks in two years tks Bruce Cook
Global politics
Zelensky: The making of a president
Trophy dog abandoned by Russian army learning to obey commands in Ukrainian
Why 9 May Victory Day is so important for Russia
Ukraine war has dragged on, admits Putin ally Lukashenko
Putin sorry for Lavrov's claim Hitler was part Jewish – Israel PM
Russian troops held me captive at gunpoint for two weeks in Ukraine. Here's what I learned.
States blocking oil embargo complicit in crimes – Kyiv
No place to hide: Dollar's surge cuts across markets
How Tucker Carlson Stoked White Fear to Conquer Cable
Why NOPEC, the U.S. bill to crush the OPEC cartel, matters
Turkey's cost of living soars nearly 70%
Election results 2022: Boris Johnson admits tough losses for Tories
Tory MP Neil Parish says he may have opened porn by mistake in Commons
Germany, Japan tap hydrogen to reduce Russia dependence
Covid
World's true pandemic death toll nearly 15 million, says WHO
'Living death': Aussie journalist Tracey Spicer's long Covid hell
Are We in the Middle of an Invisible COVID Wave?
Business and technology
Dove's Disturbing Deepfakes Expose Social Media's Toxic Influence on Teen Girls
Singapore deal allows SocGen bankers to flee Hong Kong
Musk Adds Binance, Ellison, Prince Alwaleed And Others To $44 Billion Twitter Deal
Cryptoverse: Venture capitalists catch crypto fever
The Great Resignation is becoming a "great midlife crisis"
Companies can't afford to underestimate the speed at which the world is changing tks Francine Varner
Warren Buffett wants young people to know: Ignoring this is like 'leaving a car out in hailstorms'
8 Things I Discovered While Working With Affluent Clients in New York City
Social issues and humanity
Of Course The Constitution Has Nothing To Say About Abortion
Roe v Wade: US women divided on leaked abortion ruling
Livid Stephen Colbert Censored At Start And End Of Court-Thrashing Monologue
Supreme Court has voted to overturn abortion rights, draft opinion shows
Politics has been turned on its head': India reels from wave of religious violence
Lydia Ko praised for talking about period after surprising reporter with honest answer
My 11-Year-Old Patient Was Pregnant. Here's What I Want You To Know About Being 'Pro-Life.'
It's Your Friends Who Break Your Heart
Why Teens Tune Out to Mom's Voice
Experiment Suggests That Consciousness May Be Rooted in Quantum Physics
Why Kids Make the Best Philosophers
Careful with your Johnny Depp defence.
Sarah Ferguson to replace Leigh Sales as host of ABC's 7.30 program
Passion, humour, history
American shark expert differs on Phuket barracuda blame
Jane Fonda says she held a 'life review' after turning 60: 'I didn't want to get to the end with a lot of regrets' tks Kevin Cottam
Let me know what jumped out at you? Or share with me what you're reading? I love that!
Cheers
Andrea
Uncommon Courage: an invitation – my latest book
Uncommon Courage is an invitation to be your courageous best self every day. It's also an antidote to the overwhelm, fear, and rage rolling around the world. But it's more than a book; it's an invitation to join an inclusive community that wants to better understand humanities challenges – both global and personal – in order to take courageous action and create a better world for everyone. If Covid19 has given us the time and space to reflect, Uncommon Courage gives us the nudge we need to create lasting change.
You can buy it on Amazon, Apple Books, Barnes & Noble, Book Depository, Booktopia, Smashwords, Kobo, Gardners, Odilo, Indie Bound, BookShop by BookTrib and Scribd.
Better yet, order it from your local bookstore, so you can #SupportLocal.
You can read the reviews, including a new five-star review on Book Commentary, another five-star review on ReaderViews, a review on BookTrib, and three more on Booklife, another on Book Commentary and Blue Ink Reviews. I'm also collating reviews on my Website too. Have a look and grateful to everyone who has written or recorded one.
Come and join the conversation in my new Facebook Group Uncommon Courage.
Uncommon Courage, the podcast – Apple, Spotify and everywhere podcasts are published.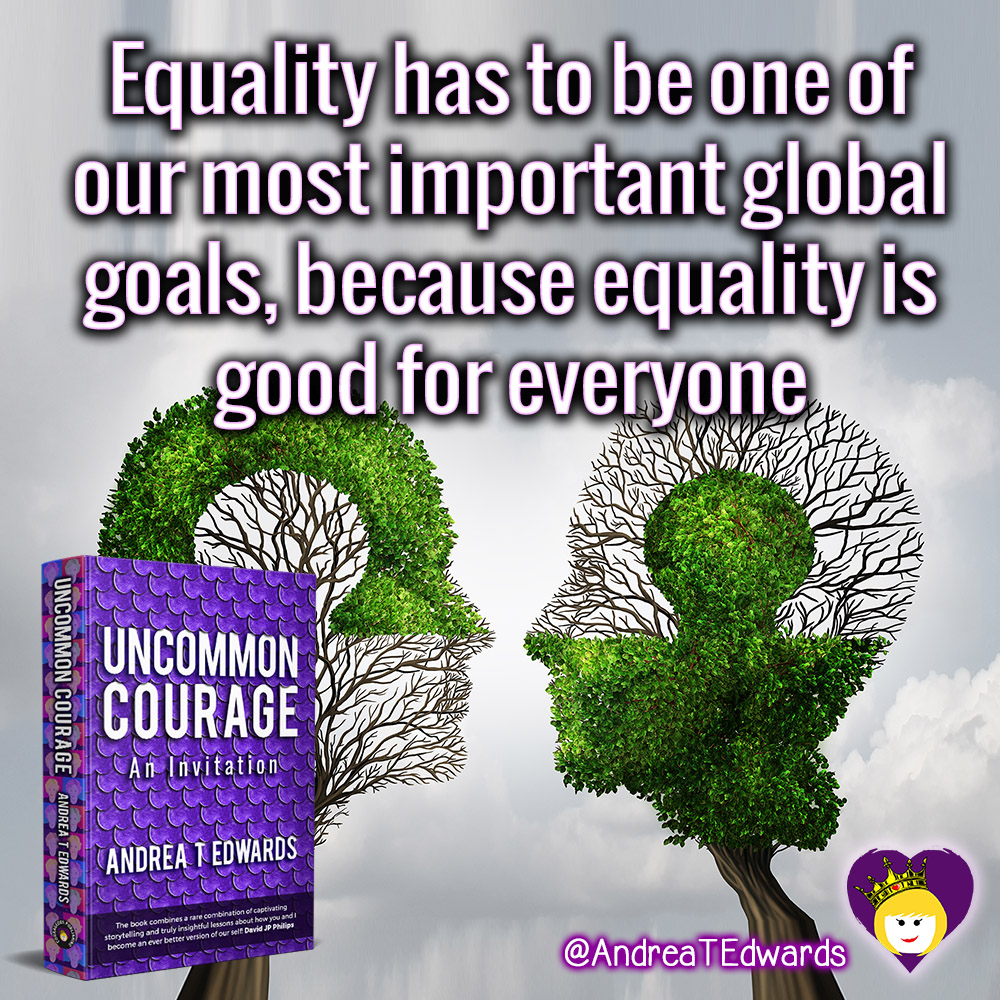 The Know Show
Check out The Know Show. It's a weekly wrap up of the news!
Listed by Book Authority in the 100 Best LinkedIn Books of All Time and 22 Best New LinkedIn eBooks To Read In 2021 and 2022 categories. Grab it today if you want to take your professional presence to the next level! When it comes to LinkedIn, it really is time to ask — can you really afford not to have this book in the hands of every employee?
Connect with me
 andreatedwards.com , uncommon-courage.com
LinkedIn, Twitter, Facebook, YouTube, Instagram, Tik Tok, Medium, Amazon.
Feedback
Have I done a great job for you? Can you write a reference on my LinkedIn profile or on my Google Business page? If not for me, why not write one for someone else who inspires you or has helped you? Join the #GivingEconomy.
Are you a Social CEO? The Social CEO: How Social Media Can Make You A Stronger Leader. 
Want to claim your stage? Unleash Your Voice – Powerful Public Speaking for Every Woman