Yes, they are… apparently. There's a new report that proves it too and I have to say, hearing that trees are more than carbon capture sticks as a new idea, took me by surprise. I mean duh, right?
Look out for: The world's forests do more than just store carbon, new research finds
In summary, the world's forests play a far greater and more complex role in tackling the climate crisis than previously thought, due to their physical effects on global and local temperatures. Trees do more than just store carbon, they keep air near and far cool and moist due to the way they physically transform energy and water.
The band of tropical rainforests spanning Latin America, central Africa and south-east Asia generate the most local and global benefits. Forests are important to mitigation and adaptation, cooling the air and protecting us from droughts, extreme heat and floods caused by the climate breakdown.
Two big stories
Beyond trees, there are a couple of BIG stories circulating right now, and I encourage everyone to read some of these. The first is the risk of global famine and food security issues because of the war in Ukraine. While many do not see the risk of war for themselves, it's going to be more than rising food prices and soon, if we don't get this war stopped.
An interesting insight for me has been that Ukraine has been one of the world's largest contributors to the World Food Programme. The Head of the WFP – David Beasley estimates that it provides 40% of its wheat. The war has now reversed this flow: the WFP is now working to provide Ukrainians with the supplies they need in this crisis.
A wheat crisis will severely impact the Middle East and North Africa, potentially creating another 'Arab Spring' moment. Regardless: the war in Ukraine could have profound impacts on global food supplies, with far-reaching consequences for hunger and food security across the world.
Keep an eye out for
Farmers on the Brink
How could the war in Ukraine impact global food supplies?
War in Ukraine could plunge world into food shortages
Could The War In Ukraine Break The Global Food Supply Chain?
The second biggest story is the fact that what is happening right now in our environment, was not expected until 2050. Everything is happening harder, faster and is more extreme than expected. This is a siren for all of us, but will we hear it? I know I have….
Some headlines to look out for in the environment section below
Climate change that happened gradually is accelerating suddenly
2021 emissions surge leaves less than 10 years to avoid 1.5 degree warming: study
Antarctic ice shelves are shattering. How fast will seas rise?
Shifts in El Niño May Be Driving Climates Extremes in Both Hemispheres
Antarctic ice shelf nearly the size of Los Angeles collapsed as temperatures soared to 40 above normal
Past the warning stage on climate
What about the climate displaced?
Finally, before you read the articles below, please do watch this. Sir Ken Robinson is still speaking to us and this is brand new. Launched today.
Friend's content and mine
I feel exhausted all the time. I'm not sure if I'm burnt out. What can I do? Big shout out to my friend Sha-En Yeo, who write this very important piece. Have a read so you can know the signs and know what to do about it. Asking for help is not weakness.
If you go to one hour 22 mins on this video, you can hear Dion Jensen talking about crisis leadership and mental health on The Know Show. Some hugely powerful ideas here if you are struggling with your mindset right now. Have a listen to the pro and someone who is dedicating his life to service.
I had a wonderful opportunity to be interviewed by Dr Sharon Spano, who hosts The Other Side of Potential podcast. We discussed social leadership, including how social media is democratizing information and can be used as a tool to heal society, how to take a stand on social media without suffering negative repercussions, the importance of using inclusive and unifying language on social media, the value of objectivity and not investing emotionally in information and how we all need to walk the world with gentler feet. Here's the link to the podcast and on Apple.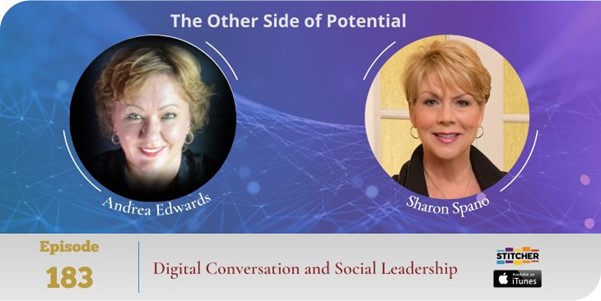 I launched my daily tips for everyone to help address climate change and here is week three. I will also be updating these ideas at this blog – What can I do to act on climate change? Actions we can all embrace. Favorite it and check in often.
Donation time
If everyone gave #just10percent of their time, talent, money or voice, we'll change the world. Can you donate? Make it a regular donation to the World Food Programme. Or donate to the UN Refugee Program, PowerOf , Kiva.org , Soi Dog Foundation. It's a time for giving and taking care of each other.
If you want to support Ukraine Red Cross Ukraine, Medicine Sans Frontier, Defend Ukraine, as well as World Food Programme and UN Refugee Program.
Content to read
And here's the content I've been reading this last week. Scan the headlines, read the ones that jump out at you, read or watch them all. Knowledge is power, and global knowledge is even more powerful.
Global politics – focus in Ukraine
Ukraine braces for fresh wave of attacks in east as Russia builds forces in Donbas
The Russian Air Force Is Losing Its Best Jets Over Ukraine
Ukraine war: Russia says it will curb Kyiv assault as peace talks progress
As it happened: UK and US urge caution on Russian pledge​
Russia targets east Ukraine, says first phase over
Battle for Irpin: Russian forces pushed out of Kyiv suburb
Food shortages and famine
War in Ukraine could plunge world into food shortages
How could the war in Ukraine impact global food supplies? tks Damian Corbet
Could The War In Ukraine Break The Global Food Supply Chain? tks Damian Corbet
Economy, sanctions
Russian oil tankers have vanished from tracking systems. Someone is buying that crude and we don't know who
UK detains Russian-owned superyacht in London's Canary Wharf
Russia's ruble has almost totally recovered. Does that mean sanctions aren't working?
Germany girds for gas rationing, Europe on edge in Russian standoff
EU will do 'whatever it takes' to rebuild solar energy manufacturing in Europe
List of companies still buying Russian crude oil
Putin's inner circle
Putin being misled by fearful advisers, US says
Why are Russian generals being killed in the Ukraine war?
Boris Nemtsov: Murdered Putin rival 'tailed' by agent linked to FSB hit squad
Humanity or lack of
Antytila: Ukrainian band backed by Ed Sheeran refused fundraiser slot
What is a war crime and could Putin be prosecuted over Ukraine?
Does video show Russian prisoners being shot?
Information/misinformation
Ukraine defence: Red lights and painted arrows fuel fear of Russian agents
Sean Penn Threatens To Smelt His Oscars In Public If Ukrainian President Volodymyr Zelensky Is Not Invited To Speak At The Academy Awards
Deeper reading/thinking
Inside Mariupol – The Daily Podcast
'A turning point in history': One month of war in Ukraine
Why has Russia invaded Ukraine and what does Putin want?
Opinion: A madman threatens to use nukes. It's just not the madman we expected.
Other politics
PM Lee Hsien Loong's Dialogue with the Council on Foreign Relations – must watch!!
Police find five foetuses at the home of US anti-abortion activist
Research and data to make progress against the world's largest problems tks Damian Corbet
NASA Administrator Statement on President's FY 2023 Budget Request
New Director-General of the International Labour Organization elected
Sleight of hand: Frydenberg's disappearing cash trick tks Willie Wahlin
Politicians 'addicted' to buying votes, take spending out of their hands
Finger-pointing ensues after Congress fails to extend universal school meals
Prince William and Kate: The PR missteps that overshadowed a royal tour
'Actually a Moslem': The true story of Morrison's ruthless preselection tks Phillipa Edwards
Climate crisis
Dystopia: This Horrible Time We Live In – tks Ferenc Nyiro, must watch
Climate change that happened gradually is accelerating suddenly
More than 500 academics call on universities to stop accepting research funding from fossil fuel industry
Business travel may never fully recover, as companies like McKinsey make permanent cuts to trips.
Palm oil company appoints orangutan to board of directors in diversity world first note article date ?
2021 emissions surge leaves less than 10 years to avoid 1.5 degree warming: study
The US Is Finally Trying to Unlock the Power of Wave Energy
'Meet us, don't eat us': Iceland turns from whale eaters to whale watchers
Fast fashion: European Union reveals fast fashion crackdown
The world's forests do more than just store carbon, new research finds tks Rohit Bassi
EU wants to force fashion firms to make clothes more durable and recyclable
Climate Research Shouldn't Be Funded by Fossil Fuel Companies
Misinformation is derailing renewable energy projects across the United States
Antarctic ice shelves are shattering. How fast will seas rise?
Azores earthquake: Locals flee after tremors make volcano eruption 'real possibility'
Climate change: Heatwave temperature threshold raised in England by Met Office
Shifts in El Niño May Be Driving Climates Extremes in Both Hemispheres
Antarctic ice shelf nearly the size of Los Angeles collapsed as temperatures soared to 40 above normal
Believe it, you are living through an energy revolution
Past the warning stage on climate
What about the climate displaced? tks Susanna Hasenoehrl
Explainer: the many shades of hydrogen
DeepMind's AI predicts almost exactly when and where it's going to rain
Germany's New Government Had Big Plans on Climate, Then Russia Invaded Ukraine. What Happens Now?
Locals Warn Biden's EU Export Plan Would Make Gulf Coast 'Sacrifice Zone' for Fracked Gas tks Robert Kirubi
Top 40 Impacts of Climate Change
Covid
New Mutant XE Omicron Variant May Be Most Transmissible Covid Yet
The virus doesn't care whether you think the pandemic is over
The controversial quest to make a 'contagious' vaccine
More Aussies are getting Covid twice – but it's not all bad news
Covid News: U.S. Health Officials Clear Second Booster for Those 50 and Older
Shanghai Covid: China announces largest city-wide lockdown
Business and technology
Ransomware and ransom-war: why we all need to be ready for cyber attacks
Levi's brand president Jennifer Sey reveals CEO's warning, claiming she was forced out for slamming COVID measures for kids while colleagues branded Fox News 'divisive and bigoted' after she appeared on it
Can the yuan be a key world reserve currency? tks Richard Turin
Dyson launches Zone air purifying Bluetooth headphones with visor
An Appalachian town was told a bitcoin mine would bring an economic boom. It got noise pollution and an eyesore.
Social issues and humanity
294 The Five Laws Of Stupidity tks Ferenc Nyiro (really interesting perspective)
Chris Wallace says working at Fox News became 'increasingly unsustainable' after the 2020 election
It's Been 4 Days Since The Oscars And I Hate That We're Still Talking About Will Smith – great read!
Will Smith Resigns From Academy As It Probes His Slap Of Chris Rock At Oscars
Will Smith's Smackapalooza and the 15 Best, Worst, and Most WTF Oscars Moments
Ricky Gervais reveals the Jada Pinkett Smith joke he'd have told
Sex-trafficking: Arrests in Luton and Romania
$45 million donation to autism research
Indian American 'Summer of Soul' Producer Joseph Patel Calls Chris Rock 'a F—ing Dick' for Calling Him 'White Guy' During Oscars
Jamal Khashoggi: Call for Turkey murder trial to be halted
What really happens when babies are left to cry it out?
Oscars: What Will Smith's slap says about him – and us
The Two Americas Debating Will Smith and Chris Rock
I stand with Jada: Alopecia is no joke for sufferers
Chris Rock's Joke About Actress Jada Pinkett Smith Creates Crisis For Academy Awards
Tiffany Haddish Gives Fierce Defense Of Will Smith Slapping Chris Rock At Oscars
'He Could Have Killed Him': Celebrities Weigh In on Will Smith Slap
Will Smith's PR Consulted Him During the Commercial Break After Chris Rock Slap at the Oscars
Oscars 2022: Will Smith not facing charges for slapping Chris Rock, says LAPD, as Academy releases statement – as it happened
Will Smith Slaps Chris Rock at Oscars Over Jada Pinkett Smith Joke
7 Things Confident People Always Say
Oscars 2022: Female directors write history with every win
Thousands of women face homelessness every night. A new campaign hopes to tackle the issue
Scientist Warn That Social Media Could Be A Threat To Civilization
Passion, humour, history
Defiant family refuse to sell $50m Sydney property to developers tks Willie Wahlin
Bruce Willis gives up acting due to brain disorder aphasia
Record-Setting NASA Astronaut, Crewmates Return from Space Station
Oscars fashion: Red carpet in pictures
Aretha Franklin's Granddaughter, Age 15, Auditions For 'American Idol'
I Still Call Australia Home tks Andrew Psarianos – always emotional
Let me know what jumped out at you? Or share with me what you're reading? I love that!
Cheers
Andrea
Uncommon Courage: an invitation – my latest book
You can buy it on Amazon, Apple Books, Barnes & Noble, Book Depository, Booktopia, Smashwords, Kobo, Gardners, Odilo, Indie Bound, BookShop by BookTrib and Scribd.
Better yet, order it from your local bookstore, so you can #SupportLocal.
You can read the reviews, including a new five-star review on Book Commentary, another five-star review on ReaderViews, a review on BookTrib, and three more on Booklife, another on Book Commentary and Blue Ink Reviews. I'm also collating reviews on my Website too. Have a look and grateful to everyone who has written or recorded one.
Come and join the conversation in my new Facebook Group Uncommon Courage.
Uncommon Courage, the podcast – Apple, Spotify and everywhere podcasts are published.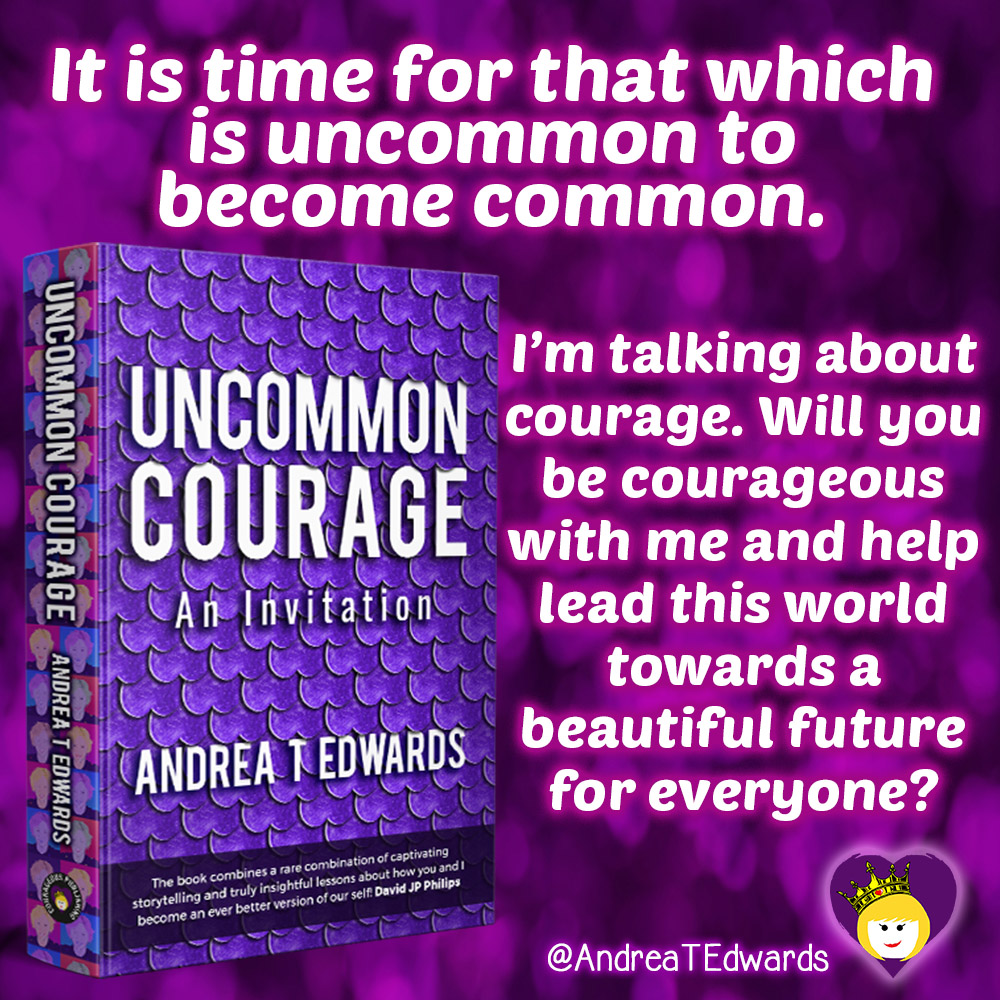 The Know Show
Check out The Know Show. It's a weekly wrap up of the news!
Listed by Book Authority in the 100 Best LinkedIn Books of All Time and 22 Best New LinkedIn eBooks To Read In 2021 and 2022 categories. Grab it today if you want to take your professional presence to the next level! When it comes to LinkedIn, it really is time to ask — can you really afford not to have this book in the hands of every employee?
Connect with Andrea
andreatedwards.com , uncommon-courage.com
LinkedIn, Twitter, Facebook, YouTube, Instagram, Medium, Amazon.
Feedback
Have I done a great job for you? Can you write a reference on my LinkedIn profile or on my Google Business page? If not for me, why not write one for someone else who inspires you or has helped you? Join the #GivingEconomy.
Are you a Social CEO? The Social CEO: How Social Media Can Make You A Stronger Leader.
Want to claim your stage? Unleash Your Voice – Powerful Public Speaking for Every Woman