This week Coca-Cola announced plans to increase the share of beverages that come in returnable or refillable containers from 16% (currently) to 25% by 2030. According to an analysis from Oceana, boosting the use of refillable bottles by 10% across all coastal countries, instead of PET bottles, could reduce marine plastic pollution by 22%.
Coca-Cola has also set a target to collect 100% of its packaging by collecting a bottle or can, regardless of brand, for every one produced by 2025. To ensure this happens, Coca-Cola has set up collaborative partnerships with local governments and industry partners, announcing it's already happening in Belgium, France, Germany, the UK, Norway, Spain and Sweden.
All of these countries have shipped and continue to ship waste to poorer parts of the world. So while Europe might have nice shiny clean streets, until this is managed globally, it's not going to make a difference to the majority of the world.
Therefore, until I see information on how this will happen everywhere, I can't get excited. Let's be honest, succeeding in Europe is not as challenging when it already has the infrastructure in place to manage the waste crisis. Most countries and regions do not!
This announcement is also forward looking, it does not look backwards at the mess that has already been created. Not to forget, plastic production is expected to triple by 2050. When I read this announcement, I could only see it as a tiny and very disappointing commitment, leading me to ask – when are they ALL going to take this seriously?
Of course I appreciate we must celebrate good news – hey it's progress – but as the biggest plastic polluter in the world, I am looking for global leadership to clean up not just what's coming, but what has already entered the environment. I also want to see plastic bottles gone. Why can't they do that?
Yes it is a big, complex, messy problem, but so many of the world's issues are and we have to look at the problem holistically and work out ways to solve it. So no, I'm not even remotely happy or satisfied by this news.
Look around the world my friends. We have allowed a horrific waste crisis to overwhelm us and we must focus on turning it around. Coca-Cola, and the other big polluters, must lead.
Don't forget to check out the news on the Doomsday Glacier below. The research project in Antarctica will be finished for another year soon, and they are projecting 3-5 years until the Thwaites Glacier breaks off. Tick tock, tick tock. Don't be scared to face up to what that actually means to you, wherever you live in the world. It's important to know.
Lots of interesting insights this week, and a varied collection on the Ukraine worth digging through.
Friend's content and mine
11 Things Leaders Need To Know To Successfully Manage Gen-Z Employees – proud of Anne Phey, a wonderful lady, who has been an awesome friend and supporter to me. She's been getting some great coverage and I'm delighted to watch her fly. Go woman.
How do we step out of the social media rage? Here's six tips – I issued this as a series of visuals, and turned it into a blog for easy sharing.
And finally, my annual collation of environment and social content has started again. Favorite this page and use it to find reference information for your content, presentations and discussions on the issues that matter – What can I do to act on climate change? First job is knowledge.
Donation time
If everyone gave #just10percent of their time, talent, money or voice, we'll change the world. Can you donate? Make it a regular donation to the World Food Programme. Donate to the UN Refugee Program, PowerOf , Kiva.org , Soi Dog Foundation. It's a time for giving and taking care of each other.
Content to read
And here's the content I've been reading this last week. Scan the headlines, read the ones that jump out at you, read or watch them all. Knowledge is power, and global knowledge is even more powerful.
Climate crisis
PR firms are facing a backlash for 'greenwashing' Big Oil — and the pressure on them is growing
Coca-Cola, criticized for plastic pollution, pledges 25% reusable packaging
One Ocean Summit: UNESCO calls on countries to include ocean education in school curricula by 2025 tks Francine Varner
Storm Eunice: Three people killed as strong winds sweep across UK
Storm Eunice: Big Jet TV shows planes struggling to land at Heathrow
World spends $1.8tn a year on subsidies that harm environment, study finds
How the solar duck curve gave Australia's biggest coal generator an early retirement
Climate change-induced extreme winter drought devastates crops in Spain and Portugal tks Sussana Hasenoehrl
What is a Michelin Green Star and How Do You Earn One? Tks Alexis Eyre
Storm Eunice: Record wind gust amid disruption
Astrobiologists Suggest the Earth Itself May Be an Intelligent Entity
'This could be a transformative moment': Coca-Cola to increase use of reusable bottles
Potentially toxic levels of pharmaceutical drugs found in rivers across the world tks Teressa Bayes
Impacts of poverty alleviation on national and global carbon emissions
Experts sound the alarm on oil sector's blue hydrogen push tks Sussana Hasenoehrl
Petrópolis: Deadly landslides wreak havoc in Brazilian city
Scientists warn Antarctica's 'Doomsday Glacier' could reach tipping point
The 'Doomsday' glacier may soon trigger a dramatic sea-level rise
Canadian researcher on why you should care about the Thwaites Glacier
Ex-Woodside insider rejects gas industry's 'clean fuel', 'net zero' claims tks Susanna Hasenoehrl
Deep freeze, heat wave roil Western Hemisphere distillate markets
Big banks fund new oil and gas despite net zero pledges tks Sussana Hasenoehrl
Zoo battles to save dozens of species from extinction by cryogenically freezing genetic samples tks Teressa Bayes
Covid
There Is Nothing Normal about One Million People Dead from COVID tks Enda Eames
Covid-19: 'Exhausted, stressed out, helpless': Hong Kong hospitals buckle under Omicron wave tks Ferenc Nyiro
Singapore averted more than 8,000 COVID-19 deaths in last 5 months of 2021 with public health measures, vaccination tks Tim Wade
Covid map: Coronavirus cases, deaths, vaccinations by country
Covid: Hong Kong's hospitals overwhelmed amid spike in cases
Hong Kong Can't Live With the Virus. It Can't Stop It, Either.
New Zealand authorities blast James Blunt and Baby Shark at vaccine mandate protesters
How will future pandemics affect us?
Denmark, overflowing with virus cases, embraces a 'bring it on' attitude tks Chris J Reed
Global politics
Shift From U.S. Dollar As World Reserve Currency Underway – What Will This Mean for America?
Yuval Noah Harari argues that what's at stake in Ukraine is the direction of human history
What Putin Is Really After in Ukraine – Podcast
Oregon Supreme Court says no to Nick Kristof's governor candidacy
'Attacking Ukraine an act of clinical insanity!' Putin warned invasion to backfire
Russian paranoia is understandable, but Putin is not Russia
The dictator's gambit: What Putin is after on Ukraine
We spoke to 7 ex-CIA and Pentagon experts. Here's what they say Putin wants in Ukraine.
On the Edge of a Polish Forest, Where Some of Putin's Darkest Fears Lurk
Western Officials Dispute Russian Claim of Pullback From Ukraine Border
Prince Harry says UK still his home as he bids for police security on visits
Ukraine is in the position that it has so resolutely tried to avoid: trapped between the irreconcilable power struggles of other states.
Russia's leader is paving the way for domestic elites to shift power when the time is right
Ukraine tensions: After eight years of war, an eastern city unifies against Russia
U.S. Battles Putin by Disclosing His Next Possible Moves
Ukraine tensions: A dozen nations tell citizens to leave Ukraine.
What the Beijing Olympics Reveal about China – Podcast
Prince Andrew settles US civil sex assault case with Virginia Giuffre
Business and technology
The Great Resignation is coming to decimate the ranks of middle management. The C-Suite should be worried
Thanks to Amazon, warehouse rents have never been higher
Thread. Earlier today, the New York Times published multiple factual claims that are untrue. What happened is part of a pattern at NYT. I try to document it below in as much detail as I can.
'Live in the future': Zuckerberg unveils company overhaul amid shift to metaverse
A Crucial Clue in the $4.5 Billion Bitcoin Heist: A $500 Walmart Gift Card
CNN Marketing Chief Allison Gollust Resigns as Probe Finds Wrongdoing by Three Top Players at Network
Oxford Invited an AI to Debate Its Own Ethics—What It Said Was Startling tks Cheryl Tan
IBM Emails Show Millennial Workers Favored Over 'Dinobabies'
Astra's first rocket launch from Florida goes awry
Why hosting the Super Bowl isn't worth it, according to an economist
Social issues and humanity
What Happened In 1 Year When I Stopped Filtering My Instagram Photos… – tks Vicky Coburn
Gay dads adopt 6 siblings so they can grow up together after they spent 4 years in foster care
'Thanks to everyone at Asda': success for anti-poverty campaigner Jack Monroe tks Jane Franklin
Men Are Creating AI Girlfriends and Then Verbally Abusing Them
Padma Lakshmi says disparaging Indian food isn't funny. It's ugly.
The invisible danger of the 'glass cliff'
HIV: First woman in world believed to be cured of virus
Her name was Vanessa Godfrey. She was allegedly killed by her husband on Valentine's Day.
Single's Inferno: Why 'fake' rich girl Song Ji-a enraged South Korea
Female operator of massage parlour who pressured 2 men into sexual services fined tks Joe Augustine
Police to investigate Prince Charles' charity
Watch: The moment a sloth was saved from electrical wires
Dozens of teenage girls trafficked and exploited in first ever modern slavery fraud case
Tony's Chocolonely admits to 1,700 cases of supply chain child labour
The Best (and Worst) Moments From the 2022 Super Bowl Halftime Show
Passion, humour, history
Baz Luhrmann's ELVIS tks Lex Johnson
Amazon's 'The Ring of Power' Teaser Sets New Super Bowl Record With 257 Million Views in First Day
PJ O'Rourke: US conservative satirist dies at 74
'I just cried': film stirs memories on Belfast street Branagh left behind
Dr. Dre, Snoop Dogg, Eminem, Mary J. Blige & Kendrick Lamar FULL Pepsi Super Bowl LVI Halftime Show tks Willie Wahlin
Let me know what jumped out at you? Or share with me what you're reading? I love that!
Cheers
Andrea
Uncommon Courage: an invitation – my latest book
You can buy it on Amazon, Apple Books, Barnes & Noble, Book Depository, Booktopia, Smashwords, Kobo, Gardners, Odilo, Indie Bound, BookShop by BookTrib and Scribd.
Better yet, order it from your local bookstore, so you can #SupportLocal.
You can read the reviews, including a five-star review on ReaderViews, my latest on BookTrib, and three more on Booklife, Book Commentary and Blue Ink Reviews. I'm also collating reviews on my Website too. Have a look and grateful to everyone who has written or recorded one.
Come and join the conversation in my new Facebook Group Uncommon Courage.
Uncommon Courage, the podcast – Apple, Spotify and everywhere podcasts are published.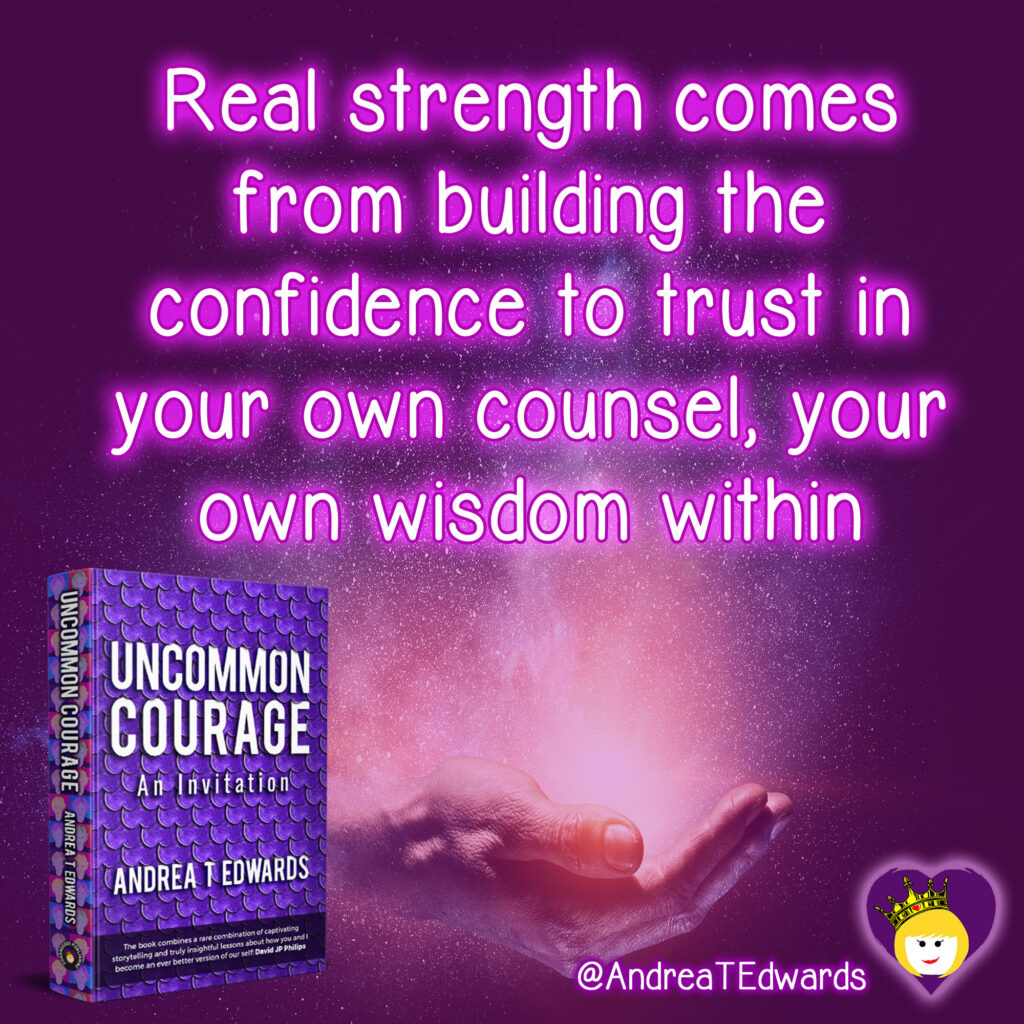 Connect with me
andreatedwards.com and uncommon-courage.com
LinkedIn, Twitter, Facebook, YouTube, Instagram, Medium, Amazon.
The Know Show
Check out The Know Show. It's a weekly wrap up of the news!
Listed by Book Authority in the 100 Best LinkedIn Books of All Time and 22 Best New LinkedIn eBooks To Read In 2021 and 2022 categories. Grab it today if you want to take your professional presence to the next level! When it comes to LinkedIn, it really is time to ask — can you really afford not to have this book in the hands of every employee?
Feedback
Have I done a great job for you? Can you write a reference on my LinkedIn profile or on my Google Business page? If not for me, why not write one for someone else who inspires you or has helped you? Join the #GivingEconomy.
Are you a Social CEO? The Social CEO: How Social Media Can Make You A Stronger Leader.
Want to claim your stage? Unleash Your Voice – Powerful Public Speaking for Every Woman