Greetings from Khao Lak in Thailand! Nice to get away from normality. I want to draw your attention to three articles this week. The first is a startling fast fashion story – TikTokers List Red Flags That Show This $35 Target Crochet Sweater Is Horrifyingly Unethical.
This is not a pretty looking article, but the story is a classicfast fashion and supply chain misery story. It's about a crochet top or cardigan for sale at Target, priced at $35. Apparently there is no machine on the planet that can make this, so it has to be handmade.
As one commenter says: you cannot make items like this "without sacrificing the wellbeing of people making our clothes."
The real cost of something like this should be closer to $250 minimum, based on an estimated 17 hours to make it by hand. The maths may not be perfect in the article, but they estimate the person creating this would be paid maximum $1.70, and that's not per hour.
Fast fashion is an environmental disaster, but it's also an industry where human abuse is rife. We must stop buying into it. We must demand that the people making our clothes are treated with respect and can live a life of dignity.
If we stop buying it, they'll stop making it. But we need millions buying into this idea. It is time to respect all life on earth, and within our human population, it is long overdue that we start to care about the people who always suffer the most.
But I didn't know just doesn't cut it anymore. We know. Let's change how we live and stop buying into fast fashion. If it's cheap, there's a very good reason for that. Every deal we get creates suffering and environmental devastation. The system needs to change, but so do we.
Two Covid articles worth reading in the Covid section below.
How Covid-19 vaccines succeeded in saving a million US lives, in charts – Vox.
The simple numbers every government should use to fight anti-vaccine misinformation – The Guardian.
In the Vox article, it makes the case that: Compared to vaccinated people, the unvaccinated are 15 times as likely to die from Covid-19, according to the Centers for Disease Control and Prevention.
The Guardian piece, from Australia, changed how the data is presented, because it was being misrepresented by the antivax movement. In the charts you'll see the results:
3.55 severe outcomes per 100,000 vaccinated people
91.1 severe outcomes per 100,000 unvaccinated people
Let's get stuck into the news.
Friend's content and mine
"Operation Boomerang" ​Let Gracefulness Activate Good Karma to Bring Them Back to you – super proud of Avi Liran getting this published in European Business Review, and it's such an important message. Have a read.
Spirituality is not about Superpowers – Yana Fry is doing amazing work in the spiritual realm. This is a really important message about ego.
SPARK your self-leadership – a guide to becoming your best self, which always starts within – a podcast with the amazing Sally Foley-Lewis. An incredibly important message for everyone.
Donation time
If everyone gave #just10percent of their time, talent, money or voice, we'll change the world. Can you donate? Make it a regular donation to the World Food Programme. Donate to the UN Refugee Program, PowerOf , Kiva.org , Soi Dog Foundation. It's a time for giving and taking care of each other.
Content to read
And here's the content I've been reading this last week. Scan the headlines, read the ones that jump out at you, read or watch them all. Knowledge is power, and global knowledge is even more powerful.
Climate crisis
Last refuges for coral reefs to disappear above 1.5C of global warming, study finds
Two thirds of life in the seabed is unknown to science
Satellites have detected massive gas leaks : NPR
Can a fusion dislocation be good for us?
Divesting works: Study finds ditching fossil stocks lowers corporate footprints
Net-zero claims of world's 25 biggest corporations lack integrity: study
Corporate Climate Responsibility Monitor 2022
Koalas: Australia lists marsupial as endangered species
TikTokers List Red Flags That Show This $35 Target Crochet Sweater Is Horrifyingly Unethical
Is the corporate race to net zero just hot air?
Neil Young Tells Spotify Workers to Quit Their Jobs
Ambani's 75 Billion Plan Aims to Make India a Hydrogen Hub tks Laura Ashton
Sniffing out the best palm oil free locally made products – for you and the planet.
A day in the life of a K'gari (Fraser Island) dingo
'Big Oil' board members face hot seat over climate 'deception'
Recycled bulletproof vests may boost the range of electric cars 5-fold, and extend battery life to 10 years
Every S'pore household to get a free recycling bin, distribution starts in 2nd half of 2022 tks Evelyn Lee
To Be Serious About Climate Change, the Pentagon Must Reduce Its Contribution
Lawmakers Ask Biden To Make Sure DOD Follows Climate Rules
Covid
The 1918 flu didn't end in 1918. Here's what its third year can teach us.
Risk of new heart problems jumps after COVID; mRNA shot side effects no different for cancer patients
The extraordinary success of Covid-19 vaccines, in two charts
The simple numbers every government should use to fight anti-vaccine misinformation
Indian scientists claim to have designed a universal vaccine that can be effective against all variants of the coronavirus tks Teressa Bayes
Austria's sweeping Covid vaccine mandate is becoming law.
Alzheimer's-like changes found in COVID patients' brains; flu shot, mRNA booster safe together
Global politics
Sinn Féin and the re-greening of Ireland
EU leaders attempt to dodge Putin's divide and rule tactics tks Damian Corbett
Some records sent to Jan. 6 committee were torn up, taped back together — mirroring a Trump habit
Government shelves religious freedom bill indefinitely, leaving election promise hanging in uncertainty
Ambassador Bridge: Canada court orders end to trucker blockade
Dutch reporter on-air incident was isolated case, says IOC
Cressida Dick to step down as Metropolitan Police chief
The 'but Hillary's emails' crowd goes silent about Trump's document destruction
Scuttling the religion package shows where priorities lay all along tks Willie Wahlin
Biden is threatening Putin with personal sanctions over Ukraine.
The hacker, who goes by the handle P4x, managed to bring North Korea's tightly walled-off internet to its knees over the last few weeks
Lt. Col. Vindman Sues Don Jr., Giuliani, and Others, Alleging A Conspiracy of Witness Intimidation
Business and technology
Rapid Inflation Stokes Unease From Wall Street to Washington
China-born audio networking app Tiya sets up Singapore headquarters
A solar storm killed a bunch of Starlink satellites that SpaceX launched into orbit last week.
Facebook Threatens to Pull Out of Europe, Europe Says "Please Do"
Major breakthrough on nuclear fusion energy tks Tom Radford
EVIDENCE IS PILING UP THAT A HUGE NUMBER OF NFT SALES ARE FAKE
Meta says it could shut down Facebook and Instagram in Europe
Meta moves to tackle creepy behaviour in virtual reality
CNN's collapse is now complete
'Impossible' material is twice as strong as steel and as light as plastic – and could transform phones and cars
Why Ikea Is Suddenly 3D-Printing Meatballs
More global McDonald's customers are facing french fry shortages as the supply chain continues to face strain
New artificial enamel is harder and more durable than the real thing
The Greatest Monetary Experiment in History tks Robert Kirubi
Social issues and humanity
The death of the department store
The family that froze to death a world away from home
Spotify's CEO Is Deeply Sorry But Won't Drop Joe Rogan
Ros Atkins on… Joe Rogan and Spotify
Jon Stewart calls 'overreaction' to Joe Rogan, Spotify 'a mistake'
The reaction to Grace Tame leads to a question: Why are so many of us uncomfortable with the face of an angry woman?
Wheels fall off for motivational speaker tks David Lim
Jerry Harris: Star of Netflix's Cheer admits child sex abuse
Angelina Jolie makes emotional speech about victims of abuse
Emma Thompson on living in a woman's body: my daughter thrums with life, my mother is frail – and I'm balanced between
Louis Theroux: I wrestle with amplifying extreme voices
Podcast Update: February 8, 2022
​How to escape the cynicism trap tks Kerrie Phipps
CNN Probe Eyes Jeff Zucker's Ties to Andrew Cuomo
Benedict Cumberbatch Hits Back At 'P*** Takers' After Magazine Photo-Shoot Goes Viral
About 19% of Spotify Users Say They've Canceled or Plan to Cancel Over Joe Rogan Controversy, Poll Finds. But Will That Exodus Really Happen?
Police tracking down 'Indian gangster' shooters
Parents and teacher discuss critical race theory and beyond in education panel
India.Arie Shares Alarming Compilation Of Joe Rogan Repeatedly Using The N-Word
Bill Maher defends Whoopi Goldberg, says she 'should not be canceled'
GenM is making people think about the menopause as never before tks Ann-Katrin Văn Schie
Joe Rogan: Podcast star apologises over past use of racist language
Rayan: Moroccan boy trapped in well for four days dies
When a Major Life Change Upends Your Sense of Self
I'm 57 Years Old And My Father Just Disowned Me For Being Gay
Not everyone is male or female – the growing controversy over sex designation
Thandiwe Newton has issued a tearful apology to "darker-skinned actresses"
Passion, humour, history
Snoop Dogg acquires Death Row Records
Schwarzenegger and Hayek Have Electricity in BMW Super Bowl Ad
Neanderthal extinction not caused by brutal wipe out
New Ancestry.com Feature Warns Users When They Might Want To Stop Sticking Noses Where They Don't Belong
The Golden Goat tks Hayden Rhodes
Watch Meryl Streep's 'Breathtaking' Improv Outtakes From 'Don't Look Up'
Scientists entered people's dreams and got them 'talking'
And Just Like That: A Postmortem for a Sequel That Was Dead on Arrival
The magic of Disney's Encanto is more than the catchy song We Don't Talk About Bruno
St Albans: England's 'oldest pub' Ye Olde Fighting Cocks closes
Julia Roberts and Sean Penn Completely Transform in Starz' New 'Gaslit' Trailer: Watch Now
Cunk on Shakespeare – tks Cymbeline Buhler
Let me know what jumped out at you? Or share with me what you're reading? I love that!
Cheers
Andrea
Uncommon Courage: an invitation – my latest book
You can buy it on Amazon, Apple Books, Barnes & Noble, Book Depository, Booktopia, Smashwords, Kobo, Gardners, Odilo, Indie Bound, BookShop by BookTrib and Scribd.
Better yet, order it from your local bookstore, so you can #SupportLocal.
You can read the reviews, including a five-star review on ReaderViews, my latest on BookTrib, and three more on Booklife, Book Commentary and Blue Ink Reviews. I'm also collating reviews on my Website too. Have a look and grateful to everyone who has written or recorded one.
Come and join the conversation in my new Facebook Group Uncommon Courage.
Uncommon Courage, the podcast – Apple, Spotify and everywhere podcasts are published.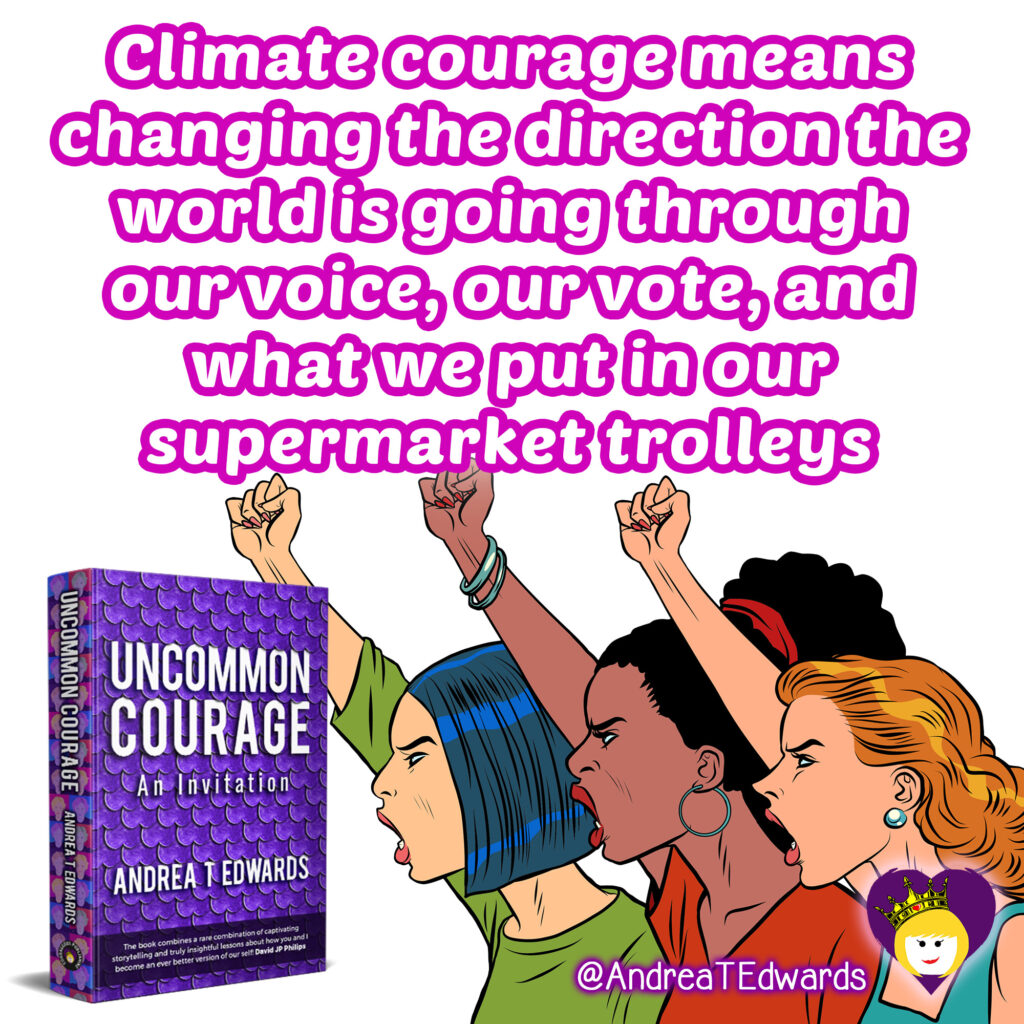 Connect with me
andreatedwards.com , uncommon-courage.com, or LinkedIn, Twitter, Facebook, YouTube, Instagram, Medium, Amazon.
The Know Show
Check out The Know Show. It's a weekly wrap up of the news!
Listed by Book Authority in the 100 Best LinkedIn Books of All Time and 22 Best New LinkedIn eBooks To Read In 2021 and 2022 categories. Grab it today if you want to take your professional presence to the next level! When it comes to LinkedIn, it really is time to ask — can you really afford not to have this book in the hands of every employee?
Feedback
Have I done a great job for you? Can you write a reference on my LinkedIn profile or on my Google Business page? If not for me, why not write one for someone else who inspires you or has helped you? Join the #GivingEconomy.
Are you a Social CEO? The Social CEO: How Social Media Can Make You A Stronger Leader.
Want to claim your stage? Unleash Your Voice – Powerful Public Speaking for Every Woman