Ukraine and Russia are at war and it's considered the greatest risk to world peace since World War II. Global security is teetering on the edge, and we would be very foolish to underestimate this threat. It's a very precarious situation, and if it escalates, a whole world of trouble awaits.
We discussed the Ukraine extensively on The Know Show this week – asking questions, trying to work out the end-game, attempting to map out what escalation would look like if it gets bigger, and the impact it could have. Go and have a listen if you're interested and share your thoughts. The Ukraine section starts at 19.10.
As I've said many times before, from a climate emergency perspective, we cannot afford war. We just can't. Major escalation would tip us over the edge into territory we do not want to be in. And if nuclear weapons are used, well…. The cockroaches might be able to survive. We won't.
I want to draw your attention to one article: Rockström on Climate Risk and Conflict at Munich Security Conference – see below in the environment section.
Just pulling two important paragraphs from this article.
Human-made climate change has arrived at centre-stage in the security community. "We are currently experiencing a serious hammering by multiple, inter-connected, systemic risks and crises, which together threaten global security," Rockström said.
"The military threat to Ukraine, part of a wider geopolitical crisis. The surging and volatile energy prices. The climate crisis that hits harder than expected, earlier than expected, and affects all nations. This is a world of rising turbulence and systemic risks. The Scientific conclusion is that the creeping climate crisis has reached a point of a Planetary Emergency. An emergency that if we fail to solve it will pose major immediate and long-term security threats, that interact with pandemics and conflict."
When I read this article I knew the time had arrived – peace is over. Now how we manage ourselves is the critical piece. We don't have a history of ever getting it right, but we can do it. Importantly, we have to unite and face these multiple crisis together.
I will never stop believing we can do it, but to achieve it, we cannot be silent. We must raise our voice and use all of our power to push the world in the right direction. If you don't think your voice makes a difference, time to change that narrative.
Every voice matters. Speak up and let's get moving in the right direction. We've got a lot of planning to do, but war cannot be part of the plan. War will impact us in ways we cannot even imagine. Not just from the devastation of war, but from an acceleration of the climate emergency.
We can not do this to our children.
Donation time
Right now, the need around the world is great. Up to 40 countries are facing famine, and with the impact of war, more will be facing food shortages. If everyone gave #just10percent of their time, talent, money or voice, we'll change the world. Can you donate? Make a regular donation to the World Food Programme or donate to the UN Refugee Program. PowerOf and Kiva.org are also doing amazing work. It's a time for giving and taking care of each other. It's time to show the world who we are.
Content to read
Here's the content I've been reading this last week. Scan the headlines, read the ones that jump out at you, read or watch them all. Knowledge is power, and global knowledge is even more powerful. Moving global politics up top this week and will keep it there while this war is at the centre of the news.
Global politics – focus in Ukraine
Ukrainian President Zelenskyy's heartbreaking, defiant speech to the Russian people [English sub.]
Ukraine: Putin tells Russia's spy chief to speak plainly tks Andrew Psarianos
Commodity prices jump as Russia goes to war
How the West Misread Vladimir Putin
Ukraine: Where does it go from here?
Departing from protocol, pope goes to Russian embassy over Ukraine
Chernobyl: Radiation spike at nuclear plant seized by Russian forces
U.S. Looks to New Measures to Punish Russia for Ukraine Invasion
'Russia is against war': Thousands rally in rare show of dissent tks Samantha Gayfer
The Digest: The Badasses of Ukraine Are Spoiling Putin's Plans
Russia's richest 22 billionaires have lost $39 billion in one day after the invasion of Ukraine
Ukraine invasion: Is this a new Cold War, asks John Simpson
The Russia-Ukraine crisis reminds us that the absence of war is not always peace tks Nadia Dosenko
Ukraine crisis: Poland to boycott World Cup play-off against Russia
Three Ways the Ukraine Crisis May Rattle the World Economy
Hacker Group Anonymous Says It's Taking Down Russian State Sites
The Economist Asks: War in Ukraine – what happens next? – Podcast
Russian forces seize Chernobyl nuclear power plant
America Could Have Done So Much More to Protect Ukraine
Russia's attack on Ukraine sees thousands flee while others walk dogs and check their phones as missiles fall tks Willie Wahlin
Who can prevail on Putin now war in Ukraine has started? Peace depends on it
Russia has invaded Ukraine: what we know so far
In pictures: Destruction and fear as war hits Ukraine
Ukraine: It's the new world order, stupid
Sean Penn In Ukraine Filming Documentary About Russia Invasion
Squiz Shortcuts Podcast tks Kate Shirley
Putin announces a 'military operation' in Ukraine as the U.N. Security Council pleads with him to pull back.
Many Russians Feel a Deep Unease Over Going to War
Putin orders military operations in Ukraine, demands Kyiv forces surrender tks Samantha Gayfer
As the Kremlin advances on Ukraine, Google and big brands and Best Buy continue to fuel Russian Propaganda
UN chief: This is a moment I truly hoped wouldn't come
Russian troops seize Chernobyl after fierce battle with condition of radioactive material unknown, as Biden refuses to send in US military and Kiev sends terrified civilians to shelters tks Teressa Bayes
How Russian troops closed in on Ukraine.
Europe is facing 'its most dangerous moment…and warfare on a scale not seen since 1945', former UK NATO commander warns tks Teressa Bayes
Russia breathes down Middle Eastern necks over Ukraine
Other politics
Biden Picks Ketanji Brown Jackson for Supreme Court
Belief in QAnon has strengthened in US since Trump was voted out, study finds
Key inquiry into Trump's finances in jeopardy as two prosecutors resign
'This is what the country is asking for': Cannon-Brookes defends AGL deal after PM swipe
'Whatever horrors they do, they do in secret': inside the Taliban's return to power
Taiwan warns Chinese aircraft in its air defence zone
Winter Olympics: Closing ceremony marks ends of 2022 Beijing Games
Americans Will Need To Register To Travel To Europe In 2023
Climate crisis
Fossil Fuels' Killer Application: War
Rockström on Climate Risk and Conflict at Munich Security Conference
US west 'megadrought' is worst in at least 1,200 years, new study says
75% of people want single-use plastics banned, global survey finds
'Red alert': Billions of UK pension money driving deforestation, says Richard Curtis
Oil majors 'not walking the talk' on climate action, study confirms
Sri Lankan communities count the cost of devastating chemicals and plastics spill
Here's how to demolish the most common excuses for climate crisis apathy
New Federal Report Warns of Accelerating Impacts From Sea Level Rise
Could Greenlash derail the climate? tks Damian Corbet
Hong Kong grapples with growing mountains of quarantine hotel plastic waste
Mike Cannon-Brookes has invested a further $200 million into renewables, days after his bid to takeover energy giant AGL
Morrisons to ditch plastic bottles and sell milk in 'carbon neutral' packaging
Neom: What's the green truth behind a planned eco-city in the Saudi desert?
Australia floods: Woman killed as flash floods hit east coast
Phuket named in weather warning for the South
Magpies face bleak future as heat rises with climate change tks Tabatha Tee
Europe weighs death and destruction from extreme weather
Storm Franklin threatens UK with more travel chaos and power cuts
The billionaire is bidding to close coal power in Australia tks Sussana Hasenoehrl
Ethiopia turns on the turbines at giant Nile hydropower plant
Nearly half of bald eagles tested across US show signs of chronic lead exposure tks Teressa Bayes
Patagonia doesn't use the word 'sustainable.' Here's why
Covid
Covid-19 Stalks The Battlefields Of Ukraine
Why is Hong Kong Surrendering Its Future? tks Jana Beydoun
Queen carries on with light duties after Covid symptoms
Hong Kong domestic workers left homeless after being fired for contracting Covid-19
Business and technology
Downfall: The Case Against Boeing
I've been waiting 15 years for Facebook to die. I'm more hopeful than ever
Some Companies Ditch Annual Raises and Review Worker Pay More Often
Commission sets out strategy to promote decent work worldwide and prepares instrument for ban on forced labour products
Wall Street Told Hollywood to Stream. Now It's Changing Its Mind
Employees Are Sick of Being Asked to Make Moral Compromises
Can I Rescind a Job Offer Immediately?
What is the Suisse secrets leak and why are we publishing it?
Why Martin Agency's CEO Is Calling Out Coinbase Over Its QR Code Super Bowl Ad
The Split Between Levi's and Brand Lead Jennifer Sey Is a Cautionary Tale for Marketers
The Pink Floyd rocker says Facebook is trying "to take over absolutely everything." tks Syd Stewart
Social issues and humanity
What We Can Get Wrong About Women
Attack on 'woke' charities has backfired, campaigners say
Top private boys' school Newington considers becoming co-ed
'The history of fantasy is racialized': Lord of the Rings series sparks debate over race
Jean-Luc Brunel: Epstein associate found dead in Paris prison cell
My Evangelical Church Is Gaslighting Me, But I Refuse To Fall For It Anymore
Passion, humour, history
'America's Got Talent' contestant Nightbirde dies after cancer battle
Cross-Country Skier Remi Lindholm Suffered Frozen Penis At Winter Olympics
How often do you shower? You could be weakening your immune system warns researchers tks Teressa Bayes
Charlize Theron 'felt so threatened' by Tom Hardy making Mad Max she required on-set protection
Housing: Fairy tale estate aimed at keeping young people local
'It's the end of a big adventure': Cillian Murphy bids farewell to Peaky Blinders
You shouldn't cheat at Wordle. But here's a weird way that you can. Listen to article 2 min
Let me know what jumped out at you? Or share with me what you're reading? I love that!
Cheers
Andrea
Uncommon Courage: an invitation – my latest book
You can buy it on Amazon, Apple Books, Barnes & Noble, Book Depository, Booktopia, Smashwords, Kobo, Gardners, Odilo, Indie Bound, BookShop by BookTrib and Scribd.
Better yet, order it from your local bookstore, so you can #SupportLocal.
You can read the reviews, including a new five-star review on Book Commentary, another five-star review on ReaderViews, a review on BookTrib, and three more on Booklife, another on Book Commentary and Blue Ink Reviews. I'm also collating reviews on my Website too. Have a look and grateful to everyone who has written or recorded one.
Come and join the conversation in my new Facebook Group Uncommon Courage.
Uncommon Courage, the podcast – Apple, Spotify and everywhere podcasts are published.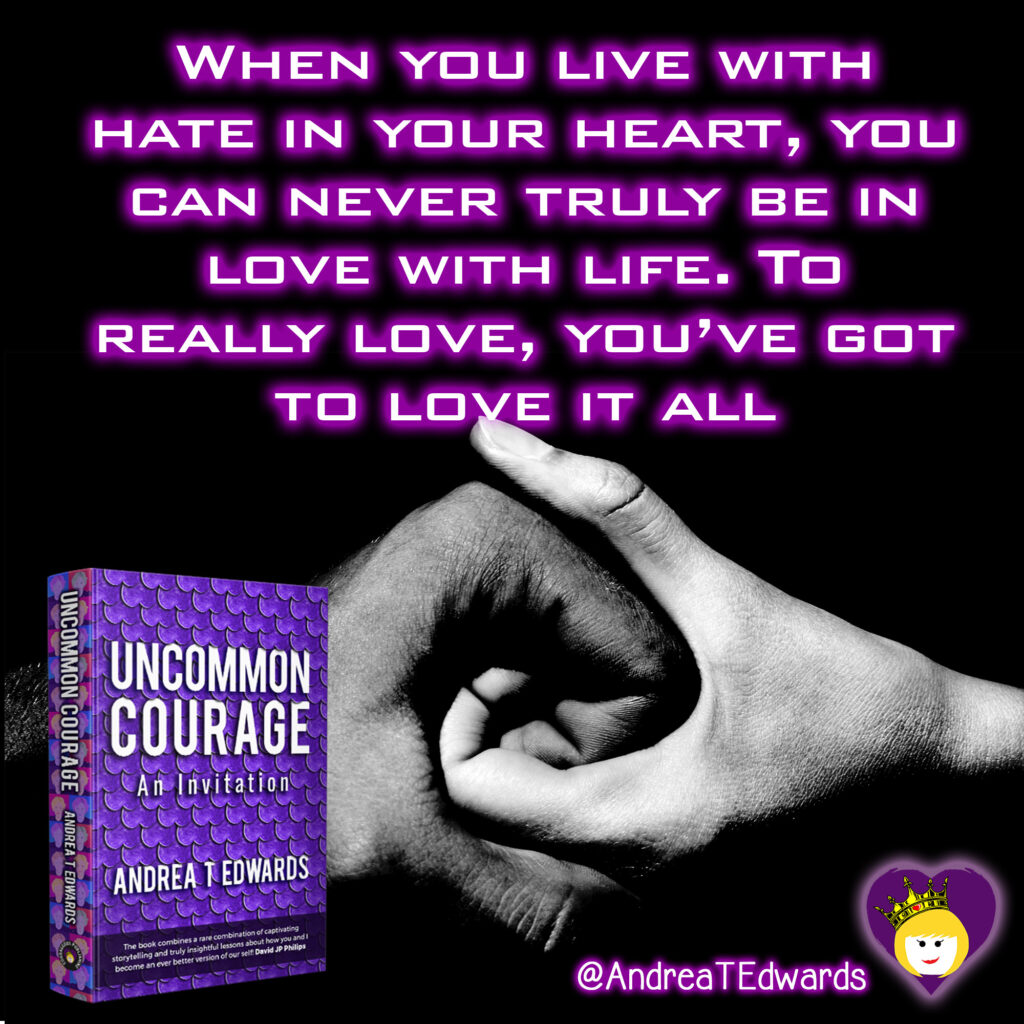 Connect with me
andreatedwards.com , uncommon-courage.com
LinkedIn, Twitter, Facebook, YouTube, Instagram, Medium, Amazon.
The Know Show
Check out The Know Show. It's a weekly wrap up of the news!
Listed by Book Authority in the 100 Best LinkedIn Books of All Time and 22 Best New LinkedIn eBooks To Read In 2021 and 2022 categories. Grab it today if you want to take your professional presence to the next level! When it comes to LinkedIn, it really is time to ask — can you really afford not to have this book in the hands of every employee?
Feedback
Have I done a great job for you? Can you write a reference on my LinkedIn profile or on my Google Business page? If not for me, why not write one for someone else who inspires you or has helped you? Join the #GivingEconomy.
Are you a Social CEO? The Social CEO: How Social Media Can Make You A Stronger Leader.
Want to claim your stage? Unleash Your Voice – Powerful Public Speaking for Every Woman