As we're watching the rumblings of the build up towards war in the Ukraine and the political posturing accompanying it, as well as the coups in Africa and the suffering it's bringing to millions on the continent, please, please, please understand – we cannot afford war. Not now. Never more.
The environmental crisis is on the edge, times are getting desperate (read the climate section below) and seriously, it is time for all countries to do everything it takes to keep the peace and focus on cleaning up our world, so we have a future. It's time for diplomacy. Unfortunately many of the moronic leaders running our countries are not the best people for this job! Vote wisely in your next election.
An area of the climate emergency that does not get enough attention is the military. Have you heard about emissions from the global military complex? Start with the three references below. Then do more research, there's plenty on this topic, but it's still not a complete view, because there's no obligation to provide that information.
The U.S. Military Emits More Carbon Dioxide Into the Atmosphere Than Entire Countries Like Denmark or Portugal
Some key points raised
We don't have a full picture of emissions from the military around the world, because there are no requirements for reporting it.
If the US were a nation state, it would be the 47th largest emitter in the world.
The US Department of Defense is the largest institutional consumer of fossil fuels in the world – and the largest institutional emitter.
The Pentagon thoughtfully acknowledged that rising temperatures are "reshaping" the world with "more frequent, intense, and unpredictable extreme weather conditions caused by climate change", but they failed to analyse the Defense Department's own contributions to climate change.
"Yet its climate policy is fundamentally contradictory – confronting the effects of climate change while remaining the largest single institutional consumer of hydrocarbons in the world, a situation it is locked into for years to come because of its dependence on existing aircraft and warships for open-ended operations around the globe."
In 1997, the Kyoto Protocol—the world's first legally binding, international climate treaty—created a reporting loophole for militaries, exempting many of the greenhouse gases emitted during military operations from counting against a country's emissions totals. While the 2015 Paris Accords did away with this exemption, they didn't replace it with an obligation. Rather, the decision of whether to report military emissions—and how to calculate them—was left up to individual countries.
Some scientists estimate that, together, militaries and their supporting industries might account for up to 5% of global emissions: more than civilian aviation and shipping combined.
Military emissions reporting by the many countries that do not have to report annually to the UNFCCC is even worse. This includes countries with massive military budgets, such as China, India, Saudi Arabia and Israel.
Militaries are institutionally complex, and procurement cycles last decades, which can "lock in" emissions. Things will not change overnight, but what they do not count, we can't see. And what we cannot see, they will not cut.
Of course, people will read this and say, tell her she's dreaming, war will never end. I don't disagree with that. It seems like an impossible idea that we will ever be strong enough as a species to live in a world without war. Yes, peace requires strength and we don't seem to have it!
But more than that, do we have a choice anymore? Because the bigger conversation must focus on the two choices ahead of us. Transform every aspect of how we live on this planet, including a hard look at the war machine, OR we accelerate into an unbearable future of suffering for ourselves, our children and future generations. It's as simple as that.
The change needed is a human one. It needs to happen within all of us. We have to grow. Our consciousness must rise. If it does not and we hang onto what we've built, afraid to embrace the change required for a better world for all life on earth, well…..
Maybe one day we'll wish we tried harder. I hope we get the message before that day arrives.
Friend's content and mine
Could you please help by filling in this very small survey. My friend, Cathy Johnson, and I want to understand self-worth. This first survey is designed to gain an understanding on when we start feeling a lack of self-worth and who/what is responsible. It will take a minute I promise. Once we collate the results, we're planning a series of podcasts to discuss, what we believe, is a self-worth crisis. When your self-worth is low, it is impossible to achieve all you want in life. The inner voice will never let you dream big!! Please, can you help?

You can hear Cathy Johnson in this podcast How to become our most authentic selves, which is a snippet from The Know Show.
Also wanted to highlight this great piece by my pal Jane Franklin. This is a lady who knows marketing and is well worth following – read: 4 Unexpected Tricks To Help You Win Marketing Awards.
Donation time
If everyone gave #just10percent of their time, talent, money or voice, we'll change the world. Can you donate? Make it a regular donation to the World Food Programme. Donate to the UN Refugee Program, PowerOf , Kiva.org , Soi Dog Foundation. It's a time for giving and taking care of each other.
Content to read
And here's the content I've been reading this last week. Scan the headlines, read the ones that jump out at you, read or watch them all. Knowledge is power, and global knowledge is even more powerful.
Climate crisis
'A deranged pyroscape': how fires across the world have grown weirder
Climate change: Mount Everest ice which took 2,000 years to form has melted in just 25, scientists say tks Teressa Bayes
If you're not thinking about the climate impacts of thawing permafrost, (here's why) you should be
'Carbon footprint gap' between rich and poor expanding, study finds
In the climate fight, your wallet is more powerful than your vote
No McKinsey, it will not cost $9 trillion per year to solve climate change tks Sussana Hasenoehrl
Massive wolf kill disrupts long-running study of Yellowstone park packs
E.U labels natural gas and nuclear energy 'green' prompting charges of 'green washing;
Court Revokes Oil and Gas Leases, Citing Climate Change tks Joanne Flinn
Typhoon Rai leaves trail of plastic trash for residents of Philippine sinking island
10 Principles of Life Centered Design tks Sussana Hasenoehrl
How Leaders Can Move Beyond Greenwashing Toward Real Change
Global warming will cause massive declines in tree growth
China's New 5-Year Plan is a Blueprint for the Future of Meat
UK Ethical Consumer Markets Report
Climate change and population growth could drive a 26% rise in US flood risk by 2050 – disproportionately impacting black and low-income groups – new research finds. tks Sussana Hasenoehrl
Despite COP26 forest vow, one third of commodity firms have no plans to halt deforestation
Winter Snow Storm Slams New England
Storm Ana: Deadly Africa storm shows climate crisis reality – UN
US East Coast blanketed by 'bombogenesis' snowstorm
Turning Article 6 into Reality (Sponsored content, by JapanGov)
Covid
Olympian Released From Beijing Isolation Facility After Emotional Video Plea
Europe entering Covid pandemic 'ceasefire', says WHO
Exposure to one nasal droplet enough for Covid infection – study
Australia revisited – a country changed by Covid tks Steve Johnson
Tonga enters Covid lockdown after aid delivered
Covid vaccine hesitancy could be linked to childhood trauma, research finds
The pandemic's true death toll: millions more than official counts
South African scientists will study link between COVID variants and untreated HIV
How many people have been infected more than once?
Joe Rogan: Four claims from his Spotify podcast fact-checked
U.S. Has Far Higher Covid Death Rate Than Other Wealthy Countries
Covid News: Moderna Vaccine Gets Full Approval From F.D.A.
Laurence Fox says he has coronavirus and is taking ivermectin
Long Covid: Hidden lung damage spotted on scans
NSW government was warned Omicron could lead to more hospitalisations days before restrictions lifted tks Phillipa Edwards
Africa may have reached the pandemic's holy grail
Freedom Convoy: Why Canadian truckers are protesting in Ottawa tks David Lim
In Italy, No Dolce Vita for the Unvaccinated
'My son cowers when a shopkeeper says hello' – are the toddlers of Covid all right?
Hospital plan: 'Try very hard to avoid getting Covid until March' tks Phillipa Edwards
Global politics
Untamed: not ready to make nice tks Phillipa Edwards
China joins Russia in opposing Nato expansion
Combat drones: We are in a new era of warfare – here's why
How will Europe cope if Russia cuts off its gas?
Islamic State leader Abu Ibrahim al-Qurayshi killed in Syria, US says
Trump was wrong to seek to overturn Biden win, says Mike Pence
Unmasking Of Rudy Giuliani On Fox's 'The Masked Singer' Prompts Judges Ken Jeong & Robin Thicke To Walk Off In Protest
Over a Million Flee as Afghanistan's Economy Collapses
Peter van Onselen: If you were going to be rude to the PM at the National Press Club, why go at all?
Sue Gray: No 10 pledges updated report after police inquiry finishes
Taliban to Stranded, Pregnant New Zealander: 'You Are Safe Here, Congratulations, We Welcome You'
Trump's Grip on G.O.P. Faces New Strains
Portugal election: Socialists win unexpected majority
U.S. Sanctions Aimed at Russia Could Take a Wide Toll
Business and technology
How to prepare for a sustainable future along the value chain
Zuckerberg loses $29 billion in net worth, Bezos gains $20 billion
Mark Zuckerberg risks losing $34 billion in a day after Meta shocker
Andrew Forrest: Australian billionaire launches criminal case against Facebook
Facebook: Daily active users fall for first time in 18-year history
Goldman Sachs CEO David Solomon's Pay Rockets to $35 Million
Graham Nash removes music from Spotify, calling company 'enabler that costs lives'
Joe Rogan row puts cost of Spotify podcasts under investor microscope
Rogan deal blunts Spotify's edgy podcast appeal
Joe Rogan pledges to try harder after Neil Young Spotify row
'We won't censor but we do have rules': Spotify FINALLY responds to Joe Rogan controversy with plan to add content advisory to podcasts that discuss COVID – hours after $25m partners Meghan and Harry voiced their 'concerns' over misinformation
Harry and Meghan reveal Spotify Covid row concerns
James Blunt jokingly threatens to release new music if Spotify doesn't remove Joe Rogan's podcast
An Update on My Decision to Pause the Podcasts
Spotify Loses $2 Billion as Stock Plummets After Neil Young's Joe Rogan Protest
Brené Brown pledges to stop producing podcasts on Spotify amid Joe Rogan controversy
'The New York Times' buys Wordle
Look beyond popular areas for green innovations: investors
Social issues and humanity
Stuck in a collapsing idea tks Phillipa Edwards
Experts Recommend Tuning Them Out And Just Trying To Enjoy Your Life
"Do You See What I See?" Study Shows Cross-Cultural Variation in Maternal Focus During Parent-Child Interactions
Rising rents across regional NSW fuels homelessness and worker shortages tks Willie Wahlin
Thandiwe Newton Calls Sean Penn 'Tragic' and a 'Fool' for Saying Men Are Too Feminized
CHESLIE KRYST EX-MISS USA DEAD AT 30 FROM SUICIDE … Jumped from NYC Apt.
Whoopie Goldberg suspended from 'The View' – tks Jamie Camidge
Passion, humour, history
Jeff Bezos' superyacht will see historic bridge dismantled
Kleptomaniac New Zealand parrot steals GoPro, films airborne escape
Captain Cook's ship Endeavour found in US
Almost 500-mile-long lightning bolt crossed three US states
Son Photoshops His Father Into Movie Scenes And Odd Places
A Little Girl Gives A Coin To A Street Musician And Gets The Best Surprise In Return – it's old but a reminder of the beauty in the world
Let me know what jumped out at you? Or share with me what you're reading? I love that!
Cheers
Andrea
Uncommon Courage, an invitation – my latest book
You can buy it on Amazon, Apple Books, Barnes & Noble, Book Depository, Booktopia, Smashwords, Kobo, Gardners, Odilo and Scribd.
You can read the reviews, including a five-star review on ReaderViews, an excellent one on Booklife, Book Commentary and Blue Ink Reviews. I'm also collating reviews on my Website too. Have a look and grateful to everyone who has written or recorded one.
Come and join the conversation in my new Facebook Group Uncommon Courage.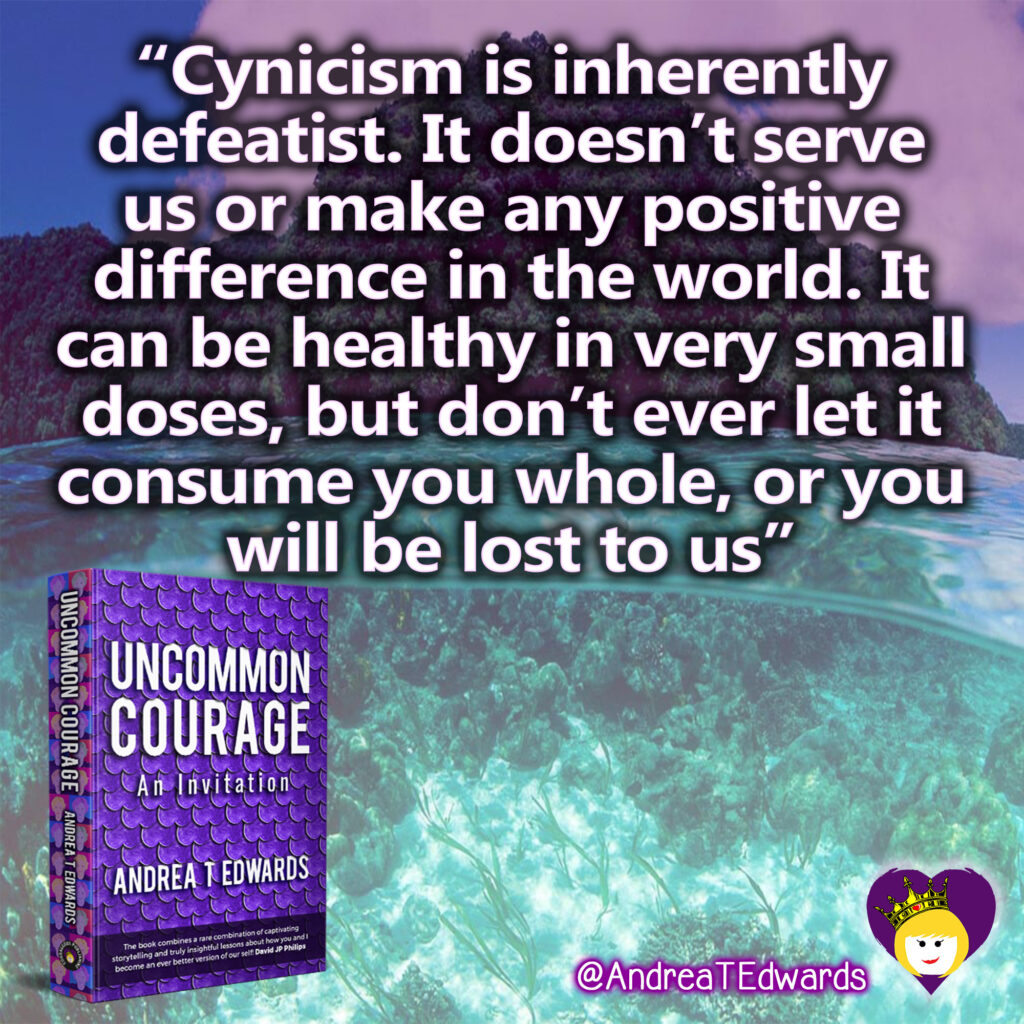 Connect with me
Website, LinkedIn, Twitter, Facebook, YouTube, Instagram, Medium, SlideShare, Amazon.
The Know Show
Check out The Know Show. It's a weekly wrap up of the news!
Listed by Book Authority in the 100 Best LinkedIn Books of All Time and 22 Best New LinkedIn eBooks To Read In 2021 and 2022 categories. Grab it today if you want to take your professional presence to the next level! When it comes to LinkedIn, it really is time to ask — can you really afford not to have this book in the hands of every employee?
Feedback
Have I done a great job for you? Can you write a reference on my LinkedIn profile or on my Google Business page? If not for me, why not write one for someone else who inspires you or has helped you? Join the #GivingEconomy
Check out Second Nature Social on my YouTube channel.
Are you a Social CEO? The Social CEO: How Social Media Can Make You A Stronger Leader.
Want to claim your stage? Unleash Your Voice – Powerful Public Speaking for Every Woman
Want proof social leadership transforms business and attracts customers? Check out this case study with IBM Asia Pacific.
Want to be a super star online? Check out my e-learning course How to build a rock star personal brand.