It's time to switch the brain off and to do that, I'm at the JW Marriot in Phuket right now. Our family is staying here for five days and then we're going south of the Island for another five days. We can't leave Phuket – well we can – but have chosen to stay put until this pandemic comes to an end.
The challenge I face is, I tend to work seven days a week. Steve's (hubby) work is more intense in a different way. Before the pandemic calls were rare. Now, everyone is online, scheduling calls at all times of the day and night. When your business is headquartered in the US and you're in Asia, it's always extremely challenging, but more so since this pandemic started. However, we can't complain, and we're lucky too because work is still coming in.
Regardless, rest is important and we haven't had a proper holiday for two years. The kind where we switch off completely. And after this third wave smashed Asia, we knew we had to take a break to try to relax, just for a few days. Just not having an office to walk into every single day is a break for me. It's something I can't avoid when I'm at home. I know many are in the same boat.
So just a reminder to take a break if you need to. None of us are good working every hour of every day. It's not good for our mind, body or spirit, and of course, we also need to feel good about it when we do it. I know the vast majority of humanity are suffering terribly during this time, which can make us feel guilty to focus on ourselves. But when we keep ourselves strong, we can better serve those in need around the world.
Regardless of having a break, my weekend reads continues. That's something I'll never stop doing. Maybe I'll read even more – apologies in advance if I do.
Friend's content and sometimes mine
Episode 90 Quintessentially good with Jade and Hillary is a podcast by two friends, Jay Leshark and Russell Distance Russell. Always fun and cheeky, this week features my friend Jade Lama and her partner Hillary. Jade is someone I have enormous respect for, in how she has handled herself and her business during these extremely challenging times. Have a listen.
And this lovely article The importance of 'flow' by David Braga. A HUGE struggle I face every day.
And the second episode of Sustainability at Heart by Freda Liu – featuring three awesome humans – Avi Liran, Andrew Chow and Marianna Pascal. Have a listen and be inspired.
Please have a listen to this
Jeffrey Sachs' speech at the UN Food Systems Pre-Summit (full speech) tks Paul Dunn
Donation time
If everyone gave #just10percent of their time, talent, money or voice, we'll change the world. Can you donate? Make it a regular donation to the World Food Programme. Help us feed people in Phuket. Or donate to the UN Refugee Program, PowerOf , Kiva.org, Soi Dog Foundation. It's a time for giving and taking care of each other.
Content to read
And here's the content I've been reading this last week. Scan the headlines, read the ones that jump out at you, read or watch them all. Knowledge is power, and global knowledge is even more powerful.
Climate Crisis / 6th Mass Extinction
66 Reservoirs Discharging; Cities Severe Flooding| Many Dams Burst – tks Sophia Henri
Revealed: APP's controversial Indonesian paper mill OKI plans to triple in size
The cost of cooling: how air conditioning is heating up the world
Every 27.5 million years, the Earth's heart beats catastrophically
Spectacular Neon Blue Lava Pours From Indonesia's Kawah Ijen Volcano At Night
Deadly street protests over Iran water shortages
Climate change: Researchers begin discussions on vital report
Extreme heat waves in a warming world don't just break records – they shatter them
Typhoon sweeps into eastern China after flooding chaos
Extreme weather takes climate change models 'off the scale'
Athens appoints chief heat officer to combat climate crisis
COVID19
Vaccinated People May Spread the Virus, Though Rarely, C.D.C. Reports
Saudi Arabia to Impose Covid-19 Vaccine Mandate
As Virus Cases Rise, Another Contagion Spreads Among the Vaccinated: Anger
S'pore to review Covid-19 rules in early August, ease measures for vaccinated people if situation under control
Could Covid vaccine be taken as a pill?
Here's what we know about the C.D.C.'s new mask recommendations for vaccinated people.
Statement by Prime Minister Bennett Following Meeting of the Corona Cabinet tks Roshini Ganesan
Covid: Delta variant spreads globally as cases soar
Coronavirus digest: Top Australian official 'disgusted' by Sydney protests
America's urgent dilemma: How to deal with people refusing to take the Covid-19 vaccines tks Fiona Randall Taskis
Is going 'back to normal' even possible?
The Most Influential Spreader of Coronavirus Misinformation Online tks Kimi Mc
Australia Covid: Anti-lockdown protesters condemned
Olympics
Let's Give Simone Biles a Gold Medal for Courage.
Simone Biles says 'I have to focus on my mental health' after pulling out of team final
Sha'Carri Richardson, Alen Hadzic and our unending forgiveness for white male athletes tks Jenni Thorman
Filipino weightlifter broke down and said she planned to 'eat a lot' after winning her country's first Olympic gold medal
Glorious unpredictability tears up Olympic predictions
In a stand against sexualisation, Germany's female gymnasts wear full-body suits at Tokyo Olympics
Simone Biles and the Weight of Perfection
Tokyo Olympics: Tunisia's Hafnaoui wins shock swimming gold
Tokyo Olympics: World number one Ashleigh Barty stunned by Sara Sorribes Tormo in first round
Tokyo Olympics: Gold medals, shock exits, high temperatures and positive Covid tests on day one
Are You Allowed To Criticize Simone Biles? : A Decision Tree
Nightmares Realized: Every Human on Earth Now a Surfer Following Olympic Debut
There She Is – tks Pattie Grimm
Global Politics
Hear the profanity-laced voicemail that DC officer Michael Fanone got from a Trump supporter while he was testifying to Congress
Opinion: John Kennedy Foolishly Reveals That Republican Attacks on Women Are Purely Religious, and Unconstitutional
Opinion: Norman Lear: As I begin my 100th year, I'm baffled that voting rights are still under attack
Capitol riot: Policeman tells 6 January hearing he feared he would die
The Republican Party Is Now in Its End Stages
211 – QAnon and Conspiratorial Narratives
Fourth America is Almost Over — Americans Want a Divorce.
Iraq war Marine walks U.S.-Mexico border to protest deportation of veterans
Business and Technology
How Science Lost the Public's Trust
Economist calls Texas' slip from top three U.S. states for business 'eerily disturbing'
'Black Widow' Lawsuit: CAA Slams Disney for Releasing Scarlett Johansson's Salary
Trump's Business Hauled In $2.4 Billion During Four Years He Served As President
It was edited': Tony Fernandes defends AirAsia from sexism allegations after F-bomb incident with Thai CEO tks Lavinia Rajaram
Tourism to hit all-time low in 2021 tks Shaun Stenning
Leaving burnout behind: the pain and pleasure of starting a new career in my 50s tks Sue-Yen Wong
The Employer Brand Imperative: Why It's More Important than Ever
Social issues (#BlackLivesMatter) and humanity
Phuket Sandbox Is Open But The Locals Are Still Suffering
Conspiracy theorists lack critical thinking skills: New study tks Phillipa Edwards
Author Expertly Shuts Down Commenter Who Doesn't Get Why Women Get Pregnant as They 'Hit Professional Stride'
Serial killer on death row Rodney Alcala dies of natural causes
New concept to see older women living together to avoid homelessness, loneliness
Passion, humour, history
'King Richard' Trailer: Will Smith Transforms Into Venus and Serena Williams' Father
Unknown Stories Revealed by Fixed-Point Cameras – this is amazing!!
Alabama officer stands in rainstorm procession to honor 100-year-old WWII veteran
Quantum Physics Suggests That Death Doesn't Exist And It Is Probably Just An Illusion
Another "monkey war" in Lop Buri, hundreds fight in the street- VIDEO
Dieter Brummer: Home and Away actor dies aged 45
'Right-handed man' almost masturbates to death: medical case study
Let me know if anything jumped out at you?
Cheers
Andrea
Uncommon Courage – my new book – is available
You can buy it on Amazon, Apple Books, Barnes & Noble, Book Depository, Smashwords, Rakuten Kobo, and Scribd.
Do check out my new Website uncommon-courage.com.
Come and join the conversation in my new Facebook Group Uncommon Courage.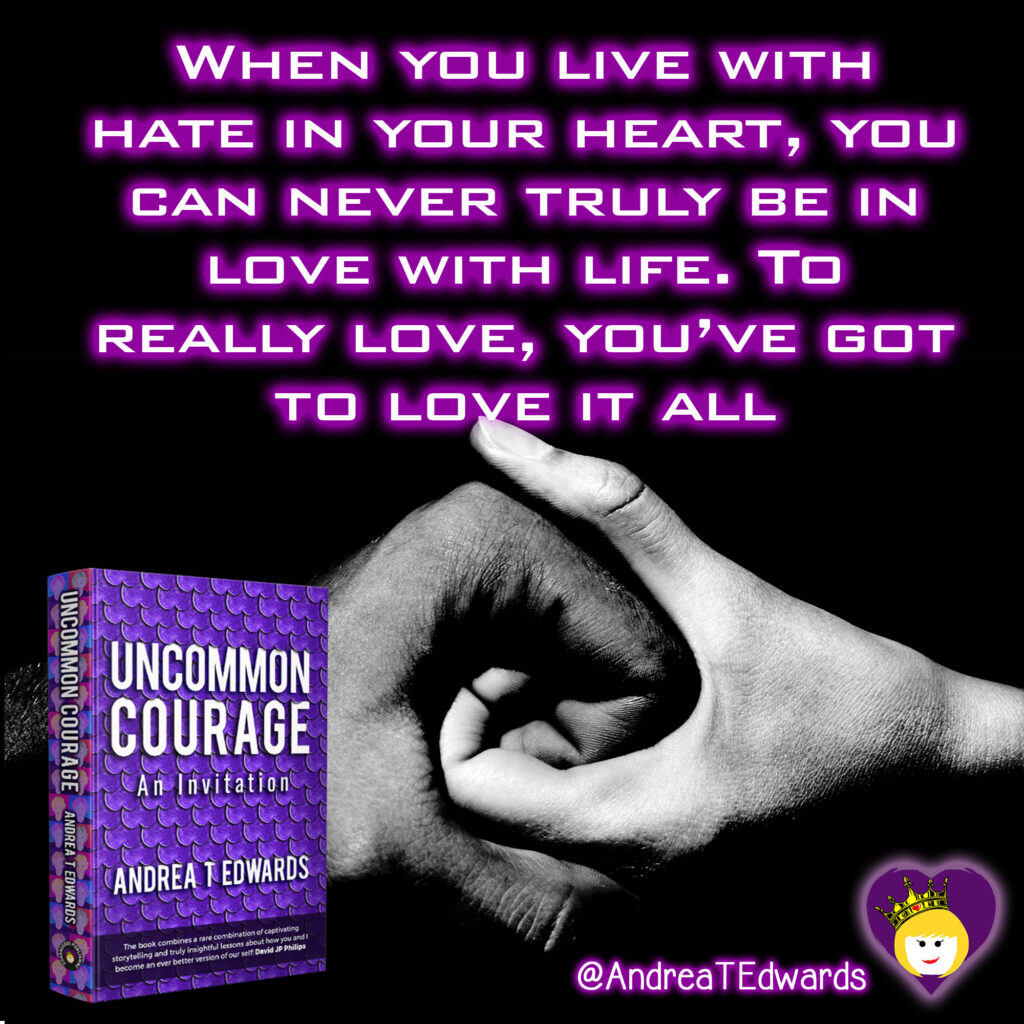 Connect with me
Website, LinkedIn, Twitter, Facebook, YouTube, Instagram, Medium, SlideShare, Amazon.
18 Steps to an All-Star LinkedIn Profile
Listed by Book Authority in the 100 Best LinkedIn Books of All Time and 22 Best New LinkedIn eBooks To Read In 2021 categories. Grab it today if you want to take your professional presence to the next level! When it comes to LinkedIn, it really is time to ask — can you really afford not to have this book in the hands of every employee?
Feedback
Have I done a great job for you? Can you write a reference on my LinkedIn profile or on my Google Business page? If not for me, why not write one for someone else who inspires you or has helped you? Join the #GivingEconomy
Check out Second Nature Social on my YouTube channel.
Want proof social leadership transforms business and attracts customers? Check out this case study with IBM Asia Pacific.