I don't get. I just don't get it. I am living in a country where Covid19 has spread so rapidly, there are bodies on the streets of Bangkok, and this is a country with deep reverence for the dead. It's a sign of how bad things are, but it's also a sign of how bad the Delta variant is. This is not the same virus that hit our shores 18 months ago.
And then, in a country, where things have not escalated to this point – aka Australia – what do they do? Learn the lessons of tragedy that has rolled around the world for the last 18 months? No they protest. Against what? Freedom? Freedom of what?
Anti-lockdown protests across Australia as Covid cases surge to record levels in Sydney
Australia Covid: Arrests at anti-lockdown protests
Here's some thoughts I penned last week on this issue: When it comes to Covid, I'm confused by opinions
Does being in lockdown suck? YES a very BIG one. But you know what will suck more? If this virus mutates out of our ability to vaccinate and we have to endue this crisis for longer. The developing world can not endure this for longer. The devastation is already too great. COME ON world, we can do better!!!
In my book, Uncommon Courage, I talk about the idea of what you resist, persists. Here's a snippet of that chapter in relation to Covid.
"COVID-19 is a global case study of resistance. As we all went from shock to fear to acceptance—especially those of us living in Asia—we had an opportunity to stand witness as it rolled around the world, like a tsunami, often in shock at the resistance we were seeing to our new reality!
"One thing that became apparent to me very early on was that if we all did the same thing at the same time for as long as was needed, we might have been able to deal with this faster and it would be over by now.
"Remember in March (2020) when the World Health Organization and other experts suggested the world should close shop for a couple of weeks, maybe a month, so we could see where it had spread? The response was instant: we can't close the global economy! Well, look where that got us.
"The impact is not just the massive death tolls around the world, but the immense suffering in developing countries, with 200 million people moving into extreme poverty. These are my neighbors, and it is devastating. (If you can afford to, please donate to the World Food Programme and let's get through this crisis together.)
"The resistance to the reality of this crisis has been staggering. As I've said over and over again from the beginning: until this is over everywhere, it's not over anywhere.
"What are some simple ways to identify resistance? When you hear yourself saying words like: "Why me?" or, "This isn't fair!" or, "It wasn't meant to be this way!" When we attempt to control something that is out of our hands, it often extends our suffering.
"What you resist, persists, because where the attention goes, the energy flows. This is an essential truth."
Let's stop resisting this virus, accept it and work together to get past it. Because those people starving in the developing world deserve the care and consideration of those in the wealthy countries. It is time to change how we operate as a global society. It is time for we, not me!
Friend's Content and sometimes mine
Focusing on hope amidst the struggle a beautiful and very meaningful post, by my beautiful friend Sha-En Yeo. For those outside of Singapore, the depth of grief caused by the murder of a student by another student might not make sense. Singapore is a uniquely tolerant and peaceful society, where crimes like this are virtually unheard of. And beyond this terrible murder, Singapore imposed more restrictions, which is causing enormous heartache for so many. Sha-En's words are powerful to read.
Podcast – so wonderful to listen to Backstage Stories with Simone de Haas, Connect With Confidence – with Kerrie Phipps. Simone and Kerrie are wonderful friends and beautiful people. I love Kerrie's podcasts, but this one is super special. Simone's story from the stage, behind the stage, as an empath, an immigrant, and so much more. Loved it. Inspiring and hopeful.
I had a wonderful opportunity to be on MoneyFM 89.3 with Glenn van Zutphen and Neil Humphries last weekend, to talk about Uncommon Courage.
Today I was also on Jenn TV's Life's a Stage, Sustainability at Heart. Privilege to do this with my friends and peers, Paul Dunn and Dr. Jerome Joseph.
Donation time
If everyone gave #just10percent of their time, talent, money or voice, we'll change the world. World Food Programme? Such important work and we need to keep these guys working!
Other possibilities UN Refugee Program, PowerOf , Kiva.org, Soi Dog Foundation.
Remember how I talked about John Julius Bennett, riding the Tour de France Phuket to raise money for One Phuket? He kicked off with 200kms today and you can follow his ride here. Just brilliant. Awesome human.
Content to read
And here's the content I've been reading this last week. Scan the headlines, read the ones that jump out at you, read or watch them all. Knowledge is power, and global knowledge is even more powerful.
Climate Crisis / 6th Mass Extinction
Extreme rainfall in China: over 25 inches falls in 24 hours, leaving 33 dead
Thawing Permafrost has Damaged the Trans-Alaska Pipeline and Poses an Ongoing Threat
Planes Sampling Air Above the Amazon Find the Rainforest is Releasing More Carbon Than it Stores
'Everything is on fire': Siberia hit by unprecedented burning
Top US scientist on melting glaciers: 'I've gone from being an ecologist to a coroner'
Moon 'wobble', rising seas to cause flooding surge: NASA study
'It was hard to breathe': China flood terror as train carriage submerged
'Reckless': G20 states subsidised fossil fuels by $3tn since 2015, says report
'No need' for new fossil fuels anywhere in world, says John Kerry
EPA Struggles to Track Methane Emissions From Landfills. Here's Why It Matters
Climate change is making poison ivy stronger and itchier
China floods: 12 dead in Zhengzhou train and thousands evacuated in Henan
Those Bathing Bears Aren't Cute. They're Climate Change Victims.
Met Office issues first UK extreme heat warning
Europe floods: Merkel shocked by 'surreal' devastation
COVID19
Rupert Murdoch's Fox News Is Boosting COVID Deaths For Money, Former Australian PM Says
They Waited, They Worried, They Stalled. This Week, They Got the Shot.
Anti-lockdown protests across Australia as Covid cases surge to record levels in Sydney
Australia Covid: Arrests at anti-lockdown protests
The New COVID Panic tks Bob Hooey
A History Of Viruses And Bacteria (And The Worst Of Them)
'I never thought this would happen in France': day one of showing Covid vaccine pass
COVID-19 myths that refuse to die, from undue concern about children to variants and vaccines
'This thing is not going away': Cannon-Brookes warns on mental health as prolonged lockdowns loom
What are the new top 5 COVID symptoms? tks Ava Diamond
Health system in crisis, critics tell government
Bodies literally left lying in Bangkok's streets as COVID-19 takes heavy toll
How might the COVID-19 pandemic end?
'SHE WAS A WARRIOR' Trump fan who spread anti-vax Covid conspiracies and QAnon messages dies from virus complications
163 new locally transmitted COVID-19 cases in Singapore, 136 linked to Jurong Fishery Port and KTV clusters
Smallpox, polio would still be in U.S. if misinformation spread like now
Global Politics
Revealed: leak uncovers global abuse of cyber-surveillance weapon
Exclusive: 'QAnon Shaman' in plea negotiations after mental health diagnosis
McCarthy yanks all GOP picks from Jan. 6 committee
Thomas Barrack: Top Trump aide accused of working as foreign agent
Business and Technology
Jeff Bezos and Sir Richard Branson not yet astronauts, US says
The world's top 50 thinkers 2021
News Sites Including Huffington Post, Vox, Newsweek, Riddled With Pornography
Responsible tourism: Which types of advertising work? tks Andrew Psarianos
The comeback of corporate travel: How should companies be planning?
Podcast: Brené with Simon Sinek on Developing an Infinite Mindset worth a listen!
Social issues (#BlackLivesMatter) and humanity
How Science Lost the Public's Trust
The philosophy of porn – pop out line = "Porn tells lies about women, but it tells the truth about men."
Refugee athletes stride into global spotlight as Tokyo Games begin
Is Justine Bateman the most rebellious woman in Hollywood?
Sexy Vietnamese Hawker At Hong Lim Told To "Go Back Home" Goes On Epic Rant tks Chris J Reed
Olympics opening ceremony director sacked for Holocaust joke
Australian athletes call for change after female Olympic team is fined for not wearing bikini bottoms tks Willie Wahlin
Muslim-Evangelical alliance strives to create religious and political middle ground
Passion, humour, history
Big Cat Sightings in Scotland Are a Mystery
Do crabs, octopuses and fish feel pain? Should they have greater rights to humane treatment?
How a decade as an expat destroyed my Australian dream tks Phillipa Edwards
Maya: Science Only Acknowledges Now What Ancient Sages Knew About Reality 5000 Years Ago
Let me know if anything jumped out at you?
Cheers
Andrea
Uncommon Courage – my new book – is available
You can buy it on Amazon, Apple Books, Barnes & Noble, Book Depository, Smashwords, Rakuten Kobo, and Scribd.
Do check out my new Website uncommon-courage.com.
Come and join the conversation in the Facebook Group Uncommon Courage.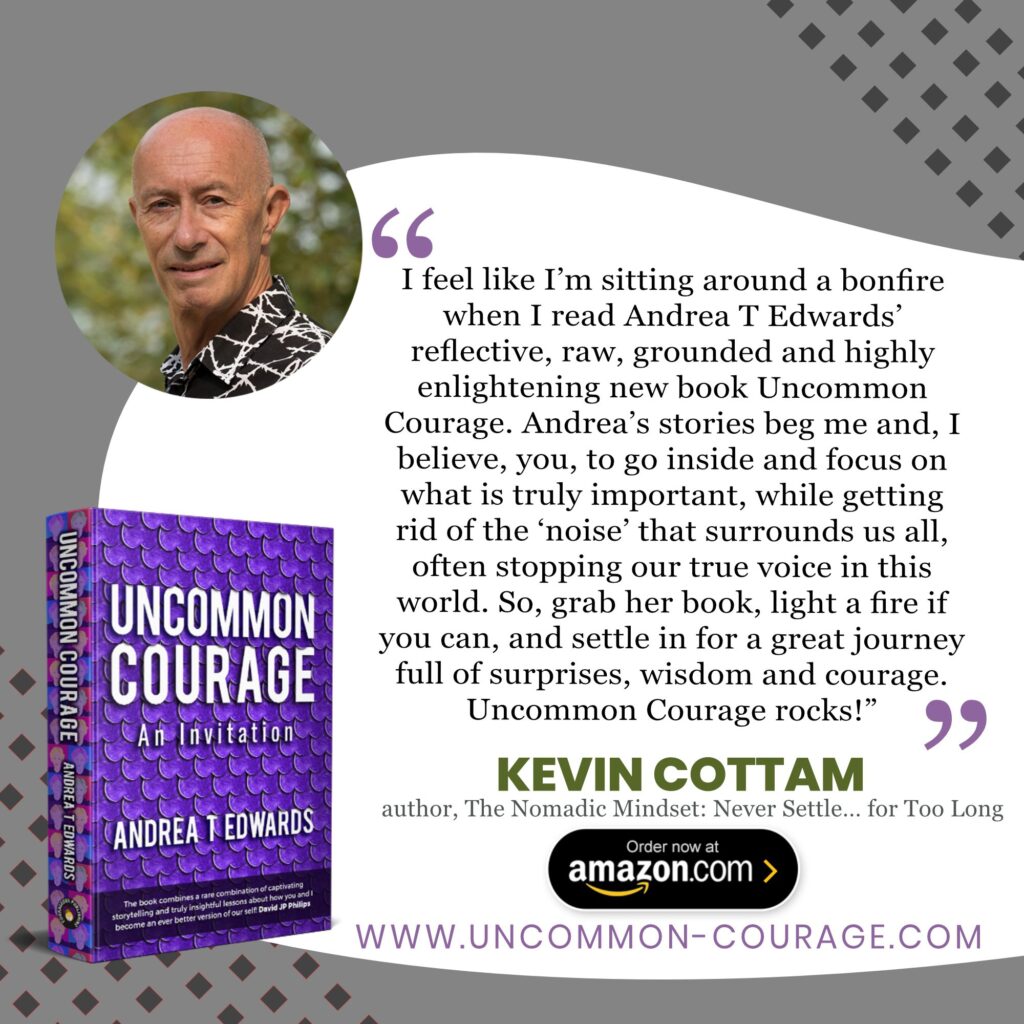 Connect with me
andreatedwards.com, Uncommon-Courage.com, LinkedIn, Twitter, Facebook, YouTube, Instagram, Medium, SlideShare, Amazon.
andreatedwards.com,LinkedIn, Twitter, Facebook, YouTube, Instagram, Medium, SlideShare, Amazon, Uncommon-Courage.com.
18 Steps to an All-Star LinkedIn Profile
Listed by Book Authority in the 100 Best LinkedIn Books of All Time and 22 Best New LinkedIn eBooks To Read In 2021 categories. Grab it today if you want to take your professional presence to the next level! When it comes to LinkedIn, it really is time to ask — can you really afford not to have this book in the hands of every employee?
Feedback
Have I done a great job for you? Can you write a reference on my LinkedIn profile or on my Google Business page? If not for me, why not write one for someone else who inspires you or has helped you? Join the #GivingEconomy
Check out Second Nature Social on my YouTube channel.
Want proof social leadership transforms business and attracts customers? Check out this case study with IBM Asia Pacific.