This week Switzerland voted against climate change measures. There were two reasons. 1. Switzerland is responsible for only 0.1% of global emissions. 2. The vote indicates that the country is prioritizing its post-Covid economic recovery more than the environment.
While it makes complete sense as a country, when you read the other news coming in around the climate (see latest below) one has to wonder if democracy will become the enemy of being able to get the job done? Equally, if every country had the attitude of: we don't do too much damage, well all countries can claim that, right?
Well maybe not China and the US, but most. Especially when what should be measured, isn't. At least Australia is getting a kicking over its lack of action. One good thing I suppose.
Equally, I'm sure Switzerland's contribution to climate change, through what its banks fund, would give us a very different picture to 0.1%. Time for global responsibility to be measured, not just in-country activity. Those numbers would be alarming.
Every country on this planet needs to understand that now is the time to do everything possible to move in the right direction. Sir David Attenborough message to the G7 is we are out of time, and we must move now, right now.
One thing is for sure. We have to fight for this with everything we have, for our children's future.
Friend's Content
Singapore employees are one of the least engaged in the world! My friend Anne Phey published this great piece, and while focused on Singapore, I am alarmed by the consistent stat of 80% of people are not engaged in their work. To me, it's a leadership issue and it's a societal issue. How can we address this and change it?
THE FIRST TIME LEADERSHIP BOOK – thrilled for Avi Liran and Daniel Lee on publishing this great book. Perfect for anyone stepping into leadership shoes for the first time.
OUTdeBOX Talk: Ep#05 with Andrea T Edwards – I was also thrilled to be interviewed by my friend Harish Kumar, on his OUTdeBOX talk show, which went public this week. Subscribe to his channel and follow him. Awesome human.
Donation time
Did you know the WFP has had to stop delivering food in Yemen? Not because of war, but because they have no funds to buy more food. Let's get behind them and donate : World Food Program. Other possibilities UN Refugee Program, PowerOf , Kiva.org, Soi Dog Foundation.
Read this inspiring story of how someone wants to help and is doing it in a VERY big way: Taking on Tour de Phuket to help those in need
Content to read
And here's the content I've been reading this last week. Scan the headlines, read the ones that jump out at you, read or watch them all. Knowledge is power, and global knowledge is even more powerful.
Climate Crisis / 6th Mass Extinction
The Alarming Power of Melting Arctic Ice
As Climate Warms, a Rearrangement of World's Plant Life Looms
WTTC: Shut down single-use plastic in tourism tks Sue Ultmann
Scott Morrison is the accidental architect of a carbon tax – whether he likes it or not
Sperm whale covered with oil rescued at Bang Tao Beach
UK warned it is unprepared for climate chaos
Disease causing mass deaths of frogs reaches Britain
Scientists discover prehistoric giant 'river boss' crocodile in Australia
In Push to Find Methane Leaks, Satellites Gear Up for the Hunt
'The People vs Arctic Oil': Climate activists target Norway at human rights court
Rankings The overall performance of all 193 UN Member States
G7 summit: Sir David Attenborough presses leaders to show the 'global will' to tackle climate change
Greenland's Melting Glaciers Are Polluting Coasts With Shocking Amounts of Mercury tks Warwick Merry
Swiss voters reject key climate change measures
G7 to agree tough measures on burning coal to tackle climate change
Solar geoengineering: Scientists decry a 'foolish' idea
The Message in a Reusable Wine Bottle: Combat Climate Change
G7 to agree tough measures on burning coal to tackle climate change
Indigenous peoples urge Harvard to scrap solar geoengineering project
What would happen to the climate if we reforested the entire tropics?
Race to Net Zero: Carbon Neutral Goals by Country
Cloudy waters are driving Florida's massive manatee die-off
Biden's inconvenient truth: China is the world's biggest renewable energy enabler
COVID19
Delta Covid-19 Variant Likely to Become Dominant in U.S., CDC Director Says
Covid causes new environmental dilemma for India's Ganges River
In China's latest outbreak, doctors say the infected get sicker, faster.
Global Politics
Iran election: Hardliner Raisi will become president
Targeting Biden, Catholic Bishops Advance Controversial Communion Plan
Myanmar coup: UN calls for arms embargo against military
Kim Jong-un prepares for 'dialogue and confrontation' with the US
The Supreme Court's Newest Justices Produce Some Unexpected Results
Brexit was meant to be right-wing. Has it been?
Biden and Putin praise Geneva summit talks but discord remains
Republicans Now Want to 'Audit' Election Results in States That Trump Won
Trump, allies pressured DOJ to back election claims, documents show
Israel's Parliament Approves New Government, Ousting Netanyahu
Business and Technology
Amazon joins Apple, Google by reducing its app store cut
Cristiano Ronaldo ditches Coca-Cola for water at Euro 2020 press conference
Three F.D.A. Advisers Resign Over Agency's Approval of Alzheimer's Drug
Decade-high food prices hit Asian consumers and businesses
Australian Club member quits after vote to exclude women
Social issues (#BlackLivesMatter) and humanity
The American Renaissance Has Begun
Troubled US teens left traumatised by tough love camps
Man Makes To-The-Point Videos About Common Women's Issues, And Here Are 50 Of His Best Insights Interview
'Catalyst for change': Malaysian swimmer opens up about abuse
Coroner unable to determine schoolgirl Tiahleigh Palmer's exact cause of death, finds Rick Thorburn killed her tks Jennifer Thorman
Census of Population 2020 – Singapore
8,000 Homeless People to Be Moved From Hotels to Shelters, New York Says
Proud Boys and Oath Keepers, Forceful on Jan. 6, Privately Are in Turmoil
Southern Baptist Vote Signals Further Fractures in American Evangelicalism
Billionaire Mackenzie Scott gives away £2bn more
US model Chrissy Teigen apologises for online 'trolling'
Photo of teenage boy in girls' bathers grossly misrepresented, swimmer's angry mother says
Toxic masculinity starts from a young age
Podcast 204 – On Being Certain – Robert Burton You Are Not So Smart
Why it is no longer cool to be a crazy rich Asian in China
Black Lives Matter Protesters Were Overwhelmingly Peaceful, Our Research Finds
I was a Judy Garland-loving kid and my country dad was my biggest supporter
Passion, humour, history
Milkha Singh: India's 'Flying Sikh' dies from Covid
Einstein's Divorce Agreement and the Nuanced Messiness of the Human Heart
British Airways Dreamliner 787 nose COLLAPSES on the tarmac at Heathrow Airport injuring one crew member on the ground after 'engineer failed to lock the landing gear properly'
Ancient genomes offer rare glimpse of Neanderthal family groups
Botswana diamond could be world's third largest
The Greatest Discovery Never Made – Ancient Civilizations Thrived With NO Ruling Elite
9,000-Year-Old Cheddar Man Has Living Descendant Still Living in The Same Area
Pilot Asks 'All Strong Males' to Subdue 'Problem Passenger' Who Turns Out to Be Flight Attendant
Let me know if anything jumped out at you?
Cheers
Andrea
Uncommon Courage – my new book – is available
You can buy it on Amazon, Apple Books, Barnes & Noble, Smashwords, Rakuten Kobo, and Scribd.
Do check out my new Website uncommon-courage.com.
Come and join the conversation in my new Facebook Group Uncommon Courage.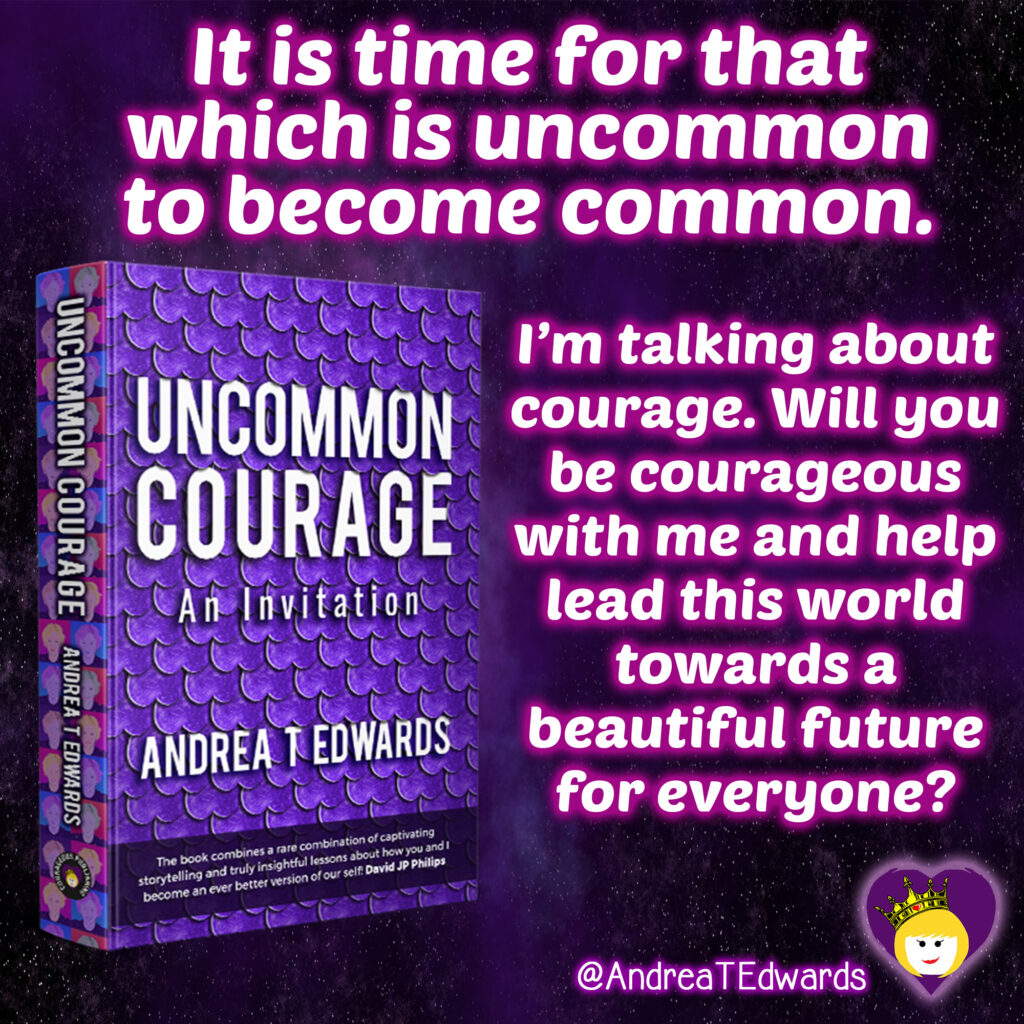 Connect with me
Website, LinkedIn, Twitter, Facebook, YouTube, Instagram, Medium, SlideShare, Amazon.
18 Steps to an All-Star LinkedIn Profile
Listed by Book Authority in the 100 Best LinkedIn Books of All Time and 22 Best New LinkedIn eBooks To Read In 2021 categories. Grab it today if you want to take your professional presence to the next level! When it comes to LinkedIn, it really is time to ask — can you really afford not to have this book in the hands of every employee?
Feedback
Have I done a great job for you? Can you write a reference on my LinkedIn profile or on my Google Business page? If not for me, why not write one for someone else who inspires you or has helped you? Join the #GivingEconomy
Check out Second Nature Social on my YouTube channel.
Want proof social leadership transforms business and attracts customers? Check out this case study with IBM Asia Pacific.