A big week, as I got the book – Uncommon Courage – released into the world. It's such an interesting experience launching a book, especially one as vulnerable as this, but I don't mind being vulnerable. I did mind when I was younger, but those days are long past. I've always found when I share my truth, it helps others dealing with similar situations.
My reason for writing this book is, I wanted to put hope out into the world, especially at this time. So if you read it, please do tell me what you think and I'm very keen to know your favorite chapters. Had some fun conversations about this last night, after the launch.
If you want to know what the book is about, please do read my blog: Proud to launch my new book, Uncommon Courage. This really goes through what the book discusses. Big topics.
And if you're interested in catching the launch, here you go. It was fun. Warwick Merry is a brilliant MC (as you'll see), and grateful to have Joanne Flinn, Samantha Gayfer, Steve Johnson and my sister Phillipa Edwards join me. Thank you for all of the amazing support. I really appreciate it.
If you're interested in grabbing a copy, you can buy Uncommon Courage on Amazon, Apple Books, Barnes & Noble, Smashwords, Rakuten Kobo, and Scribd.
Friend's Content
Importance of Mission-Driven programs for Service Learning and CAS wonderful write up from an inspiring teacher my children get to learn from – Heidi Oxley-Whitnell
When Balancing Act Of A Daughter & Founder Failed and a super meaningful blog from my former colleague and friend Kanika Agarwal. Big love to you my friend.
Please donate
There is so much heartache in the world. Famine is here and it's going to be significantly more devastating than what is currently being reported. A friend in the global charities space told me 20 countries are facing famine – 20! Not just one. PLEASE donate : World Food Program., UN Refugee Program, PowerOf , Kiva.org, Soi Dog Foundation.
If you are interested in feeding those without food in Phuket, we have a #OnePhuket WeBoon account. We'd appreciate any support you can provide.
Here's a wonderful opportunity to support Soi Dog Foundation. Doing amazing work – John's June Walking Challenge For The Dogs.
We need generosity like we've never had before. I you have wealthy friends, please speak to them. Those who can afford the least are still the most generous.
Content to read
And here's the content I've been reading this last week. Scan the headlines, read the ones that jump out at you, read or watch them all. Knowledge is power, and global knowledge is even more powerful.
Climate Crisis / 6th Mass Extinction
Earth's carbon dioxide levels hit 4.5 million-year high
Sri Lanka's worst ever maritime disaster reveals the true cost of our identity crisis
Australia: New South Wales and Victoria face coldest weather in decades
Climate Point: Warmer weather fuels dangerous tick explosion. And Keystone is kaput.
'Unbelievable': Residents evacuated, widespread power outages as wild weather lashes state
NSW buys 60,000 hectares of farmland near Broken Hill for outback nature reserve
A 'Bubble Barrier' is trapping plastic waste before it can get into the sea tks Muriel Boutin-Becuwe
Carbon Dioxide in Atmosphere Hits Record High Despite Pandemic Dip
Underwater avalanche continued for two days
Delivering on the promise of sustainability
Sir David Attenborough explains what he thinks needs to happen to save the planet
Global bankers warn Australian investors on carbon risk
Carbon dioxide lasts for centuries – so should carbon offsets
Traditional farming techniques could help end global hunger, says the UN. Here's how
May deforestation in the Amazon hits 14-year high, with 4 days of data still to process
Italian climate activists sue government over inaction
G7 backs making climate risk disclosure mandatory tks Joanne Flinn
A Million Years of Data Confirms: Monsoons Are Likely to Get Worse
David Attenborough Netflix documentary: Australian scientists break down in tears over climate crisis
COVID19
Covid has exposed the great fiction of middle-class life in India
Covid: Is there a limit to how much worse variants can get?
21 June: End of England's Covid lockdown could be delayed by one month
G7: Leaders to unveil global anti-pandemic action plan
India records highest daily death toll since pandemic began after state revises its figures tks Ferenc Nyiro
Covid outbreak at my children's school makes me fear we're complacent
We'll Probably Need Booster Shots for Covid-19. But When? And Which Ones?
Last resorts? Phuket and Bali chase dream of COVID-free tourism tks Muriel Bouten-Becuwe
Covid: Twitter suspends Naomi Wolf after tweeting anti-vaccine misinformation
No jab, no say: Either join the fight to keep us all safe, or stop complaining tks Phillipa Edwards
Global Politics
America's global image under Biden skyrockets compared to Trump, survey finds
Hunting Leaks, Trump Officials Focused on Democrats in Congress
Ethiopia's Tigray crisis: UN aid chief says there is famine
'We were deceived': hundreds protest in Venice at return of giant cruise ships
Arizona Senate Republicans' 2020 ballot count is almost done. Here's what comes next in the partisan audit.
Biden warns Russia against 'harmful activities' at start of first official trip
Kamala Harris under pressure to visit US-Mexico border
ANOM: Hundreds arrested in massive global crime sting using messaging app
Xiaohongshu social media account blocked after Tiananmen post
Mexico's President loses grip on power in midterm elections marred by violence
Abubakar Shekau: Nigeria's Boko Haram leader is dead, say rival militants
Why Kim Jong-un is waging war on slang, jeans and foreign films
Putin sees 'double standard' in US Capitol riot prosecutions
Reply to Murdoch's "Australian": On the Separation of Church and State tks Phillipa Edwards
Business and Technology
Wealthiest Executives Paid Little to Nothing in Federal Income Taxes, Report Says
McDonald's BTS meals: Indonesia branches forced to shut due to high orders tks Steve Johnson
Massive outage takes websites, including Amazon and major news sites, offline
Qantas 'disturbed' by claims of gang infiltration
'Anonymous' threatens to target billionaire Elon Musk for his manipulation of Bitcoin's value with his 'cavalier' tweets and says he shows 'disregard for the average working person'
Qantas infiltrated by organised criminals, says intelligence report
Freddie Figgers: The millionaire tech inventor who was 'thrown away' as a baby tks Steve Johnson
Buddhist Economics: How to Start Prioritizing People Over Products and Creativity Over Consumption tks Miguel Bernas
Social issues (#BlackLivesMatter) and humanity
Star swimmer Maddie Groves withdraws from Olympics as lesson to 'misogynistic perverts'
Trisha Goddard slams the 'relentless bullying' Prince Harry and Meghan Markle face
Queen 'delighted' after Harry and Meghan announce birth of baby girl
American Airlines CEO shows up at Southwest flight attendant's wedding a year after their viral meeting
Unloved Daughters and the Dark Side of Maternal Gatekeeping
The Childhood Wounds that Keep us from Setting Boundaries.
A Texas bakery lost a big order over a photo of Pride cookies. Then the internet stepped in.
Shanmugam 'not so sure' Singapore moving in right direction on racial tolerance after man's racist remarks captured on video
How to Stop Living in 'Infinite Browsing Mode'
I made it to NUS law school after spending 10 years behind bars. I was 31, but not too late.
Passion, humour, history
Italian woman wakes up after 10 months in coma
Indiana Jones: Grosmont village hosts Hollywood stars
Omm Sety – A British Woman Whose Life Was Lined by Reincarnation and Connected to a Pharaoh
12-Year-Old Boy and 14-Year-Old Girl Have Shootout With Cops tks Lex Johnson (my son, proud mum. Love how he's interested in the news!)
Let me know what caught your imagination this week?
Cheers
Andrea
You can buy Uncommon Courage on Amazon, Apple Books, Barnes & Noble, Smashwords, Rakuten Kobo, and Scribd.
Do check out my new Website uncommon-courage.com.
Come and join the conversation in my new Facebook Group Uncommon Courage.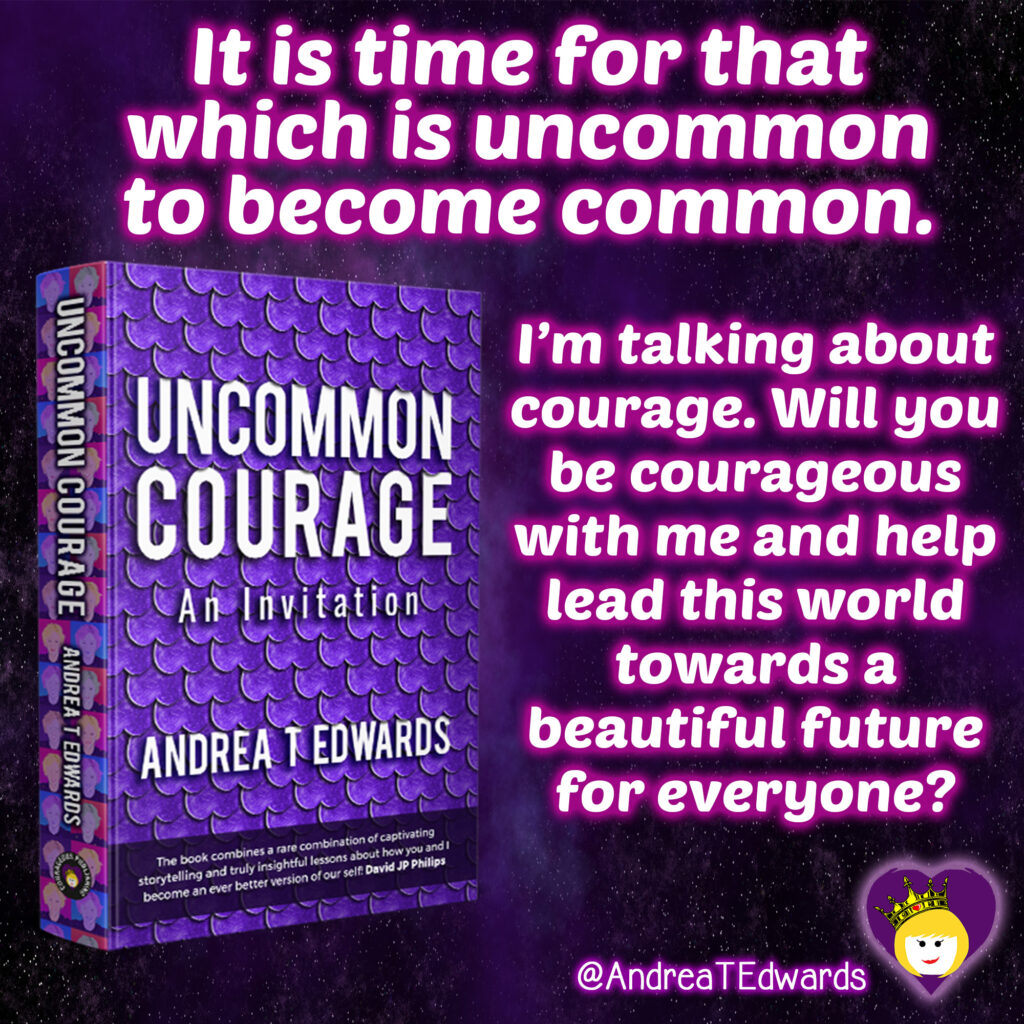 Connect with me
18 Steps to an All-Star LinkedIn Profile 
Listed by Book Authority in the 100 Best LinkedIn Books of All Time and 22 Best New LinkedIn eBooks To Read In 2021 categories. Grab it today if you want to take your professional presence to the next level! When it comes to LinkedIn, it really is time to ask — can you really afford not to have this book in the hands of every employee?
Feedback
Have I done a great job for you? Can you write a reference on my LinkedIn profile or on my Google Business page? If not for me, why not write one for someone else who inspires you or has helped you? Join the #GivingEconomy
Check out Second Nature Social on my YouTube channel.
Want proof social leadership transforms business and attracts customers? Check out this case study with IBM Asia Pacific.