If you value my opinion, I really want to encourage you to listen to this podcast – Transcend – with Scott Barry Kaufman. I discovered the You Are Not So Smart Podcast by David McRaney recently and love it. For this particular episode, I kept rewinding it to listen to some of the points. It is brilliant and so important.
Here's some of my take-aways
It started with Scott discussing his challenges in education as a child. He had an auditory processing challenge, and instead of being educated how he needed to be educated, he faced many setbacks. What I admired about his story is how he never gave up! I will make sure my son (who's had challenges) listens to this – very inspiring. Educators will love this podcast
Digging into the bigger content – we all know Maslow for his hierarchy of needs, BUT he didn't finish what was probably his most important work – on transcendence. This is all about what being a whole human is. Scott Barry Kaufman decided to take on the job of finishing this work and I've just ordered the book. Excited
One of the fundamental needs for humans is the need for exploration – and it can comes in two forms – behavioural (extreme sports, adventurous travel) and cognitive (looking at all sides of information, digging deep into knowledge)
He discusses the dark triads and the light triads – the dark triad is narcissism, Machiavellianism and psychopathy. The light triad is Kantianism, humanism and faith in humanity. We all have both within us
Kantianism is about seeing people as an end in themselves, not a meaning to an end. Humanism is about seeing dignity and worth in everyone. Seeing sacredness within each person we meet. Faith in humanity is believing that humans are essentially good. If you know me, you'll know this speaks very strongly to me
One of Maslow's messages was love for the being of others, or be love! I just so resonated with this. It's about appreciating the unique sacredness within each person we meet. I was talking to my husband about this the other night, before I listened to this podcast, but I was using different words. It is the key to joy and contentment in life
He believes when you are engaged with the world, there is nothing you want
To find your purpose, look around and find areas where you can meet the unmet needs of others. It can be as simple as volunteering in a soup kitchen, or making others feel seen as you go about your day – this is all about helping others feel like they matter in the world
To achieve transcendence we need safety, connection, love, to be love, purpose, self-esteem, exploration, experiences we get lost in, awe and so much more – that's how we transcend. I cover so many of these topics in my book, Uncommon Courage
If we can realize our potential to its fullest, we stop thinking about ourselves, and become synergistic with the world. If it's good for you and society, that's transcendence. We need a bit of that, no?
For those interested in the light triads and the dark triads, here's three articles:
The Light Triad vs. Dark Triad of Personality
The Light vs. Dark Triad of Personality: Contrasting Two Very Different Profiles of Human Nature
Sexist ideologies may help cultivate the "dark triad" of personality traits
Have a listen. It's a great podcast and if enough people can start moving towards transcendence, well we might actually have a chance of sorting this world out. Let me know what you think when you listen OK?
Friend's Content
Connected Women Signs Agreement With FHMoms To Further Opportunities For Filipino Women Gina Romero is a woman I admire so much. She is doing such great work. Seriously, if you want to understand what a person driven by purpose looks like, Gina is a shining example. FHMoms CEO and co-founder MK Bertulfo, has a mission to "change lives, one mom at a time." I LOVE this so much! Go ladies.
I also published this article in Expat Choice – 8 ideas on how you can be a great tourist when the world opens up. The people making your holiday memorable when you start travelling again, have been through hell and back in your absence! Be super generous and considerate towards everyone you meet.
Donation time
Did you know the World Food Programme has had to stop delivering food in Yemen? Not because of war, but because they have no funds to buy more food. Let's get behind them and donate. If you work for a business, can you start a global fundraising program for the World Food Programme? Such important work and we need to keep these guys working!
Other possibilities UN Refugee Program, PowerOf , Kiva.org, Soi Dog Foundation.
Remember how I talked about John Julius Bennett, riding the Tour de France Phuket to raise money for One Phuket? He kicked off with 200kms today and you can follow his ride here. Just brilliant. Awesome human.
Content to read
And here's the content I've been reading this last week. Scan the headlines, read the ones that jump out at you, read or watch them all. Knowledge is power, and global knowledge is even more powerful.
Climate Crisis / 6th Mass Extinction
'The water is coming': Florida Keys faces stark reality as seas rise
Extreme Heatwave in Italy, expected 45°C (113F) !
'It's brutal': Las Vegas cooks amid blazing heatwave – and it's going to get worse
Want to live longer? Surround yourself with plants
Lego just figured out how to build its specialized bricks out of recycled plastic
The push to make 'ecocide' an international crime takes a big step forward
Ground Temperatures Hit 118 Degrees in the Arctic Circle
Thailand ramps up fight against wildlife trafficking
Coastal communities take the lead: How plans to safeguard Southeast Asia's biodiverse waters are evolving
Amazon destroying millions of items of unsold stock in one of its UK warehouses every year, ITV News investigation finds tks Ann Katrin Van-Shie
Eyesea enlists shipping industry help to track plastic pollution
BP is planning to drill for fossil gas on edge of world's largest cold-water coral reef
Unesco: Great Barrier Reef should be listed as 'in danger'
Animated Map: U.S. Droughts Over the Last 20 Years
South Africa gems that sparked rush are quartz not diamonds
Climate and nature crises: solve both or solve neither, say experts tks Joanne Flinn
Mega mining project that could cripple Australia
Oil spill tar balls wash ashore at Patong, Nai Yang
'Potentially the worst drought in 1,200 years': scientists on the scorching US heatwave
Florida Power & Light blows up its last coal plant, will replace with solar
COVID19
2 fully vaccinated women catch Delta virus variant
What is Novavax and what do moths have to do with producing the non-mRNA vaccine? Tks Priscilla Joseph
What we know about the 'fleeting' spread of the COVID-19 Delta variant in Sydney
Bondi COVID-19 cluster rises to 36 cases after NSW Health records 11 new infections
Covid: Sydney faces new restrictions as cluster grows
Covid: Brazil hits 500,000 deaths amid 'critical' situation
Covid booster vaccine plan to come in a few weeks – Matt Hancock By Francesca Gillett & Becky Morton
New York City is beginning to rebound from the economic devastation of the pandemic.
'Devastated' Phuket in race to vaccinate 70% of islanders in time for holiday season tks Maeve Henry-Taylor
Global Politics
The revolt against liberalism: what's driving Poland and Hungary's nativist turn?
Staving Off G.O.P. Attacks, Democrats Show New Urgency on Crime
US government blocks Iran-affiliated news websites
Australian nightmare looms even as Frydenberg prepares his election pitch
France regional election: Macron and Le Pen fail to make ground – exit poll
Business and Technology
The trailblazing consumers in Asia propelling growth
The net-zero backlash has arrived
John McAfee: Anti-virus creator found dead in prison cell
VR Training Program Teaches Underserved Population Soft Skills to Increase Their Employment Chances tks Andrew Psarianos
What the Crypto Crowd Doesn't Understand About Economics
Who Are the Billionaires' Picks for New York Mayor? Follow the Money.
'Do We Need to Be in Hong Kong?' Global Companies Are Eying the Exits
Deloitte tells staff they can work from home forever
Social issues (#BlackLivesMatter) and humanity
George Floyd murder: Derek Chauvin sentenced to over 22 years
School asked boys to use rating system on girls, female students taught to keep virginity tks Phillipa Edwards
Miami building collapse: 159 missing, officials say
Harrowing Condo Collapse Near Miami Prompts Frantic Search for Survivors
Miami building collapse leaves 99 people unaccounted for
Child labour in Uganda: The hidden costs of Covid
The Lesbian Avengers Will Not Be Commodified
Britney Spears speaks out against 'abusive' conservatorship in court
Tourism Authority of Thailand Launches "Hug Thais"
A Parkland Victim's Dad Tricked A Former NRA President Into Speaking At A Fake Graduation tks Denise Chai
U.N. agency says 41 million on verge of famine
Harvard psychologist: The toxic money mindset that even millionaires have—and how to break out of it
'Heartbreaking' conditions in US migrant child camp
Nurturing dads raise emotionally intelligent kids – helping make society more respectful and equitable
Laurel Hubbard: First transgender athlete to compete at Olympics
Supported parents help children thrive
Passion, humour, history
Unknown human ancestor unearthed in Israel. It had large teeth but no chin.
The treasure inside beer lost in a shipwreck 120 years ago
Far from home? Spider-Man drops in at the papal audience
16 things you (probably) didn't know about the rituals behind royal births, from the medieval era to the present day
What did Bindi Irwin say? Exactly what's going down between Bindi Irwin and her grandfather, Bob.
The Inexplicable Origins of the Ket People of Siberia
In the Wake of the Stronsay Globster
China's most mysterious wildcat may not be its own species
Let me know if anything jumped out at you?
Cheers
Andrea
Uncommon Courage – my new book – is available
You can buy it on Amazon, Apple Books, Barnes & Noble, Smashwords, Rakuten Kobo, and Scribd.
Do check out my new Website uncommon-courage.com.
Come and join the conversation in my new Facebook Group Uncommon Courage.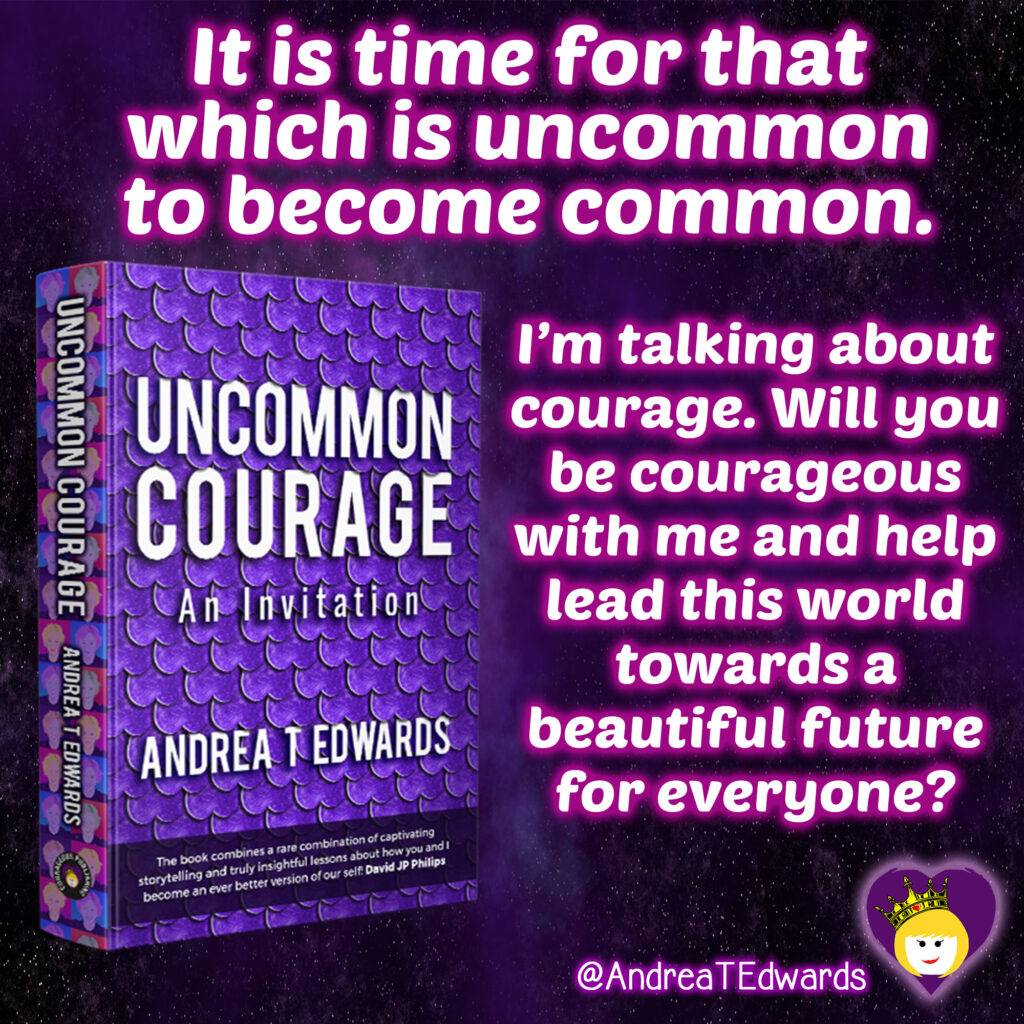 Connect with me
Website, LinkedIn, Twitter, Facebook, YouTube, Instagram, Medium, SlideShare, Amazon.
18 Steps to an All-Star LinkedIn Profile
Listed by Book Authority in the 100 Best LinkedIn Books of All Time and 22 Best New LinkedIn eBooks To Read In 2021 categories. Grab it today if you want to take your professional presence to the next level! When it comes to LinkedIn, it really is time to ask — can you really afford not to have this book in the hands of every employee?
Feedback
Have I done a great job for you? Can you write a reference on my LinkedIn profile or on my Google Business page? If not for me, why not write one for someone else who inspires you or has helped you? Join the #GivingEconomy
Check out Second Nature Social on my YouTube channel.
Want proof social leadership transforms business and attracts customers? Check out this case study with IBM Asia Pacific.