In recent weeks I was part of a community scapegoated. I'm not going to tell you what or why, because the reason it happened is because I can't speak up against it due to possible negative ramifications, which is why "we" were scapegoated in the first place.
As far as I know, no one has been harmed because of this, but that isn't always the case.
We've seen the terrible assaults inflicted on Asian people around the world, scapegoated due to the pandemic, with cruel and thoughtless politicians making it worse.
More recently, we witnessed the assault on a lady in Singapore, who was of Indian race and we all know the catastrophic situation in India was the reason for this hate crime. It was because she was Indian and therefore, in the abusers mind, I'm sure he saw her as a risk to him!! Terrible.
Please, please, please, do not get caught up in scapegoating any community for any reason, and please stop others doing it too. Smearing an entire race of people during this pandemic has been horrible, but it's something that has happened throughout human history.
We too willingly accept this narrative too…. all Mexican's are rapists and all Muslims are bad! Truly, to bring our world back together, we have to acknowledge that this divisive rhetoric is too prevalent, too many believe it, and we all suffer the violence and hatred out the other side – directly and indirectly.
Like I said, I experienced it recently. I didn't like it at all, but I only got a taste of what it feels like. I have no experience of how truly horrible and violent it can be, and to be honest, I hope I never find out. Let's do everyone a favour and stop doing it. All groups of people are not the same. Heck we're not even the same as members of our own family.
If your media, governments, or leaders in your community are pitting you against an "other" and tarnishing them with hate, it's time to really start questioning that, as well as the leaders motives. Divided we can be controlled, united it's not so easy.
Your Intro / Friend's Content
How To Stop Feeling So Stressed my friend Dr. Margie Warrell is a powerhouse. Check out this blog if you are feeling stressed – which wouldn't be unusual at the moment.
Editorial learnings from an aspiring musician as someone who grew up in a musical family, I really enjoyed reading Howard James piece. It is so spot on!
And I published Employee advocacy – how do I get started? this week, following my guest roles on #SEMRushChat. I hope it's of value to those struggling to make sense of employee advocacy.
And don't move on until you think about who you can support right now. Perhaps the World Food Program., UN Refugee Program, PowerOf , Kiva.org, Soi Dog Foundation. I know not everyone is able to do it, but if you can afford to be generous, now is the time to help your fellow human.
If you are interested in feeding those without food in Phuket, we have a #OnePhuket WeBoon account. We'd appreciate any support you can provide.
Content to read
And here's the content I've been reading this last week. Scan the headlines, read the ones that jump out at you, read or watch them all. Knowledge is power, and global knowledge is even more powerful.
Climate Crisis / 6th Mass Extinction
Antarctica is headed for a climate tipping point by 2060, with catastrophic melting if carbon emissions aren't cut quickly
Climate change is becoming less a battle of nations than rich vs poor
The Largest Iceberg on Earth Has Just Broken Off of Antarctica
Water so toxic 'it could burn your eyes'
Corals swap in heat-resistant algae to better cope with global warming
Leonardo DiCaprio Just Pledged $43 Million To Restore The Galápagos Islands
Singapore launches global voluntary carbon exchange and marketplace tks Susanna Hasenoehrl
We found a secret history of megadroughts written in tree rings. The wheatbelt's future may be drier than we thought
Millions of electric cars are coming. What happens to all the dead batteries?
France is banning any short flight that can be replaced by a train trip
Climate change could make overwinter 'zombie' fires more common
From desert to inland sea as 800 billion litres flows into Menindee Lakes
Impact Of Covid-19 On The Sustainable Development Goals
Climate Point: Helium mining lifts off in the Navajo Nation
Move over, Death Valley: These are the two hottest spots on Earth
Opinion: Pandemic reveals a world unprepared for climate crisis
Guest post: Lessons learned from five years of extreme weather 'rapid attribution'
Greenland ice sheet on brink of major tipping point, says study
Half of emissions cuts will come from future tech, says John Kerry
UK plastic waste being dumped and burned in Turkey, says Greenpeace
Antarctic ice sheet retreat could trigger chain reaction
Climate Change Indicators: Ocean Heat
Climate emissions shrinking the stratosphere, scientists reveal
COVID19
India coronavirus: Tracing a family's journey to save a life
Border hardliners got their way. Now what?
Covid: Taiwan orders toughest curbs amid infections spike
Why India's Second Covid-19 Surge Is Much Worse Than Its First
Global Politics
Israel-Palestinian conflict: False and misleading claims fact-checked tks Steve Johnson
Man Vying For Cheney's House Seat Impregnated 14-Year-Old Girl When He Was 18, Compares It to 'Romeo and Juliet'
Israel-Gaza: Israel and Palestinians claim victory after ceasefire
US-Australia alliance on China shows it's best to go early, go hard
Melbourne should fuck Murdoch off out of town
When it comes to media reporting on Israel-Palestine, there is nowhere to hide
Trump slams 'wayward' Republicans for Capitol riot vote
China's media mouthpiece doubles down on threat of 'missiles' being launched at Australia
How Israel's Iron Dome missile shield works
Israel Gaza conflict: Netanyahu says strikes to 'continue at full force'
Business and Technology
Jeff Bezos' $500 million 'SUPER YATCH' IS Sickening
Global Billionaire Wealth Surges $4 Trillion Over Pandemic
Research findings that are probably wrong cited far more than robust ones, study finds
When we return to work, it's nomadic or nothing tks Kevin Cottam
Australians Took Over Hollywood. Their Own Box Office Had to Wait.
The hidden perils of unresolved grief
'Follow Your Passion' Is The Worst Career Advice—Here's Why
She is the Guarded Widow Inheriting $90 Billion Banking Empire
Tesla Drivers Test Autopilot's Limits, Attracting Audiences—and Safety Concerns
'Cryptocrash' trends on Twitter as plunge in bitcoin leads to dark humor and mockery
Asia: The highway of value for global logistics
100-yea-old Tesla invention is useful in ways we hadn't realised, scientist say
Knitting a road with stones and string
Is the dream over? Amid China's trade war, producers grapple with new world order
Inaugural Global Forum on Economic Recovery
Social issues (#BlackLivesMatter) and humanity
'You dig very deep to get here': Becoming a first-time mother after 50
Amazon shuts US construction site as nooses found
PIP implant victims 'elated' by compensation win
BBC's deceit over Diana interview worsened my parents' relationship – William
Joe Rogan criticized, mocked after saying straight white men are silenced by 'woke' culture
At Miss Universe pageant, Myanmar's contestant pleads 'our people are dying'
The case for giving – why it's time the wealthy did the right thing
Sex, schoolkids and where it all goes wrong tks Phillipa Edwards
Aged 10, he was found on Fortnite and groomed on Snapchat, and he's not alone
Anxiety When There's a Lot to Be Anxious About
In defence of Keanu: humanity's gentle emissary, who never claimed to be a great actor
Suicides rise in Thailand as Covid decimates its tourism industry tks Stephanie Costa
Passion, humour, history
Hidden Inscriptions Discovered in Anne Boleyn's Execution Prayer Book
Friends: 7 things the trailer reveals about the reunion
36,400 BC: The Historical time of the Zep Tepi Theory
Daniela Elser: Photo of Meghan Markle holding a Kate magazine cover exposes fibs
New study proves absence really does make the heart grow fonder
Researchers Uncovered a 5,000-Year-Old Crystal Dagger Buried in Spain
Beaver's teeth 'used to carve the oldest wooden statue in the world'
Did Descendants of Cleopatra VII Survive and Produce the Legendary Queen Zenobia of Palmyra?
The TV shows that reveal the real France
Rumi's most Powerful Poem on Welcoming our Emotions.
Dolphins 'deliberately get high' on puffer fish nerve toxins by carefully chewing and passing them around
Paulina Porizkova, Full-Frontal Emotion
A New Look at a Wicked Emperor
Archaeologists find largest-ever Mayan complex hiding in plain sight
Pythagoras the Hermit: the Pythagoras Cave on Samos
This Is What Happens When a Submarine Hits An Underwater Mountain
Let me know if anything jumped out at you?
Cheers
Andrea
Coming soon – Uncommon Courage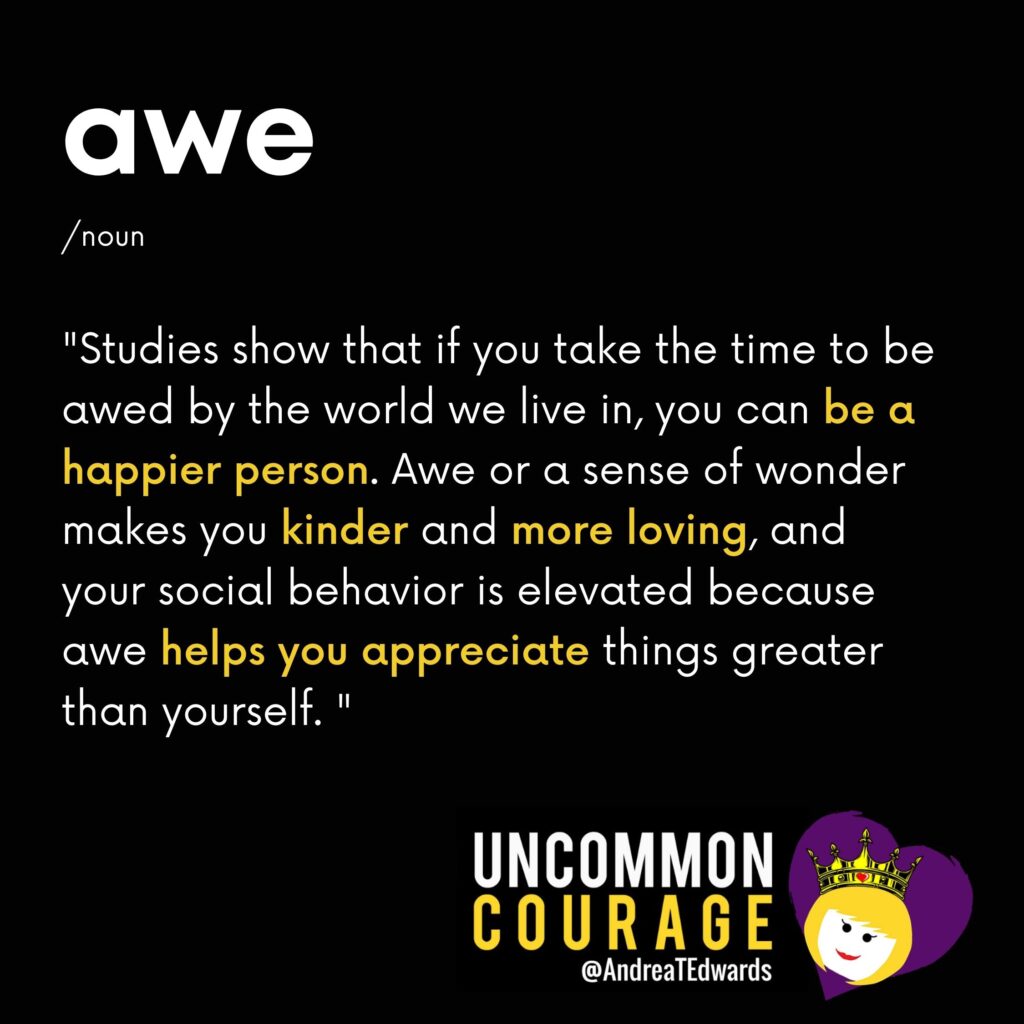 18 Steps to an All-Star LinkedIn Profile
18 Steps to an All-Star LinkedIn Profile is listed by Book Authority in the 100 Best LinkedIn Books of All Time and 22 Best New LinkedIn eBooks To Read In 2021 categories. Grab it today if you want to take your professional presence to the next level!
When it comes to LinkedIn, it really is time to ask — can you really afford not to have this book in the hands of every employee?
Connect with me
Join my new Facebook Group Uncommon Courage.
Check out my regularly updated Environment References blog.
Have I done a great job for you? Can you write a reference on my LinkedIn profile or on my Google Business page? If not for me, why not write one for someone else who inspires you or has helped you? Join the #GivingEconomy
Check out Second Nature Social
This is a new series, designed to help beginners get up to speed with everything necessary on social media. Follow my YouTube channel and see the latest.
Are you a Social CEO?
I'm proud to be a contributing author to The Social CEO: How Social Media Can Make You A Stronger Leader. You can order it on Amazon today.
Want to claim your stage?
Check out our co-authored Best Selling Book – Unleash Your Voice – Powerful Public Speaking for Every Woman – proud to be part of this too!
Want proof social leadership transforms business and attracts customers?
Check out this case study with IBM Asia Pacific. Incredible results.
Want to be a super star online?
Don't know where to start, check out my e-learning course How to build a rock star personal brand today.
I believe it's time for all of us to embrace our voice and embrace the future. We do this by working and living 'out loud' with meaning, intention, integrity and by being true to ourselves. If you own your voice, you own your future.