Was anyone surprised by what happened in the US Capitol this week? I have to be honest, my only real surprise was it wasn't bigger, more violent and a lot more deadly. I suppose that's what happens when you don't use violent force against protestors. They have nowhere else to go!
For the last four years, I've wondered how Donald Trump could top his last shocking action or comment – which he has done again, and again and again. I mean, can you make sense of the man? I was speaking with my hubby about it and we realized putting ourselves in his shoes is absolutely impossible, because he's unimaginable.
Is it because of his high level of narcissism? Maybe. My husband believes he's either really smart or really stupid, and he's still not sure which one. I came to the conclusion this week, that he must be the most extreme example of someone who has no thought for or comprehension of consequences. He says and does whatever the hell he wants and then designs a narrative to suit him after-the-fact.
Are either of us right? Who knows. I will definitely watch #Unfit to try and get a better understanding of the man from professionals.
Another interesting aspect of the story this week was how quickly the right blamed Antifa for the violence. Seriously, they can't even take responsibility for their own actions? Not surprising really, considering their leadership.
Did you watch some of the interviews with the protestors? They really believe the #StopTheSteal narrative, and they are not all mad, they are just seeing different news to the rest of us! The media and information channels are OUT OF CONTROL and need to be addressed, AND finally held accountable. Rupert Murdoch number one!!
Not to mention the video (below) with Lindsay Graham begging the Democrats not to Impeach the President because it will further divide the US. Seriously? You boys ever going to take some responsibility for creating and enabling this? There is no much head smacking going on this week.
If you haven't managed to keep up with what's been going on, scroll down to Global Politics and you'll see plenty on the topic. I don't know who wins biggest moron of the week in the Trump inner circles. I think Giuliani has got it again. That man, sheesh!
Tell me your favourite, most surprising, or most shocking moment of the week? Would love to know.
Charity
Before you scroll, please, if you can, donate, donate, donate!!! Some suggestions.
Content to read
And here's the content I've been reading this last week. Scan the headlines, read the ones that jump out at you, read or watch them all. Knowledge is power, and global knowledge is even more powerful.
Climate Crisis / 6th Mass Extinction
How to earn more while making a difference
Climate crisis: 2020 was joint hottest year ever recorded
Southeast Asia, we need to talk about bilge dumping
Why 2021 could be turning point for tackling climate change
Could a plastic tax be coming to Asia?
How we are changing the way we rate sustainability of consumer electronics
$5B Rockefeller Foundation, built on oil, divests from fossil fuels
Court Says No to Drilling for Oil in the Arctic, a Huge Win for Polar Bears
Bali's beaches buried in tide of plastic rubbish during monsoon season
EDM Carbon Footprint: Sustainable Email Marketing tks Michelle Cockrill
Saving Brazil's savanna by reseeding and restoring it tks Ali Davies
Experts should lead climate change response: NSW Environment Minister
Circular Economy and the 2030 Agenda
COVID19
Beating COVID-19 will be harder if governments are trying to win a popularity contest tks Avis Easteal
Palestinians excluded from Israeli Covid vaccine rollout as jabs go to settlers
Husband from one of UK's first married couples with Down's syndrome dies of Covid
Veteran US broadcaster Larry King 'in hospital with Covid'
Are Covid patients getting younger?
Scotland to go into full lockdown at midnight, Sturgeon announces
Air Travel Hit a New Pandemic High Over New Year's Weekend. Now Comes the Hard Part
BioNTech Founders Türeci and Şahin on the Battle against COVID-19 tks Karen Prager
All passengers forced off plane after 2 grinning Trump supporters refuse to wear masks, spew n-word tks David Lim
Dutch shocked to be EU vaccination stragglers
Los Angeles Ambulances Instructed To Leave Patients With Little Chance Of Survival
Global Politics
A Shattering Blow to America's Troubled Democratic Image
Watch Giuliani Demand 'Trial by Combat' to Settle the Election tks Mark Mulkerin
The Lindsay Graham interview on Fox. Worth a watch.
'White privilege on display': police hypocrisy condemned after pro-Trump insurgence
The Police's Tepid Response To The Capitol Breach Wasn't An Aberration
Right-wing extremists vow to return to Washington for Joe Biden's inauguration
MAGA World Is Splintering tks Joyce Ano
Pentagon placed limits on D.C. Guard ahead of pro-Trump protests due to narrow mission
Trump riots: Democrats plan to introduce article of impeachment
Keilar on GOP: When you sell your soul, there's a debt to settle
Pelosi Asks For Assurances On Trump and Nukes; Demands President Resign Or Face 2nd Impeachment
Facing backlash, Missouri's Hawley pressed to resign in disgrace
Elites Have Extracted What They Needed From Trump. Now They Can Discard Him. Tks Joyce Ano
America's former defence secretaries sound the alarm over Trump
Joe Biden: Capitol riots were 'darkest day' in US history tks Caroline Frater
Twitter permanently suspends Trump's account
Some among America's military allies believe Trump deliberately attempted a coup and may have had help from federal law-enforcement officials
Capitol riots: Panel of Americans 'shocked' and 'disgusted'
Arnold Schwarzenegger on why Republicans must stop Trump
An Insurgency From Inside the Oval Office
Threats of violence and the virus grip Capitol Hill
Sen. Ted Cruz to Democrats calling for his arrest over election audit: 'Calm down'
To Defend Democracy, Investigate Trump
Clyburn's Ipad, Laptop From Pelosi's Office: Items Stolen, Destroyed In Capitol Attack
Giuliani to Senator: 'Try to Just Slow it Down'
GOP Rep. Says 'Hitler Was Right' in Speech to Pro-Trump Demonstrators
4 dead after Capitol siege: 1 shot, 3 from 'medical emergencies' tks Denise Chai
Trump Is to Blame for Capitol Attack
Donald Trump triggers the American carnage he vowed to stop in his inaugural address
Trump is responsible for the violent storming of U.S. Capitol
Trump presidency and Capitol siege: What is the 25th Amendment?
Capitol riots: A visual guide to the storming of Congress
#UNFIT The Psychology Of Donald Trump
Michael Pascoe: Politics evolved in 2020 – corruption is now openly accepted tks Phillipa Edwards
Redistricting will impact Texas politics for the next 10 years. Here's how it works.
Georgia Senate Runoff Election Results
For Stacey Abrams, revenge is a dish best served blue tks Roshini Ganesan
President Trump, on tape, presses Georgia official to 'find' votes
Here's the full transcript and audio of the call between Trump and Raffensperger tks Joe Augustin
'I'm stuck here': lorry drivers in Calais begin to feel effects of Brexit
Scott Morrison should shut down his MPs who dance with disinformation propaganda tks Phillipa Edwards
Business and Technology
Google suspends 'free speech' app Parler
Amazon Is Booting Parler Off Of Its Web Hosting Service
Boeing Reaches $2.5 Billion Settlement of U.S. Probe Into 737 MAX Crashes
Some CEOs Fire Rioters, Call for Trump's Removal From Office
Slack and Zoom were distracting our teams. Here's how we regained focus
Is the Asian Century inevitable?
How to earn more while making a difference
A different world: could 2021 be the best year for a generation? tks Aysen Yilmaz
Why the Amazon, JPMorgan, Berkshire Venture Collapsed: 'Health Care Was Too Big a Problem'
Social issues (#BlackLivesMatter) and humanity
Ideas Report 2020 Afua Hirsch on why doubt isn't evenly distributed tks Avis Easteal
Bosnia: Icy struggle for many migrants stuck in freezing tents
Understanding the Menace of Radicalisation
Australia-China row: 'I'm Australian – why do I need to prove my loyalty?'
Passion, humour, history
Danes rage over children's television about the world's longest penis tks Heather Hansen
Dr Dre: Rap legend in hospital after brain aneurysm
Let me know if anything jumped out at you?
Cheers
Andrea
18 Steps to An All-Star LinkedIn Profile
This book is the starting point for LinkedIn success. It has everything you need to reach All-Star!! You can buy it on Amazon.com Amazon.co.uk Amazon.in and Flipkart. It's also available as an eBook on Amazon Kindle, Kobo, Google Play and iBooks.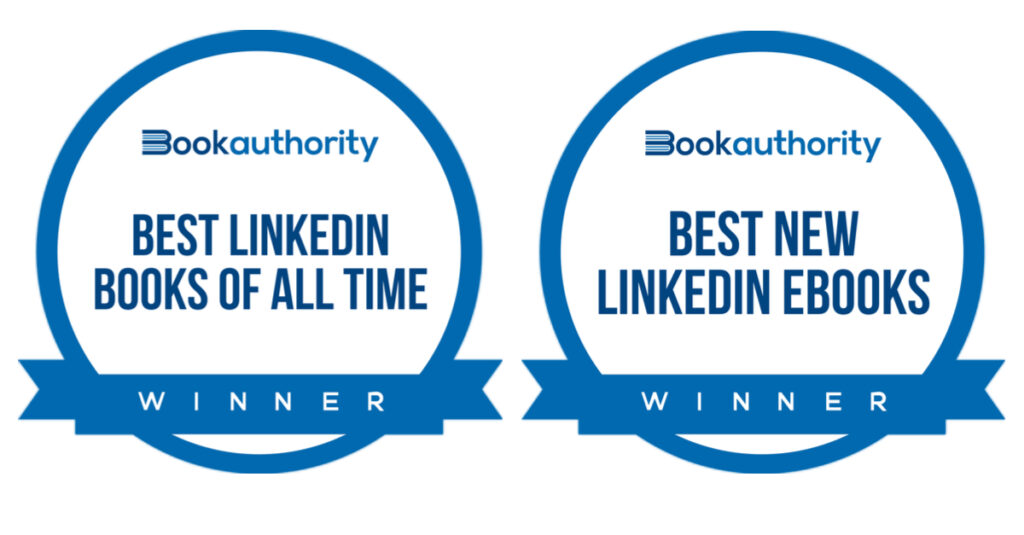 Check out Second Nature Social
This is a new series, designed to help beginners get up to speed with everything necessary on social media. Follow my YouTube channel and see the latest.
Are you a Social CEO?
I'm proud to be a contributing author to The Social CEO: How Social Media Can Make You A Stronger Leader. You can order it on Amazon today.
Want to claim your stage?
Check out our co-authored Best Selling Book – Unleash Your Voice – Powerful Public Speaking for Every Woman – proud to be part of this too!
Want proof social leadership transforms business and attracts customers?
Check out this case study with IBM Asia Pacific. Incredible results.
Want to be a super star online?
Don't know where to start, check out my e-learning course How to build a rock star personal brand today.
I believe it's time for all of us to embrace our voice and embrace the future. We do this by working and living 'out loud' with meaning, intention, integrity and by being true to ourselves. If you own your voice, you own your future.
Connect with me
If you like my style and what I talk about, feel free to follow me on any of these platforms on social media.
My blog andreatedwards.com
Twitter @AndreaTEdwards
LinkedIn AndreaTEdwards
LinkedIn The Digital Conversationalist
Facebook AndreaTEdwards
YouTube Andrea Edwards
SlideShare AndreaTEdwards
Medium AndreaWTBEdwards
Instagram AndreaWTBEdwards