Well here we are, a new year, new hope, and a chance to start all over after a grueling 2020. So Happy New Year my friends and thank you for sticking with me and supporting me all these years. I am so grateful for the community I have around me. The people who walk through life with me have always been my greatest achievement.
So what are you planning to do differently this year? I don't do New Year's resolutions, I never have, but I like the idea of a word to guide us through the year. My word for 2021 is courage and I'm launching a whole new brand around this – watch this space – where I'm going to take things up a notch to tackle the biggest concerns the world faces.
I have never pretended to have all the answers, but I do enjoy speaking with people who think deeply about the issues impacting the world, and I'm looking forward to interviewing many this year and being one of the people contributing to making the world a better place.
I believe it is time that respect for all life on earth sits at the centre of how we live, as well as a world where all humans can live with dignity. I hope you join me on this new venture.
My weekend reads are part of this too. Now in my 35th week, I do this to share a broad array of information and news flying around the world, covering the issues that matter. What I share isn't necessarily what I agree with, but my hope is it helps you navigate the maelstrom of information and the overwhelm that comes with it.
A major part of what I believe is wrong in the world, is a lack of diverse knowledge and opinions. People are stuck in information siloes, seeing only one point of view. That is not a good thing for any of us, so when we share knowledge, we potentially open minds. That has always been my goal here. Feel free to share this with anyone you think will benefit.
Charity
I have been sharing charities to support every week, hoping it inspires people who can donate to donate. Today I want to focus on the World Food Program – winners of the 2020 Nobel Peace Prize. They have made an urgent call for help, with 200 million people at risk of extreme poverty and famine. Most of those at risk are children.
When people are so desperate for survival, they have nowhere else to go, and are at higher risk of slavery, moving into prostitution or sexual slavery (especially the women and children), abuse, violence, war and more.
Please, if you can make a donation, do it today. And maybe set aside an amount every month to keep it going through 2021. This year will be much worse for so many and I beseech all of us to come together and help our fellow humans.
When we think it's over there, we don't connect the dots to see that we are all connected. Misery over there impacts us too. We are all in this together. Can I count on you to donate? Can I count on you to ask your community to donate too? Even if you can't afford to donate, because you may be out of work or facing extreme uncertainty, can you help raise awareness of this critical need, as well as volunteer your time locally to help charities doing great work?
Let's make 2021 the year of compassion!!
Friends content
Pinpoints of light – I want to highlight this blog from my amazing friend Jennifer McDonald who has been fighting cancer for seven years. She's been blogging regularly on the journey, as well as publishing the book My Big Breast Adventure: Or How I Found the Dalai Lama in My Letterbox. Jen is amazing and a true inspiration. Knowing many are facing cancer diagnosis' at the moment, or have loved ones who are, I wholeheartedly recommend checking out what Jenni is writing. It will give you hope, inspiration and ideas too. Love you woman!!
If you want to be blown away by incredible photos from around the world, follow Sebastian Rich on LinkedIn. Powerful, moving and remarkable images. He's also published a book: Conflict – a photographer of war and occasionally peace.
Also follow my friend Tim Hamons on LinkedIn too. He is doing 21 intentions for 2021 using visuals. He will definitely will get you off to the right start for the year and get your creative juices flowing.
Finally, I achieved a little bonus this last week of 2020. My book was listed in two categories by Book Authority. Here's the blog post I wrote on it 18 Steps to an All-Star LinkedIn Profile made it to the Best LinkedIn Books of All Time.
Content to read
And here's the content I've been reading this last week. Scan the headlines, read the ones that jump out at you, read or watch them all. Knowledge is power, and global knowledge is even more powerful.
Climate Crisis / 6th Mass Extinction
THE GREAT CLIMATE MIGRATION – A Warming Planet and a Shifting Population – worth a read!!
Cancel New Year's Eve Forever – tks Cheryl Tan
Norway supreme court verdict opens Arctic to more oil drilling
More than 1.5 billion masks believed to have entered oceans in 2020
Texas Fracking Billionaires Drew Covid-19 Aid While Investing in Rivals
Exxon Knows Its Carbon Future And Keeps the Data From View
Norway landslide: Houses buried in Gjerdrum village near Oslo
2020 weather disasters boosted by climate change: Report
The Biggest Climate Change Stories of 2020
Exclusive: GM, Ford knew about climate change 50 years ago
Asia's developing economies shun coal
Wang Xiangjun: China's 'Glacier Bro' presumed dead
The Biden plan for a clean energy revolution and environmental justice
COVID19
Ten reasons we got Covid-19 vaccines so quickly without 'cutting corners' tks David Lim
France mobilises 100,000 police to stop New Year's Eve gatherings
He Was Hospitalized for Covid-19. Then Hospitalized Again. And Again.
Evangelist singer draws a crowd of 2,500 to New Year's Eve gathering, ignoring risk of COVID-19 spread tks Mark Mulkerin
France: More than 2,500 break virus restrictions at illegal rave
Victoria records 10 locally acquired coronavirus cases as authorities confirm link to NSW outbreak tks Phillipa Edwards
Covid: EU starts mass vaccination in 'touching moment of unity'
How mRNA went from a scientific backwater to a pandemic crusher tks Joe Augustin
To exhausted healthcare workers like me, Covid conspiracies are a kick in the teeth
Covid-19: Oxford-AstraZeneca vaccine approved for use in UK
NCID nurse becomes first person in Singapore to receive COVID-19 vaccine tks Priscilla Joseph
Great News: Latest Research Shows Immunity to COVID-19 Lasts at Least 8 Months
Trump reverses on coronavirus stimulus deal, signs package he called a 'disgrace'
I'm a consultant in infectious diseases. 'Long Covid' is anything but a mild illness
The Mysterious Link Between COVID-19 and Sleep tks Gina Giachetti
Covid poses 'greatest threat to mental health since second world war'
Marco Rubio Rails Against Fauci, Says He 'Lied About Masks' and 'Distorted' Herd Immunity tks Frank Roberts
COVID Spread Through My Family and Took My Dad. Don't Make Our Mistakes tks Denise Chai
COVID-19: Thailand's first coronavirus death in two months leads to new lockdown measures
Covid: Sydney beach party sparks 'backpacker' deportation threat
As year-end approaches, vaccine rollout remains woefully behind schedule
What pandemic? Thousands celebrate on the Las Vegas Strip, NYC cops bust underground parties and Florida revelers pack clubs and bars on New Year's Eve as US surpasses 20 million COVID infections – tks David Lim
Global Politics
Time left until Trump leaves office
Jan. 6 protests multiply as Trump continues to call supporters to Washington tks Frank Roberts
2021 New Year Message by PM Lee Hsien Loong
Legal Expert Calls on Biden to 'Nominate Obama As Attorney General'
US election: Legal bid to get Pence to overturn results rejected
How does Scott Morrison vote on issues that matter to you? Tks Phillipa Edwards
US Congress overrides Trump veto for first time
Trump's call for $2,000 cheques blocked by Senate leader
Paul Fanlund: To foreigners, do we all look like American idiots? Tks David Lim
Trump has unfinished business. A republic he wants to destroy still stands
Trump signs relief and spending package into law
Biden accuses US defence department of obstruction on transition
Pennsylvania Attorney General Cites Scalia Quote on 'Insanity' When Asking SCOTUS to Shut Down Trump Campaign's 'Profoundly Incoherent' Petition
Early Voting Numbers in Georgia Senate Races Put G.O.P. on Edge
Business and Technology
Twelve highlights from our 2020 research – McKinsey
COVID-19 accelerated the future of jobs. Here's how to protect workers.
17 Things You Should Leave Off Your Resume and LinkedIn Profile
Set Your Theme of the Year Before You Set Your Goals – tks Tim Hamons
Ever Onward – My Farewell to IBMers
Why we should be wary of our loud, overconfident colleagues
The science-backed 'Future Self' strategy can pave the way to greater success
Social issues (#BlackLivesMatter) and humanity
The Year of the Idiot tks Phillipa Edwards
'A spoilt brat country': the Australians overseas who decided not to come home tks Kate Marsden
How COVID exposed New Age Narcissism.
Manhattan DA Investigating Woman Who Falsely Accused Black Teen of Theft tks Barry Graubart
Nashville explosion 'probably suicide bombing'
A Racial Slur, a Viral Video, and a Reckoning
Boy Scouts of America accuse Girl Scouts of starting 'war'
Sikh Community Delivers Hundreds Of Meals To Lorry Drivers In Kent
People with extreme anti-science views know the least, but think they know the most: study tks David Lim
Samuel Little: America's 'most prolific' serial killer dies
Super Gonorrhea May Be Spreading From Antibiotic Overuse For Covid-19 Coronavirus
Passion, humour, history
First meteor shower of 2021 could bring fireballs and 200 meteors an hour – Frank Roberts
Finding Euphoria in Bangkok's Food Scene
Fashion Notes: Melania Trump Is Sleek in Slick Black Leather Louboutin Boots
Derided in the West, spam is so beloved in Asia that one company has invented a meat-free version of it tks Samantha Gayfer
'She is beautiful but she is Indian': The student who became a Welsh bard at 19
Heather Cox Richardson Offers a Break From the Media Maelstrom. It's Working.
Swan Late: Mourning bird holds up German trains tks Karen Prager
Let me know if anything jumped out at you?
Cheers
Andrea
18 Steps to An All-Star LinkedIn Profile
This book is the starting point for LinkedIn success. It has everything you need to reach All-Star!! You can buy it on Amazon.com Amazon.co.uk Amazon.in and Flipkart. It's also available as an eBook on Amazon Kindle, Kobo, Google Play and iBooks.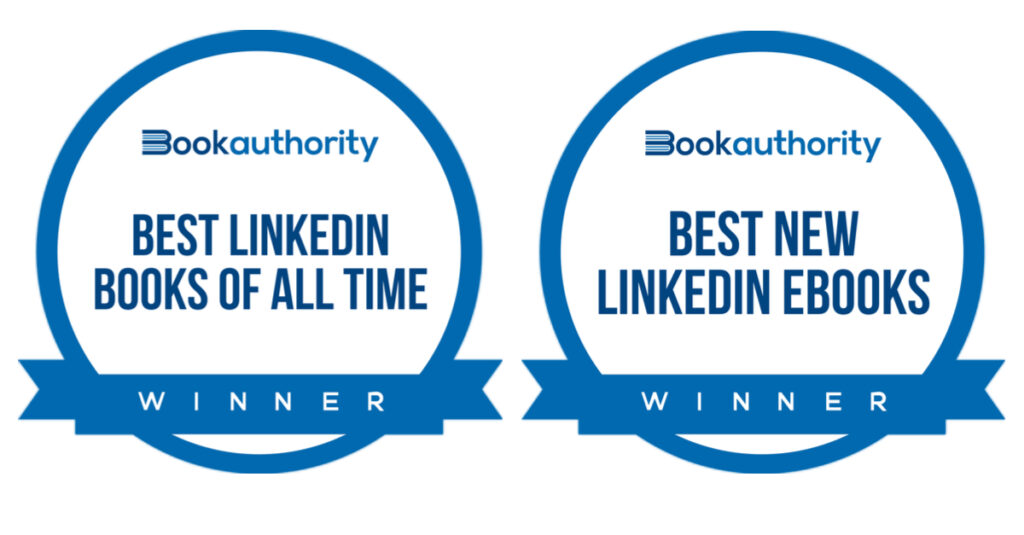 Check out Second Nature Social
This is a new series, designed to help beginners get up to speed with everything necessary on social media. Follow my YouTube channel and see the latest.
Are you a Social CEO?
I'm proud to be a contributing author to The Social CEO: How Social Media Can Make You A Stronger Leader. You can order it on Amazon today.
Want to claim your stage?
Check out our co-authored Best Selling Book – Unleash Your Voice – Powerful Public Speaking for Every Woman – proud to be part of this too!
Want proof social leadership transforms business and attracts customers?
Check out this case study with IBM Asia Pacific. Incredible results.
Want to be a super star online?
Don't know where to start, check out my e-learning course How to build a rock star personal brand today.
I believe it's time for all of us to embrace our voice and embrace the future. We do this by working and living 'out loud' with meaning, intention, integrity and by being true to ourselves. If you own your voice, you own your future.
Connect with me
If you like my style and what I talk about, feel free to follow me on any of these platforms on social media.
My blog andreatedwards.com
Twitter @AndreaTEdwards
LinkedIn AndreaTEdwards
LinkedIn The Digital Conversationalist
Facebook AndreaTEdwards
YouTube Andrea Edwards
SlideShare AndreaTEdwards
Medium AndreaWTBEdwards
Instagram AndreaWTBEdwards