Since my last Weekend Reads, the news and analysis from the US Capitol rampage has certainly been eye opening. As more and more footage and information comes to light, one thing that struck me is the repositioning of who was responsible, as well as the words used to describe what it was.
Regardless of the fact that those WHO ARE responsible don't want to stand up and take responsibility (Antifa's fault), it is what people truly believe that is of greatest concern as we look ahead.
After the election, up to 47% of Americans (Democrats included at 30%) believed the election was stolen from Trump. That figure may have changed since January 6th, with more than half thinking Trump should be impeached, but what a PR disaster for the Democrats. They have got to work on their truth telling and message stickiness if they have any chance of getting America peaceful and more aligned. It really requires a different sort of game.
I mean, read this, and we know it's now global: The Prophecies of Q – American conspiracy theories are entering a dangerous new phase. Thanks for the share Craig Troskosky
But it's the re-positioning that really makes my head swivel. It's now The First Amendment Protests, and with so many convinced in their truth, I think we can expect this all to take on a life of its own. Ignore the fact the so-called First Amendment issue happened after the protest, because hey, truth hasn't exactly been important in recent years!
In light of all of this, Edelman released its Trust Barometer, now in its 21st year, and the lack of trust around the world is alarming. Whatever you do, whoever you are, building and maintaining trust is a priority for every single one of us. Equally, without trust in the institutions that manage our lives, it will be very challenging to move forward to address the multiple crisis' facing humanity. We have to get on top of this.
Here is a link to the full report.
Here is a link to the Website, where there is more commentary.
And here's my position in regards to the report: CEOs have been called to lead, we all have – Edelman Trust Barometer.
Friend's content
Yes – You Can Innovate! An interview with Natalie Turner – a woman I admire, we are living in the time of innovation. Natalie is a game changing thinker on innovation, and a wonderful person, do follow her.
Charity
Before you scroll, please, if you can, donate, donate, donate!!! Some suggestions. World Food Program, UN Refugee Program, PowerOf , Kiva.org, Soi Dog Foundation. If you can afford to be generous, now is the time to help your fellow human.
Content to read
And here's the content I've been reading this last week. Scan the headlines, read the ones that jump out at you, read or watch them all. Knowledge is power, and global knowledge is even more powerful.
Climate Crisis / 6th Mass Extinction
BlackRock holds $85bn in coal despite pledge to sell fossil fuel shares
Apple will modify executive bonuses based on environmental values in 2021
Oil companies lock in drilling, challenging Biden on climate
Washing your clothes can create Arctic microplastic pollution
Scientists say Earth is spinning faster than it has in decades
Florida manatee with 'Trump' etched on back prompts investigation
Eurovision received more media coverage than the most under-reported humanitarian crises combined
2020 falls just short of being Earth's hottest year on record as global warming continues
A Lost Decade: How Climate Action Fizzled In Cascadia
COVID19
Covid: UK variant could drive 'rapid growth' in US cases, CDC warns
Sir David Attenborough receives Covid-19 vaccine
Brazil hospitals 'run out of oxygen' for virus patients
C.D.C. Warns the New Virus Variant Could Fuel Huge Spikes in Covid-19 Cases
The Coronavirus Is Mutating. Here's What We Know
What we know about the 'concerning' new Covid strain from Brazil
UK coronavirus deaths pass 100,000 after 1,564 reported in one day
Scientists call for pause on AstraZeneca vaccine rollout tks Phillipa Edwards
Meet the scientists tackling vaccine misinformation on TikTok
Did Mixing a Riot With a Pandemic Yield a Superspreader Event?
Australia to roll out Covid vaccine in February, with goal for 4m jabs by March
White House Task Force warns Florida of 'significant' COVID deaths tks Elsa Gagnon Robinet
How Australia's rules for return travellers have changed because of the mutant COVID-19 strain
Covid jabs to be accompanied by organ music at Salisbury Cathedral
Try Guys Debunk COVID Vaccine Conspiracies With Dr. Fauci tks Denise Chai
Global Politics
I know who was behind the Capitol riots…. (Capitol LEO recap part 2)
How Joe Biden stole the election – tks Andy Lopata
Joe Biden unveils $1.9tn US economic relief package
Capitol riots: Police describe a 'medieval battle'
Trump impeached for 'inciting' US Capitol riot in historic second charge
CHILLING THREATS 'Proud Boys' member arrested by FBI in armored truck 'threatened to slice THROAT of anti-Trump protesters'
'QAnon Shaman' Jake Angeli charged over pro-Trump riots
Sheldon Adelson, conservative megadonor and casino mogul, dies at 87
The Republican gaslighting has begun
Domestic terrorists stormed the Capitol and our Republic is in tatters, but it was all worth it because we got the judges
The Art of the Lie? The Bigger the Better
The G.O.P.'s New Distancing Policy
One Trump Fan's Descent Into the U.S. Capitol Mob
No, Trump Isn't Guilty of Incitement
Every Deleted Parler Post, Many With Users' Location Data, Has Been Archived tks Saxon Shirley
Hey, Republicans Who Supported This President: Are We Great Again Yet?
Must-see new video shows Capitol riot was way worse than we thought
Murdoch cannot whitewash his role in the most destructive presidency in US history tks Phillipa Edwards
QAnon congresswoman faces calls for arrest after live-tweeting Nancy Pelosi's location to rioters
FBI memo warns law enforcement across U.S. of possible armed protests at 50 state capitols tks Frank Roberts
Trump Impeached for Inciting Insurrection
Trump Is Blowing Apart the G.O.P. God Bless Him.
Trump impeachment: Several Republicans to join Democrats in House vote
Trump moves to loosen mining regulations, approve projects as he exits
'Have They Ever Had a Job Before?' Cori Bush Tears Into Republicans for Evading Metal Detectors to Enter House Chamber
"People Should Be Able To Say Whatever They Want, Unless It's About Me In Filipino Strip Clubs", George Christensen Says tks Phillipa Edwards
Panic buttons were inexplicably torn out ahead of Capitol riots, says Ayanna Pressley chief of staff
A growing number of governments are spreading disinformation online tks Willie Wahlin
Trump impeachment: Republicans defend – and some attack – president
The Loneliness of Donald Trump tks Aysen Yilmaz
The Capitol Police Had One Mission. Now the Force Is in Crisis.
What Polls Say About Trump's Impeachment and Possible Removal
Trump-appointed Pentagon officials rename assault on Capitol—prepare to be outraged
Biden Twitter account 'starts from zero' with no Trump followers
Bill Belichick turns down Presidential Medal of Freedom
Trump Golf Club Loses 2022 P.G.A. Championship
'Untethered from reality': Alisyn Camerota calls out Trump supporters tks Joyce Ano
Business and Technology
WhatsApp Delays New Privacy Policy Rollout After User Backlash, Confusion
Billionaires backed Republicans who sought to reverse US election results
Twitter CEO on Banning Trump: Online Speech Can Cause Harm Offline
5 New Customer Engagement Strategies to Activate on LinkedIn
Revealed: Australia's Top 40 Tax Dodgers for 2021 tks Phillipa Edwards
How CEOs became the 4th branch of government tks Damian Corbet
An Absurdly Basic Bug Let Anyone Grab All of Parler's Data
Citing 'censorship' concerns, North Idaho internet provider blocks Facebook, Twitter tks Frank Roberts
Amazon Will Suspend Hosting For Pro-Trump Social Network Parler tks Brian Sibley
Parler CEO Says Service Dropped By "Every Vendor" And Could End His Business
Payment processor Stripe bans Trump campaign
If You Were on Parler, You Saw The Mob Coming
On #Clubhouse, we all speak "content marketing"
Bitcoin's Biggest Plunge Since March Shakes Faith in Crypto Boom tks Shaun McEwan
Social issues (#BlackLivesMatter) and humanity
Why Is a Woman's Body Always in Question?
National Rifle Association files for bankruptcy, seeking to escape New York lawsuit – tks Barry Graubart
Why traditional definitions of free speech are obsolete in the age of Trump and social media hatred
A night at the garden tks John Gordon
Indonesia Sriwijaya Air Boeing 737 'black boxes' located
Belgian rioters attack the king's car with him inside in violent unrest over death in police custody of black man who was arrested for breaking coronavirus curfew
Otter pup abandoned by Bishan family at Beach Road euthanised after all possible options exhausted tks David Lim
Indonesia earthquake: Dozens dead as search for survivors continues
Rap against Dictatorship: The rappers taking on Thailand's leaders
Taliban cracks down on 'costly' polygamy
BBC's 'The Archers' spotlights modern slavery in our backyards tks Francine Varner
Lisa Montgomery: US executes only woman on federal death row
Talking to Kids About the Violence at the U.S. Capitol
The 'Shared Psychosis' of Donald Trump and His Loyalists tks Denise Chai
Rajini Chandy: The 69-year-old Indian actress trolled for 'too sexy' photos
Passion, humour, history
Celebrating my mum, Eve Branson
The Louder the Monkey, the Smaller Its Balls, Study Finds tks Avi Liran
The 432-year-old manual on social distancing
Indonesia: Archaeologists find world's oldest animal cave painting
Harold Bornstein, Eccentric Doctor Who Said Trump Was in Excellent Shape, Dead at Age 73
Cheers
Andrea
18 Steps to An All-Star LinkedIn Profile
This book is the starting point for LinkedIn success. It has everything you need to reach All-Star!! You can buy it on Amazon.com Amazon.co.uk Amazon.com.au Amazon.in and Flipkart. It's also available as an eBook on Amazon Kindle, Kobo, Google Play and iBooks.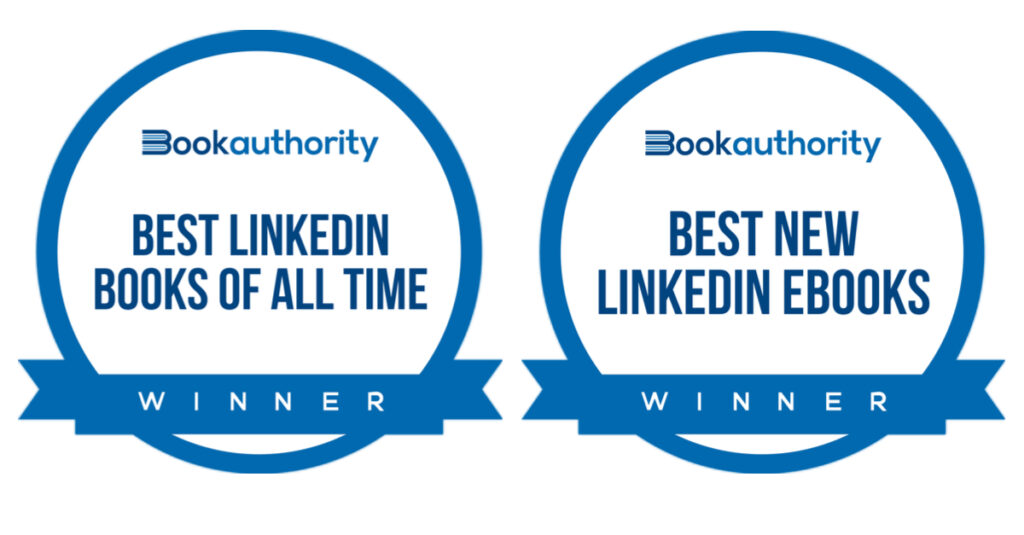 Check out Second Nature Social
This is a new series, designed to help beginners get up to speed with everything necessary on social media. Follow my YouTube channel and see the latest.
Are you a Social CEO?
I'm proud to be a contributing author to The Social CEO: How Social Media Can Make You A Stronger Leader. You can order it on Amazon today.
Want to claim your stage?
Check out our co-authored Best Selling Book – Unleash Your Voice – Powerful Public Speaking for Every Woman – proud to be part of this too!
Want proof social leadership transforms business and attracts customers?
Check out this case study with IBM Asia Pacific. Incredible results.
Want to be a super star online?
Don't know where to start, check out my e-learning course How to build a rock star personal brand today.
I believe it's time for all of us to embrace our voice and embrace the future. We do this by working and living 'out loud' with meaning, intention, integrity and by being true to ourselves. If you own your voice, you own your future.
Connect with me
If you like my style and what I talk about, feel free to follow me on any of these platforms on social media.
My blog andreatedwards.com
Twitter @AndreaTEdwards
LinkedIn AndreaTEdwards
LinkedIn The Digital Conversationalist
Facebook AndreaTEdwards
YouTube Andrea Edwards
SlideShare AndreaTEdwards
Medium AndreaWTBEdwards
Instagram AndreaWTBEdwards