Did you ever think we would live in a world where the global news focused on a fly? Not only that, we now have multiple Twitter handles dedicated to the fly! Surreal. In time, we'll look back and wonder how the hell things ever got so crazy.
The main news that popped out to me this week was the analysis of Kamala Harris' debate performance, discussing all of the effort and tricks she had to use to ensure she didn't come off as too aggressive, bossy, dominating, and essentially, a woman the public couldn't stomach. If women were able to focus that energy on what they actually said, can you imagine how powerful and effective we could be? Remember, equality is good for everyone.
All very tedious. Of course, this time last week we were in limbo waiting to see what would happen to Donald Trump. Apart from declaring himself the walking cure for COVID19 because of the antibodies in his blood, the show continues. Crazy times. A note for all: social media is not a good place to participate if you are on steroids.
It might come as no surprise to you, but in recent weeks, I am checking out the polls for the 2020 US Election. I am looking across all of them, even Fox News polls! Of course, we all appreciate the cynicism around polls following the 2016 Election, but Biden is 10 points ahead on average, and based on failings in the polls last election, factoring this in, Biden is still five points ahead. Take a look at these four examples and Americans, PLEASE vote!!
View Latest Presidential Election Polls
2020 Presidential Election Polls
The Upshot on Today's Polls Analysis of the day in polls, from now until Election Day
Fox News Poll: Biden gains ground over Trump
Charity
Wonderful news this week, as the Nobel Peace Prize went to the UN World Food Program. Absolutely brilliant and please, if you can, donate to this amazing organization. If we don't take care of our neighbours, life will be worse for all. Let's commit to ensuring no one starves. There is enough, we just need to be extra generous at this time.
Friends content
I wanted to flag a friend's podcast – Jay leshark and friends, and Russell Podcast, they recently interviewed two friends, Samantha Gayfer and Debbie Crause. Funny, insightful, honest conversations. Love it.
I recently published If you don't like social media, here's three things you can do about it – check it out and get online good people. We need you!!
Content to read
And here's the content I've been reading this last week. Scan the headlines, read the ones that jump out at you, read or watch them all. Knowledge is power, and global knowledge is even more powerful.
Climate Crisis / 6th Mass Extinction
'Real and imminent' extinction risk to whales
World Energy Trilemma Index 2020 Report tks Susanna Hasenoehrl
Humans Wiped Out Two-Thirds of the World's Wildlife in 50 Years
Energy giant Suncor plans to shed 2,000 employees tks Bob Hooey
COVID19
Coronavirus: Why are infections rising again in US?
Coronavirus: Paris to shut bars and raise alert to maximum
Coronavirus: When India's capital became a ghost city
Trump's COVID Drugs Relied on Cells That Originally Came from an Aborted Fetus
Dr. Fauci warns that Trump's COVID-19 recovery could soon go into 'reversal'
Top White House aide Stephen Miller tests positive for Covid-19
Private pools, fancy meals in Phuket's 'gilded cage' quarantine
As pandemic worsens, legislature still refuses mask mandate at the Capitol
Trump Covid: Biden warns there is 'a lot to be concerned about'
'Don't Be Afraid of Covid,' Trump Says, Undermining Public Health Messages
Trump Covid: President downplays virus on leaving hospital
After Exposure To Trump, GOP Lawmakers Skirt Rules To Hop Commercial Flight tks David Lim
Sen. Ron Johnson Took COVID Test En Route To Wisconsin Fundraising Dinner. It Was Positive.
Mike Pence's lack of quarantining concerns experts after Trump's coronavirus diagnosis tks Frank Roberts
Trump's Covid Treatments Are Aimed at Preventing Severe Illness
Trump's photo op raises new questions about how seriously he takes the virus
Trump and the virus: A day of turmoil in the White House
India's Covid-19 Death Toll Passes 100,000
Inside a California Covid Revolt
Donald Trump : was on oxygen Friday …
Trump says he is doing well but next couple of days the 'real test'
Phuket in a Covid crisis – tks Benjamin Jenkins
Global Politics
Trump engineered a sudden windfall in 2016 as campaign funds dwindled – latest NYT piece on Donald Trump's finances and taxes
An Editor's Note on the Trump Tax Investigation
"Don Jr. Thinks Trump Is Acting Crazy": The President's COVID Joyride Has the Family Divided
The illness he is tks Phillipa Edwards
Trump returns home on a steroid known to cause aggression and agitation
Conservatives Livid that Kamala Harris Landed the Cover of Elle Magazine, While Melania is Still Waiting
Would the Supreme Court hand Donald Trump a second term?
Bill Barr accused of perjury by Michigan AG for saying he had no knowledge of right-wing threats
How China Outsmarted the Trump Administration tks David Lim
Mr. Vice President, she's speaking: How Kamala Harris beat the stereotypes during her historic VP debate
Pelosi to introduce legislation related to the 25th Amendment
Nagorno-Karabakh: Armenia accuses Azerbaijan of targeting cathedral
Misogyny On Full Display After Debate, Trump Calls Kamala Harris A "Monster"
Presidential debate: Trump refuses to take part in virtual TV event
Why the Democrats are our narrow favourites to win the Senate
Kyrgyzstan election: Sunday's results annulled after mass protests
Trump continues Biden attack ads on Facebook
Editorial: Our case for Joe Biden over Donald Trump
Trump Confronts a New Form of Risk, More Personal and Perilous
Trump campaign accused of masking $170 million in spending
Business and Technology
What Tesla's move to eliminate its PR department means for the industry tks Andrew Psarianos
Could A Blue Wave Boost The Economy? The Real Reason Why Goldman Sachs Is Optimistic
The Great Work Reset: 4 Things to Know
Facebook bans QAnon across its platforms tks Phillipa Edwards
Germany: H&M fined record €35 million for illegal surveillance of employees
Shock and despair follow revelations that 'world-beating' Test and Trace system is being run on Excel
Advocating for an 18th Sustainable Development Goal: A Meaningful and Safe Digital Life
Predicting epidemics like the weather: How Microsoft Premonition can help in the global fight against disease outbreaks
Social issues (#BlackLivesMatter) and humanity
The Ripple Effect of What We Teach Men
The Island Brokers Are Overwhelmed
Gay men take over #ProudBoys on Twitter tks Gina Giachetti
Dan Rather Has Some Advice For Journalists In The Era Of Trump, Truthiness, And COVID-19
Stormy Daniels and Melania Trump accuse each other of being a hooker tks Frank Roberts
Two women jointly win Nobel Prize for chemistry for first time in history
One Book Explains Everything That's Wrong with America in 2020 tks David Lim
Coronavirus risks 'greatest surge in child marriages in 25 years'
Church's legal defence 'dismantled' after sex abuse pay-off thrown out
Passion, humour, history
Saturday Night Live : First Debate Cold Open
Eddie Van Halen, grinning guitar god for a rock generation, dies at 65
Trump: 'Maybe I'm Immune' – Paul McCartney Parody – tks Ava Diamond
Let me know what jumped out at you?
Cheers
Andrea
18 Steps to An All-Star LinkedIn Profile
This book is the starting point for LinkedIn success. If you want to buy it, it's available on Amazon.com .co.uk .in .au and Flipkart. It's also available as an eBook on Amazon Kindle, Kobo, Google Play and iBooks.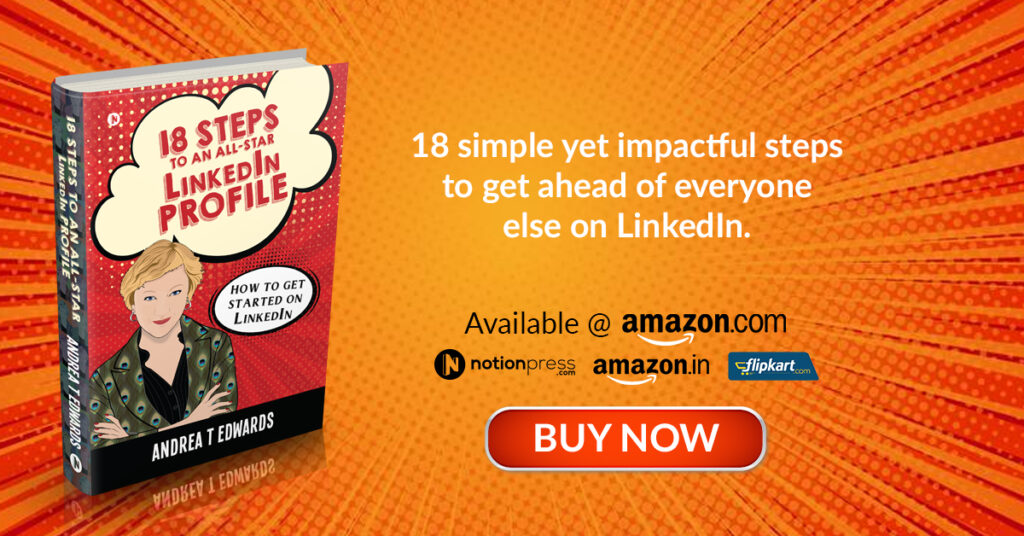 Check out Second Nature Social
This is a new series, designed to help beginners get up to speed with everything necessary on social media. Follow my YouTube channel and see the latest.
Are you a Social CEO?
I'm proud to be a contributing author to The Social CEO: How Social Media Can Make You A Stronger Leader. You can order it on Amazon today.
Want to claim your stage?
Check out our co-authored Best Selling Book – Unleash Your Voice – Powerful Public Speaking for Every Woman – proud to be part of this too!
Want proof social leadership transforms business and attracts customers?
Check out this case study with IBM Asia Pacific. Incredible results.
Want to be a super star online?
Don't know where to start, check out my e-learning course How to build a rock star personal brand today.
I believe it's time for all of us to embrace our voice and embrace the future. We do this by working and living 'out loud' with meaning, intention, integrity and by being true to ourselves. If you own your voice, you will own your future.
Connect with me
If you like my style and what I talk about, feel free to follow me on any of these platforms on social media.
My blog andreatedwards.com
Twitter @AndreaTEdwards
LinkedIn AndreaTEdwards
Facebook AndreaTEdwards
YouTube Andrea Edwards
SlideShare AndreaTEdwards
Medium AndreaWTBEdwards
Instagram AndreaWTBEdwards