What a week in the news!! First we have Trump's tax returns; then Brad Parscale has a meltdown; followed by a shambolic first debate with Joe Biden, moderated by Fox's Chris Wallace; Kimberly Guilfoyle's (Don Jr's girlfriend) story is beginning to get the attention it deserves; Melania becomes the enemy of Christmas; The Proud Boys start making call-to-arms videos, a study reveals Donald Trump is the single biggest source of coronavirus misinformation in the world; Hope Hicks tests positive for COVID19; and then, Donald and Melania Trump are confirmed to have the virus.
And that's just news around the US President. There is a lot going on elsewhere in the world too, but I want to focus on the last 24 hours of this particular news cycle as an example of how appalling it is today, and how we all contribute to it.
When the news broke of Donald Trump's virus confirmation, we had a short period of time where we could be the first to let our community know this breaking story. After that, it was just the same news being shared millions of times. It's natural to want to share such a breaking story – because it's a massive story – but once it's out, it's out.
My advice on the next step in a news cycle like this is, step back and watch the news across multiple sources, and get to the bottom of what is really going on – because that is what's important. The truth. Hard to achieve in our world today.
For all of us, who want to be responsible knowledge sharers, it's critical to understand that in a situation like this, it will take days and weeks to know the magnitude of this story. The President is in a high risk category, and the fall-out if he gets seriously ill will ripple around the world. It's a case of watch this space carefully.
But we don't do that anymore, do we? We engage in conspiracy theories. It's hard not to, right? Is it the October surprise? Will he come back in two weeks and say it was just a small flu? Will he declare Hydroxychloroquine saved him? Or perhaps the new vaccine is tested on him and it works, meaning it won't go through the approval stages required for vaccines? Will he take the Russian vaccine? Will he get it bad? Will he die? Is it a hoax? Is he trying to get out of further debates with Joe Biden? Is this a ploy to get out of the Presidential job?
And on it goes, just a few of the thoughts and ideas I've seen racing around on Facebook, Twitter and the other social channels I follow. Let's exercise caution. Let's also act with dignity. There is a lot of vitriol being circulated and while fully appreciating many people's deep anger towards this man – hospital workers, people who have lost loved ones, and more – when we speak with hatred towards others, it only hurts ourselves.
I hope for a world where we can reclaim speaking with compassion always, because that is the path towards healing the world. I do not like Donald Trump, but I do not wish him ill, I just want to see him out of the White House. When I speak ill towards another, I sacrifice a part of me. I do not hate. I can not hate. Hate is the problem we are dealing with in the world, and if we want to change the direction we are all heading in, focusing on our words, thoughts and feelings is a great place to start. Just my thoughts on this, not diminishing anyone who is feeling outraged today. I understand your outrage too.
If there is one person worth following for daily commentary on US politics, it is political historian Heather Cox Richardson. Always balanced and you can subscribe to her daily email if you're not on Facebook.
Charity
In the last week, we've seen new airlines offering flights to nowhere (appalling practice, completely oblivious to the environmental impact), and we've seen Singapore Airlines (who decided not to do flights to nowhere) post that they will be offering first class meals delivered to your home, costing just under $500. I totally get SIA needing to earn money, but my friends, if you can afford to spend $500 on a meal like this – and no judgement on anyone who does – please consider donating to UN Refugee Program and World Food Program? A $500 donation could feed 50 families for two weeks. Let's take care of each other.
Friends content
United We Can – A Reflection on the Theme – a beautiful post from my friend Samantha Gayfer. This was an intense experience for the community, but the result has been so heart-warming.
Content to read or watch
And here's the content I've been reading this last week. Scan the headlines, read the ones that jump out at you, read or watch them all. Knowledge is power, and global knowledge is even more powerful.
Climate Crisis / 6th Mass Extinction
12hr Sightseeing flights to Antarctica without landing
Why we're more confident than ever that climate change is driving disasters tks Denise Chai
China's Pledge to Be Carbon Neutral by 2060: What It Means
Climate in The Debate tks Susanna Hasenoehrl
United in Science report: Climate change has not stopped for COVID19
The drive toward sustainability in packaging—beyond the quick wins tks Karen Prager
SIA drops 'flights to nowhere' plan; will launch A-380 'plane restaurant', home-delivered premium meals and tours instead
What is the circular economy? tks Wendi Stewart
The #CarbonLaw – A roadmap for rapid decarbonisation – tks Susanna Hasenoehrl
COVID19
Trump's busy week before his positive Covid-19 test – in pictures
Trump flown to hospital after Covid-19 positive test
Covid: What is the risk to Donald Trump's health?
As A Doctor, Here's The First Thing I Thought When I Found Out Trump Has COVID-19 – tks Angela Frechette
Liberals Ask: Why Should We Believe Trump Has the Virus?
Trump is reportedly experiencing 'cold-like symptoms' and has appeared 'lethargic'
President Donald Trump and first lady Melania Trump test positive for Covid-19
Covid-19 and the climate crisis are part of the same battle
President Trump has Covid-19: How global media responded
Amazon reveals over 19,000 workers got COVID-19
New York Spikes Again; WHO Faults U.S. Response: Virus Update
Study Finds 'Single Largest Driver' of Coronavirus Misinformation: Trump
Covid: Donald Trump and Melania test positive
Neanderthal genes increase risk of serious Covid-19, study claims tks Kevin Cottam
It's true: 1 in 1,000 Black Americans have died in the Covid-19 pandemic
Covid-19 tests that give results in minutes to be rolled out across world
Redfield voices alarm over influence of Trump's new coronavirus task force adviser
Coronavirus: Students 'scared and confused' as halls lock down
Global Politics
Trump aides reportedly think he'll 'face a harsh judgment from voters' after COVID-19 diagnosis
Trump incessantly interrupts and insults Biden as they spar in acrimonious first debate
THE PRESIDENT'S TAXES – Trump's Taxes Show Chronic Losses and Years of Income Tax Avoidance
Ivanka Trump Could Be Going Down Thanks To Her Dad's Tax Fraud
Donald Trump's worst moment of the 1st debate (that you probably missed)
"The family is worried Brad will start talking": Trumpworld panics over debate fiasco as campaign turmoil mounts
How Trump's 'Voter Fraud' Lie Is Disenfranchising Americans tks Denise Chai
US election 2020: The night American democracy hit rock bottom
The United States Is Not Entitled to Lead the World
Why are Armenia and Azerbaijan fighting and what are the implications?
Revealed: Trump campaign strategy to deter millions of Black Americans from voting in 2016
Sarah Huckabee Sanders talks about her time as White House Press Secretary and working for Donald Trump – tks Andor Hampala
Amy Coney Barrett: Trump nominates conservative favourite for Supreme Court
Trump Briefly Condemns White Supremacists
QAnon conspiracy theorists could prove awkward for Republicans
Will the New York Times taxes report sink Donald Trump?
Trump's Proud Boy moment sparks Black outrage in Florida
First 2020 Presidential Debate between Donald Trump and Joe Biden
Business and Technology
For years, Mark Zuckerberg has faced criticism that Facebook is bad for democracy.
September Jobs Report Shows Slowdown in Recovery
Neiman Marcus CEO shows off mansion while employees get pink slips
Time for digital to be heart of economic recovery
Mass layoffs and smaller airlines loom after COVID-19, even with more aid
Social issues (#BlackLivesMatter) and humanity
Hathras case: Are Indian state police trying to discount a woman's story of rape?
Noam Chomsky: The world is at the most dangerous moment in human history tks Dominic Powers
Breonna Taylor grand jury recordings released
The Secret History of Kimberly Guilfoyle's Departure from Fox tks Gina Giachetti – this is a story gaining more attention.
Two Days Later, Trump Finally Says He Condemns the Proud Boys
A College Student's TikTok Has Gone Viral For Showing Her Male Classmates Repeatedly Interrupting Her On Zoom tks Cheryl Tan
Vogue speaks to 3 foreign domestic workers living in Singapore
Why I'm savouring every 'lost last' as my children grow older tks Shaun McEwan
Amnesty International to halt India operations
The Death Of Justice Ruth Bader Ginsburg Pushed Me To Join The Satanic Temple tks Frank Roberts
NBA Players Wear Special Lace Collars To Honor Ruth Bader Ginsburg
With rising unemployment, Ministers should look beyond work-related paths out of crime – to families
RIP Helen Reddy
Helen Reddy died this week. An Australian icon, this song never made it around the world, but it's a magnificent song. RIP and here is: I Am Woman (1971)
Passion, humour, history
Queen is 'furious' after Sandringham staff 'refuse to lock themselves in a covid bubble for Christmas' – meaning she could be forced to spend it at Windsor Castle for first time in 33 years tks Edward Alexander Howard-Williams
Like I said, crazy week, huh? Let jumped out at you?
Cheers
Andrea
18 Steps to An All-Star LinkedIn Profile
This book is the starting point for LinkedIn success. If you want to buy it, it's available on Amazon.com .co.uk .in .au and Flipkart. It's also available as an eBook on Amazon Kindle, Kobo, Google Play and iBooks.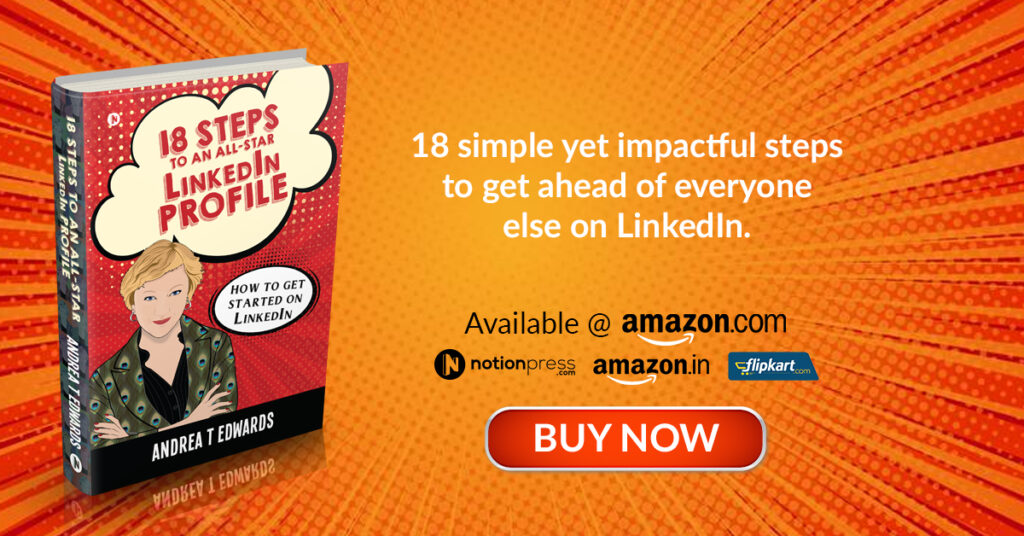 Check out Second Nature Social
This is a new series, designed to help beginners get up to speed with everything necessary on social media. Follow my YouTube channel and see the latest.
Are you a Social CEO?
I'm proud to be a contributing author to The Social CEO: How Social Media Can Make You A Stronger Leader. You can order it on Amazon today.
Want to claim your stage?
Check out our co-authored Best Selling Book – Unleash Your Voice – Powerful Public Speaking for Every Woman – proud to be part of this too!
Want proof social leadership transforms business and attracts customers?
Check out this case study with IBM Asia Pacific. Incredible results.
Want to be a super star online?
Don't know where to start, check out my e-learning course How to build a rock star personal brand today.
I believe it's time for all of us to embrace our voice and embrace the future. We do this by working and living 'out loud' with meaning, intention, integrity and by being true to ourselves. If you own your voice, you will own your future.
Connect with me
If you like my style and what I talk about, feel free to follow me on any of these platforms on social media.
My blog andreatedwards.com
Twitter @AndreaTEdwards
LinkedIn AndreaTEdwards
Facebook AndreaTEdwards
YouTube Andrea Edwards
SlideShare AndreaTEdwards
Medium AndreaWTBEdwards
Instagram AndreaWTBEdwards