We started the week with the devastating earthquake in Morocco, which has resulted in nearly 3,000 deaths so far, as well as many more thousands injured. The United Nations estimated the magnitude 6.8 quake has affected some 300,000 people, and still, some of the villages in the Atlas Mountains, near the epicentre, are yet to be reached. So, the final death toll could be much higher, and the longer-term recovery extremely challenging too.
But as we were attempting to get our heads around the scale of what happened in Morocco, catastrophic flooding hit Libya. Estimates expect the death toll could exceed 20,000 (which I expect to be even higher), and today, just in the city of Derna, the death toll has soared to 11,300 with more than 10,000 still missing.
One headline caught my eye – 'Sea is constantly dumping bodies' – can you even imagine witnessing that? Too terrible for words. Watching the coverage of this tragedy, with half of the city of Derna washed away, and the fact the flooding hit at night when everyone was in bed, we know these numbers are going to go up.
I have been listening to survivor stories and people are talking about needing to move to the roof of seven story apartment blocks to escape the water. Once on the roof, some said they could see friends and family on a rooftop across the street, only to watch in horror as the building collapsed in front of them.
The cause is obviously intense rainfall from Storm Daniel, which pummelled the Mediterranean the week before. It unleashed record amounts of rain as it made landfall, which filled a normally dry riverbed, or wadi, in the hills south of Derna. The pressure was too much for two dams built to protect the city from floods, and both collapsed, unleashing a torrent that ran through the city.
The head of the World Meteorological Organization said on Thursday that casualties could have been avoided if the divided country, shattered by some 12 years of conflict and chaos, had a functional weather service able to issue warnings. It could have also been avoided if the reports on the danger to the dams were addressed, but that is what happens in a failed state. Climate change and failed states are a lethal combination.
There's another story, that isn't getting much attention. Derna is where many of the migrants attempt the crossing into Europe, and they believe there could be thousands of refugees who have died, because they camp out near the docks, which were washed away.
While the issues of why this happened are known, the sheer quantity of water would be an issue for many countries on earth. Wherever we live, we need to understand the risks we face and get prepared. If our governments aren't doing everything they can to ensure their citizens are safe (and infrastructure is breaking down in the wealthiest countries on earth), we need to call them to account. No country is prepared for what is coming, we are constantly reacting.
And as Libya shows, the human cost is very high if we don't prepare. I just hope we never become immune to tragedy, because if we do, we risk accepting this as our fate. It is time to raise our voices, march in protests, write to political representatives, vote for change and we must all reduce our individual impact on this beautiful earth.
We certainly have work to do, especially as this week, we discovered that we have now passed six of the nine planetary boundaries – here's the research: Earth beyond six of nine planetary boundaries | Science Advances and here is what that looks like: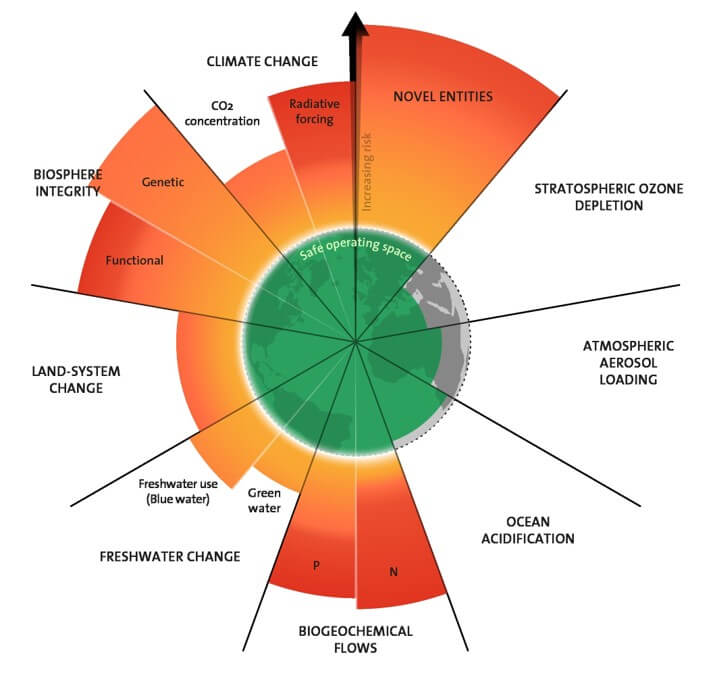 Here's a comparison – are we going to wait until we've passed all nine? I suppose we'll find out in 2030 or so….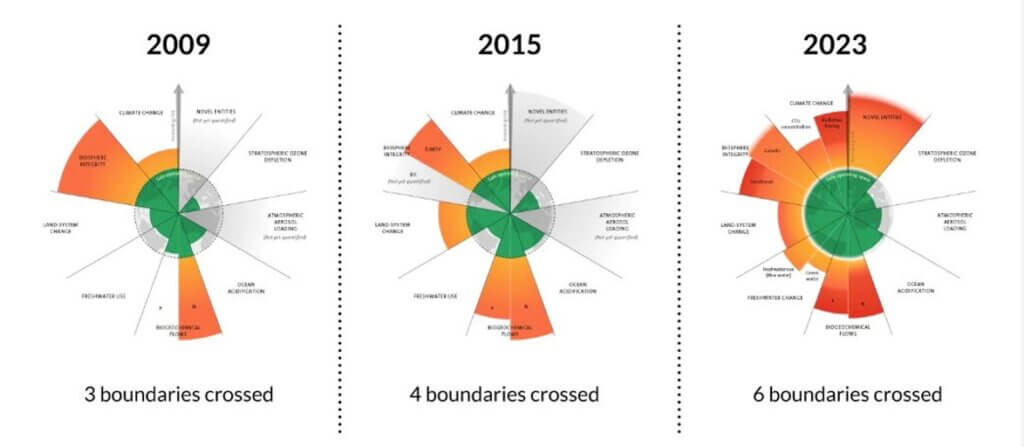 This article in the Guardian is a good overview Earth 'well outside safe operating space for humanity', scientists find | Climate crisis | The Guardian
Friend's content and mine
Or should we say… climate maladaptation? (illuminem.com) follow Praveen Gupta, he is writing great content for Illuminem.
"Reverse Backstabbing" | LinkedIn wonderful blog by Avi Liran on positive gossip – yes please! More of that. I can't stand gossip.
A short blog With extreme weather events, how to spot misinformation – Uncommon Courage – An Invitation (uncommon-courage.com) on how to keep your eyes open for fake weather information. I was sent a storm video from the Philippines, but when I searched for it, it didn't exist. We all need to do the extra work to make sure we're not sharing misinformation.
Donation time
If everyone gave #just10percent of their time, talent, money or voice, we'll change the world. Can you donate? Why not make a regular donation to the World Food Programme. Or donate to the UN Refugee Program, Medicine Sans Frontier, PowerOf, Kiva.org, Red Cross, and so many more, including urgent fundraising and those supporting animals, like the Soi Dog Foundation. A fabulous organisation I support is B1G1 – check it out and set up an account. It's a time for giving and taking care of each other.
Content to read
And here's the content I've been reading, listening to or watching. Scan the headlines, read the ones that jump out at you, read, listen to or watch them all. It's time to pay attention to the information that matters.
Libya
Libya's floods are result of climate crisis meeting a failed state | Libya flood (2023) | The Guardian
How to Help Libya's Flood Victims | Time
Libya floods: UN says most casualties could have been avoided, as thousands more feared dead | CNN
Flooding death toll soars to 11,300 in Libya's coastal city of Derna | Floods News | Al Jazeera
Explainer-What caused the floods in Libya and why are they so bad? – TODAY (todayonline.com)
Flooding death toll soars to 11,300 in Libya's coastal city of Derna, aid group says | Online Version (daily-sun.com)
'An unimaginable scene': Survivors describe Libya floods – BBC News
Libya flooding: before and after satellite images reveal scale of disaster in Derna | Libya | The Guardian
'Sea is constantly dumping bodies': fears Libya flood death toll may hit 20,000 | Libya flood (2023) | The Guardian
The Libya floods: a climate and infrastructure catastrophe » Yale Climate Connections
'Disastrous beyond comprehension': 10,000 missing after Libya floods | Libya | The Guardian
Libya floods: Entire neighbourhoods dragged into the sea – BBC News
Up to 2,000 feared drowned after Libyan city hit by 'catastrophic' storm floods | Libya | The Guardian (ampproject.org)
150 dead as 'catastrophic' storm floods hit east Libya (ampproject.org)
Morocco
Death count rises in lethal Moroccan quake (arkansasonline.com)
Morocco quake survivors pack donkeys with supplies to reach cut-off villages | The Straits Times
Frustration mounts with Morocco earthquake aid yet to reach some survivors; death toll tops 2,900 – TODAY (todayonline.com)
Morocco quake leaves half of village's population dead or missing – BBC News
Villagers mourn loved ones lost in the rubble after Morocco quake | Euronews
Morocco earthquake: 'I had to choose between saving my parents or my son' – BBC News
Morocco earthquake: Why authorities accept only limited international help – BBC News
Earthquake in Morocco: Death Toll Rises to 2,862 as Help Begins to Reach Hardest Hit Areas – The New York Times (nytimes.com)
A magnitude 3.9 aftershock rattles Morocco as rescuers seek survivors in ancient cities and towns | Euronews
Morocco earthquake death toll rises above 2,000 – BBC News
Climate crisis
Earth beyond six of nine planetary boundaries | Science Advances
Earth 'well outside safe operating space for humanity', scientists find | Climate crisis | The Guardian
Mega-Rich Are Paying $600,000+ a Year to Insure Their Mansions Against Climate Disaster (commondreams.org)
The Climate Crisis Could Mean the Twilight of the American West – Rolling Stone
Climate Change Is Melting Mount Rainier's Glaciers. – The New York Times (nytimes.com)
The Climate Risk Delusion: Under-pricing climate risk contributes to climate change itself, and puts global pension wealth in peril – Carbon Tracker Initiative
Climate Change Sends Most Indicators of Earth's Health Into Danger Zone: Study (insurancejournal.com)
Inundation and Injustice: Flooding Presents a Formidable Threat to the Great Lakes Region – Inside Climate News
Extreme weather may cost the global fashion industry $65 billion by 2030 | CNN Business
Young people to take 32 European countries to court over climate policies | Climate crisis | The Guardian
Exxon tried to protect its fossil fuel business by downplaying climate change : NPR
How rising water vapour in the atmosphere is amplifying warming and making extreme weather worse (theclimatebrink.com)
As climate risks increase, New York could require flood disclosures in home sales | AP News
How weather 'blocks' have triggered more extreme heatwaves and floods across Europe (theconversation.com)
Hurricane Lee heads towards New England and Canada – BBC News
Wildfires of the past months are both a warning and a call to action | Vancouver Sun
Al Gore: Big oil, gas not part of climate solution (axios.com)
Biden: Global warming 'even more frightening' than nuclear war (cnbc.com)
How to pay for saving the world: Modern Monetary Theory for a degrowth transition – ScienceDirect
We just blew past 1.5 degrees. Game over on climate? Not yet (theconversation.com)
U.S. cancels or curtails half of its Antarctic research projects | Science | AAAS
New fossil fuel projects 'very unwise economic risk' says global energy chief | Fossil fuels | The Guardian
Factcheck: Scientists pour cold water on claims of 'journal bias' by author of wildfires study – Carbon Brief
After days of heavy rain, flooding and tornadoes in New England, Hurricane Lee up next (msn.com)
Sultan al-Jaber, Oil and Renewable Energy Executive, Straddles Divide as Head of COP28 Climate Summit – The New York Times (nytimes.com)
Global Average Surface Temperature Anomalies / TCC (jma.go.jp)
Sydney faces months of smoke as authorities race to conduct hazard reduction burns | Sydney | The Guardian
Experts call for global moratorium on efforts to geoengineer climate | Geoengineering | The Guardian
Why Hurricane Lee is worrying weather experts even if it doesn't break land (nbcnews.com)
Environment Agency failing to monitor water firms in England, data suggests | Environment Agency | The Guardian
Opinion: My 12-year-old son is cutting school… and I couldn't be prouder | CNN
Antarctica may have entered 'new regime' of low sea ice as global warming ramps up | Antarctica | The Guardian
Eight catastrophic floods in 11 days: What's behind intense rainfall around the world? (nbcnews.com)
Humanity's Moment: Excerpt – resilience
Their names appeared on letters urging fracking Ohio's state parks. They don't know how. – cleveland.com
Private equity profits from climate disaster clean-up – while investing in fossil fuels | Climate crisis | The Guardian (ampproject.org)
Category 5 storms have formed in every ocean basin for first time – The Washington Post
Climate Change and the Economy – Investment Innovation Institute (i3-invest.com)
After studying more than 1,500 coastal ecosystems, researchers say they will drown if we let the world warm above 2C (phys.org)
How manure blew up the Netherlands (mongabay.com)
Meet the Shadowy Global Network Vilifying Climate Protesters | The New Republic
Rabbit Holes And Men Behind Curtains – by Caitlin Johnstone
US behind more than a third of global oil and gas expansion plans, report finds | Climate crisis | The Guardian
The UN global climate stocktake, explained – Vox (ampproject.org)
June Extremes Suggest Parts of the Climate System Are Reaching Tipping Points – Inside Climate News
World at 'beginning of end' of fossil fuel era, says global energy agency | Financial Times (ft.com)
The Oceans Appear to Be Stabilizing. Here's Why it's Very Bad News | Opinion (newsweek.com)
Conspiracy theories falsely link wildfires to 'smart cities' (phys.org)
What to expect this bushfire season – ABC listen
Opinion | Why 2% Is the Most Dangerous Number No One Is Talking About | Common Dreams
How to face the climate crisis with Spinoza and self-knowledge | Aeon Essays
Good People Are The Worst: On Moral Licensing (okdoomer.io)
Declassified US Navy File Predicts 4°C Warming Within 17 Years | by Jared A. Brock | Sep, 2023 | Surviving Tomorrow
Bangladesh's worst ever dengue outbreak a 'canary in the coal mine' for climate crisis, WHO expert warns | CNN
Climate change 'dystopian future already here' | Climate Crisis News | Al Jazeera
Experts Warn of 'Denialism Comeback' Ahead of November's Global Climate Talks – Inside Climate News
B.C. wildfires: Crisis was forecast, but arrived sooner than expected | CTV News
Climate change: Planet-warming pollution made summer heat twice as likely for nearly all of humanity | CNN
Fridays for Future: Greta's school strikes led a third of Swiss citizens to change their habits | Euronews
'All ice could disappear': Europe's heatwaves threaten to wipe out glaciers in the Alps (inews.co.uk)
Arctic News: Methane eruptions threaten (arctic-news.blogspot.com)
Climate Scientists Don't Have to Exaggerate to Get Published – Bloomberg
Major bushfire closes Barkly Highway as authorities declare entire NT a fire danger area until March – ABC News
Global politics
Russia's Putin praises Elon Musk days after Ukraine Starlink controversy | Russia-Ukraine war News | Al Jazeera
State of the European Union: Five takeaways from Ursula von der Leyen's speech | Euronews
The Voice: An Indigenous Elder's perspective. (mamamia.com.au)
The attacks on Marcia Langton are not part of a theoretical debate. We know that racism exists – ABC News
Laura Kuenssberg's Time as BBC Political Editor has been a Catastrophic, Systemic Failure – Byline Times
It's a tragedy of modern plutocratic Britain: if you want to rise, follow the Piers Morgan playbook | George Monbiot | The Guardian
Voter ID in England led to racial and disability discrimination, report finds | Electoral reform | The Guardian
Rishi Sunak tells G20: UK will resist 'hair shirt' policies on net zero pledge | Rishi Sunak | The Guardian
The United States Needs a New Approach to Multilateralism (foreignpolicy.com)
The Gray Area with Sean Illing: Democracy's existential crisis on Apple Podcasts
The US Air Force Is Clearing Out Jungles In The Pacific To Prepare For War With China (caitlinjohnst.one)
The Only Way to Stop Trump – The Atlantic
A picture worth millions of words (substack.com)
Business and technology
Multimillionaire Tim Gurner regrets 'deeply insensitive' comments calling for 'pain in the economy' | Australia cost of living crisis | The Guardian
Greenland cruise ship pulled free after three days stuck in mud – BBC News
BP boss Bernard Looney quits after board misled over relationships – BBC News (ampproject.org)
Investors profit by privatizing water. It's wealth supremacy in action (fastcompany.com)
'Reactive' hiring for ESG roles plagues a nascent green fintech industry in Asia: experts | News | Eco-Business | Asia Pacific
What To Know About IOS 16.6.1: Apple's Emergency Software Update (forbes.com)
Reaction: Apple unveils its first carbon neutral products | NewClimate Institute
Social issues
With little knowledge comes great confidence: Study reveals relationship between knowledge and attitudes toward science (ampproject.org)
Female surgeons sexually assaulted while operating – BBC News (ampproject.org)
Calgary woman who tortured and killed cats receives 6.5 years, Canada's largest animal abuse sentence | Globalnews.ca
The moral failure of the Boy Scouts of America (substack.com)
Scientists discover how brain cells die in Alzheimer's – BBC News
Magic mushrooms: Thousands sign up for Oregon's psilocybin experiment | AP News
Luis Rubiales given Spanish restraining order over World Cup kiss – BBC News
This complex, nuanced world has a right-hemisphere problem (thetimes.co.uk)
Ex-dancers describe body-shaming at top ballet schools – BBC News (ampproject.org)
Find My Friends and Life360 location-sharing apps are latest Gen Z tech craze | Fortune
Can fasting help you live longer? Here's what the science says. (nationalgeographic.com)
Opinion | Elon Musk Takes Aim at the ADL – The New York Times (nytimes.com)
Book Review: 'Elon Musk,' by Walter Isaacson – The New York Times (nytimes.com)
Opinion | Elon Musk's Antisemitism Problem Isn't About Free Speech – The New York Times (nytimes.com)
The Hopi prophecies are coming true — here's why we should pay attention – The Hill
Passion/humour/history
Hugh Jackman and wife Deborra-Lee Furness announce separation | CNN
Why are there four heads of John the Baptist? (nationalgeographic.com)
Tantalising sign of possible life on faraway world – BBC News
Meet 5 of the fiercest queens from medieval times (nationalgeographic.com)
My Hero, Sly Stallone – The Atlantic
So, what did you read? What jumped out at you? Or share with me what you're reading? I love that!
Cheers
Andrea
Want to support my work?
You can buy me a coffee.
Want to get in touch?
All my contact information is here on Linktree.
Environment education
Four environment resources to help you navigate this challenging territory.
Uncommon Courage: an invitation
Uncommon Courage is an invitation to be your courageous best self every day. It's also an antidote to the overwhelm, fear, and rage rolling around the world. But it's more than a book; it's an invitation to join an inclusive community that wants to better understand humanities challenges – both global and personal – in order to take courageous action and create a better world for everyone. If Covid19 has given us the time and space to reflect, Uncommon Courage gives us the nudge we need to create lasting change.
You can buy it on Amazon, Apple Books, Barnes & Noble, Book Depository, Booktopia, Smashwords, Kobo, Gardners, Odilo, Indie Bound, BookShop by BookTrib and Scribd.
Better yet, order it from your local bookstore, so you can #SupportLocal.
You can read the reviews, including a new five-star review on Book Commentary, another five-star review on ReaderViews, a review on BookTrib, and three more on Booklife, another on Book Commentary and Blue Ink Reviews. I'm also collating reviews on my Website too. Have a look and grateful to everyone who has written or recorded one.
Come and join the conversation in my Facebook Group Uncommon Courage.
Listen in to the Uncommon Courage, the podcast on Apple, Spotify and everywhere podcasts are published.
The Know Show
Check out The Know Show. It's a fortnightly wrap up of the news!
Climate Courage
A fortnightly conversation on issues that matter to you and I, focusing on the actions we can all take.
Listed by Book Authority in the 100 Best LinkedIn Books of All Time and 22 Best New LinkedIn eBooks To Read In 2021 and 2022 categories. Grab it today if you want to take your professional presence to the next level! When it comes to LinkedIn, it really is time to ask — can you really afford not to have this book in the hands of every employee?
Are you a Social CEO? The Social CEO: How Social Media Can Make You A Stronger Leader.
Want to claim your stage? Unleash Your Voice – Powerful Public Speaking for Every Woman
Feedback
Have I done a great job for you? Can you write a reference on my LinkedIn profile or on my Google Business page? If not for me, why not write one for someone else who inspires you or has helped you? Join the #GivingEconomy.