I am very concerned about the extreme heat brewing in our environment and our lack of preparedness for it, so in April, I decided to work out the risks, as well as what we could do to prepare. This meant digging deep into the topic over a couple of months, working it all out, and I did this through the lense of the Global South (where I live), because it is an area with huge populations and inadequate infrastructure to cope with extreme heat. That means the next hot season (or the next) could result in millions of deaths.
Since I did this deep dive, I've written two blogs here and here, recorded a podcast (which is a bit disjointed), designed some short-form graphics (and I'll probably do more), and yesterday, Bavani Periasamy joined me on Climate Courage to talk through all of the actions we can take to prepare. Please watch and get ready.
The reason I am doing this is because I am not seeing any preparations happening at all, and my fear is we will be slammed with this heat in the next 6-18 months and only then will we respond – but the cost of not preparing will be very high.
If we continue to fail to look ahead, millions of humans will be at risk, but even more important is the risk to nature and all other life on earth, including the threat of crop failures, which we're already seeing with major crop losses across the world, and 2024 is looking like it will be even worse.
It's beyond time we get serious, start paying attention, start looking ahead and get prepared. Equally, if we have wealth, we must help those who cannot afford to invest in what is needed, so we don't leave them facing this heat – and we've already seen thousands of poor people struggle through the heat, especially in the US.
What we need now is community preparation, government leadership, transparency and honesty, and the media must start speaking up about it, in every language, reaching every corner of the globe.
My initial inspiration for doing this research was after experiencing wet bulb temperatures for the first time in April this year. It really shocked me because I know what it means in the wider climate escalation story. India, Pakistan, Bangladesh and many countries in the Middle East have experienced these temperatures before 2023, but for Malaysia, Thailand, Laos, Cambodia, Vietnam, Singapore, the Philippines, and many others, it was the first time experiencing significant heat waves, with many deaths reported. However, the challenge with deaths from heat is we never know until long after the event is over, as well as the fact many are not even attributed to heat.
All countries in the Global South are not ready for heat extremes, and seeing what has happened in the Northern Hemisphere this last summer, those of us in the Southern Hemisphere must brace for the next round of heat. We must also understand that all indications are pointing to more extreme heat than we've experienced so far, especially as El Nino gets stronger and does its job.
Read this: Global El Niño forecasts predict a Very Strong event for 2023/24
PLEASE make sure you're ready, make sure your neighbors are ready, and if you have any ideas on how we can help our wildlife, share it with the communities who can do something about it.
Here's how some of my neighbours are expected to live in extreme heat. This is a worker's camp for a new construction project and millions of people across the Global South live in homes like this! How can they possibly survive wet bulb temperatures?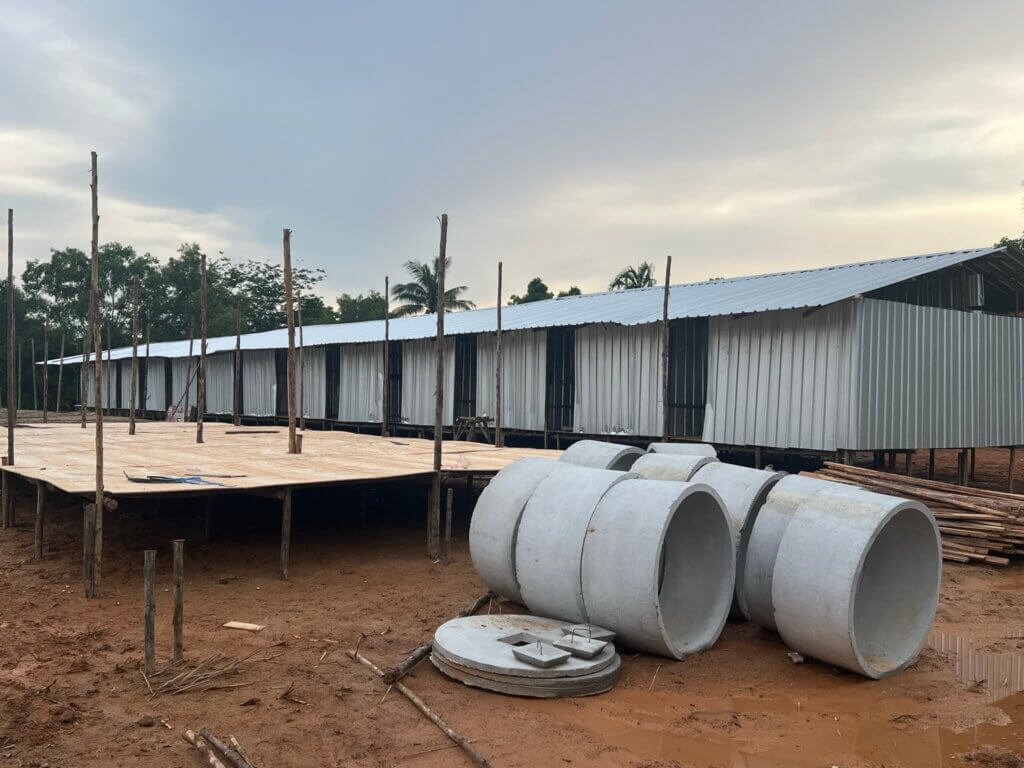 Friend's content and mine
If you want some inspiration for the weekend, or just because the state of our world is so depressing, please meet Aoja Aron – a world full of people like Aoja would change everything – wonderful human being
Donation time
If everyone gave #just10percent of their time, talent, money or voice, we'll change the world. Can you donate? Why not make a regular donation to the World Food Programme. Or donate to the UN Refugee Program, Medicine Sans Frontier, PowerOf, Kiva.org, Red Cross, and so many more, including urgent fundraising and those supporting animals, like the Soi Dog Foundation. A fabulous organisation I support is B1G1 – check it out and set up an account. It's a time for giving and taking care of each other.
Content to read
And here's the content I've been reading, listening to or watching. Scan the headlines, read the ones that jump out at you, read, listen to or watch them all. It's time to pay attention to the information that matters.
Climate crisis
Doomsday author's analysis: We have destroyed our ecosystem – now we await the collapse of civilization | WRAL TechWire
California to Big Oil: Liar, Liar, Pants on Fire – The Santa Barbara Independent
Arson turns Amazon reforestation project to ashes (phys.org)
Large methane gas leak in Baltic Sea discovered | Climate Crisis News | Al Jazeera
What the Latest Health Check Tells Us About the State of Our Planet | TIME
Opinion | Can We Put a Price on Climate Damages? – The New York Times (nytimes.com)
Bill Gates on climate change: 'The climate is not the end of the planet' | Fortune (ampproject.org)
Olive oil prices surge over 100%, leading to cooking oil thefts (ampproject.org)
Brazil Could Break All-Time High Temp Record in Waning Days of Winter – The Messenger
American Climate Corps | The White House
Deadly humid heatwaves to spread rapidly as climate warms – study | Climate crisis | The Guardian
Wanted: 20,000 Young Americans to Fight Climate Change – The New York Times (nytimes.com)
UN chief denounces 'foot-dragging' and 'naked greed' for lack of climate action | Financial Times (ft.com)
"Biological annihilation": Trajectory of evolution is being altered by wide-scale extinctions (cosmosmagazine.com)
Severe plankton bloom off Thailand creates marine 'dead zone' | Thailand | The Guardian
UN Climate Summit: UN Secretary-General Antonio Guterres says Humanity has opened the gates to hell | news.com.au
Libya flood: Derna mayor's house burnt down in protests – BBC News
Arizona's new solution to cool boiling schools – BBC News
Climate Driver Update (bom.gov.au)
Potential El Niño inching closer, but the Bureau of Meteorology is not ready to declare it yet – ABC News
'Worst risk since black summer': NSW south coast fire danger upgraded to 'catastrophic' | Bushfires | The Guardian
Study: conditions on earth may be moving outside "safe operating space" for humanity | CNN
Billionaires Are the Real Existential Risk (jacobin.com)
Study finds human-driven mass extinction is eliminating entire branches of the tree of life (phys.org)
Samkong streets flood, again (thephuketnews.com)
Furore over Chalong garbage dump (thephuketnews.com)
London facing 45C days 'in foreseeable future', mayor Sadiq Khan warns | London | The Guardian
Sydney Marathon runners hospitalized as Australia swelters in unusual spring heat wave | CNN
Study finds significant chemical exposures in women with cancer (medicalxpress.com)
NSW schools closed today: September temperature records fall as fire danger rating hits 'catastrophic' level (9news.com.au)
Some easy (or mostly easy) life changes that have a big impact on the world's oceans | CNN
How to Cool Down a City – The New York Times (nytimes.com)
Norway's $1.4 Trillion Wealth Fund Tells Portfolio Companies Not to Count Carbon Credit Towards Interim Climate Goals – ESG Today
March to End Fossil Fuels: Youth Activists Need Parents, Families to Join the Movement | Teen Vogue
Water firm bosses pocket £3.4 million in salaries amid sewage spill claims – Mirror Online
The Invisible Doctrine: by Eat the Moon Films — Kickstarter
Tallaganda State Forest logging spells 'carnage' for glider habitat (smh.com.au)
Global El Niño forecasts predict a Very Strong event for 2023/24 (mintecglobal.com)
Four Reasons Civilization Won't Decline: It Will Collapse – resilience
Ten countries and territories saw severe flooding in just 12 days | CNN (ampproject.org)
Drowning Predictions: Yearly 100-Year Floods Loom on the Horizon (scitechdaily.com)
Liberia Might Sign Away 10% Of Its Land Mass To UAE Firm In Carbon Offset Deal – Tech Labari
Confronting the Wildness of Nature in Athens, Georgia – The Atlantic
Met Office warns of thunderstorms and possible threat to life in southern UK | UK weather | The Guardian
Global climate protests demand phase out of fossil fuels | Reuters Video
Antarctic sea-ice at 'mind-blowing' low alarms experts – BBC News
Megacities at risk | Surviving C21 (juliancribb.blog)
Elite Panic vs. the Resilient Populace – James B. Meigs, Commentary Magazine
What would happen if the world cut meat and milk consumption in half? | Grist
Water | Land & Water | Food and Agriculture Organization of the United Nations | Land & Water | Food and Agriculture Organization of the United Nations (fao.org)
Millennium Bridge: Business people protest with queue for climate – BBC News (ampproject.org)
Antarctic sea-ice at 'mind-blowing' low alarms experts – BBC News
Global politics
Sunak approval rating 'lowest ever' following net-zero speech (thelondoneconomic.com)
Liz Truss's comeback defies all belief – until you understand the rotten forces making it possible | Liz Truss | The Guardian (ampproject.org)
Could Rishi Sunak's green review threaten UK net zero? – BBC News
Senior Tories express unease over Sunak's intention to roll back climate policies | Conservatives | The Guardian
Fears over right to protest after woman with sign at climate trial prosecuted | UK news | The Guardian
Rishi Sunak considers weakening key green policies – BBC News
Sam Newman encourages Aussies to boo during Welcome to Country | OverSixty
Fact check: Nine key lies told about the Voice to Parliament | The Saturday Paper
Understanding the moral and political implications of a "No" vote in the Voice referendum – ABC Religion & Ethics
Kamahl flips on Indigenous Voice to Parliament referendum vote | news.com.au — Australia's leading news site
Poland no longer supplying weapons to Ukraine amid grain row – BBC News
War in Ukraine: Is the counter-offensive making progress? – BBC News
India suspends visas for Canadians as row escalates – BBC News
The Daily: The Republican Attempt to Impeach President Biden on Apple Podcasts
Trump abortion backlash spotlights a Republican balancing act – BBC News
A Moderate Anti-Trump Republican Who Got Fed Up With the Senate Has Retirement Advice for Mitt Romney. – POLITICO
What Mitt Romney Saw in the Senate – The Atlantic
Rupert Murdoch often wishes Donald Trump dead, Michael Wolff book says | Books | The Guardian
Rupert Murdoch steps down as Fox and News Corp chairman in favour of son Lachlan – BBC News
Fuck Rupert Murdoch – The Shot
Business and technology
Are the new Apple Watches truly "carbon neutral"? (substack.com)
Elon Musk: Social media platform X, formerly Twitter, could go behind paywall – BBC News
Sex, lies and magical thinking about CEO behaviour | Financial Times (ft.com)
Social issues
Child fentanyl death: Police seek husband of NYC nursery owner – BBC News
New York Police find drugs in trapdoor at fentanyl nursery – BBC News
Whitest parts of England and Wales have 144% more local paths, study finds | Communities | The Guardian
Nipah virus outbreak in India: What you need to know about viral disease | Health News | Al Jazeera
Opinion | I Was Attacked by Donald Trump and Elon Musk. I Believe It Was a Strategy To Change What You See Online. – The New York Times (nytimes.com)
How the fentanyl crisis' fourth wave has hit every corner of the US – BBC News
U.S. to offer free at-home COVID tests by mail again (axios.com)
COVID cases are rising again. Here's a refresher on everything you forgot. (nationalgeographic.com)
Six 'Soldiers of Christ' arrested for the abuse and murder of 'malnourished' South Korean woman | CNN
Nation Could Have Sworn Russell Brand Was Already Convicted Sex Offender (theonion.com)
BBC and Channel 4 investigate Russell Brand allegations – BBC News
The nasty noughties: Russell Brand and the era of sadistic tabloid misogyny | Russell Brand | The Guardian
Russell Brand accused of rape and sexual assault – BBC News (ampproject.org)
Passion/humour/history
Osiris-Rex: Asteroid Bennu 'is a journey back to our origins' – BBC News
Mexico 'alien bodies': Those viral artefacts get lab tests – BBC News
What Nasa said about those 'alien corpses' in Mexico – BBC News
So, what did you read? What jumped out at you? Or share with me what you're reading? I love that!
Cheers
Andrea
Want to support my work?
You can buy me a coffee.
Want to get in touch?
All my contact information is here on Linktree.
Environment education
Four environment resources to help you navigate this challenging territory.
Uncommon Courage: an invitation
Uncommon Courage is an invitation to be your courageous best self every day. It's also an antidote to the overwhelm, fear, and rage rolling around the world. But it's more than a book; it's an invitation to join an inclusive community that wants to better understand humanities challenges – both global and personal – in order to take courageous action and create a better world for everyone. If Covid19 has given us the time and space to reflect, Uncommon Courage gives us the nudge we need to create lasting change.
You can buy it on Amazon, Apple Books, Barnes & Noble, Book Depository, Booktopia, Smashwords, Kobo, Gardners, Odilo, Indie Bound, BookShop by BookTrib and Scribd.
Better yet, order it from your local bookstore, so you can #SupportLocal.
You can read the reviews, including a new five-star review on Book Commentary, another five-star review on ReaderViews, a review on BookTrib, and three more on Booklife, another on Book Commentary and Blue Ink Reviews. I'm also collating reviews on my Website too. Have a look and grateful to everyone who has written or recorded one.
Come and join the conversation in my Facebook Group Uncommon Courage.
Listen in to the Uncommon Courage, the podcast on Apple, Spotify and everywhere podcasts are published.
The Know Show
Check out The Know Show. It's a fortnightly wrap up of the news!
Climate Courage
A fortnightly conversation on issues that matter to you and I, focusing on the actions we can all take.
Listed by Book Authority in the 100 Best LinkedIn Books of All Time and 22 Best New LinkedIn eBooks To Read In 2021 and 2022 categories. Grab it today if you want to take your professional presence to the next level! When it comes to LinkedIn, it really is time to ask — can you really afford not to have this book in the hands of every employee?
Are you a Social CEO? The Social CEO: How Social Media Can Make You A Stronger Leader. 
Want to claim your stage? Unleash Your Voice – Powerful Public Speaking for Every Woman
Feedback
Have I done a great job for you? Can you write a reference on my LinkedIn profile or on my Google Business page? If not for me, why not write one for someone else who inspires you or has helped you? Join the #GivingEconomy.