The World Cup is here and the only person in our home interested is my 14-year-old son, Jax. Good on him. There are various stories swirling around the Cup this year, and of course, the one getting the most attention (apart from the upsets) is the European teams being banned by FIFA from wearing 'One Love' armbands. Germany's response – human rights are non-negotiable – and I'm absolutely 100 per cent with them.
Like all stories, there are many layers and angles to it, including the perspective in the Middle East that is VERY different in its view of this protest. But that essential message about human rights is one that will always get my attention.
I fully support the LGBTQIA+ community and I'm delighted that the football teams are speaking up (what enormous social change this could drive?), but I suppose I'm just a little surprised that the bigger issue of migrant worker deaths and abuse when building the World Cup venue isn't the biggest issue bringing everyone together?
For me, this has been a shocking side of the Qatar World Cup and once again, shows how far we have to go in acknowledging how much discrimination and inequality exists right across our world, as well as the determination we need to change it. It's another black mark on FIFA, because they did not fix this at all.
Just a couple of stories to get a sense of this side…
Inside Qatar's 'other' fan zone: a night watching football with Qatar's migrant workers
'Our dreams never came true.' These men helped build Qatar's World Cup, now they are struggling to survive
Determination to address issues like this – wherever they happen – are vital, because to overcome the global challenges we face requires our attention and commitment to ending it! Equality and diversity are incredibly important if we want to correct what we have gotten wrong in our societies. Equality and diversity are critical if we want to solve the problems we collectively face.
It is beyond time we gave this the attention it deserves! Because the truth is, everyone wins if we get this right.
As always, lots going on in the news, so grab a coffee, tea or a wine, and dig in.
Friend's content and mine
What is 'personal style' and why is it important? – please check out my friend Tanya Webber's content. She's an amazing person and has so much talent. If you could do with a style make-over, Tanya is your woman!
Seasoned Voices Radio – Episode 2 with Pat Armistead, Joyologist – I loved this conversation, hosted by the amazing Simone de Haas. She is driving something really important, conversations from seasoned voices.
Climate Courage: why raising human consciousness is critical – a wonderful, heartfelt, and deep conversation on why we must raise human consciousness if we want to tackle the climate challenges we face. Please have a listen to the wisdom from Yana Fry, Sandeep Nath and my co-host Samantha Gayfer. Grateful to have such a powerful conversation.
Donation time
If everyone gave #just10percent of their time, talent, money or voice, we'll change the world. Can you donate? Make it a regular donation to the World Food Programme. Or donate to the UN Refugee Program, Medicine Sans Frontier, PowerOf , Kiva.org , Soi Dog Foundation.  It's a time for giving and taking care of each other.
Content to read
And here's the content I've been reading or watching this last week. Scan the headlines, read the ones that jump out at you, read or watch them all. Knowledge is power, and global knowledge is even more powerful.
Climate crisis
How Consumerism Destroys Our minds – Happy Black Friday!
Saudi Arabia has a new green agenda. Cutting oil production isn't part of it.
Climate change is accelerating because of rich consumers' energy use. Here are some solutions.
How a 'Carbon Cage' Blocks Climate Mitigation
'Second spring' as UK experiences record above-average temperatures
Degrowth is not austerity – it is actually just the opposite
Beyond Meat Is Struggling, and the Plant-Based Meat Industry Worries
Larry Elliot's Version of Degrowth Is Something Else
In a First, Rich Countries Agree to Pay for Climate Damages in Poor Nations
Opinion | This Is the Reality of America's Fast-Fashion Addiction
Women lead climate talks' toughest topic: reparations
The Mangrove Breakthrough: a call to action for a critical ecosystem
Goodbye AC: This new roofing material keeps houses cool
Inside a $3 million doomsday condo that can sustain 75 people for 5 years
Massive craters formed by methane blow-outs from the Arctic sea floor
Provisional State of the Global Climate in 2022 report
Indonesia's food security plan will escalate climate and biodiversity crises: Activists
Business giants call on corporates to halve value chain emissions by 2030
Inside the Boohoo warehouse where workers call themselves slaves
Ignore the climate doomsters: we should celebrate our 8 billion population
The UK towns and cities that could be swallowed by the sea this century
Climate Disruption Caused by a Decline in Marine Biodiversity and Pollution
How disposable tech is feeding an e-waste crisis
World still 'on brink of climate catastrophe' after Cop27 deal
New investigation alleges deforestation and greenwashing linked to Michelin.
I sold 50million scooters and changed the way people travel in town – now I'm doing the same with a car
We are still not taking climate change seriously
New Morgan Stanley Strategy Aims to Reduce One Gigaton in CO2 Emissions
The urgency of urban flooding: What Bengaluru floods 2022 taught us
Carbon Billionaires: The investment emissions of the world's richest people
Your Favourite Beverages Don't Do Much Environmentally
Hothouse Earth #ClimateHell #COP27 #EcologicalCrisis #ClimateCrisis #EconomicCrisis #TellTheTruth #auspol
#SayNoToFastFashion: Starting this Black Friday, we are banning fast fashion brands
Patong's flood-causing drains get national attention
EU proposal the game-changer at COP27
Swimming In Superbugs: MRSA and E COLI Found In British Rivers
Catalonia limits water use as Spain prays for rain after hot dry summer
If today's 'effective'​ marketing doesn't give a stuff about sustainability then the last thing it should be called is, 'good'​
A Million Migrating Birds Expecting Kansas Wetlands Will Find Dust
How tide has turned on UK tidal stream energy as costs ebb and reliability flows
Flooding is inconvenient – now imagine if it happened all the time in S'pore
The upcoming El Nino and further events and developments
If It Can't Be Reduced
Over 20,000 died in western Europe's summer heatwaves, figures show
Travel emissions drop aided lockdown methane surge
Biden Administration Quietly Approves Huge Oil Export Project Despite Climate Rhetoric
The little-known nut that may save at-risk rainforests
10 Things You Can Do To Help Save Our Planet
US declares lab-grown meat safe to eat in 'groundbreaking' move
Embrace what may be the most important green technology ever. It could save us all
Journey To The Doomsday Glacier
Water companies call for a ban on wet wipes
Sustainability in hospitality is good business
Swedish activists, including Greta Thunberg, sue state alleging climate policies violate human rights
Saudi Arabia: Rainstorms and floods hit Jeddah, November 24, 2022 
Global politics
Taylor Swift ticket trouble could drive political engagement
Can America's Aging Leadership Deliver the Future? The Political Scene | The New Yorker Podcast
Ukraine war: Putin tells Russian soldiers' mothers he shares their pain
Millions of lives under threat in Ukraine this winter – WHO
Attacks put Ukraine energy system on brink of collapse
Zaporizhzhia shelling: Explosions at occupied nuclear site in Ukraine
Millions of lives under threat in Ukraine this winter – WHO
Ukraine's power grid destroyed on a 'colossal' scale after Russian strikes, says energy chief – as it happened
Musk lifts Donald Trump's Twitter ban
Donald Trump sued as New York Adult Survivors Act takes effect
Jack Smith: Why a war crimes expert will decide whether to charge Trump
How the Supreme Court Likely Handed Control of the House to Republicans
Former Anti-Abortion Leader Alleges Another Supreme Court Breach
Fact-checking Giorgia Meloni's claim about France
Business and technology
'The world should be worried': Saudi Aramco — the world's largest oil producer — has issued a dire warning over 'extremely low' capacity. Here are 3 stocks for protection
Polyamory, penthouses and plenty of loans: inside the crazy world of FTX
Ex-Disney CEO Bob Iger is back in charge of the company, less than 3 years after handing over the reins to Bob Chapek
Elon Musk's Twitter Teeters on the Edge After Another 1,200 Leave
"They Can't Afford It" — Salesgirl Exposes Tactics She Learnt Working In Luxury Retail tks Evelyn Lee
Amazon Alexa is a "colossal failure," on pace to lose $10 billion this year
Are you preparing for the 2023 global recession?
Sad reality of Australia's technology industry exposed in telling photo
Social issues and humanity
Indonesia earthquake: Search for survivors as death toll soars
Kimberley's El Questro split into tourism and nature reserve under new Indigenous land use deal tks Kaz Stahl
Twins born from embryos frozen 30 years ago
Bondi becomes nude beach as thousands take part in Spencer Tunick's Sydney installation+
'Bloody Aboriginal': Liberal candidate rails against Indigenous people, abortion and climate change
10 atheist quotes that will make you question religion
People with superior sense of smell are better navigators, study reveals
Your identity is a story you tell yourself – The Gray Area with Sean Illing Podcast
This World Cup Fan Village is Beginning to Look a Lot Like Fyre Fest 2.0
World Cup 2022: Iran players decline to sing national anthem
FIFA World Cup 2022: Japan Fans Impress By Cleaning Up Qatar Stadium After Opening Match tks Ann-Katrin Van Schie
Germany players cover mouths in team photo amid armband row
Inside Qatar's 'other' fan zone: a night watching football with Qatar's migrant workers
'Our dreams never came true.' These men helped build Qatar's World Cup, now they are struggling to survive
Zero-Covid China asks: Is World Cup on another planet?
China Xinjiang: Urumqi rocked by Covid lockdown protests after deadly fire
You May Be Early, but You're Not Wrong: A Covid Reading List
Record number of cases as virus surges nationwide
The surprising downsides of empathy
'Festival of Brexit' visitor numbers fall short of expectations
I meditated 15 hours a day for 6 months straight with one of the toughest Buddhist monks on the planet.
Zero tolerance for everyday sexism
Tim Minchin: 'The world would be better if people read more and watched less of The Kardashians'
Why Does the U.S. Have So Many Mass Shootings? Research Is Clear: Guns.
Club Q Colorado shooting: Suspect held after five killed in attack at nightclub
Paul Tambyah: Not appropriate to fund treatment of rare diseases through crowd-funding or charity funds
Emma Corrin: The Crown star calls for gender neutral awards
Kobe Bryant's daughter, Natalia, files restraining order against alleged stalker tks Evelyn Lee
The Origin of Consciousness – How Things Became Aware
Passion, humour, history
Tutankhamun's inspiring 21st Century afterlife
Flossie, 26, officially the world's oldest cat tks Lex Johnson
135-year-old message in a bottle found under floorboards
'Love Actually' Cast to Reunite for 20th Anniversary Holiday Special
Divers discover world's largest underwater cave system filled with Mayan mysteries
Man Keeps Rock For Years, Hoping It's Gold. It Turns Out to Be Far More Valuable
Let me know what jumped out at you? Or share with me what you're reading? I love that!
Cheers
Andrea
Environment education
Three environment resources to help navigate this challenging territory. 1. Knowledge, constantly updating. 2. Individual action and awareness, so we do our part. 3. Resources for those struggling with eco-anxiety. Please share with your community.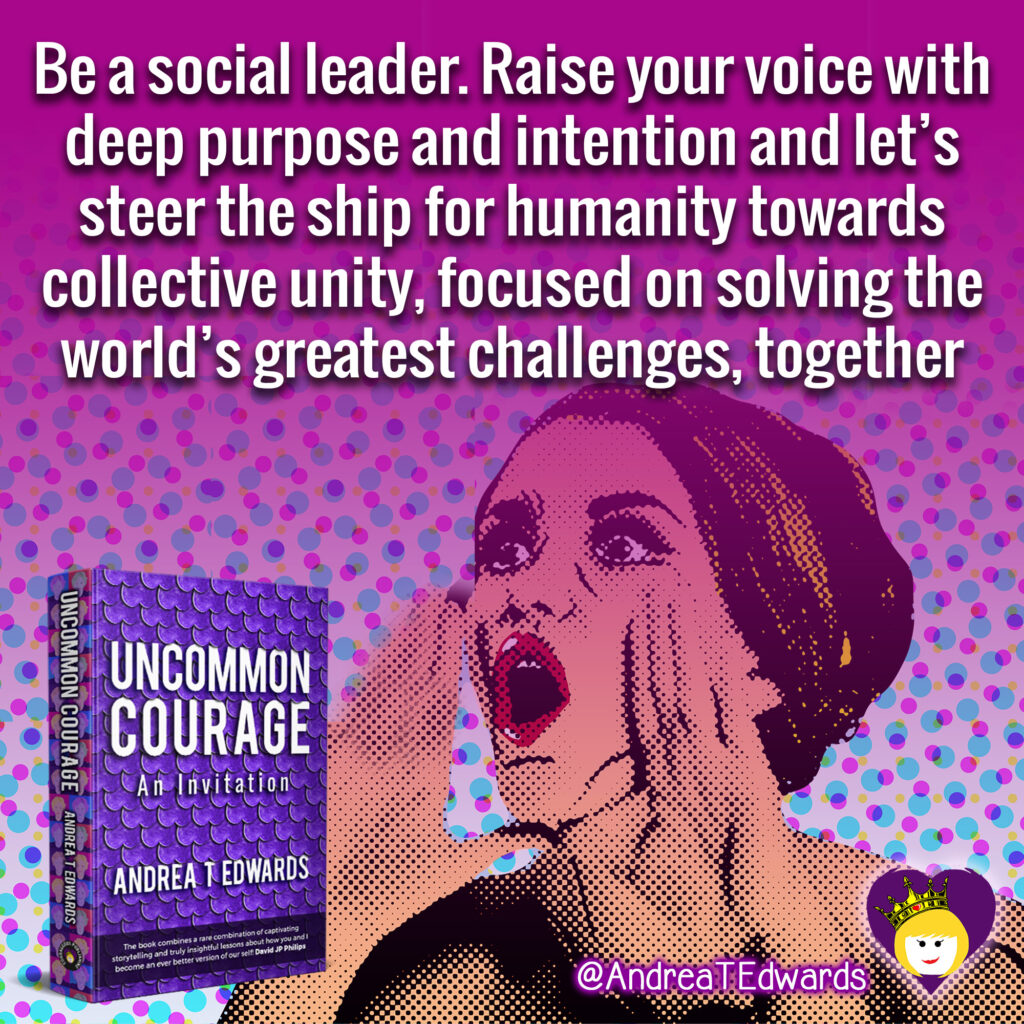 Uncommon Courage: an invitation – my latest book
Uncommon Courage is an invitation to be your courageous best self every day. It's also an antidote to the overwhelm, fear, and rage rolling around the world. But it's more than a book; it's an invitation to join an inclusive community that wants to better understand humanities challenges – both global and personal – in order to take courageous action and create a better world for everyone. If Covid19 has given us the time and space to reflect, Uncommon Courage gives us the nudge we need to create lasting change.
You can buy it on Amazon, Apple Books, Barnes & Noble, Book Depository, Booktopia, Smashwords, Kobo, Gardners, Odilo, Indie Bound, BookShop by BookTrib and Scribd.
Better yet, order it from your local bookstore, so you can #SupportLocal.
You can read the reviews, including a new five-star review on Book Commentary, another five-star review on ReaderViews, a review on BookTrib, and three more on Booklife, another on Book Commentary and Blue Ink Reviews. I'm also collating reviews on my Website too. Have a look and grateful to everyone who has written or recorded one.
Come and join the conversation in my new Facebook Group Uncommon Courage.
Uncommon Courage, the podcast – Apple, Spotify and everywhere podcasts are published.
The Know Show
Check out The Know Show. It's a fortnightly wrap up of the news!
Climate Courage
A fortnightly conversation on issues that matter to you and I, focusing on the actions we can all take.
Listed by Book Authority in the 100 Best LinkedIn Books of All Time and 22 Best New LinkedIn eBooks To Read In 2021 and 2022 categories. Grab it today if you want to take your professional presence to the next level! When it comes to LinkedIn, it really is time to ask — can you really afford not to have this book in the hands of every employee?
Connect with me
andreatedwards.com , uncommon-courage.com
LinkedIn, Twitter, Facebook, YouTube, Instagram, Tik Tok, Medium, Amazon.
Feedback
Have I done a great job for you? Can you write a reference on my LinkedIn profile or on my Google Business page? If not for me, why not write one for someone else who inspires you or has helped you? Join the #GivingEconomy.
Are you a Social CEO? The Social CEO: How Social Media Can Make You A Stronger Leader.
Want to claim your stage? Unleash Your Voice – Powerful Public Speaking for Every Woman