One of the news stories that broke this week was Kate Bush is back in the charts, due to her song – Running Up That Hill – capturing the imagination of a new generation, when featured on Stranger Things. Of all the pieces I read or commentary, I think this Tweet was the best.
Moving away from the environment this week, but there's plenty to read below, I want to highlight three stories that deserve our attention.
Teachers speak out about 'atrocious' staff shortages crippling many NSW public schools – ABC News
The storm clouds of Brexit and Covid have moved on – but Britain just isn't working any more – The Guardian
Johnson's Culture War Against Judges Having a 'Chilling Effect' on Rule of Law, Warns Parliamentary Report – Byline Times
One of the issues raised consistently throughout the pandemic, was that our institutions are crumbling and failing the people they are meant to serve, and it is happening in the wealthiest countries on earth. Failing institutions mean that challenging times are harder to face, because the systems we rely on cannot do the job they are supposed to do – think health, security, education and more.
These three stories really capture this story, and it is a sign of impending societal breakdown IF we don't wake up and pay attention. We have lost respect for essential pillars in our society and we need to come together to work out how to get it back. That will take all of us understanding it's important.
The first story, in NSW, Australia, highlights that career educators across the country are saying they've never seen anything like it before. A whole generation of children are being failed, but the teachers are being failed too.
And then in the UK, the systemic failure is even more extreme. From childcare to the courts, public service failures are causing chaos.
The jubilee holiday period saw Britain's airports collapse into chaos. Thousands of flights cancelled and tens of thousands of holidays wrecked, with the transport secretary, Grant Shapps, at a loss as to what to do. We hear daily that the NHS is in distress. It has "lost" 25,000 beds, and a staggering 14 million patients face delayed surgery, 300,000 for heart treatment.
The final article discusses how political and media attacks on the judiciary are putting the constitution, democracy, human rights and the rule of law at risk.
"At a time that the rule of law has been broken at Number 10 and the human rights of refugees is centre-stage in the media, the case for a safeguarded and impartial judiciary is of critical importance to protect our fundamental values of democracy, rights and the rule of law from erosion in the future."
Why all of this matters? Lack of trust in the institutions that run our countries, and the collapse of these institutions, is a signal that a broader societal collapse is on the way. For the poorest people in these societies, the impact will be greatest, and it's already happening. With everything else going on in the world, this is alarming.
Here's Kate Bush if you need a break from reality for a moment.
Friend's content and mine
Improving sustainability in business: What can companies do? – congratulations to Susanna Hasenoehrl. She is doing a superb job as SAP's head of sustainability for Asia Pacific and Japan.
I also put together this article, Multiple resources for eco-anxiety from institutions to books to videos – and it is jam packed with links to resources, across a wide spectrum, for anyone who is struggling with eco-anxiety. There is also content for kids. Please pass this onto anyone you know who is struggling with eco-anxiety or eco-grief. So important people know there is help and wisdom at hand.
It was the first birthday of Uncommon Courage: an invitation yesterday, so an extra special thank you to Samantha Gayfer for talking about what it meant to her, including some of her favorite chapters.
Donation time
If everyone gave #just10percent of their time, talent, money or voice, we'll change the world. Can you donate? Make it a regular donation to the World Food Programme. Or donate to the UN Refugee Program, PowerOf , Kiva.org , Soi Dog Foundation. It's a time for giving and taking care of each other.
If you want to support Ukraine Red Cross Ukraine, Medicine Sans Frontier, Defend Ukraine, as well as World Food Programme and UN Refugee Program.
Content to read
And here's the content I've been reading or watching this last week. Scan the headlines, read the ones that jump out at you, read or watch them all. Knowledge is power, and global knowledge is even more powerful.
Climate crisis
Devastation of Australia's climate change crisis captured on camera – tks Vicky Coburn
A huge Atlantic ocean current is slowing down. If it collapses, La Niña could become the norm for Australia tks Claire Kielty
White House climate adviser says misinformation 'absolutely' a public health issue
The Impossibilities of the Circular Economy
The cheap, green, low-tech solution for the world's megacities
Plastic-munching superworms offer hope for recycling
H&M & Lululemon back $250 million Fashion Climate Fund to decarbonize supply chain
President Biden Invokes Defense Production Act to Accelerate Domestic Manufacturing of Clean Energy
The energy in nuclear waste could power the U.S. for 100 years, but the technology was never commercialized
3 alternative protein critiques, explained
'Gold rush' for gas production threatens to lock in global heating
Millions Across the Southwest Face Weekend Heat Alerts tks Damian Corbet
Inspiration Isn't Enough To Turn The Corner On Climate Failure and Fantasies.
Microplastics found in fresh Antarctic snow
Energy crisis talks lead to deal to create Australia's first clean power transition plan
Big Oil Is Suing Countries To Block Climate Action
Tesco plant-based food advert banned as misleading
The dead shellfish littering our beaches tell you a lot about safety and secrecy in Britain
Fast-fashion giant Shein pledges $15m for textile waste workers in Ghana
As the Great Salt Lake Dries Up, Utah Faces An 'Environmental Nuclear Bomb' tks Laura Ashton
Business Resilience to Degrowth
Climate change: 42% chance Earth is locked in to 1.5C warming even if all emissions stop today – study
Wind power meets and beats Denmark's total electricity demand – two days in a row
An 'emerging crisis': The climate is changing too fast for plants and animals to adapt
The ranting critics of sustainability may have a point
Temasek launches GenZero, an investment platform company aimed at accelerating decarbonisation globally
Potentially Fatal Combinations of Humidity and Heat Are Emerging Across the Globe
Farm in NSW central west given new lease on life after 15,000 trees planted in shelterbelts
The regenerative farm working to improve soil without fertilisers
David Graeber: 'To save the world, we're going to have to stop working'
Brian Cox warns that 'a law of nature' could lead to human race wiping itself out
Environmentalists join forces to fight 'carbon bomb' fossil fuel projects
14 Hawai'i Youth File New Climate Lawsuit Against State Transportation Department
Carbon offsets may ease your flight guilt, but they aren't saving the planet
The Bar for Corporate Climate Leadership Has Risen
Cocktail of chemical pollutants linked to falling sperm quality in research
After winning the climate election, Labor must be the climate government the whole world needs tks Philip Merry
Climate emergency behind French Open protest
GRÖNT – The future of sustainable food and feed production
Climate-friendly diets can make a huge difference – even if you don't go all-out vegan
Regenerative farming boosts soil health, yielding more nutritious crops
Activists fear a new threat to biodiversity—renewable energy
Dutch Gas Platform to Be Powered by German Offshore Wind Gets Go-Ahead
Is your money being used to fund climate chaos? tks Dion Jensen
Climate inaction could cost the world $178 trillion
Global heating is turning white Alps green, study finds
Child Entertained For 5 Minutes By Plastic Toy That Will Take 1,000 Years To Biodegrade
3 Oil Companies Pull Out of Alaska's Arctic National Wildlife Refuge
Drought-stricken US warned of looming 'dead pool'
China official says wheat crop may be 'worst in history'
Global politics
Johnson's Culture War Against Judges Having a 'Chilling Effect' on Rule of Law tks Damian Corbet
January 6 hearing: Trump accused of attempted coup
Nearly 20 Million Watch January 6 Hearing; MSNBC Beats Fox News, Which Stuck With Regular Shows
Russia's economic slump will wipe out 15 years of gains – IIF
Putin and Peter the Great: Russian leader likens himself to 18th Century tsar
No confidence vote: What happens next for PM Boris Johnson?
Severodonetsk: Zelensky ties fate of east Ukraine to battle for city
How Jared Kushner Washed His Hands of Donald Trump Before Jan. 6
As Survivors Demand Action, House Passes Gun Bill Doomed in the Senate
Banning Teenagers From Buying AR-15s Runs Into Wall Of GOP Resistance
Fox News primetime programs — including Tucker Carlson and Sean Hannity — won't air full January 6 public hearing, delegating live coverage to business network
What the Crisis in Sri Lanka Means for the World
Two Professors Found What Creates a Mass Shooter. Will Politicians Pay Attention? Tks Denise Chai
The storm clouds of Brexit and Covid have moved on – but Britain just isn't working any more
The Tian'anmen Square 'Massacre': the West's most persuasive, most pervasive lie.
McKinsey & Co. worked with Russian weapons maker even as it advised Pentagon
Former Wisconsin judge killed in 'targeted' attack; suspect had hit list that included Mitch McConnell, Gov. Whitmer
Before Jan. 6, Aide Warned Secret Service of Security Risk to Pence
Thailand legalises cannabis trade but still bans recreational use
Petrol prices see biggest daily jump in 17 years
Business and technology
What's next for the global economy? Experts talk inflation, stagnation and (de-)globalisation at Davos 2022 – World Economic Forum Podcast
The Best Bosses Are Humble Bosses
Thousands of UK workers begin world's biggest trial of four-day week
Kim Dotcom Says 'US Is Beyond Bankrupt,' Digital Entrepreneur Predicts a 'Controlled Demolition of Global Markets'
Nike CEO John Donahoe says he's chasing Generation Alpha
A notorious market bear who called the 2000 and 2008 crashes warns that stocks will end the current sell-off down 60-70% from January highs as valuations remain grossly above historical norms
Complex, ill-defined, and non-immediate problems
How San Francisco Became A Failed City
Social issues and humanity
Matthew McConaughey discusses Uvalde victims, calls for gun control measures at White House
Male Executives Control 99 Times More S&P 500 Shares Than Women
MEDIA New CNN boss has a message for staffers: Cool it
Bangladesh fire: Nearly 50 killed, hundreds injured in depot blast
Bangladesh begins investigation into deadly container depot fire
How The Internet Became a Doom Loop
'Abuse, assaults and big profits' – children's homes staff speak out
Neurodevelopmental Outcomes at 1 Year in Infants of Mothers Who Tested Positive for SARS-CoV-2 During Pregnancy
Harvey Weinstein to be charged with indecent assault in UK
Swimmer Lia Thomas Clarifies That She Did Not Transition to Win Races
Why Polling on Gun Control Gets It Wrong – The Daily Podcast
Bill Gates And Melinda French Gates Both At Giving Pledge Gathering, But No Sign Of Warren Buffett Or MacKenzie Scott
The evangelical church faces a 'state of emergency' over the pandemic and politics, Andy Stanley says
He couldn't forget the man he fell in love with 70 years ago. So he finally came out at 90 years old.
Active Shooter Incidents In U.S. Jumped 53% Last Year, FBI Says
Long COVID risk falls only slightly after vaccination, huge study shows
It's a Scandi scandal! Why has social media turned on Sweden?
Today I got a text from my abusive ex. 'You remind me of Amber Heard,' it read.
Teachers speak out about 'atrocious' staff shortages crippling many NSW public schools
Passion, humour, history
Rebel Wilson Comes Out, Shares Photo of Her Girlfriend
Madonna casts Ozark's Julia Garner to play her in biopic
'Ooh, yeah, you're amazing!' The wonder of Kate Bush – and 10 tracks to delight new listeners
See Queen + Adam Lambert, Duran Duran, Diana Ross Perform at Platinum Jubilee Concert
Party at the Palace kicked off with a sketch with the Queen and Paddington Bear
Two Huge Black Holes Will Merge In Space: Space And Time Will Be Distorted
Jennifer Lawrence On Why She Disappeared, Her Marriage, And Choosing To Keep Her Baby's Life Private
Chris Hemsworth Gets Butt Naked As He Shows Off God Bod In Steamy 'Thor' Trailer
Cameron Diaz Tells Gwyneth Paltrow That She Found 'Peace' After Leaving Hollywood for Good
Let me know what jumped out at you? Or share with me what you're reading? I love that!
Cheers
Andrea
Uncommon Courage: an invitation – my latest book
Uncommon Courage is an invitation to be your courageous best self every day. It's also an antidote to the overwhelm, fear, and rage rolling around the world. But it's more than a book; it's an invitation to join an inclusive community that wants to better understand humanities challenges – both global and personal – in order to take courageous action and create a better world for everyone. If Covid19 has given us the time and space to reflect, Uncommon Courage gives us the nudge we need to create lasting change.
You can buy it on Amazon, Apple Books, Barnes & Noble, Book Depository, Booktopia, Smashwords, Kobo, Gardners, Odilo, Indie Bound, BookShop by BookTrib and Scribd.
Better yet, order it from your local bookstore, so you can #SupportLocal.
You can read the reviews, including a new five-star review on Book Commentary, another five-star review on ReaderViews, a review on BookTrib, and three more on Booklife, another on Book Commentary and Blue Ink Reviews. I'm also collating reviews on my Website too. Have a look and grateful to everyone who has written or recorded one.
Come and join the conversation in my new Facebook Group Uncommon Courage.
Uncommon Courage, the podcast – Apple, Spotify and everywhere podcasts are published.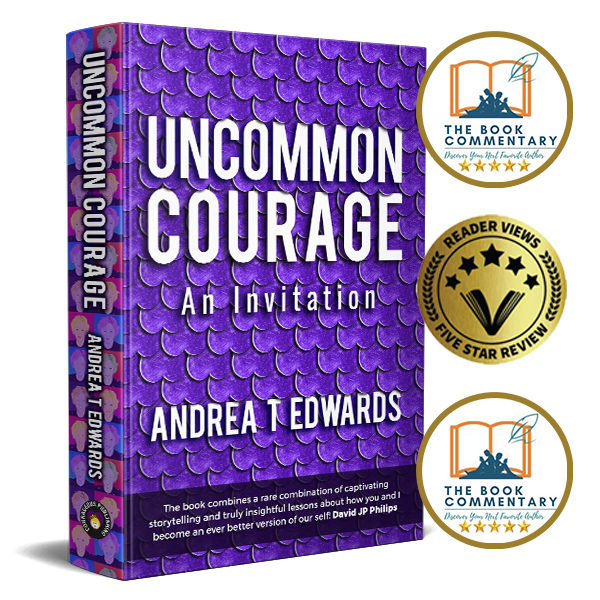 The Know Show
Check out The Know Show. It's a weekly wrap up of the news!
Listed by Book Authority in the 100 Best LinkedIn Books of All Time and 22 Best New LinkedIn eBooks To Read In 2021 and 2022 categories. Grab it today if you want to take your professional presence to the next level! When it comes to LinkedIn, it really is time to ask — can you really afford not to have this book in the hands of every employee?
Connect with me
andreatedwards.com , uncommon-courage.com
LinkedIn, Twitter, Facebook, YouTube, Instagram, Tik Tok, Medium, Amazon.
Feedback
Have I done a great job for you? Can you write a reference on my LinkedIn profile or on my Google Business page? If not for me, why not write one for someone else who inspires you or has helped you? Join the #GivingEconomy.
Are you a Social CEO? The Social CEO: How Social Media Can Make You A Stronger Leader.
Want to claim your stage? Unleash Your Voice – Powerful Public Speaking for Every Woman