Before we get to water management, we had some wonderful news for the environment this week, as it was announced: Scientists discover 'biggest plant on Earth' off Western Australian coast. The genetic testing determined that this is a single 4,500-year-old seagrass and may have spread over 200 square kilometres, which is the equivalent of 20,000 football fields. Definitely have a read of that!
Another important announcement and we're only just hearing this, is Vice President Harris Announces Action Plan on Global Water Security and Highlights the Administration's Work to Build Drought Resilience. This is SO important. We need a global water management team, working out how to make sure every country on earth has access to safe drinking water. If we can keep people where they are, we will have less migration, less wars, and less misery.
But not all people will be able to stay. It's not all due to mismanagement or corruption – although that is a HUGE part of the problem.
According to this article: more than two billion people today lack access to safely managed drinking water, and nearly half the world's population lacks access to safely managed sanitation services. An accelerating climate crisis will increase pressure on water resources during this decade, and half the world's population is expected to face severe water stress by 2030.
Some other environment articles in the section below
'Don't work for climate wreckers' UN chief tells graduates, in push to a renewable energy future
Current policies will bring 'catastrophic' climate breakdown, warn former UN leaders
The Observer view on the summits that forecast global environmental dangers
And I found this one really fascinating – take note Southern Hemisphere: Israeli study: Climate change already causing storm levels only expected in 2080.
Published this week, the Israeli study has found that climate change is already causing a "considerable intensification" of winter storms in the Southern Hemisphere to a level not anticipated until 2080.
Comparing previous predictions of human-caused intensification of winter storms in the Southern Hemisphere with current storm observations, it found that the "bleak" reality was far worse than expected.
Why is this important? "One example of this is the role the storms play in regulating the temperature at the Earth's poles. Winter storms are responsible for the majority of the heat transport away from tropical regions toward the poles…" noting that without their contribution, the average pole temperatures would be about 30°C (54°F) lower.
It finishes with: the current trends pose "a real and significant threat to societies in the Southern Hemisphere in the next decades."
Some more to read in the environment section
UN Warns of 'Total Societal Collapse' Due to Breaching of Planetary Boundaries
Mounting Research Shows It's Time to Stop Drilling
Life in a 'degrowth' economy, and why you might actually enjoy it
And finally, please spend some time with: The six great transitions to regenerate nature, society. Important piece and solution focused.
The six great transitions emerge from backcasting (as opposed to forecasting): asking, what does a future in which we can thrive look like? When we put it that way, the answer seems obvious. We want a future in which we can feel secure in face of crises, where technology connects us in smart ways, where we feel healthy and satisfied, where economic opportunities are fairly shared, where natural resources are used in sustainable ways, and where ecosystems continue to be symbiotic (mutually beneficial).
That all sounds pretty reasonable, yes? The six transitions are:
Transition 1: from degradation to restoration
Transition 2: from depletion to renewal
Transition 3: from disparity to responsibility
Transition 4: from disease to revitalisation
Transition 5: from disconnection to rewiring
Transition 6: from disruption to resilience
Have a read of this article and now it's time to get stuck into the Weekend Reads.
Friend's content and mine
I have been suffering the most serious bout of eco-anxiety I have ever faced since February this year. It's been intense to say the least, and I wanted to share why, how I cope with it, as well as the return to hope. If you have a listen, would love to know what you think. Feeling nervous about this one, but I am not afraid to talk about how I'm feeling.
A ride on the eco-anxiety train and a return to hope.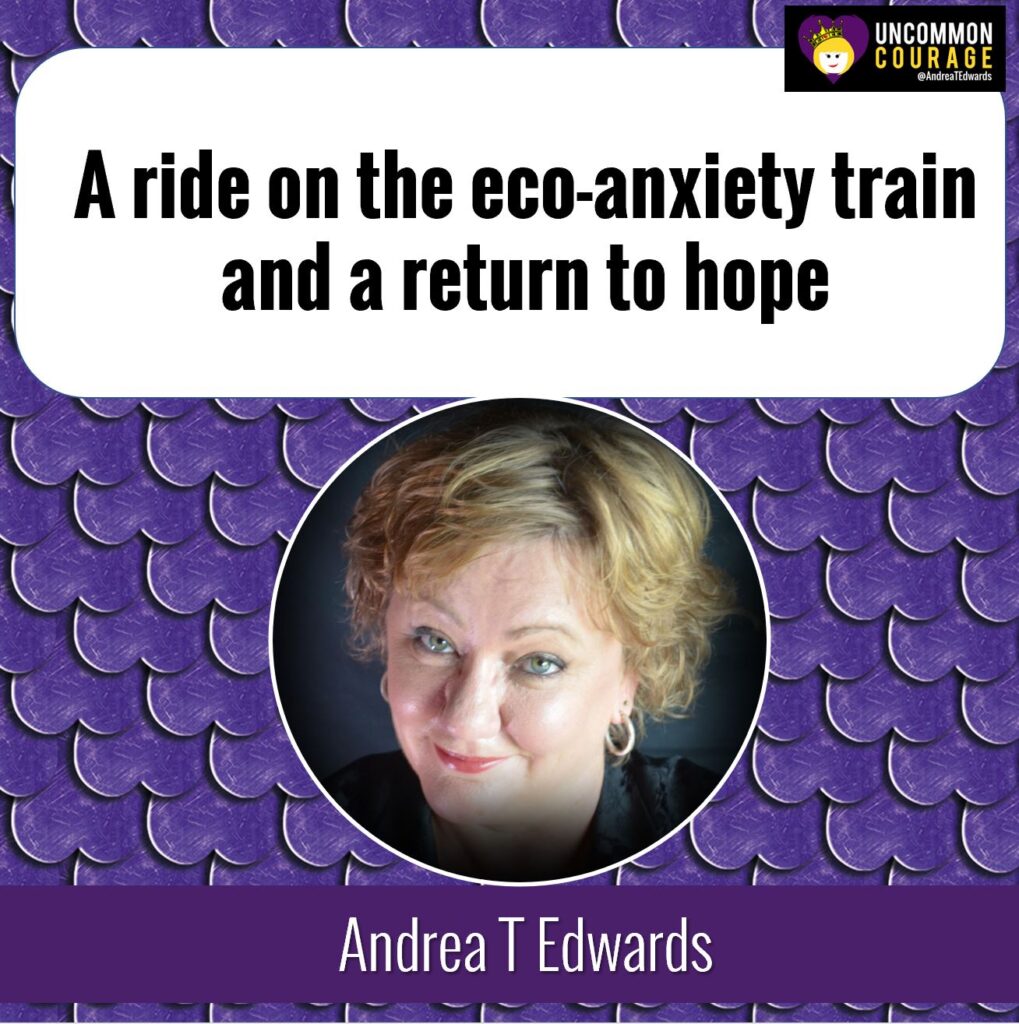 Week 10 of climate action tips and knowledge #UncommonCourage
Donation time
If everyone gave #just10percent of their time, talent, money or voice, we'll change the world. Can you donate? Make it a regular donation to the World Food Programme. Or donate to the UN Refugee Program, PowerOf , Kiva.org , Soi Dog Foundation. It's a time for giving and taking care of each other.
If you want to support Ukraine Red Cross Ukraine, Medicine Sans Frontier, Defend Ukraine, as well as World Food Programme and UN Refugee Program.
Content to read
And here's the content I've been reading or watching this last week. Scan the headlines, read the ones that jump out at you, read or watch them all. Knowledge is power, and global knowledge is even more powerful.
Climate crisis
Scientists discover 'biggest plant on Earth' off Western Australian coast
In the race against time to cut emissions, companies' supply chains are key
Global food crisis looms as fertilizer supplies dwindle
Vice President Harris Announces Action Plan on Global Water Security and Highlights the Administration's Work to Build Drought Resilience
'We were all wrong': how Germany got hooked on Russian energy
Israeli study: Climate change already causing storm levels only expected in 2080
Cost of living crisis: 1 in 4 people in the developed world are struggling, poll shows
The Six Great Transitions to Regenerate Nature, Society and the Economy
Mona Lisa: Man dressed as old woman throws cake at da Vinci painting
French President Emmanuel Macron and UN Secretary General's Special Envoy for Climate Ambition and Solutions Michael R. Bloomberg Announce a Climate Data Steering Committee to Advise How to Capture and Create Open, Centralized Climate Data to Accelerate the Transition Towards a Resilient, Net Zero Global Economy
M'sia Airlines operating flight to S'pore using fuel made from renewable waste & cooking oil on June 5, 2022
Life in a 'degrowth' economy, and why you might actually enjoy it
What HSBC's Stuart Kirk got right
Murder, rape and abuse in Asia's factories: the true price of fast fashion
Chicken rice: Why Singapore's much-loved dish is under threat
Sharp cut in methane now could help avoid worst of climate crisis
Norwegian clothing firms told to share microplastic pollution impacts
Judge rules that bees, legally, can be fish
'Consequences will be dire': Chile's water crisis is reaching breaking point
Current policies will bring 'catastrophic' climate breakdown, warn former UN leaders
Millions warned of power cuts this winter
Food Export Restrictions during the Ukraine-Russia crisis
BOM forecasts destructive winds, low-lying snow, rain and freezing temperatures as cold blast hits east coast
The net-zero challenge: Accelerating decarbonization worldwide
Giant Deep Ocean Turbine Trial Offers Hope of Endless Green Power
Rain storm claims 100 lives in north-east Brazil
The net-zero challenge: Accelerating decarbonization worldwide
How Diesel Giant Cummins Might Beat Tesla In The Green Engine Battle
Brexit means fall in crops and fewer British products in supermarkets, farmers tell MPs
Mounting Research Shows It's Time to Stop Drilling
UN Warns of 'Total Societal Collapse' Due to Breaching of Planetary Boundaries
Sun-Starved Sweden Turns to Solar to Fill Power Void tks Avi Liran
Is the world's oldest tree growing in a ravine in Chile?
The Observer view on the summits that forecast global environmental dangers
'Don't work for climate wreckers' UN chief tells graduates, in push to a renewable energy future
Scientists can now grow wood in a lab without cutting a single tree
Regulators take aim at ESG ratings in fight against greenwashing
The Short List Of Climate Actions That Will Work
Global politics
What do Russians think of Putin and the war in Ukraine?
Negative views of Russia mainly limited to western liberal democracies, poll shows
Analysis: Russians feel little economic pain now, long-term outlook darkens
Russia won't use tactical nuclear weapons in Ukraine, says ambassador to UK
Russian Journalist to Auction Nobel Medal to Benefit Ukraine
Ambassador Qin Gang publishes an article on the South China Morning Post
Turkey wants to be called Türkiye in rebranding move
Analysis: Turkey's recurring currency nightmare strikes again
North Korea assumes leadership of top disarmament group
Has Texas Turned on Greg Abbott? tks Chris Vega
Republicans throw their weight behind Johnny Depp by posting a video of star as Captain Jack Sparrow seconds after jury verdict found Amber Heard had defamed him
The DOJ's Jan. 6 Investigation Appears to Be Closing in on Trump
Marjorie Taylor Greene Goes Completely Off The Rails With Her Latest Beef
Anthony Albanese and Labor to form majority government with projected win in Macnamara
The election 'backlash' that shouldn't surprise anyone in Canberra
Scott Morrison instructed Border Force to reveal election day asylum boat arrival
Frydenberg moves straight to bankruptcy court
Requiem for a lost country tks Phillipa Edwards
Economy
Short-term profits and long-term consequences — did Jack Welch break capitalism?
Is globalization dead? Author and columnist Thomas Friedman in conversation at Davos 2022 World Economic Forum Podcast
Don't get too excited about the stock market's recent rally. Some Wall Street experts say it could be a trap—and the bear market will still wreak havoc
'I'm not woke': JPMorgan CEO and 'red-blooded capitalist' Jamie Dimon fires back at criticism of stakeholder capitalism
Jamie Dimon Says JPMorgan Is Bracing Itself for Economic 'Hurricane'
The stock market is freaking out because of the end of free money. It all has to do with something called 'the Fed put'
Business and technology    
Australian Billionaire Scott Farquhar Faces Off With Elon Musk Over Tesla's Work From Office Threat
Musk deal for Twitter dodges lengthy U.S. antitrust review
Amazon Fight Over Work-From-Home Expenses Set to Head to Trial
Current and former Meta staffers describe confusion, disarray and declining confidence in Mark Zuckerberg as Sheryl Sandberg departs
Sheryl Sandberg Stepping Down as COO of Facebook Parent Meta Platforms
NASA Partners with Industry for New Spacewalking, Moonwalking Services
Elon Musk tells Tesla staff: return to office or leave
Davos 2022: What's worrying Ray Dalio – and what gives him hope World Economic Forum Podcast
Spotlight on Davos: Harnessing the power of the Fourth Industrial Revolution
Davos 2022 – YouTube's Susan Wojcicki on misinformation, the creator economy and more – World Economic Forum Podcast
Has the 'great resignation' hit academia?
Social issues and humanity
Disney and Ewan McGregor condemn 'horrendous' racism sent to Obi-Wan Kenobi star Moses Ingram
Omicron subvariant drives spike in cases and deaths in Portugal
The misunderstood—and misrepresented—Zero COVID policy in China
Rapid rise in Mumbai pushes India's COVID numbers to month high
During the Omicron Wave, Death Rates Soared for Older People
You Are Going to Get COVID Again … And Again … And Again
'Hard to believe it's actually happening': Shanghai to lift COVID lockdown
Tucker Carlson Invites Wrath of ARMY After Insulting BTS White House Visit
Something Dark Unfolded in Jerusalem This Week
Toxic Femininity: When So-Called Allies Curb Your Career tks Dr Margie Warrell
The world's religions face a post-pandemic reckoning
'Wonder Woman' Star Schools Fans Who Say The Character's 'Not A Queer Or Trans Icon'
Why Johnny Depp vs. Amber Heard Dominated the Internet
Depp v. Heard: What the trial and verdict say about our culture
Amber Heard's Attorney Says Jurors Were Skewed by 'Lopsided' Social Media Posts, Actress Was 'Demonized'
In bad taste? National Crime Prevention Council removes Amber Heard meme
234 – The Truth Wins – Tom Stafford You Are Not So Smart Podcast
Archbishop of Canterbury suggests Prince Andrew wants to 'make amends'
Kellyanne Conway knocks 'Peter Pan Taylor Lorenz' and other reporters for messaging her teenage daughter: 'I will never forgive and forget'
Catholic girls' school demands students submit photos of their dress for 'approval' before formal
Infant formula: the superfood you never think about
A researcher's avatar was sexually assaulted on a metaverse platform owned by Meta, making her the latest victim of sexual abuse on Meta's platforms, watchdog says
Students in the room with the gunman called 911 many times.
America, how long will you sacrifice your children on the altar of gun worship? tks Amber Pearl
Our Narrative of Mass Shootings Is Killing Us
Canada introduces law to freeze handgun sales, ban look-alike toys
Texas officials investigate whether police acted fast enough to stop shooter at Uvalde school
British soldiers arrested over 'drugs and money laundering' days before Queen's Jubilee tks Nicci Mcshane
Updated Thailand Entry Measures Starting Next Month
Vivica A. Fox Unloads On Jada Pinkett Smith For 'No Accountability' In Slap
Passion, humour, history    
Carl Sagan Predicted The Mess 2021 Would Be 25 years Ago  
Why we can stop worrying and love the particle accelerator
Platinum Jubilee: Queen pulls out of St Paul's Cathedral service
Queen's Platinum Jubilee: A collective misremembering of empire | Opinions | Al Jazeera
Megalodon shark extinction may have been linked to great white competition
Channing Tatum Talks Fatherhood And The Expanding World Of His 'Sparkella' Children's Books
Box Office: 'Top Gun: Maverick' Debuts to Stratospheric $124 Million
How to kill a god: the myth of Captain Cook shows how the heroes of empire will fall – podcast
Australia's Top Baby Names 2022
Let me know what jumped out at you? Or share with me what you're reading? I love that!
Cheers
Andrea
Uncommon Courage: an invitation – my latest book
Uncommon Courage is an invitation to be your courageous best self every day. It's also an antidote to the overwhelm, fear, and rage rolling around the world. But it's more than a book; it's an invitation to join an inclusive community that wants to better understand humanities challenges – both global and personal – in order to take courageous action and create a better world for everyone. If Covid19 has given us the time and space to reflect, Uncommon Courage gives us the nudge we need to create lasting change.
You can buy it on Amazon, Apple Books, Barnes & Noble, Book Depository, Booktopia, Smashwords, Kobo, Gardners, Odilo, Indie Bound, BookShop by BookTrib and Scribd.
Better yet, order it from your local bookstore, so you can #SupportLocal.
You can read the reviews, including a new five-star review on Book Commentary, another five-star review on ReaderViews, a review on BookTrib, and three more on Booklife, another on Book Commentary and Blue Ink Reviews. I'm also collating reviews on my Website too. Have a look and grateful to everyone who has written or recorded one.
Come and join the conversation in my new Facebook Group Uncommon Courage.
Uncommon Courage, the podcast – Apple, Spotify and everywhere podcasts are published.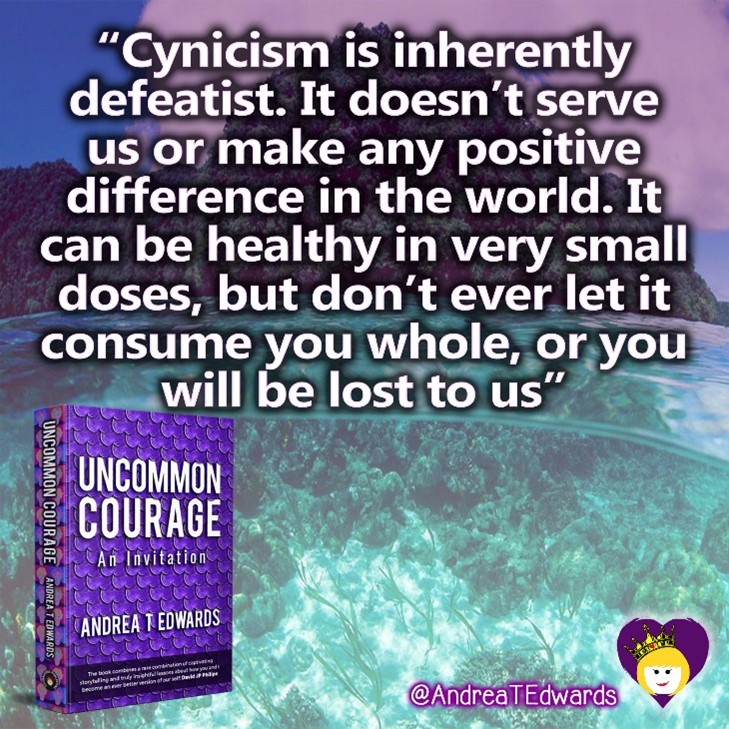 The Know Show
Check out The Know Show. It's a weekly wrap up of the news!
Listed by Book Authority in the 100 Best LinkedIn Books of All Time and 22 Best New LinkedIn eBooks To Read In 2021 and 2022 categories. Grab it today if you want to take your professional presence to the next level! When it comes to LinkedIn, it really is time to ask — can you really afford not to have this book in the hands of every employee?
Connect with me
andreatedwards.com , uncommon-courage.com
LinkedIn, Twitter, Facebook, YouTube, Instagram, Tik Tok, Medium, Amazon.
Feedback
Have I done a great job for you? Can you write a reference on my LinkedIn profile or on my Google Business page? If not for me, why not write one for someone else who inspires you or has helped you? Join the #GivingEconomy.
Are you a Social CEO? The Social CEO: How Social Media Can Make You A Stronger Leader.
Want to claim your stage? Unleash Your Voice – Powerful Public Speaking for Every Woman