The story I have been following for some time is the famine on our doorstep. It is already here, our fellow humans are suffering and it's becoming more alarming every day. The Ukraine war is obviously a huge part of why this is happening, but the biggest impact is from extreme weather events – from drought to rain to fire. This will continue to escalate if we don't get the message that business-as-usual is over.
Living through the pandemic in Thailand and seeing the massive economic impact it had on my neighbours and the poverty and suffering it created, I don't know how my heart is going to cope with what is happening on a much bigger scale right now. I did everything I could to help then and I will continue to help in all the ways I can, but it is absolutely heartbreaking to see this suffering unfolding and impacting so many people in our world. Are you feeling this heartache too?
We must bring the world together to help those impacted the most – both those living in poverty in wealthy countries, and those living in countries devastated by events outside of their control. No one should starve in this world. Our leaders across the world are consistently failing humanity and it's time for radical change. All of this was predicted and no action was taken to stop it. The worst part is, it's going to get worse, and it will only get better when we wake up and change.
One more suggestion, please take care of your empath friends. They will carry the pain of human suffering heavily in their hearts. They need love and understanding, but an even better way to help them is for all of us to get to work.
I really encourage everyone to pay attention to this, because if we unite and work together, we can overcome together. It's the only way.
Some articles to look out for below
The coming food catastrophe – just the headline and image on the front page of the Economist caught attention this week
Poor Countries Face a Mounting Catastrophe Fuelled by Inflation and Debt
With Gas Pumps All but Dry, Sri Lanka Faces Its 'Most Difficult Time'
'Apocalyptic' food prices will be disastrous for world's poor, says Bank governor
Canada Crop Land 'Deteriorating' as Heavy Rain Hinders Planting
The banks collapsed in 2008 – and our food system is about to do the same
The longest river in Italy is drying up. What does this mean for those who rely on it for food?
Rice is Sacramento Valley's gift to the world. Can it withstand California's epic drought?
Collapse is Coming. An Unsustainable Society Will Not Last.
Climate graphic of the week: Historic blaze in New Mexico as extreme global weather events rise
Drought in numbers
Nafeez Ahmed reports on financial institutions preparing for social breakdown as a result of energy and food shocks
And of course, another big news cycle this week was from the World Meteorological Organization (WMO), which issued a press release this week, titled: Four key climate change indicators break records in 2021. The essence of the message?
Four key climate change indicators – greenhouse gas concentrations, sea level rise, ocean heat and ocean acidification – set new records in 2021. This is yet another clear sign that human activities are causing planetary scale changes on land, in the ocean, and in the atmosphere, with harmful and long-lasting ramifications for sustainable development and ecosystems, according to the World Meteorological Organization (WMO).
Extreme weather – the day-to-day "face" of climate change – led to hundreds of billions of dollars in economic losses and wreaked a heavy toll on human lives and well-being and triggered shocks for food and water security and displacement that have accentuated in 2022.
In another article: Climate change sets a string of records, from atmosphere to the ocean it states: the past seven years have been the warmest seven years on record, according to the authors, highlighting an overall warming trend that has seen each decade since the 1980s warmer than the last.
"The report highlights that atmospheric CO2 has now surpassed 420 ppm in 2022," commented Dr Tom Mortlock, an Adjunct Fellow at Australia's Macquarie University. "To put this into perspective, ice core records in Antarctica suggest that atmospheric CO2 naturally fluctuates between 150 and 300 ppm. We are now probably 40 per cent above natural levels of CO2 experienced over the last million years of Earth's history, and this has all happened in the past 150 years. It is now unequivocal that this recent period of warming has been driven by human-produced greenhouse gas emissions. If we want to avoid the worst impacts of climate change, we must limit warming to 1.5 °C in line with the Paris agreement."
Yikes right!
I appreciate that hearing about climate change and the overlapping crisis' in our world is hard to listen to, and most would prefer life just continued as normal. I wish for that too. But I know we can't ignore it anymore. We must act.
So let's all rise up and demand that we come together, as a global society, dedicating the next decade to transforming our world, so future generations have a chance of a life versus a catastrophic breakdown of our environment. There is still time to secure a better future. It won't be as it was in our lifetimes, but it won't be the apocalypse many are predicting. The choice is ours to make.
Do we wait and put our heads in the sand? Or do we act decisively? I'm game for the latter if you are?
Friend's content and mine
Why aren't we intervening? – an incredibly powerful piece by my friend Jane Franklin, with a contribution from someone in her family. It is time to intervene. Please read. We need to accept all expressions of humanity if we are to evolve to meet the challenge facing our world.
Self-worth and women – the unique challenges we face and how to overcome (part 2) a privilege to co-host this podcast with my amazing friend Cathy Johnson, and we were both blown away by the vulnerable sharing of three truly remarkable women – Avni Martin, Yasmine Khater and Kat van Zutphen. Thank you ladies.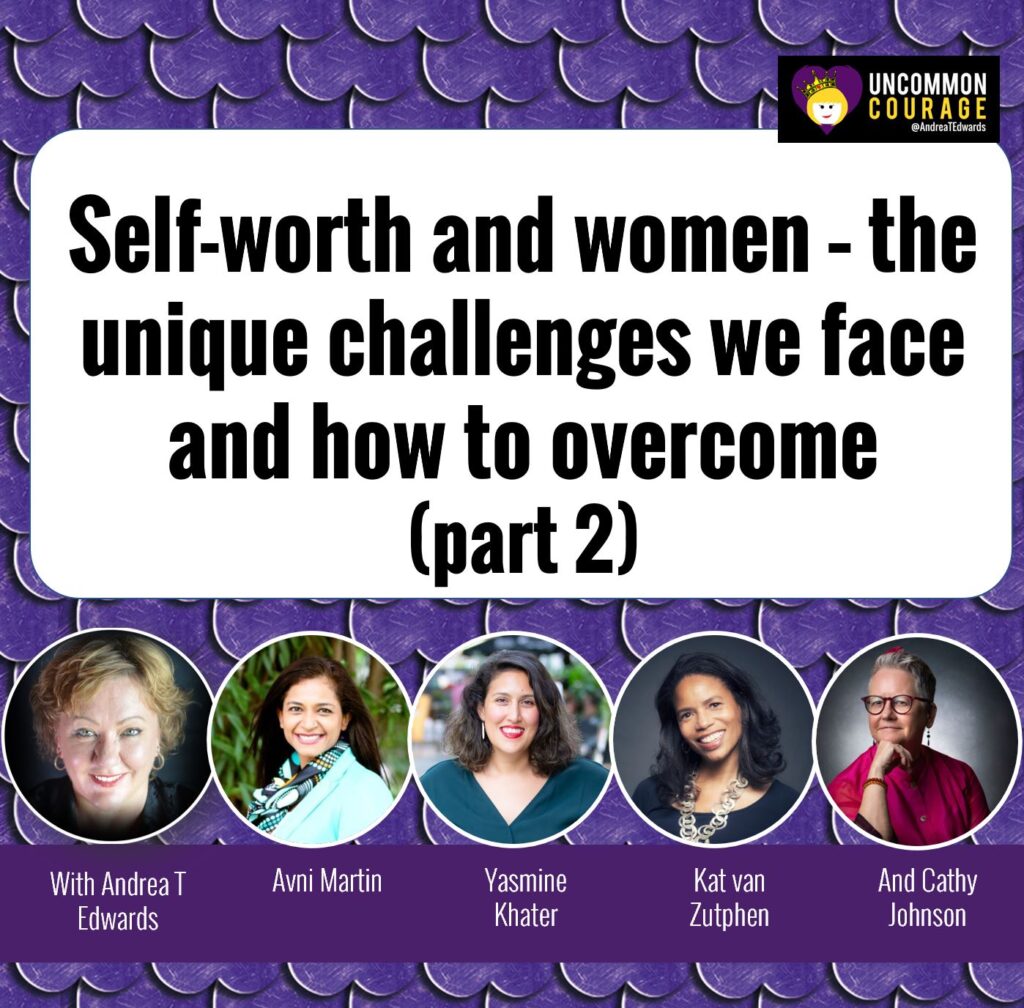 Andrea Edwards: Having the Courage to Trust your Intuition – I was thrilled to be invited onto Dean Newlund podcast, The Business of Intuition. We talked about intuition of course, but also courage, how we are marketed fear and the importance of accepting and celebrating intuitive intelligence in your organization, rather than only relying on data. Intuition is a form of data gathering after all. We talked about lots of other stuff too. If you have a chance to listen, let me know what you think?
Donation time
If everyone gave #just10percent of their time, talent, money or voice, we'll change the world. Can you donate? Make it a regular donation to the World Food Programme. Or donate to the UN Refugee Program, PowerOf , Kiva.org , Soi Dog Foundation. It's a time for giving and taking care of each other.
If you want to support Ukraine Red Cross Ukraine, Medicine Sans Frontier, Defend Ukraine, as well as World Food Programme and UN Refugee Program.
Content to read
And here's the content I've been reading this last week. Scan the headlines, read the ones that jump out at you, read or watch them all. Knowledge is power, and global knowledge is even more powerful.
Climate crisis
'Who Cares If Miami Is 6 Meters Underwater In 100 Years?': HSBC Executive's Incendiary Climate Comments tks Sussana Hasenoehrl
HSBC pressured to sack banker who discredited climate crisis warnings tks Sussana Hasenoehrl
Climate graphic of the week: Historic blaze in New Mexico as extreme global weather events rise
Goodbye greenwash! How the law is being used to force corporates to act on climate change
'Apocalyptic' food prices will be disastrous for world's poor, says Bank governor
Climate-focused Dutch funds to take lead on Shell investor engagement
What If Banks Had to Disclose the Climate Impact of Their Investments?
What is the Biodiversity Crisis?
Canada Crop Land 'Deteriorating' as Heavy Rain Hinders Planting
Australian researchers show solar power can be generated at night
The Future of Plants tks Muriel Muriel
Resources minister decries 'climate religion' and vows Coalition push for more gas projects
The extraordinary heat wave in India and Pakistan, explained
Environmental toxins are worsening obesity pandemic, say scientists tks Dr Philip Merry
BlackRock, JPMorgan, others tell Texas they don't boycott energy companies
The banks collapsed in 2008 – and our food system is about to do the same
The longest river in Italy is drying up. What does this mean for those who rely on it for food?
Climate change sets a string of records, from atmosphere to the ocean
Australian doctors echo UN boss's call for an urgent end to coal power tks Susanna Hasenoehrl
Arctic's unknown viruses' and nuclear waste
How to pick a great scientific collaborator
Shut down fossil fuel production sites early to avoid climate chaos, says study
Four key climate change indicators break records in 2021
Deep Sea Mining May Uplift Clean Energy—and Curse Our Oceans
More Than 75% of the World Could Face Drought by 2050, UN Report Warns
How 12 key industries can cut emissions in line with 1.5C
Climate change swells odds of record India, Pakistan heatwaves
Action on environment report card stalls as government slow to release
Climate geoengineering must be regulated, says former WTO head
Purpose and practice: how capital markets can create a sustainable future
Coca-Cola to add tethered lids to plastic bottles in bid to reduce litter
Climate graphic of the week: Record carbon dioxide levels alarm scientists
Climate change: EU emissions surpass pre-pandemic levels
New Research Shows Aerosol Emissions May Have Masked Global Warming's Supercharging of Tropical Storms
'On Easter Sunday I was alone in a cell'
Rice is Sacramento Valley's gift to the world. Can it withstand California's epic drought?
Deforestation and world population sustainability: a quantitative analysis
COP26 chief: Leaders must do more to honour climate promises
Here Are the Wildfire Risks to Homes Across the Lower 48 States
Cumbria coalmine redundant before it even opens, say campaigners
Climate-Change Summary- Nature Bats Last
The increasing frequency of fatal wet-bulb temperatures
'This is about survival': will Cop27 bring action on Glasgow climate pact?
Grave Early Warning Observational Signs for Pending Near-Term AMOC Ocean Circulation System Collapse
The U.S. pledged billions to fight climate change. Then came the Ukraine war
Physicists: 90% Chance of Human Society Collapsing Within Decades
Collapse is Coming. An Unsustainable Society Will Not Last.
Global politics
Retired colonel speaks out on Russian TV
Marianna Vyshemirsky: 'My picture was used to spread lies about the war'
Russia's invasion not going to plan, Nato says
Russian chemical attack claim fact-checked
Moscow declares victory in battle for Mariupol steel plant; Russia halts gas supplies to Finland
Ukraine war: What might tip the balance?
Sweden and Finland formally submit Nato applications
What Would Finland Bring to the Table for NATO
Russia is furious that Finland is joining NATO but can't do much about it
Hungary's new president condemns Putin's 'aggression', plans trip to Warsaw
'Where are you going to not be a bulldozer?': Tracy Grimshaw pins Morrison on whether he will change
Australia federal election: Polls show voters could upend the coalition government
Federal election 2022 live updates: ABC projects Labor to win government, Anthony Albanese to be next prime minister
How a Group of Female Independents Aims to Revive Australian Democracy
I watched all of Sky After Dark's election coverage and have some fucking concerns
Inside Operation Lone Star – podcast
Secretary Of State Antony Blinken Ends 'Late Show' Interview In Surprising Way
Government windfall tax U-turn inevitable, says Keir Starmer
Elon Musk plans to 'vote Republican' and warns of political attacks on him
China Eastern plane crash likely intentional, US reports say
Madison Cawthorn: Republicans oust Trump-backed Gen Z congressman
State Senator Who Backs White Nationalism Suggests Buffalo Shooting Was False Flag
Republicans Must Answer for 'Great Replacement Theory' Violence
Why oligarchs choose London for their dirty money – Nicci McShane
Global economy
What's going on with the global economy? A chief economist's view World Economic Forum Podcast
Nafeez Ahmed reports on financial institutions preparing for social breakdown as a result of energy and food shocks
A recession isn't a certainty just yet, Harvard economist says
Poor Countries Face a Mounting Catastrophe Fueled by Inflation and Debt
With Gas Pumps All but Dry, Sri Lanka Faces Its 'Most Difficult Time'
Germany beer bottle shortage: Industry warns of 'tense' situation
Germany's Allianz and its U.S. funds troubles
Being Jamie Dimon just became less fun
At 78, Investor Preps for 'Biggest Bear Market in My Life'
Wall Street titans warn a recession is imminent but its not that simple. Here are the warning signs you need to understand.
Business and technology
Musk's get-out-of-Twitter card is worth $5 bln
Twitter board's "fool me thrice" risk
Elon Musk Says Twitter Deal 'Cannot Move Forward' Until CEO Proves Fake Account Numbers
SparkToro & Followerwonk Joint Twitter Analysis: 19.42% of Active Accounts Are Fake or Spam
7 lessons about finding the work you were meant to do
Bonuses are outdated in the age of knowledge work
My depression was so acute I tried to resign. Now, I'm KPMG's chief mental health officer
India's Reliance to acquire dozens of brands in $6.5 billion consumer goods play
America is running out of baby formula because 3 companies control the market and babies aren't that profitable
Elon Musk's Neuralink Is An Absolute Disaster, Former Employee Say
In the other Washington, Boeing's future is far from clear tks Patrice Robinet
Social issues and humanity
A manifesto for human well-being
Taliban orders female Afghan TV presenters to cover faces on air
Tucker Carlson 'Not Sure' About Great Replacement Theory After Pushing It 400 Times
Fox News suddenly goes quiet on 'great replacement' theory after Buffalo shooting
Why Tucker Carlson Should Want the Buffalo Manifesto Made Public
US Soccer agrees to equal pay deal
MI5 agent used secret status to terrorise girlfriend
Shanghai moves to impose tightest restrictions yet
North Korea: Covid outbreak a great disaster, says Kim Jong-un
What COVID Hospitalization Numbers Are Missing
Long Covid Symptoms and Treatment: What We Know So Far
How Often Can You Be Infected With the Coronavirus?
Lacking vaccines, North Korea battles COVID with antibiotics, home remedies
Australia reports suspected monkeypox case in returned traveller from Europe
Explainer: What is monkeypox and where is it spreading?
Monkeypox alert in Spain after 23 people show symptoms
Guy Falls In Love With His Gym Bro, Realizes He's Bi
The 7 types of rest that every person needs
Buffalo shooting: 'Bodies were everywhere'
How to spot if society is DOOMED: Researchers reveal the signs that show civilization is set to collapse
Sailors from my old ship are dying by suicide. I may know why
Worry and fear as US faces baby formula shortage
Passion, humour, history
New Hubble Space Telescope data suggests 'something weird' is going with our universe, Nasa says
Elephants in Mourning Spotted on YouTube by Scientists
Military List of UFO Sightings Has More Than Doubled in the Past Year, Navy Official Says at Hearing
Bridgerton Announces Season 3 Leads As Show Breaks From Tradition
Two Male Lions Spotted Having Sex In Kenya
"I tried the 3 new viral mascaras you're seeing everywhere. Here's my verdict."
'Avatar 2' Teaser Trailer Is Finally Here
The Sadness of Kevin Samuels' Life and Death
Scientists grow plants in lunar soil – and find bad news
Hundreds spot 'spectacular' fireball across England
Let me know what jumped out at you? Or share with me what you're reading? I love that!
Cheers
Andrea
Uncommon Courage: an invitation – my latest book
Uncommon Courage is an invitation to be your courageous best self every day. It's also an antidote to the overwhelm, fear, and rage rolling around the world. But it's more than a book; it's an invitation to join an inclusive community that wants to better understand humanities challenges – both global and personal – in order to take courageous action and create a better world for everyone. If Covid19 has given us the time and space to reflect, Uncommon Courage gives us the nudge we need to create lasting change.
You can buy it on Amazon, Apple Books, Barnes & Noble, Book Depository, Booktopia, Smashwords, Kobo, Gardners, Odilo, Indie Bound, BookShop by BookTrib and Scribd.
Better yet, order it from your local bookstore, so you can #SupportLocal.
You can read the reviews, including a new five-star review on Book Commentary, another five-star review on ReaderViews, a review on BookTrib, and three more on Booklife, another on Book Commentary and Blue Ink Reviews. I'm also collating reviews on my Website too. Have a look and grateful to everyone who has written or recorded one.
Come and join the conversation in my new Facebook Group Uncommon Courage.
Uncommon Courage, the podcast – Apple, Spotify and everywhere podcasts are published.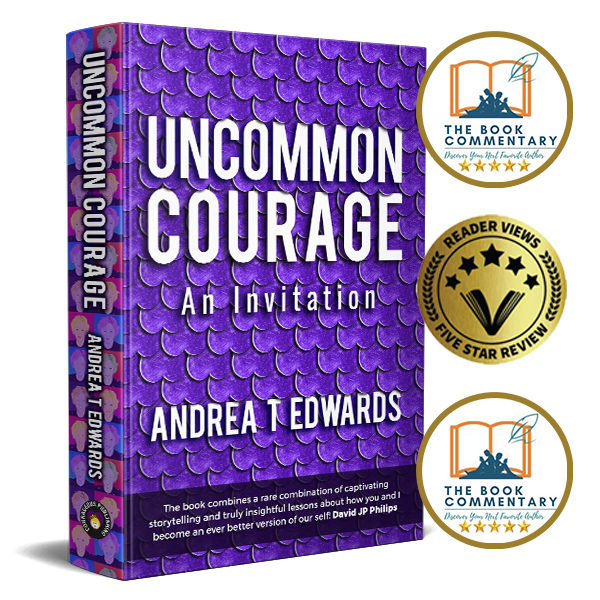 The Know Show
Check out The Know Show. It's a weekly wrap up of the news!
Listed by Book Authority in the 100 Best LinkedIn Books of All Time and 22 Best New LinkedIn eBooks To Read In 2021 and 2022 categories. Grab it today if you want to take your professional presence to the next level! When it comes to LinkedIn, it really is time to ask — can you really afford not to have this book in the hands of every employee?
Connect with me
andreatedwards.com , uncommon-courage.com
LinkedIn, Twitter, Facebook, YouTube, Instagram, Tik Tok, Medium, Amazon.
Feedback
Have I done a great job for you? Can you write a reference on my LinkedIn profile or on my Google Business page? If not for me, why not write one for someone else who inspires you or has helped you? Join the #GivingEconomy.
Are you a Social CEO? The Social CEO: How Social Media Can Make You A Stronger Leader.
Want to claim your stage? Unleash Your Voice – Powerful Public Speaking for Every Woman