If you're looking for the latest information on character limits for LinkedIn, look no further.
The information here is correct at the time of writing (always subject to change) and character limits are listed unless minimum is indicated:
First Name: 20
Last Name: 40
Professional Headline (Desktop): 220
Professional Headline (Mobile): 240
About section, previously called professional summary: 2,600
Interests: 1,000
Vanity URL (the personalization of your LinkedIn address): 5–30, after "www.linkedin.com/in/"
Website URL: 256—this is your website address outside LinkedIn
Skills: 50 skills with 80 characters per skill
Position Title: 100
Position Description: 200 characters minimum, 2,000 characters maximum
Profile Publication Title: 255
Profile Publication Description: 2,000
Recommendation: 3,000
Additional Info/Advice for Contacting: 2,000
Phone number: 25
Instant Message: 25
Address: 1,000
Probably the biggest change, is to LinkedIn status updates. A status update is the post you write on LinkedIn. It is now 3,000 characters; with the first 200 characters visible and the rest hidden until you click the see more button. Previously it was only 700 characters, so you can now say significantly more.
Creating text with these limits in mind will save you time later, I promise. You can also use this text for other social media platforms. For example, my professional headline on LinkedIn is used for Twitter.
I always advise my clients to create a LinkedIn folder and suggest they save everything there. It makes it easy to update, especially if you write with the above numbers in mind, and it will stop the loss of content some experience when attempting to update directly on LinkedIn. Save yourself the headache.
For all the latest information on LinkedIn, check out the LinkedIn help page.
Hope this is useful.
Cheers
Andrea
Uncommon Courage: an invitation – my latest book
You can buy it on Amazon, Apple Books, Barnes & Noble, Book Depository, Booktopia, Smashwords, Kobo, Gardners, Odilo, Indie Bound, BookShop by BookTrib and Scribd.
Better yet, order it from your local bookstore, so you can #SupportLocal.
You can read the reviews, including a new five-star review on Book Commentary, another five-star review on ReaderViews, a review on BookTrib, and three more on Booklife, another on Book Commentary and Blue Ink Reviews. I'm also collating reviews on my Website too. Have a look and grateful to everyone who has written or recorded one.
Come and join the conversation in my new Facebook Group Uncommon Courage.
Uncommon Courage, the podcast – Apple, Spotify and everywhere podcasts are published.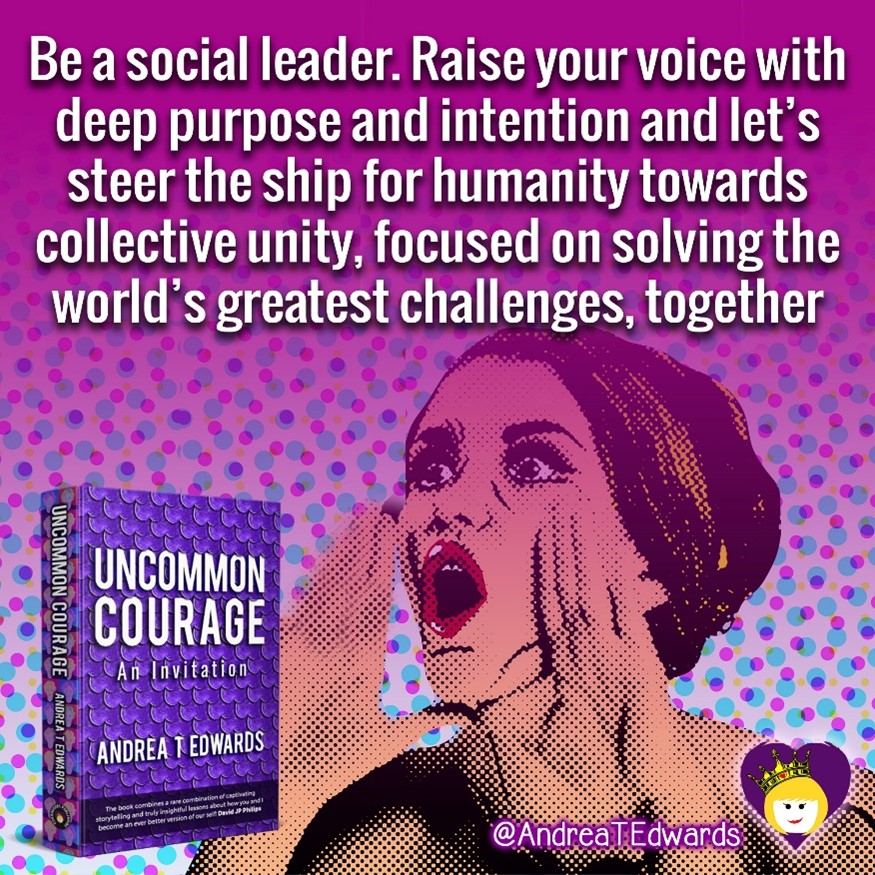 The Know Show
Check out The Know Show. It's a weekly wrap up of the news!
Listed by Book Authority in the 100 Best LinkedIn Books of All Time and 22 Best New LinkedIn eBooks To Read In 2021 and 2022 categories. Grab it today if you want to take your professional presence to the next level! When it comes to LinkedIn, it really is time to ask — can you really afford not to have this book in the hands of every employee?
Connect with Andrea
andreatedwards.com , uncommon-courage.com
LinkedIn, Twitter, Facebook, YouTube, Instagram, TikTok, Medium, Amazon.
Feedback
Have I done a great job for you? Can you write a reference on my LinkedIn profile or on my Google Business page? If not for me, why not write one for someone else who inspires you or has helped you? Join the #GivingEconomy.
Are you a Social CEO? The Social CEO: How Social Media Can Make You A Stronger Leader.
Want to claim your stage? Unleash Your Voice – Powerful Public Speaking for Every Woman