All of these stories should be THE major story for the climate this week (see links for the stories below in the climate section).
Climate change: Wildfire smoke linked to Arctic melting
Microplastics found in human blood for first time
No country met WHO air quality standards in 2021, survey shows
'It's not supposed to be white': one of the Great Barrier Reef's healthiest reefs succumbs to bleaching
Accelerating Melt Rate Makes Greenland Ice Sheet World's Largest "Dam" – Generating Huge Amounts of Heat From Hydropower
But no, the really BIG story this week had headlines like this: Hot poles: Antarctica, Arctic 40 and 30 degrees Celsius above normal.
Or this…
Antarctic temps 70 degrees hotter than normal; 'This is a Pacific Northwest 2021 heat wave kind of event'
Something Is Up With Earth's North and South Poles
Heatwaves at both of Earth's poles alarm climate scientists
Antarctic areas reach 40C above normal at same time as north pole regions hit 30C above usual levels
At this time of year, the Antarctic should be rapidly cooling after its summer, and the Arctic only slowly emerging from its winter, as the days start to lengthen. For both poles to show such heating at once is unprecedented. There's that word again, unprecedented!
The fear from scientists is that it could signal faster and abrupt climate breakdown, and provides a significant warning of disruption in Earth's climate systems.
The danger is declared as twofold: heatwaves at the poles are a strong signal of the damage humanity is wreaking on the climate; and the melting could also trigger further cascading changes that will accelerate climate breakdown.
Some of the observations by the people who study this stuff…
Extreme events are exceeding model projections. These events drive home the urgency of action.
We have entered a new extreme phase of climate change much earlier than we had expected.
But I think George Monbiot said it best in this Tweet…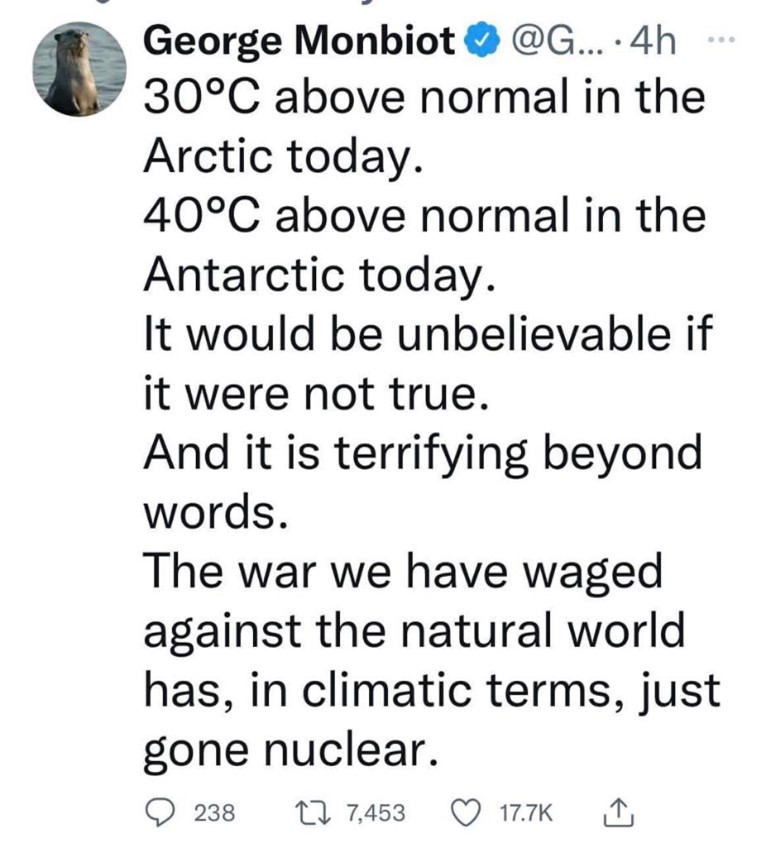 And let's not forget, we woke up to this stunning piece of news – In a First, an Ice Shelf Collapses in East Antarctica. It's been compared to the size of LA! Massive.
It is beyond time to act my friends and do everything we can to ensure we are not sleepwalking towards unbearable suffering. And I mean everything. This is something we have to get our head arounds, because it's not an easy thing to face at all. But we can do this. However to succeed, it requires all on board. Are you on board?
Friend's content and mine
The Next Stage of Events is Inclusivity – Are You Ready? – my friend Warwick Merry, writes a fantastic article on the future of events and some key considerations. Worth a read.
Cascading Crises: Plummeting Trust and Climbing Stress | The Impact on International Schools – the fabulous Samantha Gayfer put together this stunning article on the challenges of mental health for international schools. I think this is relevant to everyone. Full of facts and useful links.
How do we land a message with someone not ready to hear it? – a podcast with my friend Dr Frank Hagenow, a doctor of psychology and leadership communication expert. Worth a listen if you want to understand more about landing a message, especially if it's one people don't want to hear.
When did we accept so much contempt in our societies? A blog discussing two things that create contempt and asking the question – why do we keep accepting that which divides us?
Week two of climate action tips #UncommonCourage, also updating at the blog What can I do to act on climate change? Actions we can all embrace
Donation time
If everyone gave #just10percent of their time, talent, money or voice, we'll change the world. Can you donate? Make it a regular donation to the World Food Programme. Or donate to the UN Refugee Program, PowerOf , Kiva.org , Soi Dog Foundation. It's a time for giving and taking care of each other.
If you want to support Ukraine Red Cross Ukraine, Medicine Sans Frontier, Defend Ukraine, as well as World Food Programme and UN Refugee Program.
Content to read
And here's the content I've been reading this last week. Scan the headlines, read the ones that jump out at you, read or watch them all. Knowledge is power, and global knowledge is even more powerful.
Global politics – focus on Ukraine
War and weapons
Ukraine thwarts Russian advances; fight rages for Mariupol
The small town which managed to block Russia's big plans
Mariupol: Why Mariupol is so important to Russia's plan
Hypersonic missiles: Why is Russia using them in Ukraine?
Doomsday plane worth £150M that can 'withstand nuclear blasts' flies over English Channel
The world, sanctions, the economy
No gun. No helmet. No action: The frustrations of some novice Americans who signed up to fight in Ukraine.
Ukraine crisis tests unity as Biden visits Europe
White House avoids Trump attacks on Russia-Ukraine
Boris Johnson sparks fury after comparison to Brexit
Germany: An Energy Embargo Against Russia Is Unsustainable
Bangladesh Seeks $22.4 Million Insurance Claim from Missile Strike on Ship in Ukraine
India studies 'rupee-rouble' exchange scheme to beat Russia sanctions tks Richard Turrin
Asian gas buyers puzzle over Putin's demand for payment in roubles
Russia has a $140 billion stockpile of gold, but no one wants to buy it
Abramovich's Dubai House Hunt Shows Russian Diaspore Widening
Information, misinformation, social media, propaganda
Schwarzenegger's video is a master class in getting people to reconsider their views
Ukraine leader Volodymyr Zelensky calls for global protests to reject Russian war
20 days in Mariupol: team that documented city's agony
Advice to Photographers in Ukraine, by Timothy Fadek
Russian regulator blocks Google News, cites Ukraine conflict -Interfax
Russian Navy ship paraded in propaganda footage 'destroyed by Ukraine'
Russian Actress Chulpan Khamatova In Exile Following Criticism Of Ukraine War tks Elaine Ho
Ukraine conflict presents a minefield for Anonymous and hacktivists
Comic Relief: 'Helpless' David Tennant praised for moving speech about Ukraine
Those on the right who loudly praised Putin have now fallen strangely silent.
Zelenskyy Calls Mila Kunis, Ashton Kutcher With Thanks For Raising Millions For Ukrainians
Stockman Slams Zelenskyy's Hyperbole: Pearl Harbor My Eye! tks Mark Thorburn
Mikhail Baryshnikov: Do not punish Russian artists and athletes for war
Humanitarian
'We're going back to a USSR': long queues return for Russian shoppers as sanctions bite
US officially accuses Russian forces of war crimes in Ukraine
Nuclear
Nuclear Energy Group 'Gravely' Worried About Ukraine Plants, Repeats Offer To Help
Deeper reading
'It's Our Home Turf.' The Man On Ukraine's Digital Frontline
Western agents seek to get inside Putin's head
Ukrainian Railways Chief Says 'Honest' Belarusians Are Cutting Russian Supplies By Train
Other politics and economy
Ai Weiwei on the new Silk Road: 'This is China's counterattack in a global game of chess'
The US dollar's global standing as the top reserve currency has lost ground to China's yuan and others, says IMF
Amid worsening humanitarian crisis, UNHCR chief urges sustained int'l support to Afghan people
U.S. Supreme Court pick Jackson edges closer to confirmation
U.S. Treasury market pain amplifies worry about liquidity
Political Trailblazer Madeleine Albright Dies…
Taliban Renege on Promise to Open Afghan Girls' Schools
Sri Lanka tests UN's patience on human rights
Madeline Albright, the first ever female US secretary of state, dies aged 84
Climate crisis
In a First, an Ice Shelf Collapses in East Antarctica
Earth's poles are experiencing what experts are calling unprecedented warming at the same time.
Hot poles: Antarctica, Arctic 40 and 30 degrees Celsius above normal
Antarctic temps 70 degrees hotter than normal; 'This is a Pacific Northwest 2021 heat wave kind of event'
Antarctic temps 70 degrees hotter than normal; 'This is a Pacific Northwest 2021 heat wave kind of event' tks Susanna Hasenoehrl
Heatwaves at both of Earth's poles alarm climate scientists tks Mike Barry
Accelerating Melt Rate Makes Greenland Ice Sheet World's Largest "Dam" – Generating Huge Amounts of Heat From Hydropower
Climate change: Wildfire smoke linked to Arctic melting
'It's not supposed to be white': one of the Great Barrier Reef's healthiest reefs succumbs to bleaching
No country met WHO air quality standards in 2021, survey shows tks Samantha Gayfer
Tiny particles of plastic have been detected in human blood for the very first time. They can't be filtered out
As Climate Fears Mount, Some in U.S. Are Deciding to Relocate
Climate change: Extreme weather warning systems for all 'in five years'
How the World's Richest People Are Driving Global Warming tks Enda Eames
The world has less than 10 years to advert climate change catastrophe
Microplastics found in human blood for first time
Protecting rural Wales: The battle between saving agricultural land and tackling climate change
Does 'climate anxiety' belong in the DSM? tks Andrew Bryant
Astronomy's contribution to climate change rivals the emissions from some countries
Australia's carbon credit scheme 'largely a sham', says whistleblower who tried to rein it in
Why estimates of the 'cost' of climate action are overly pessimistic
NGOs sue Thailand government for failing to protect Thais from air pollution
Coalition expands recycling, carbon credit scheme by $60m amid claims of climate 'fraud' by thinktank
Royal Mint to turn electronic waste into gold
Texas is battling over 170 wildfires
As Lake Powell Hits Landmark Low, Arizona Looks to a $1 Billion Investment and Mexican Seawater to Slake its Thirst
Solar farm protest march led by MPs Matt Hancock and Lucy Frazer
The SEC Unveils Proposed Climate Disclosure Rules
Climate change: 'Madness' to turn to fossil fuels because of Ukraine war tks Damian Corbet
Which plant-based milk is better for the planet? This is what the science says
Carbon Farming: A Climate Solution Under Our Feet
Adam McKay's 'Don't Look Up' Inspires Climate Change Activists in France
Ohio's fracking industry – boom as promised or something else?
Covid
PM Lee Hsien Loong on the COVID-19 situation in Singapore on 24 March 2022
America Is About to Test How Long 'Normal' Can Hold
Evidence grows that vaccines lower the risk of getting long COVID
Can Covid-19 make your brain shrink? Here's what Oxford study says
A New Covid-19 Wave Will Hit the U.S. Its Severity Is Unknown.
All vaccinated travellers can enter Singapore without quarantine from April 1, no need for VTL flights
Shanghai won't lock down despite COVID-19 spike: Official
How long can I test positive for Covid? When you're most contagious and Omicron incubation period explained
What is the Omicron Variant's Incubation Period and How Long Are You Contagious?
Here's how to decide if you're safe to go out when you're recovering from omicron
Business and technology
Applebee's Executive Offers Dark Vision Of Restaurant Hiring
Analysis: Hard landing: Lessors lose hope of getting Russian planes back
P&O Ferries: Not consulting on job cuts broke law, boss admits
Catherine Mattiske: The Science of Learning – Podcast
Mark Zuckerberg and Meta's Leadership Take Remote Work to the Extreme
Microsoft asked 31,000 people what's changed about work. One result was startling
Global Exodus From Chinese Markets Prompts Xi to Change Tack
A strong message': Insurance giant Swiss Re unveils plan to restrict cover for new oil and gas projects tks Susanna Hasenoehrl
LinkedIn CEO on New No-Politics Button, the Great Reshuffle and More tks Dan Hochuli
Social issues and humanity
Why This Grandma Believes In The Arrowsmith Program – tks Barbara Arrowsmith
Losing My Ambition tks Samantha Gayfer
Foo Fighters drummer Taylor Hawkins is dead at 50
Natalie Portman wanted to shift football culture. So she founded Angel City FC
According to scientists, that class clown from seventh grade may have been the brightest kid in the room.
Since March 2019 government trust & distrust have fluctuated but 2021 ended with soaring levels of distrust tks Phillipa Edwards
Melinda French Gates: Courage is 'using your voice' to push for necessary but controversial change
Hong Kong expats drive unprecedented demand for Singapore school places
Lia Thomas: Florida governor Ron DeSantis refuses to recognise Thomas win
Sales of anti-Scott Morrison bin stickers surge after Liberal council threatens rubbish services tks Phillipa Edwards
'It's a culture war that's totally out of control': the authors whose books are being banned in US schools
US House passes Crown Act which would end hair discrimination
Stress in America Money, inflation, war pile on to nation stuck in COVID-19 survival mode tks Samantha Gayfer
Are the days of high-heels at work finally over? tks Russell D Russell
Bill Maher Slams the GOP, the ACLU, MTV, and Tucker Carlson on 'Real Time'
A 28-year-old who retired with $2.25 million shares the secret to saving
The Game Defends Kanye West Following Grammys' Ban Over 'Concerning Online Behaviour'
Spinoza: A Complete Guide to Life – tks Ferenc Nyiro
Passion, humour, history
Richard Curtis: Ferrell should have had Oscar nomination for Elf
Doja Cat Claims She's Quitting Music Following Clash With Fans: 'I Don't Give A Fuck Anymore'
33 men from across the globe dazzle in their national costume for beauty pageant
Ashleigh Barty: World number one makes shock call to quit tennis
Mike Myers is back in his many disguises. In the first trailer for his upcoming show The Pentaverate
We're About To Witness A Super-Rare Planetary Alignment In March's Early Morning Sky
Let me know what jumped out at you? Or share with me what you're reading? I love that!
Cheers
Andrea
Uncommon Courage: an invitation – my latest book
You can buy it on Amazon, Apple Books, Barnes & Noble, Book Depository, Booktopia, Smashwords, Kobo, Gardners, Odilo, Indie Bound, BookShop by BookTrib and Scribd.
Better yet, order it from your local bookstore, so you can #SupportLocal.
You can read the reviews, including a new five-star review on Book Commentary, another five-star review on ReaderViews, a review on BookTrib, and three more on Booklife, another on Book Commentary and Blue Ink Reviews. I'm also collating reviews on my Website too. Have a look and grateful to everyone who has written or recorded one.
Come and join the conversation in my new Facebook Group Uncommon Courage.
Uncommon Courage, the podcast – Apple, Spotify and everywhere podcasts are published.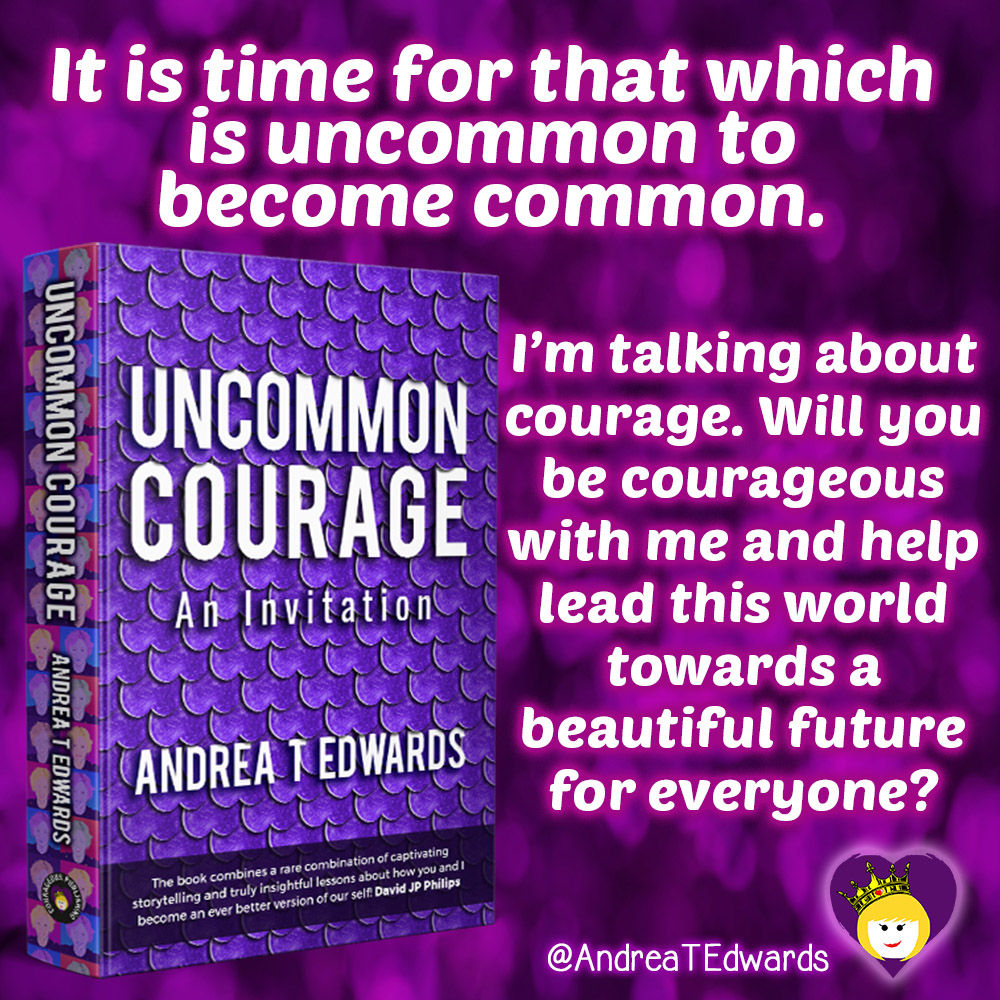 The Know Show
Check out The Know Show. It's a weekly wrap up of the news!
Listed by Book Authority in the 100 Best LinkedIn Books of All Time and 22 Best New LinkedIn eBooks To Read In 2021 and 2022 categories. Grab it today if you want to take your professional presence to the next level! When it comes to LinkedIn, it really is time to ask — can you really afford not to have this book in the hands of every employee?
Connect with Andrea
andreatedwards.com, uncommon-courage.com
LinkedIn, Twitter, Facebook, YouTube, Instagram, Medium, Amazon.
Feedback
Have I done a great job for you? Can you write a reference on my LinkedIn profile or on my Google Business page? If not for me, why not write one for someone else who inspires you or has helped you? Join the #GivingEconomy.
Are you a Social CEO? The Social CEO: How Social Media Can Make You A Stronger Leader.
Want to claim your stage? Unleash Your Voice – Powerful Public Speaking for Every Woman