I've been floating around the last few weeks, barely able to believe how completely stupid humanity is. Don't get me wrong, we need to be focused on the Ukraine war and its potential HUGE ramifications for the world  – which has already started – but boy, we have a much bigger challenge staring us right in the face.
The climate emergency.
Here's some headlines just from this week, and if you look at my Weekend Reads going back 96 weeks, we have similar headlines every week. THIS is where our focus must be, as well as a holistic approach to how we are going to manage all of this.
China's coal-powered economy drives global carbon dioxide emissions to historic high
Texas and other states want to punish fossil fuel divestment
Pandemic pushes 4.7 million more Southeast Asians into extreme poverty
Temperatures to spike 50 degrees above normal near North Pole
Amazon rainforest reaching 'tipping point' faster than expected, research shows
UNESCO to visit Great Barrier Reef as coral bleaching risk rises
Greenland's ice is melting from the bottom up and far faster than previously thought
The Arctic Death Spiral – Scientists' Warning
Record 'bomb cyclone' bringing exceptional warmth to North Pole
You can find links to all of these articles in the climate section below (or politics), but we have no time to lose and must calm ALL global tensions so we can get to work. Time is running out.
Friend's content and mine
Kerry Hopkins talks to lawyer & TV psychologist Dr Jean Cirillo – Kerry is an old colleague from my London days in PR and she is doing great work!
Outlook 2022: Part 1 absolutely delighted to see my friend Joanne Flinn featured in this article. It's discussing the outlook across five areas where new ideas could come from: Application of Technology, Design Thinking, Funding and Supporting Initiatives, Sustainability and Social Cohesion, and the Revival of Culture and the Arts.
So grateful to Sally Foley-Lewis for hosting me on her show, Spark, the Self-Leadership Show. A heart-felt conversation, where we talk about the issues of the world and my drive to help others step into their voice and claim their power. If you are not feeling strong in the world right now, or are overwhelmed with everything going on, have a listen and please let me know if it helps?
Guiding Your Teams to Promote Your Business with Andrea T Edwards delighted to record this podcast with Marc Haine the customer experience designer. We discussed social leadership and why it's so important for employees.
Most importantly, I released The Social Leadership Manifesto, are you ready to take your place? this week. I've been building this for years
I launched my daily tips for everyone to help address climate change and here is week one. I will also be updating these ideas at this blog – What can I do to act on climate change? Actions we can all embrace. Favorite it and check in often.
Donation time
If everyone gave #just10percent of their time, talent, money or voice, we'll change the world. Can you donate? Make it a regular donation to the World Food Programme. Or donate to the UN Refugee Program, PowerOf , Kiva.org , Soi Dog Foundation. It's a time for giving and taking care of each other.
If you want to support Ukraine Red Cross Ukraine, Medicine Sans Frontier, Defend Ukraine, as well as World Food Programme and UN Refugee Program.
Content to read
And here's the content I've been reading this last week. Scan the headlines, read the ones that jump out at you, read or watch them all. Knowledge is power, and global knowledge is even more powerful.
Global politics – focus on Ukraine
The War in Ukraine Could Change Everything
Ukraine conflict: Putin lays out his demands in Turkish phone call
Ukraine war: European leaders risk train ride to meet Zelensky
What is a no-fly zone? Why Ukraine wants one, and why NATO is refusing.
Putin has already deployed a chemical weapon. In Salisbury
Ukraine crisis: US warns China against helping Russia
US, China discuss Russia as Biden and Xi hold call
Elon Musk changed his name to 'Elona' on Twitter in response to a diss from a Putin ally
Germany issues hacking warning for users of Russian anti-virus software Kaspersky
Information, social media, information war, protests
Russian Misinformation Is "A Military Assault" on the West
Zelenskyy Humanizes Ukraine's Plight in His Social Media Messaging tks Niklas Myhr
Arnold Schwarzenegger tries to show Russians a different kind of strongman
Ukraine: Spam website set up to reach millions of Russians
'They're lying to you': Russian TV employee interrupts news broadcast
Russia will ban Instagram on March 14th
Russia's state TV hit by stream of resignations
Top Russian Ballet Star Condemns War, Leaves Country
Russian influencers left in tears after their country bans Instagram: 'My life is being taken away from me'
The "war coffee" diary: How one woman in Kyiv is recording history with a real-time feed of the impact of war tks Muriel Muriel
Russia As A Hurricane, China As Climate Change: Different Ways Of Information Warfare tks Samantha Gayfer
Russians seek to evade social media ban with virtual private networks
News reporter left speechless when economist reveals Russian stock market news on live TV
'I offer you a chance to survive': Zelenskiy urges Russian troops to surrender
Economy and business
Debt deadline and central bank hikes loom in Russia
Russia punches economic hole above its weight
IMF warns war may 'fundamentally alter' global economic, political order
Here's a list of Russia's upcoming debt payments
Roman Abramovich: New evidence highlights corrupt deals
Our crony-capitalism index offers a window into Russia's billionaire wealth
Russia kicks default drama into future
Food, fuel, fertilizer prices skyrocketing; supply chains disrupted: Guterres warns 'sword of Damocles hangs over global economy'
Over 400 Companies Have Withdrawn from Russia—But Some Remain
Group warns Ukraine conflict will take toll on global economy
Ukraine crisis could cut 1% off global growth this year – OECD
Gold at $10,000? Death of the 40-year bull market in bonds? What's next for the global financial system after Russia's central bank gets cancelled
Oil prices fall, continuing downward trend from last week
Germany's $120 Billion Software Giant SAP Says It Stopped Working With Russian Banks. Ukraine Demands It Do More
Religion
Ukraine invasion splits Orthodox Church, isolates Russian patriarch
In Putin's vision for the world, a medieval narrative resurfaces tks Claude Calleja
Humanity or lack of
Russians to give American astronaut ride to Earth in spite of tensions
CNN Host Cries As She Interviews Ukrainian Man Whose Whole Family Was Killed
Ukraine war: Pregnant woman and baby die after hospital shelled
Russia sanctions: How the measures have changed daily life
Cashless and flightless, Russian tourists stuck in Thailand tks Michael James Scott
What the War in Ukraine Means for the World Order
Deeper reading
Ukraine war: Putin has redrawn the world – but not the way he wanted
Russia's dire military performance puts Putin at risk
Was it inevitable? A short history of Russia's war on Ukraine
Putin's War Is Xi's Worst Nightmare
Mikhail Khodorkovsky on how to deal with the "bandit" in the Kremlin
Ukraine may force Middle Eastern rivals to upgrade their toolkit
Ukraine's wartime rail chief has to be faster than the Russians tracking him
The Western World Is in Denial tks Damian Corbet
The growing Fear Of A Wider War Between Russia And The West
Other politics
Yuan Jumps After Report on Saudis Weighing Its Use in Oil Deals tks Richard Turrin
US dollar's dominance in oil markets may face challenge as Saudis reportedly eye yuan-based sales deal with China
Baffled pilots say their helicopters were 'not wanted' by government during flood crisis tks Phillipa Edwards
As West shuns Moscow, officials say India eyes more cheap Russian oil
Women's Network logo ridiculed for its phallic shape withdrawn by Australian PM's department
Women's Network Australia 'in no way affiliated' with government's Women's Network logo
Will Florida's 'Don't Say Gay' Law Hurt Its $97 Billion Tourism Industry?
Pandemic pushes 4.7 million more Southeast Asians into extreme poverty
Air strikes target rescuers in Yemen – tks David Lim
Climate crisis
A drowning world: Kenya's quiet slide underwater
The Amazon is the Planet's Counterweight to Global Warming, a Place of Stupefying Richness Under Relentless Assault
Thwaites Glacier: How Imminent Is The Threat?
Jane Fonda Establishes a Climate PAC
Super-rare Greenland shark that washed up on UK beach may be at least 100 years old
Defence personnel not allowed to speak about climate 'unless they go through Peter Dutton's office'
Texas and other states want to punish fossil fuel divestment
Climate Change Is Harming the Planet Faster Than We Can Adapt, U.N. Warns
Record 'bomb cyclone' bringing exceptional warmth to North Pole
NIKE, FENDI, PRADA, H&M and others – Your Favorite Fashion Brands Are Destroying The Amazon Rainforest
Greenland's ice is melting from the bottom up — and far faster than previously thought, study shows
Bees, trees and seas crises stem from unsustainable food production
China's coal-powered economy drives global carbon dioxide emissions to historic high
Methane release from carbonate rock formations in the Siberian permafrost area during and after the 2020 heat wave
Six key lifestyle changes can help avert the climate crisis, study finds tks Sue Adams
Unesco to visit Great Barrier Reef as coral bleaching risk rises
Shell directors sued for 'failing to prepare company for net zero'
Amazon rainforest reaching 'tipping point' faster than expected, research shows
Australian court overturns teenagers' landmark climate ruling tks Samantha Gayfer
New sustainability body expects voluntary adoption of norms at first
This South Korean Bike Highway Has a 20 Mile Solar Roof tks Teressa Bayes
SEC to Propose Rules Concerning Mandatory Climate Change Disclosures on March 21 tks Susanna Hasenoehrl
A Guide to Global Internet Energy Usage
U.S. ethanol industry banks on carbon capture to solve emissions problem
"An atlas of human suffering": IPCC climate change update
China causes new high in global energy emissions, despite record wind and solar additions tks Susanna Hasenoehrl
Five ways to build gender equality and sustainability
Covid
China should take more effective COVID-19 measures, minimise economic, social impact: Xi
'Grave Mistake' to Think Covid-19 Pandemic is Over, Warns UN Chief Guterres
Jakarta police give out precious cooking oil at COVID-19 vaccination drive (msn.com)
Hong Kong sparks deadly new Covid variant panic as shock graph shows deaths SOAR in 24 hrs
RED LANTERNS Hong Kong, almost one million Covid infections from Omicron wave
Business and technology
'Your final day of employment is today': P&O staff told they're being laid off – video
Be ready to lose all your money in crypto, EU regulators warn
People Are Revealing The 30 Actual Reasons Companies Don't Want You To Work From Home
Social issues and humanity
'Crocodiles' could spell the end of Japan's tradition of nude mixed bathing
Hillsong Church founder Brian Houston breached code of conduct with inappropriate behaviour towards two women, leaked letter says tks Graham Harvey
Citing 'humiliated' white people, Mississippi governor signs anti-critical race theory law
Kanye West's Instagram account suspended over racial slur outburst against Trevor Noah
Men think they're brighter than they are and women underestimate their IQ. Why?
Trevor Noah: Kanye West's Harassment Of Kim Kardashian Is 'Terrifying To Watch'
Brittney Griner: How can a US basketball star just vanish?.
Asian woman stomped on and punched more than 125 times after being called racial slur, police say tks Holly Te
Jane Campion Hits Sam Elliott Right In The Chaps Over His 'Power Of The Dog' Dig
Naomi Osaka: Former world number one in tears after heckling during Indian Wells defeat
New research claims that consciousness itself is an energy field
Passion, humour, history
Dolly Parton declines Rock & Roll Hall of Fame nomination, says she hasn't 'earned the right' tks Kerrie L Phipps
William Hurt, Star of 'Broadcast News,' 'Body Heat,' Dies
Let me know what jumped out at you? Or share with me what you're reading? I love that!
Cheers
Andrea
Uncommon Courage: an invitation – my latest book
You can buy it on Amazon, Apple Books, Barnes & Noble, Book Depository, Booktopia, Smashwords, Kobo, Gardners, Odilo, Indie Bound, BookShop by BookTrib and Scribd.
Better yet, order it from your local bookstore, so you can #SupportLocal.
You can read the reviews, including a new five-star review on Book Commentary, another five-star review on ReaderViews, a review on BookTrib, and three more on Booklife, another on Book Commentary and Blue Ink Reviews. I'm also collating reviews on my Website too. Have a look and grateful to everyone who has written or recorded one.
Come and join the conversation in my new Facebook Group Uncommon Courage.
Uncommon Courage, the podcast – Apple, Spotify and everywhere podcasts are published.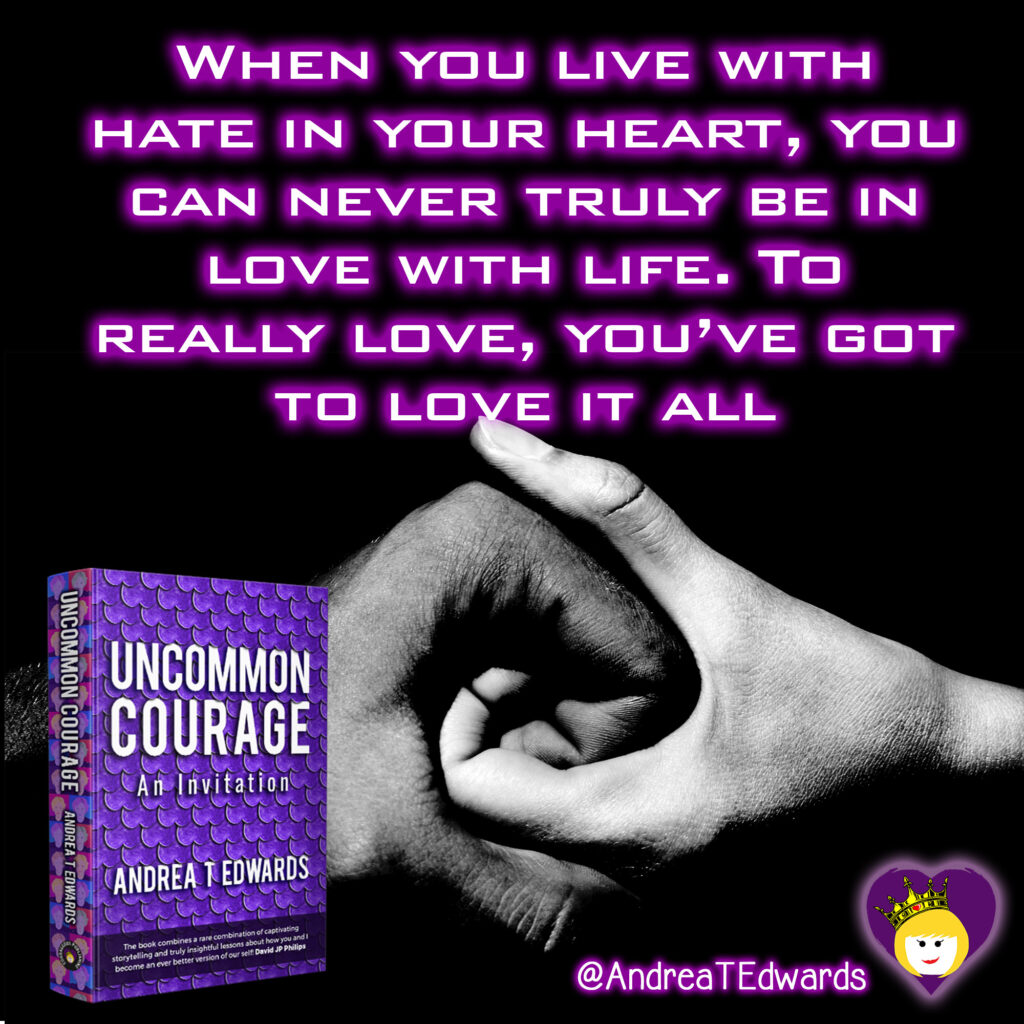 The Know Show
Check out The Know Show. It's a weekly wrap up of the news!
Listed by Book Authority in the 100 Best LinkedIn Books of All Time and 22 Best New LinkedIn eBooks To Read In 2021 and 2022 categories. Grab it today if you want to take your professional presence to the next level! When it comes to LinkedIn, it really is time to ask — can you really afford not to have this book in the hands of every employee?
Connect with Andrea andreatedwards.com , uncommon-courage.com
LinkedIn, Twitter, Facebook, YouTube, Instagram, Medium, Amazon.
Feedback have I done a great job for you? Can you write a reference on my LinkedIn profile or on my Google Business page? If not for me, why not write one for someone else who inspires you or has helped you? Join the #GivingEconomy.
Are you a Social CEO? The Social CEO: How Social Media Can Make You A Stronger Leader.
Want to claim your stage? Unleash Your Voice – Powerful Public Speaking for Every Woman