Since I started my Weekend Reads more than 94 weeks ago, no question this time is the most challenging. We are all facing so many unknowns, with a potential reordering of the world as we know it, so if you are really struggling, it's OK to step back from the news if it's crushing your spirit.
As someone who isn't stepping away, this is how I cope and I want to offer it to you, in case it's of value. I never sit in fear of the worst possible scenario, because there are many potential outcomes. I believe if you can try and focus your energy and attention on the great possibilities, it's a lot easier to cope.
There's an old saying: where the attention goes, the energy flows, and focusing on the most fearful outcome won't change anything, it just makes life harder. Many believe our thoughts create our reality, and this isn't just for individuals, but could also make a difference globally. You may think that's rubbish, but I'll tell you something, it's a lot better to be in this mindset.
As I've been watching my community across social media, the feeling of uselessness is strong. I mean what can we do? I suggest taking hope from the amazing unity we're seeing across the world, and perhaps this is the time we regain trust in our governments? We haven't seen this level of unity in a long time. For me, it's a good part of the story during a dark time, and it's on our leaders to navigate the best outcome for this time.
One shining light is President Zelensky, as well as his wife, Olena Zelenska. The president is showing great courage and is an example to the world of what true leadership looks like. From my perspective, Zelensky is a man who has seized his moment and I don't believe Putin expected that. I hope his influence and example ripples out around the world and encourages other great people to step up and seize their moments too, because we have many challenges to overcome.
Look out for A Prayer for Volodymyr Zelensky in The Atlantic.
No question, none of us know what's coming and it's an incredibly unstable time. One thing we do know is that the world is now different and it could take years or even decades before we know what that will look like and how it will impact us.
Of course, the nuclear side of this war is very challenging to take on board. From all I've read over the years, if this war goes nuclear, it's the end of life on this planet. Yes, end. We can't afford nuclear war. Just read the IPCC Report below.
I suppose we must ask ourselves: is Putin capable of doing that? And that's what we don't know, because Putin is coming across as unrelenting, but that's also the game of war. He also appears not to have given himself an exit, so what is he willing to do? What's his plan? What about his advisors? And the Oligarch's suffering the impact? Not to mention the Russian people.
We just don't know. All I can do is believe in the goodness of the human spirit, which is why I really resonate with the idea: where there's life there's hope. We have so much uncertainty ahead, so protect your mind and heart if it's just too much, but remember, where there's life there's hope. Our global society can rise to this moment and create a better world. We can, but for now, it's hard. Take care of yourselves.
Friend's content and mine
Caring Over Conflict: Why the IB Learner Profile is needed now more than ever – great piece from a school leader, Jason McBride. I am so happy my two boys are benefitting from this very special education.
40 Over 40 – The World's Most Inspiring Women – congratulation to Susanna Hasenoehrl for making in onto the list of the world's most inspiring women. I am so proud of you.
A social leader is in tune with the world's moments – a blog I wrote this week about participating in alignment with your audience on social media, because if you don't, you may struggle to keep the respect of your audience.
Self-worth – what is it, how do we lose it and how can we get it back (part 1) – and my first podcast with Cathy Johnson on self-worth. If this is something you struggle with, please do have a listen. We would love to know your feedback too.
Donation time
If everyone gave #just10percent of their time, talent, money or voice, we'll change the world. Can you donate? Make it a regular donation to the World Food Programme. Or donate to the UN Refugee Program, PowerOf , Kiva.org , Soi Dog Foundation. It's a time for giving and taking care of each other.
If you want to support Ukraine
Defend Ukraine – tks Kate Steele
As well as World Food Programme and UN Refugee Program
Content to read
And here's the content I've been reading this last week. Scan the headlines, read the ones that jump out at you, read or watch them all. Knowledge is power, and global knowledge is even more powerful.
Global politics – focus on Ukraine
Main news and opinions
Browder on Putin: When You Believe Your Time Is Almost Up, You Start a War | Amanpour and Company – tks Vicky Coburn
Former president of Ukraine sends defiant message to Putin
Ukraine crisis: What message was Biden sending to Putin?
European peace seems as fragile as ever
Abstention by Emirates for Ukraine passes through Washington
War in Ukraine: Zelensky slams Nato over rejection of no-fly zone
Ukraine: Why has Russia's 64km convoy near Kyiv stopped moving?
Russia Has Suffered a Crushing Moral Defeat. And Russians Know It.
Sky News team's harrowing account of their violent ambush in Ukraine this week tks Andrew Psarianos
War in Ukraine: The Russians leaving Russia for Finland
Ukraine: How might the war end? Five scenarios
Ukraine conflict: Who's in Putin's inner circle and running the war?
Fox News Correspondent Gives Network Blunt Reality Check About Ukraine On Live TV
Hollywood star Sean Penn joins Ukraine exodus to Poland on foot
ASEAN needs to uphold principles, not neutrality, in Ukraine war tks Karsten Warnecke
Ukraine: Putin's miscalculations could see him strike harder
Ukrainian activist berates Boris Johnson over Russia response
World turns its back on Russia: Astonishing moment diplomats WALK OUT as Kremlin minister tells disarmament conference Russia was forced to invade Ukraine to 'stop them getting nuclear weapons' tks Teressa Bayes
'The damage is done': Russians face economic point of no return
Why is Ukraine the West's Fault? Featuring John Mearsheimer – tks Avi Liran
Ukraine conflict: Dread in Kyiv as huge Russian convoy advances
Russian talk show host claims Ukrainian nationalists are 'annihilating locals' in a 'witch hunt' after Putin's 'propagandist-in-chief' threatened the West with nuclear destruction in another TV rant tks Teressa Bayes
Ukraine conflict: Further false images shared online
Ashton Kutcher Stands With Ukraine, Homeland Of Wife Mila Kunis
Father Carlson – Tucker Carlson is on Russia's side.
Jon Stewart Praises 'Grace' Of Comedian-Turned-President Volodymyr Zelenskyy
How Should President Biden Respond to Putin's War?
Turn down heating by 1C to reduce need for Russian imports, Europeans told
Turkey warns countries not to pass warships through straitsA Prayer for Volodymyr Zelensky
Putin Forced To Fight On Multiple Fronts
Russia vetoes U.N. Security action on Ukraine as China abstains tks Karsten Warneche
Liz Truss says 'nowhere left to hide' for Putin allies – as it happened
Watch Rachel Maddow Highlights: Feb. 24 – tks Vicky Coburn
Nuclear
'Stop firing': A look inside the Zaporizhzhia nuclear plant as Russian forces attacked.
Several killed and injured in nuclear plant attack – Ukraine 203,798 203,798
Ukraine conflict: What are the nuclear risks?
Putin signals escalation as he puts Russia's nuclear force on high alert
Refugees
Ukraine conflict: Mum in Poland takes in fleeing families
The anxious wait for relatives at Ukraine's border
Ireland Waiving Visa Requirements For Ukrainians
Sanctions
How Russian Sanctions Work – The Atlantic
Ukraine war is economic catastrophe, warns World Bank
Russian Oligarchs' Yachts Head for Maldives as Sanctions Levied
Russian economic collapse will be hard to avoid
Sanctions affecting Russian tourists in Phuket
Russia faces major disruptions to oil, commodities flows without SWIFT
War crimes
Ukraine: ICC to investigate suspected war crimes — as it happened
Russia has launched a genocide in Ukraine
Putin's Historic Miscalculation May Make Him A War Criminal tks Miguel Bernas
Cyberwarfare, business and technology
Russian Billionaire Behind Revolut Fintech App Publishes Anti-War Letter
Keyboard army using restaurant reviews to take on Russian state media
Russian airlines face outcast status as jetmakers freeze parts
Teen Who Tracked Elon Musk's Jet on Twitter Is Now Chasing Russian Oligarchs
Silicon Valley Must Pull the Plug on the Kremlin tks Andrew Psarianos
In Ukraine, We as Creatives Now Have One Assignment: Defend Our Land and Stop the War
Google Disables Maps In Ukraine After It Revealed Troop Movements
Shell Follows BP by Withdrawing From Russia as Ukraine Invasion Intensifies
Accenture Discontinues Business in Russia Following Invasion of Ukraine
Russia halts rocket engine sales to the US, suggests flying to space on their 'broomsticks'
Musk says SpaceX Starlink satellite internet service activated in Ukraine amid Russian invasion
Roman Abramovich gives Chelsea 'stewardship' to trustees of charitable arm
My thoughts on war in Ukraine tks Muriel Muriel
Elon Musk answers Ukrainian vice prime minister's plea to switch on his Starlink satellite network so locals can access internet even if Russia destroys local telecoms system
'If Kyiv Falls, We Keep Hacking Putin': On The Cyber Front Line In Ukraine
Deeper reading
A Prayer for Volodymyr Zelensky – The Atlantic
Putin's Attack on Ukraine Is a Religious War
Pattern Recognition. What's behind the War in Ukraine. tks Damian Corbet
Ukraine: Lessons not being learned
RUSSIA UKRAINE: What You Really Need To Know | John Mearsheimer // Putin, Crisis, NATO – tks Avi Liran
We Have Never Been Here Before tks Karsten Warnecke
I'm a Cold War Historian. We're in a Frightening New Era.
History doesn't start when Sky News arrives – tks Marco Leonceli
Ukraine –  The world invokes peace. The Pattern? 2001 Afghanistan
A former head of the Foreign Office on what Putin wants
Ozzy Man Reviews: War in Ukraine – tks Steve Johnson
Other politics
The rightwing US supreme court has climate protection in its sights
The Bad Guys Are Winning tks Wendy Tan
Climate crisis
The IPCC's sixth assessment on how climate change impacts the world
IPCC issues 'bleakest warning yet' on impacts of climate breakdown
Impact of climate crisis much worse than predicted, says Alok Sharma
Climate change: Five things we've learned from the IPCC report
IPCC Report Calls Out 'Vested Interests' Delaying Climate Action
Facebook causing 'catastrophic damage' to climate by failing to deal with misinformation, research finds
Business Schools Must Do More to Address the Climate Crisis
Why the conversation about climate change and migration needs to change
The geopolitics of climate and security in the Indo-Pacific
Animals on the brink: why extinctions matter
Halfords to start selling second-hand bikes
Rain Bomb' Hits Northeastern Australia, Killing at Least 9
'Rain bomb' hits Australia's northeast, killing seven in floods
Australia evacuates tens of thousands as heavy rains threaten Sydney
Cities submerged, at least 10 dead in Australian floods
Thousands evacuate worst Australian floods in decades
Wild weather warning tks Willie Wahlin
Innocent drinks ads banned over environmental claim
NSW flood: farmer watches as half of 300-cow herd swept away in eastern Australia floods – video
Countries agree 'historic' move to draw up legal treaty to end plastic pollution
What you need to know about the plastic pollution resolution
Flourishing plants show warming Antarctica undergoing 'major change'
Loss of tree species has cumulative impact on biodiversity
Covid
COVID-19 hit the creative industries particularly hard. How can they be supported in future?
Business and technology
Life Reimagined: Mapping the motivations that matter for today's consumers
TikTok Confirms that 10 Minute Video Uploads are Coming to All Users
New Library Filters And Powerful Import Features Are Coming To Google Photos
Quantum sensing technology is being described as an "Edison moment" that could, scientists hope, have wide-reaching implications.
This Report Shows Why Gen Z Sees Straight Through Your Marketing Efforts
Social issues and humanity
Shane Warne: Australia cricket legend dies aged 52
Moët champagne bottles laced with fatal doses of Ecstasy tks Mireille Barber
Saudi Arabia and Indonesia: Clashing visions of 'moderate Islam'
Zain Nadella, 1996-2022: Microsoft CEO's son remembered for love of music, profound impact on his dad
'In my 30 years as a GP, the profession has been horribly eroded'
Girls' night in? Catch these inspiring shows to celebrate International Women's Day
Melinda French Gates says she is 'friendly' but not friends with Bill Gates
Passion, humour, history
Teacher had to tell her deaf students that people can hear farts. Their reaction was hilarious.
Dogs Are Getting Electrocuted on New York City Sidewalks tks Lex Johnson
Let me know what jumped out at you? Or share with me what you're reading? I love that!
Cheers
Andrea
Uncommon Courage: an invitation – my latest book
You can buy it on Amazon, Apple Books, Barnes & Noble, Book Depository, Booktopia, Smashwords, Kobo, Gardners, Odilo, Indie Bound, BookShop by BookTrib and Scribd.
Better yet, order it from your local bookstore, so you can #SupportLocal.
You can read the reviews, including a new five-star review on Book Commentary, another five-star review on ReaderViews, a review on BookTrib, and three more on Booklife, another on Book Commentary and Blue Ink Reviews. I'm also collating reviews on my Website too. Have a look and grateful to everyone who has written or recorded one.
Come and join the conversation in my new Facebook Group Uncommon Courage.
Uncommon Courage, the podcast – Apple, Spotify and everywhere podcasts are published.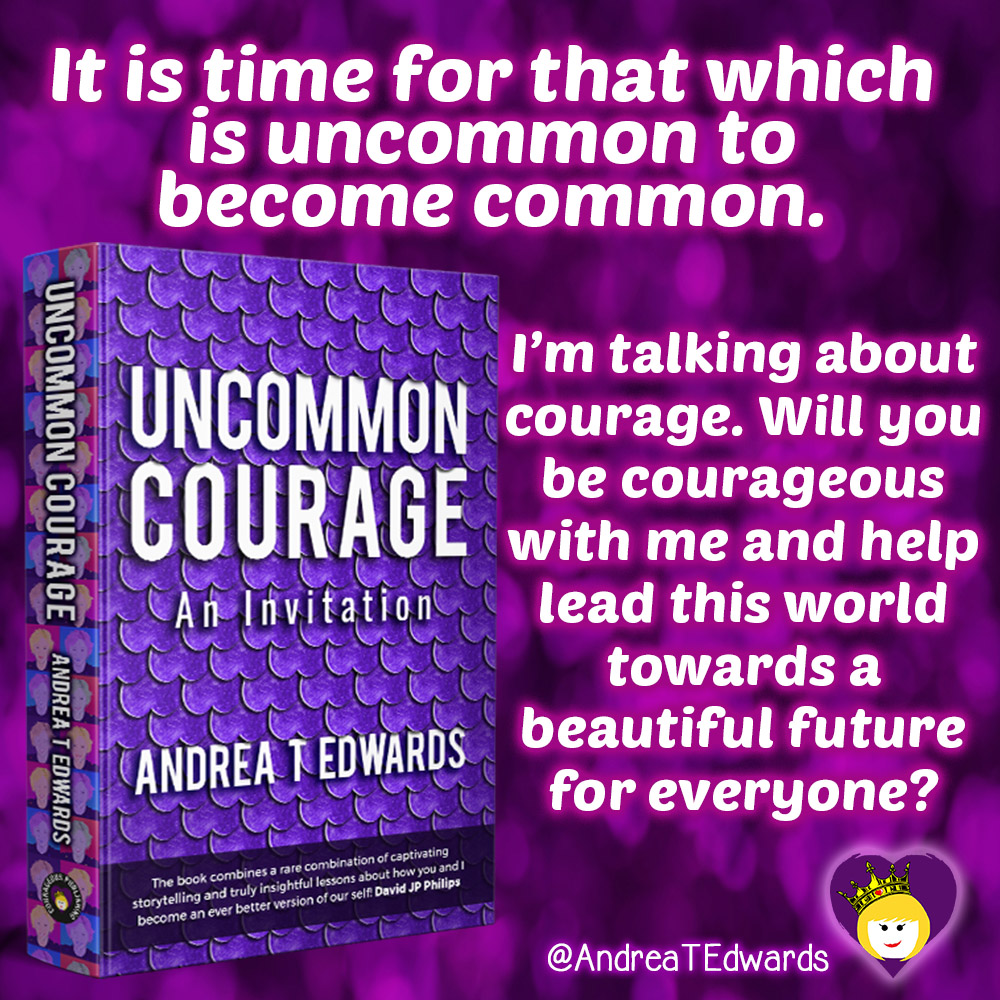 Connect with me
andreatedwards.com , uncommon-courage.com
LinkedIn, Twitter, Facebook, YouTube, Instagram, Medium, Amazon.
The Know Show
Check out The Know Show. It's a weekly wrap up of the news!
Listed by Book Authority in the 100 Best LinkedIn Books of All Time and 22 Best New LinkedIn eBooks To Read In 2021 and 2022 categories. Grab it today if you want to take your professional presence to the next level! When it comes to LinkedIn, it really is time to ask — can you really afford not to have this book in the hands of every employee?
Feedback
Have I done a great job for you? Can you write a reference on my LinkedIn profile or on my Google Business page? If not for me, why not write one for someone else who inspires you or has helped you? Join the #GivingEconomy.
Are you a Social CEO? The Social CEO: How Social Media Can Make You A Stronger Leader. 
Want to claim your stage? Unleash Your Voice – Powerful Public Speaking for Every Woman