Happy New Year my friends and here's hoping for better times ahead for all. Then again, we're certainly off to a chaotic start – Covid/Omicron, the environment, Djokovic, January 6th anniversary, Betty White and Sydney Poitier passing…. Yes, definitely a fast start to the year news-wise.
As you may know, I took my first break since starting these weekend reads more than 86 weeks ago, because I needed it. With that said, it was hard!! I was reading so much amazing stuff and it felt wasteful not being able to share it with you. But it was good too, because I also took a break from reading so much news, and that is never a bad thing.
No question, I needed a big rest and I'm still not back on the horse. I started feeling absolutely exhausted in December, and it took everything to get to the end of the year, because what a year it was!
However recently, I've been watching lots of people posting motivational messages, encouraging people to set their goals and get ready for the year ahead. But you know what? If you're not ready to do this yet, the world can wait a week or two. Longer if you need it.
We have ALL been going through extraordinary times and the most important thing is taking care of ourselves. Part of that care is resisting the pressure to behave in a way incongruent with how we feel right now.
So leap into the year or don't, but neither is wrong, and please, never allow another's ideas to make you feel like a loser or that you're behind. I know the people who are excited for a new year do not intend for their message to land that way, but when you're just not ready, honour it. Celebrate their enthusiasm, but don't feel the need to follow it if it's not you. Deal?
For me, next week is soon enough… or maybe I'll need more time? Who knows. I'm paying attention to my mind and body at the moment, letting it lead me. Hope you're doing the same. And if you work for a company, I hope they respect this need too.
OK let's get stuck into the Weekend Reads!
Friend's content and mine
Thank you to my wonderful friend Vicky Coburn, for this beautiful, heartfelt review of my book, Uncommon Courage. Have you grabbed a copy yet? Would love to know what you think!
Here is my annual collection of environment material read across 2021. I will be starting a new blog for 2022 in the coming weeks. This is great reference blog – Environment and climate crisis reference materials and articles 2021 – constantly updating
On the 1st of January it was my birthday. I decided it was a great day to talk about my mission for 2022, because this is the year we must achieve maximum momentum in driving global change to address the climate emergency. Have a listen. My mission for 2022, join me?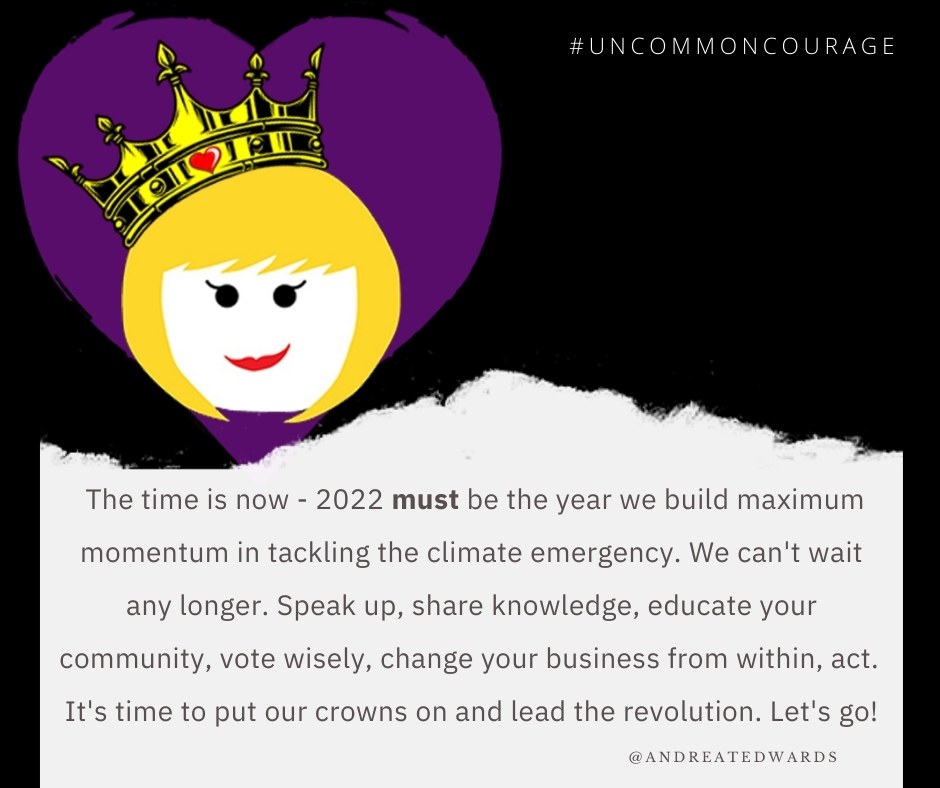 Donation time
If everyone gave #just10percent of their time, talent, money or voice, we'll change the world. Can you donate? Make it a regular donation to the World Food Programme. Help us feed people in Phuket or donate to the UN Refugee Program, PowerOf , Kiva.org , Soi Dog Foundation. It's a time for giving and taking care of each other.
Content to read
And here's the content I've been reading this last week. Scan the headlines, read the ones that jump out at you, read or watch them all. Knowledge is power, and global knowledge is even more powerful.
Climate crisis
WWF warns of impending mass extinction that may be largest since dinosaur age
Speak Up to Save 1,000-Year-Old Redwoods
French ban on plastic packaging for fruit and vegetables begins
Watching Don't Look Up made me see my whole life of campaigning flash before me
23 Hilariously Relatable Fan Reactions To "Don't Look Up"
"Don't Look Up" (part 1) – climate movie is kryptonite to the super villains
German environment minister warns of 'species crisis'
Rebecca Henderson: Can Capitalism Address Climate Change – Climate Rising Podcast
7 trends that will shape sustainability in 2022
11 sustainability buzzwords of 2021
Looming mass extinction could be biggest 'since the dinosaurs,' says WWF
Column: As far as political satire goes, 'Don't Look Up' fails in more ways than one
Biden 'Over-Promised and Under-Delivered' on Climate. Now, Trouble Looms in 2022.
Greenland permanently bans all oil and gas exploration
Zero-emission cruise ships for UNESCO world heritage sites
Here Are the World's 10 Worst Plastic Polluters
'Very Serious': Colorado Mayor speaks out after devastating forest fires
Denmark to make domestic flights fossil fuel free by 2030
Ed Sheeran reveals plans to 'rewild as much of the UK' as he can
Top climate scientists are sceptical that nations will rein in global warming
UK weather: warmest start to new year on record
Kew scientists name new tree after Leonardo DiCaprio tks Teressa Bayes
Covid
PSA: COVID-19 isn't "just a cold," isn't "a respiratory virus," and "mild" doesn't mean what you think it does. – Thread By @IanRicksecker tks Tim Wade
Covid: Deadly Omicron should not be called mild, warns WHO
Helping to Reveal a Still-Shuttered World
Pandemic may affect infants' brain development; coronavirus can trigger kidney scarring
We know the hell we're in. It will get worse before it gets better tks Willie Wahlin
Former Biden Advisers Urge a Pandemic Strategy for the 'New Normal'
California prosecutor who campaigned against vaccine mandates dies of Covid
New 'IHU' B.1.640.2 Covid-19 Coronavirus Variant Detected In France
Covid-19: India records first death linked to Omicron variant
A Texas team comes up with a COVID vaccine that could be a global game changer tks Teressa Bayes
Omicron variant of Covid surges around globe
Omicron may have peaked or 'plateaued' in parts of the world, giving experts cause for optimism
Latest COVID updates: UK daily cases hit 200,000
Phuket preps hotel guest isolation tks Edgar Toral
NSW nurses say they feel pressure not to take sick days as COVID-19 stretches healthcare resources
Covid: French uproar as Macron vows to 'piss off' unvaccinated
Why are so many vaccinated people getting COVID-19 lately?
'IHU' variant of Covid-19 explained: Few cases, limited spread
U.S. reports nearly 1 mln COVID-19 cases in a day, setting global record
A shambolic mess': the only example Australia is giving the world now is how not to manage Covid tks Phillipa Edwards
Covid: Boris Johnson plans to 'ride out' Omicron wave with no more curbs
Omicron is less severe because it does not infiltrate the lungs
Why Omicron Is Counterintuitive – The Daily Podcast
Covid News: Lack of Quick Test to Diagnose Omicron or Delta Complicates Treatments
This week Omicron and COVID left Australians taking a big cognitive leap, as surge takes us to new ground
First case of 'Florana" detected in Israel
Omicron In India Could Require 60,000 People Hospitalised Per Day
Coronavirus pandemic: Antarctic outpost hit by Covid-19 outbreak
US flight cancellations hit new holiday peak amid Covid and bad weather
South Africa says that it has passed its fourth wave of cases, and counts few added deaths.
Covid UK: coronavirus cases, deaths and vaccinations today
Global politics
Revolt in Kazakhstan: What's Happening, and Why It Matters
Tennis-Djokovic needs to prove exemption or go home – Australian PM
Tory peer Michelle Mone secretly involved in PPE firm she referred to government
Denmark frees suspected pirates in dinghy in Gulf of Guinea
Kazakhstan president says he gave order to 'open fire with lethal force'
Banning Trump from social media still affects US politics
Politicians recall 'terror and tragedy' of Capitol riot
Capitol riot: Biden to blame Trump for 'carnage' one year on
Modern America's Most Successful Secessionist Movement
Marjorie Taylor Greene: Twitter bans congresswoman over Covid misinformation
Business and technology
Virtual Events Are Here To Stay – How We're Investing To Build A Better Experience
Tattoo artists in uproar over EU ink bans
Toyota Overtakes GM as Bestselling Auto Maker in U.S.
GM, Volkswagen Build Up Their Battery Supply Chains Amid Electric-Vehicle Push
Why Brahmins lead Western firms but rarely Indian ones
Social issues and humanity
Passengers on Sunwing party plane could face jail time, thousands in fines tks Joanna Barclay
The Opposite of Toxic Positivity
The Movie That Understands the Secret Shame of Motherhood
Novak Djokovic's Australian Open hopes dashed after visa cancelled at airport
Novak Djokovic: Having Covid gave tennis star vaccine exemption – lawyers
Novak Djokovic: Australia cancels top tennis player's visa
Molly-Mae sparks huge fan backlash with 'tone deaf' comments on poverty saying 'we all have the same 24 hours in a day'
Novak Djokovic: Australian Open vaccine exemption ignites backlash
Virginia Giuffre: Prince Andrew accuser's deal with Jeffrey Epstein to be released
Emily in Paris: Ukraine complains over Kyiv character stereotype
New Year's Eve fireworks kill and injure in Europe despite bans
Map drawn from memory helps reunite kidnapped Chinese man with family
100 ways to slightly improve your life without really trying
The Universe is already in its sixth and final era tks Lisa LThree
Passion, humour, history
God's Tech Support – tks Phillipa Edwards
Sidney Poitier, Black acting pioneer, dies aged 94
'Sensational': skeleton buried in Vesuvius eruption found at Herculaneum
25 examples of the funniest misconceptions men have had about women
Einstein, Edison, and Dali's "creative nap" trick seems to actually work
The Isle of Wight's dinosaur hunter: we're going to need a bigger museum
Richard Leakey – fossil expert, conservationist and politician
Aoife Beary: Berkeley balcony collapse survivor dies, aged 27
The Lawrence Welk Show: Mother'sDat – SNL – tks Michelle Giamusso Regal
Let me know what jumped out at you? Or share with me what you're reading? I love that!
Cheers
Andrea
Uncommon Courage – my new book – is available
You can buy it on Amazon, Apple Books, Barnes & Noble, Book Depository, Booktopia, Smashwords, Kobo, Gardners, Odilo and Scribd.
You can read the reviews, including a five-star review on ReaderViews, an excellent one on Booklife, and I'm collating reviews on my Website too. Have a look and grateful to everyone who has written or recorded one.
Come and join the conversation in my new Facebook Group Uncommon Courage.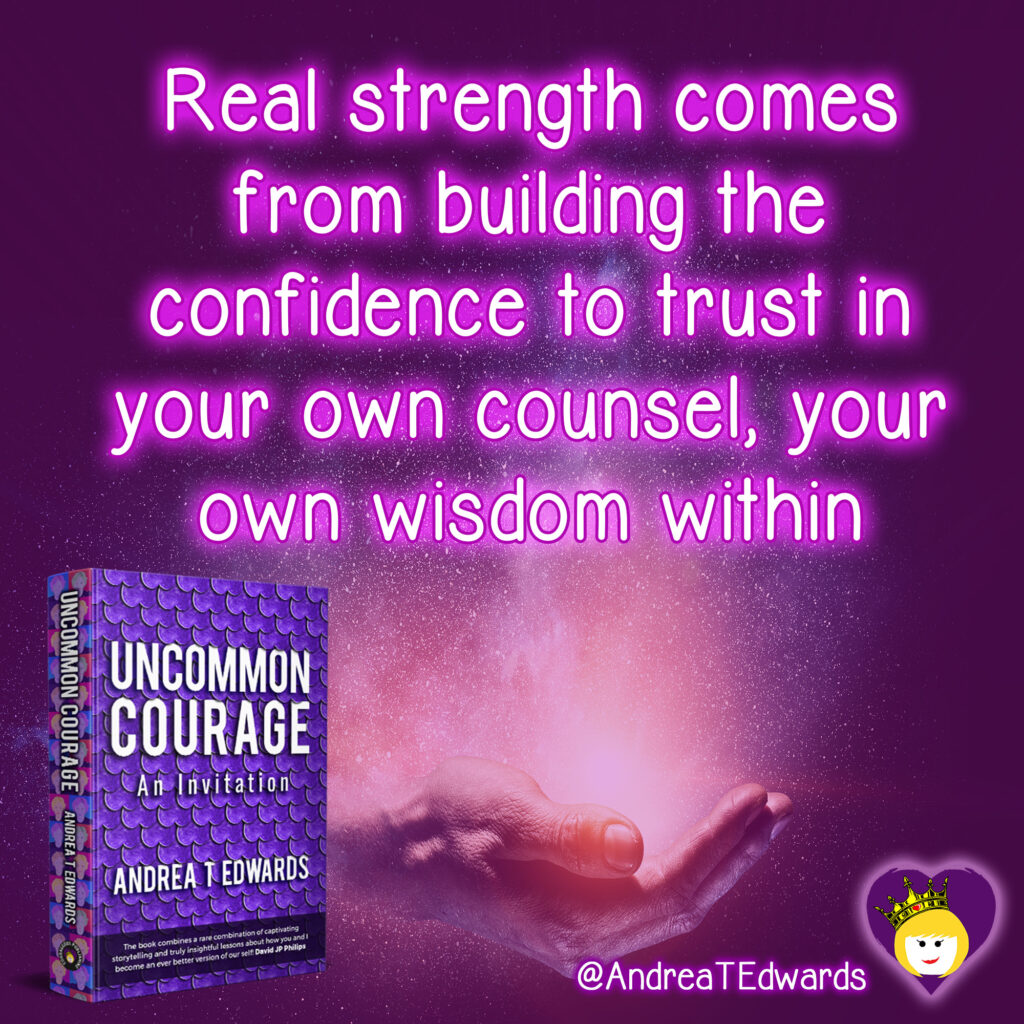 Connect with me
Website, LinkedIn, Twitter, Facebook, YouTube, Instagram, Medium, SlideShare, Amazon.
The Know Show
Check out The Know Show. It's a weekly wrap up of the news! Back next week.
Listed by Book Authority in the 100 Best LinkedIn Books of All Time and 22 Best New LinkedIn eBooks To Read In 2021 categories. Grab it today if you want to take your professional presence to the next level! When it comes to LinkedIn, it really is time to ask — can you really afford not to have this book in the hands of every employee?
Feedback
Have I done a great job for you? Can you write a reference on my LinkedIn profile or on my Google Business page? If not for me, why not write one for someone else who inspires you or has helped you? Join the #GivingEconomy
Check out Second Nature Social on my YouTube channel.
Are you a Social CEO? The Social CEO: How Social Media Can Make You A Stronger Leader.
Want to claim your stage? Unleash Your Voice – Powerful Public Speaking for Every Woman
Want proof social leadership transforms business and attracts customers? Check out this case study with IBM Asia Pacific.
Want to be a super star online? Check out my e-learning course How to build a rock star personal brand.