This week The World Inequality Report 2022 was released. Look below for links to this very important research. Of course, none of us are surprised by this information – why would we be? It's at the core of our global challenges and a problem we need to solve. Europe is the most equal region in the world, and it's time to all be moving in that direction, or we will experience societal breakdown.
To give you a flavour for some of the data. When it comes to income, the richest 10 per cent of the global population currently earns 52 per cent of global income, whereas the poorest half of the population earns eight per cent of it.
However when it comes to wealth – the poorest half of the global population barely owns any wealth at all, at two per cent of the total. In contrast, the richest 10 per cent of the global population own 76 per cent of all wealth.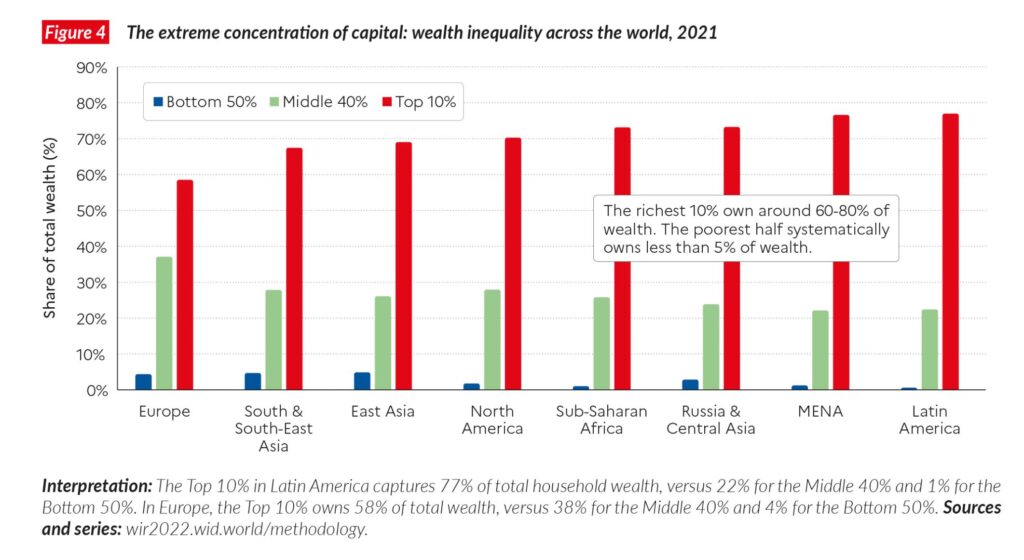 The report emphasizes that inequality is a political choice, not an inevitability. Income and wealth inequalities have been on the rise since the 1980s, following deregulation and liberalization programs which took different forms in different countries.
However, while inequality has increased within most countries, over the past two decades, global inequalities between countries have declined. So that is a little bit of good news.
Then again, while nations have become richer, governments have become poorer, leaving the totality of wealth in private hands. This matters, because the low wealth of governments has important implications for tackling inequality and climate change.
Since 1995, the share of global wealth possessed by billionaires has risen from one per cent to more than three per cent. And we know it increased during COVID. In fact, 2020 marked the steepest increase in global billionaires' share of wealth on record.
One new element to the report, is equality. This should startle everyone.Women's share of total income from work (this is paid work, not unpaid work) was close to 30 per cent in 1990. Today, we haven't quite hit 35 per cent. If we want to claim a gender equal world, women would earn 50 per cent of all labour income.
Another critical piece addressed is climate inequalities.We must address inequalities in carbon emissions if we want to tackle climate change. The report states that global income and wealth inequalities are tightly connected to ecological inequalities and to inequalities in contributions to climate change.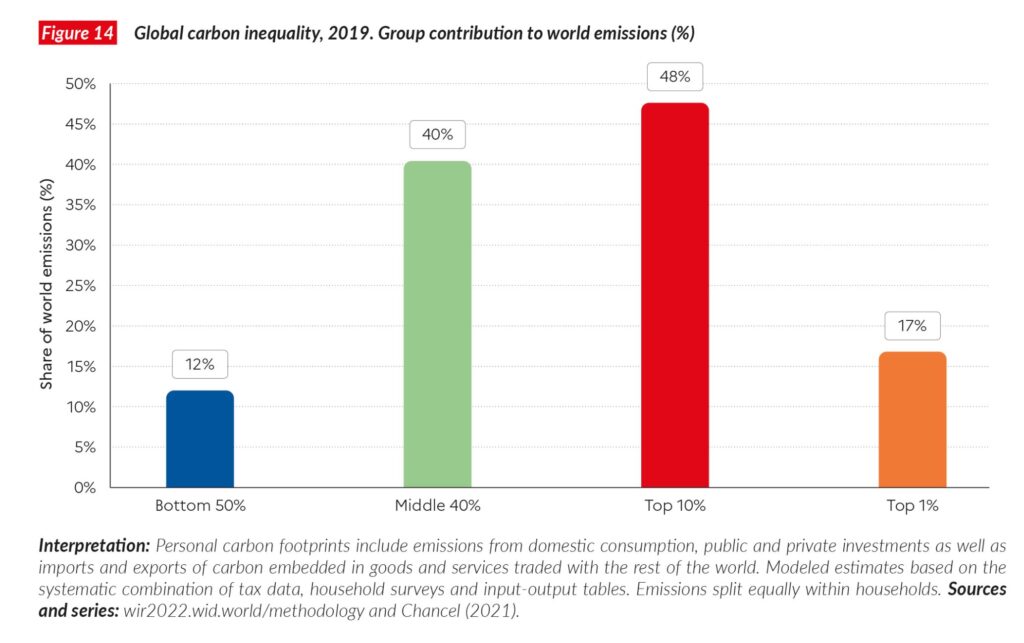 The top 10 per cent of emitters are responsible for close to 50 per cent of all emissions, while the bottom 50 per cent produce 12 per cent of the total. The recommendation is climate policies must target wealthy polluters. However, so far, climate policies – such as carbon taxes – have disproportionately impacted low and middle-income groups, while leaving the consumption habits of the wealthiest groups unchanged. Note, that's the bingo zone!
We've certainly got some work to do.
Friend's content and mine
The Naked Artic Adventure – so proud of Stephanie Dickson and everyone in this film. I love the hope. Please watch it.
Challenges and Opportunities for Mono-Material Packaging Businesses in Asia Karen Prager published her first blog on LinkedIn and it's a really insightful look into the packaging industry – one that creates a massive amount of waste.
Ladies, it's time to claim our space in the world I loved doing this podcast with Simone De Haas. Ladies if you want to feel empowered, have a listen and let's get to work!
But We Were Still Too Few – and also super proud to launch this video. A call to action to care for our earth and our fellow humans. It's on every single one of us to walk the world with gentler feet. The wealthiest more so! Let me know what you think, and of course, if you love it, please do share it. We need billions on board.
Donation time
If everyone gave #just10percent of their time, talent, money or voice, we'll change the world. Can you donate? Make it a regular donation to the World Food Programme. Help us feed people in Phuket or donate to the UN Refugee Program, PowerOf , Kiva.org , Soi Dog Foundation. It's a time for giving and taking care of each other.
Content to read
And here's the content I've been reading this last week. Scan the headlines, read the ones that jump out at you, read or watch them all. Knowledge is power, and global knowledge is even more powerful.
World inequality report
Billionaires' wealth saw record growth during pandemic: Global Inequality Lab
Climate crisis
Elon Musk: Declining birth rate one of 'biggest' threats to civilization
Copernicus: 2021 saw widespread wildfire devastation and new regional emission records broken
11 brands called out for greenwashing in 2021 tks Hedvig Lyche
'We need to break the junk food cycle': how to fix Britain's failing food system
Politicians are failing to deliver climate justice. Lawyers and scientists could do it in court
Scientists Are Building a 'Black Box' To Record The End Of Civilization
Covid
BioNTech, Pfizer say their Covid-19 vaccine neutralises Omicron with three shots
BioNTech's boss, Ugur Sahin, remains sanguine about Omicron
Sanna Marin: Finland's PM sorry for clubbing after Covid contact
Covid: Vaccines should work against Omicron variant, WHO says
Omicron: new variant, old mistakes
On Podcasts and Radio, Misleading Covid-19 Talk Goes Unchecked
Sarah Gilbert: Next pandemic could be more lethal than Covid
Covid: Don't panic about Omicron variant, WHO says
Omicron's Spread Across Hotel Hall Highlights Transmission Worry
UK Covid news LIVE: Omicron surges in London as Boris faces Tory anger over Plan B move | Evening Standard
Covid latest news: Working from the office less of a coronavirus risk than shopping, UCL says
Denmark reintroduces some COVID-19 restrictions – CNA (channelnewsasia.com)
People with health issues or inactivated vaccine should get COVID-19 booster, WHO advices
Australia's Omicron spread could 'be to our advantage', expert says | Coronavirus 9News Latest News 2021
Omicron India News Updates: Omicron Covid variant 'almost certainly' not more severe than Delta, says top US scientist Anthony Fauci
Barnaby Joyce: Australia deputy PM tests positive for Covid after UK visit-
Bolsonaro: Brazilian Supreme Court opens investigation into vaccine comments
Global politics
Valérie Pécresse: Part-Thatcher, part-Merkel and wants to run France
Former National Guard leaders claimed part of an Army report on the Pentagon response to Jan. 6 is 'whole fiction'
Beijing Winter Olympics boycott is insignificant, says Macron
Barnaby Joyce: Australia deputy PM tests positive for Covid after UK visit
PM accused of lying after No 10 officials caught joking about Christmas party tks Andrew Psarianos
US diplomats to boycott 2022 Beijing Winter Olympics
Until We Meet Again. Brian Williams Signs Off
Business and technology
Podcast: Lina Khan vs. Big Tech
Cheering On the Big Quit? Just Wait for the Big Backfire
A huge study of 20 years of global wealth demolishes the myth of 'trickle-down' and shows the rich are taking most of the gains for themselves
Elon Musk Says He Wants To Put Brain Chips in Humans Next Year
NASA's future is in private space companies' hands
Better.com CEO fires 900 employees over Zoom
Boss says sorry for 'blundered' Zoom firing of 900 staff
NASA to award SpaceX three more commercial crew flights
US father fired on Zoom describes 'callous' call
4 things employers do that undermine employee trust
Farmer reveals the 'absolutely terrifying' reality of Australia's urea shortage and how it's used in almost EVERY item in your fridge – as supply is forecast to run out in just weeks Teressa Bayes
The Price of Tomorrow | Jeff Booth + Andrew Yang | Yang Speaks – tks Robert Kirubi, great listen
Social issues and humanity
Mental Health at Christmas: Some Tips for Coping
29 photos of tiny living spaces show how overcrowded and unaffordable the world has become
Michael Sheen turns himself into a 'not-for-profit' actor tks Graham Harvey
Astroworld: Travis Scott says he was unaware fans were hurt
I'm Black But Look White. Here Are The Horrible Things White People Feel Safe Telling Me.
'Burnt out': Melbourne teacher on why she's quitting after 14 years
Ghislaine Maxwell: Ex-boyfriend of Maxwell accuser backs up statement Published
Family estrangement: Why adults are cutting off their parents
This Is What No One Tells Women About What Happens To Your Body In Your 40s
A 975-day nightmare: how the Home Office forced a British citizen into destitution abroad
The Nuclear Family Was a Mistake – tks Denise Chai
Podcast Brené Brown: Atlas of the Heart – Part 1
Podcast Brené Brown: Atlas of the Heart – Part 2
Passion, humour, history
And Just Like That review – Sex and the City sequel has a mouthful of teething troubles
Sigiriya: Sri Lanka's ancient water gardens
Rajan the last ocean-swimming elephant: Jody MacDonald's best photograph tks Kevin Cottam
Chris Hemsworth Expertly Trolls Brother Liam In Hilarious Instagram Post
Work Begins Soon on Kilimanjaro Cable Car tks David Lim
Guinness World Records: Australian man breaks record for loudest burp EVER! – tks Andrew Psarianos
How a decade as an expat destroyed my Australian dream – tks Phillipa Edwards
Let me know what jumped out at you? Or share with me what you're reading? I love that!
Cheers
Andrea
Uncommon Courage – my new book – is available
You can buy it on Amazon, Apple Books, Barnes & Noble, Book Depository, Booktopia, Smashwords, Kobo, Gardners, Odilo and Scribd.
You can read the reviews, including a five-star review on ReaderViews, an excellent one on Booklife, and I'm collating reviews on my Website too. Have a look and grateful to everyone who has written or recorded one.
Come and join the conversation in my new Facebook Group Uncommon Courage.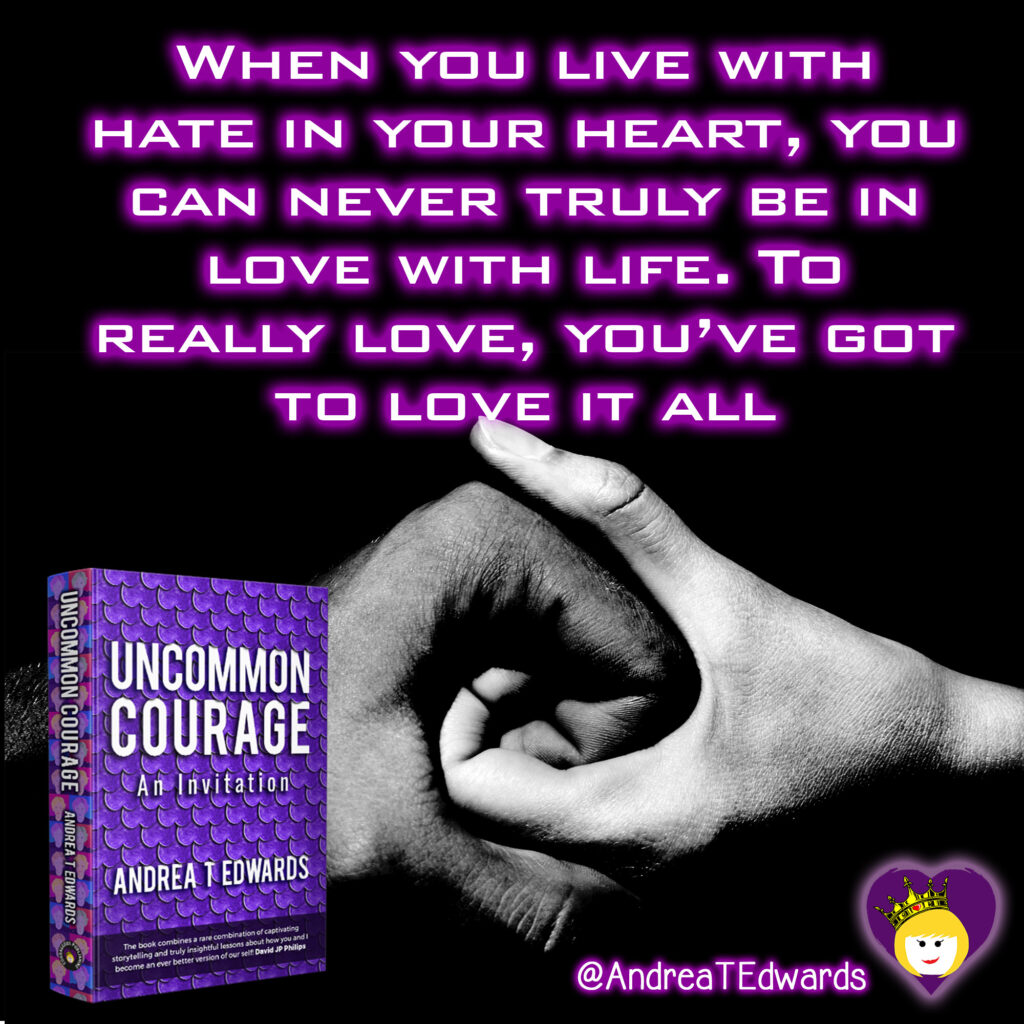 Connect with me
Website, LinkedIn, Twitter, Facebook, YouTube, Instagram, Medium, SlideShare, Amazon.
The Know Show
Check out The Know Show. It's a weekly wrap up of the news!
Listed by Book Authority in the 100 Best LinkedIn Books of All Time and 22 Best New LinkedIn eBooks To Read In 2021 categories. Grab it today if you want to take your professional presence to the next level! When it comes to LinkedIn, it really is time to ask — can you really afford not to have this book in the hands of every employee?
Feedback
Have I done a great job for you? Can you write a reference on my LinkedIn profile or on my Google Business page? If not for me, why not write one for someone else who inspires you or has helped you? Join the #GivingEconomy
Check out Second Nature Social on my YouTube channel.
Are you a Social CEO? The Social CEO: How Social Media Can Make You A Stronger Leader.
Want to claim your stage? Unleash Your Voice – Powerful Public Speaking for Every Woman
Want proof social leadership transforms business and attracts customers? Check out this case study with IBM Asia Pacific.
Want to be a super star online? Check out my e-learning course How to build a rock star personal brand.