I received an email from The Guardian recently, asking if I'd be willing to increase my subscription to support its critical reporting on the climate emergency. I said yes.
In the email it says: "We have no shareholders and no billionaire owner. Just the determination and passion to deliver high-impact reporting, free from commercial and political influence….. Two years ago, we pledged to prioritise the climate crisis, and we've published some 6,000 pieces of environmental journalism since…"
Now I know people in my network hate The Guardian with a passion and I don't want this to be about which media you love and support. You do you, OK?
For me, I love The Guardian, mainly because they were the first mainstream publisher to go all-in on the climate. Long before everyone else. I admired that stance and still do.
For a long time when reading The Guardian, a box would pop up asking me if I wanted to subscribe and I'd close it and keep reading. They never put a limit on what I was reading either.
However, overtime I realized how much information I was consuming and valuing, and knew it was time to put some money on the line. A contribution I increased by 75% this week.
Not all progress is good progress
There are so many aspects to our lives that we see as progress, and we often take decades to recognise it's not progress, but destruction. There are also many things we take for granted, such as the accepted uncontrollable growth of business – aviation, automotive, energy, travel & tourism, consumer goods, technology, #FastFashion – I could go on. It's everywhere.
A small example to keep it simple – AirBnB. I know many love it, but it's destroyed communities across the world, and we lap it up. Or the apps for deliveries. Terrible for local businesses, because it cuts into their profit margins, and in the last couple of years, that matters.
But we do love our convenience don't we? Even when it's bad for someone else. I wish we could see what we are doing, and then I read this article, with deep sadness in my heart – Few willing to change lifestyle to save the planet, climate survey finds. If we don't recognize our role in this challenge, we won't make it.
Getting back to the media
When it comes to the media, we've become so used to everything being free, especially in the digital world, we take it for granted. What has that created? Important publishing houses going out of business, small local news sources being bought up by the big players, the sacking of experienced journalists, a focus on click bait to attract advertising revenue, and on it goes.
It's an absolute mess, a mess that is creating divisions all around our world, and it is putting democracy at risk. Our future too.
For me, this is one of the basic things we can all do to keep important journalism alive – we pay for the media we value. When we pay, we are making it possible to have access to all sides of the stories that matter.
Without our financial support for the media, we could lose something very dear and important to us, but it will be too late by the time we wake up.
So I want to ask, are you subscribing and paying for media today, even if it's free? Can you, if you're not?
Apart from The Guardian for climate reporting, I recommend two others:
Eco-business especially for those of us in Asia Pacific, this is a critical media source for all things climate. Please subscribe today!
Inside Climate News I'm not subscribing to this yet, but will probably add it to my subscriptions.
I subscribe to other media, and there are many I do not pay for, but if everyone who could afford it, paid for the main media they consume, this will go a long way towards helping high quality journalism get the funding it needs to keep going and be accessible to all of us.
Let me know who you're subscribing to, or if you're going to add a subscription today?
Cheers
Andrea
PS: this is one of those actions YOU can take right now to support the fight for the future. We are not helpless, but we must do all we can to succeed.
Uncommon Courage – my new book – is available
You can buy it on Amazon, Apple Books, Barnes & Noble, Book Depository, Booktopia, Smashwords, Kobo, Gardners, Odilo and Scribd.
You can read the reviews, including a five-star review on ReaderViews, an excellent one on Booklife, and I'm collating reviews on my Website too. Grateful to everyone who has written or recorded one.
Come and join the conversation in my new Facebook Group Uncommon Courage.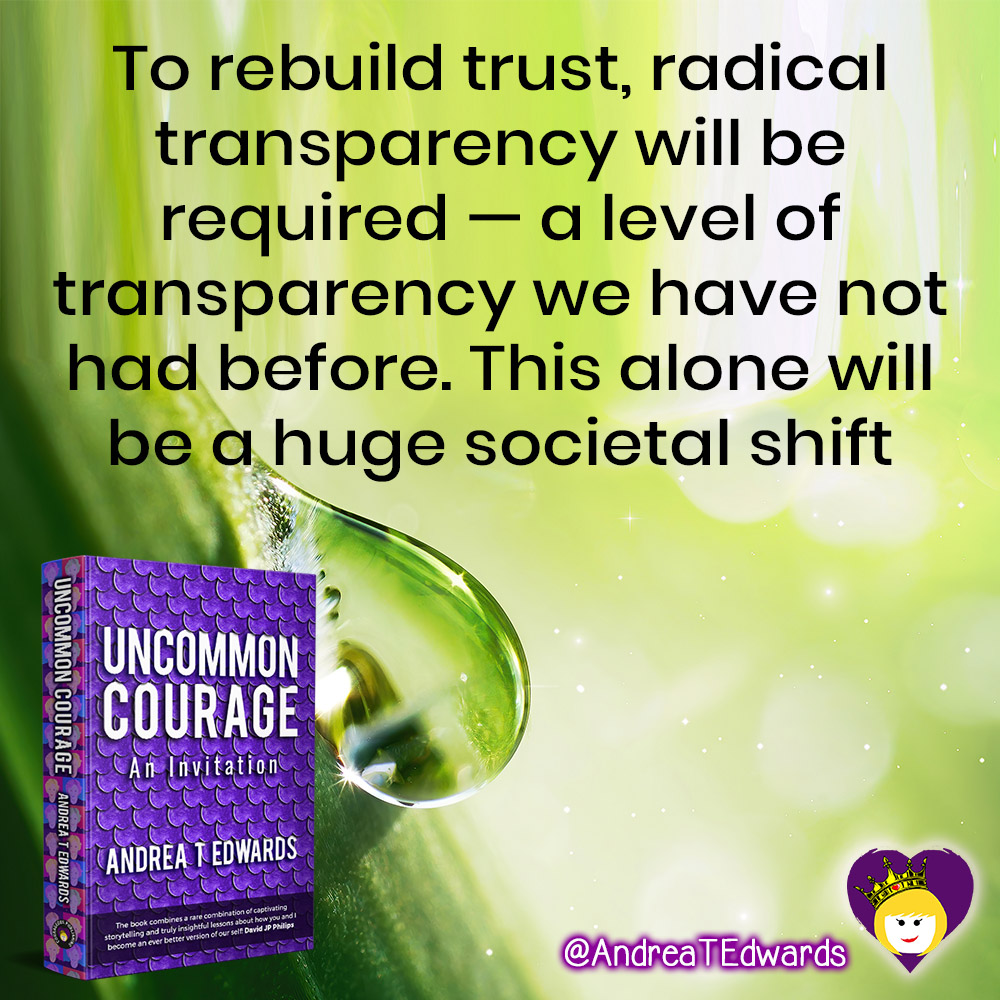 Connect with me
Website, LinkedIn, Twitter, Facebook, YouTube, Instagram, Medium, SlideShare, Amazon.
The Know Show
Check out The Know Show. It's a weekly wrap up of the news!
Listed by Book Authority in the 100 Best LinkedIn Books of All Time and 22 Best New LinkedIn eBooks To Read In 2021 categories. Grab it today if you want to take your professional presence to the next level! When it comes to LinkedIn, it really is time to ask — can you really afford not to have this book in the hands of every employee?
Feedback
Have I done a great job for you? Can you write a reference on my LinkedIn profile or on my Google Business page? If not for me, why not write one for someone else who inspires you or has helped you? Join the #GivingEconomy
Check out Second Nature Social on my YouTube channel.
Want proof social leadership transforms business and attracts customers? Check out this case study with IBM Asia Pacific.