I've watched some of the top environment thought leaders return from Cop26 in Glasgow, and on social media they are sharing despair and sorrow. I know with some distance from the event, they will gear up again for the battle that lies ahead, but it is sad to read some of their reflections. They are people I have deep respect for.
If you're been paying attention to this event, the media response has been positive, critical or downright hopeless. We started the week with an article in the Independent titled: We know almost for a fact that Cop26 will fail – this is why.
A quote worth pulling out…
"Because there is a terrible silent lie being propagated by the British government and the United Nations: they know we have to ban all new fossil fuel investments as a crucial step to have any hope of staying below a 1.5C rise in temperatures – yet the three key players setting the agenda have refused to table a ban at the conference."
Sigh.
I believe, for us to succeed in overcoming the crisis, it requires two topics at the centre of all discussions – ending fossil fuel use and ending growth-based economies. Without that, we can not achieve what needs to be achieved. It's really that simple.
At the end of the week, the UN Secretary General, António Guterres, said the goal of 1.5 was on life support, and I think we all know it will not be achieved, in fact, we're currently at 2.4 so far. Please read these three articles to understand that it might actually be worse than that – links below:
Cop26: world on track for disastrous heating of more than 2.4C, says key report
1bn people will suffer extreme heat at just 2C heating, say scientists
Countries' climate pledges built on flawed data, Post investigation finds
I know many are feeling lost, helpless and hopeless when it comes to the climate emergency. Many have sunk into despair. Here's the thing…
When there are not enough of us who really care about the climate crisis, understand it and know what we need to do to change trajectories, our politicians will continue to do what their constituents care about to win votes. If the electorate is not voting for significant change, politicians will not act in the way we need. Why would they? It's not a ticket to election success. Businesses won't change either, until we change.
And apparently we don't get our part in this bigger story: Few willing to change lifestyle to save the planet, climate survey finds. Lifestyle change must include how we vote, how we buy, how we live, how we work. All of it.
We are all part of the change needed
Until we get this essential message, we can't act decisively. Politicians and businesses seem unwilling to lead the way either. It's not a successful strategy yet.
The other critical challenge is how countries vote – especially the US – because the uncertainty and flip-flopping of the two rivals keeps us on an unsteady path. Equally, if the same environment strategy of the last Republican leadership returns, this will be devastating for the world. But perhaps new Republican leadership will be different? We just don't know. And it's not helping our situation or mindset.
But this is where my hope is. Once enough of us get it – and I mean 70-80 per cent of the voting population, regardless of age or political affiliation – then we start moving in the right direction. WE make this happen. All of us.
So don't get lost in despair, because you can't do anything from that place.
Join the fight. Raise your voice. Educate your community – especially if they vote for politicians that aren't acting on climate. Vote wisely. Make changes in your life – big or small, it all adds up – and when you see an issue that needs to be solved, solve it or talk to someone who can. Shine a light on the champions in your community, raise awareness and help wake people up.
For so many reasons, the media, social media, fake news, misinformation, political leadership, political divisions, social divisions, lack of trust in institutions, and on I could go…. are creating a world of people not thinking, but on the other side, we have a lot of people shutting down, because they can't see a way out. This is a self-protection mechanism and completely understandable.
Please remember, change starts with each of us, because when we change, we act, and if everyone of us got the message, we have a chance. But until we do, businesses will operate as usual, and politics will keep holding us back.
We can do this. We can. I will not stop believing. But I can't do it alone. None of us can. Please help me and those around the world fighting for our future, so we can make this happen. We can do it! But we need to get a move on and we need you with us.
Remember, when there is life there is hope. Don't lose hope.
Friend's content and mine
If you have time, do watch or listen to the latest The Know Show. Joe Augustin, Marc Allen, Joanne Flinn, Robert Kirubi and Susanna Hasenoehrl joined me for a deep-dive into what's happened at Cop 26. Lots of valuable insights.
A podcast with my husband, Steve Johnson, talking about our children's future, but through the lens of the climate crisis Are you worried about the impact of climate change on your kid's future?
Donation time
If everyone gave #just10percent of their time, talent, money or voice, we'll change the world. Can you donate? Make it a regular donation to the World Food Programme. Help us feed people in Phuket or donate to the UN Refugee Program, PowerOf , Kiva.org , Soi Dog Foundation.  It's a time for giving and taking care of each other.
Content to read
And here's the content I've been reading this last week. Scan the headlines, read the ones that jump out at you, read or watch them all. Knowledge is power, and global knowledge is even more powerful.
Climate crisis
How fossil fuels are the backbone of fast fashion – tks Susanna Hasenoehrl
Cop26: Australia accused of 'hiding' while opposing deal needed to limit catastrophic climate breakdown tks Marc Allen
We cannot continue pursuing endless economic growth if we want to save the planet.
China and the US announce plan to work together on cutting emissions tks Susanna Hasenoehrl
World Bank Group COP26 Climate Briefs
As it happened: Some progress at COP26 but clearly not enough – Sharma
Funding Innovation to Fight Climate Change tks Robert Kirubi
Samsø: Generating energy, and possibilities
Bluewaters coal-fired power station written off as worthless as renewables rise
Cop26: world on track for disastrous heating of more than 2.4C, says key report
Seven ways to curb climate change
Greta Thunberg and other activists petition the U.N. to declare a state of emergency on climate change.
COP26: Fear of failure as climate summit enters final day
What Happened at COP26 on Wednesday: China and U.S. Say They'll 'Enhance' Climate Ambition
What will it take for adland to clean up its act and wash its hands of greenwashing?
Leaders agree to 'transformative' action to stop deforestation by 2030 tks Robert Kirubi
COP26: World headed for 2.4C warming despite climate summit – report
Youths are demanding for Singapore to be more ambitious on climate
COP26: World headed for 2.4C warming despite climate summit – report
COP26: How much is spent supporting fossil fuels and green energy?
Canadian doctor diagnoses woman in British Columbia with 'climate change' after breathing problems during summer of heatwaves and wildfires tks Teressa Bays
COP26: Cautious welcome for unexpected US-China climate agreement
COP26 news: Draft text calls for phasing out coal and fossil fuels tks Susanna Hasenoehrl
Deepest earthquake ever detected should have been impossible
At COP26, new alliance tries to kill oil and gas industry tks Susanna Hasenoehrl
In Glasgow, I saw three big shifts in the climate conversation
Briefing: EU anti-deforestation law could have serious holes tks Robert Kirubi
Call to Earth Day: Taking action to protect the planet
COP26: PM calls on nations to pull out the stops as draft agreement published
The price of fast fashion? Chile's desert dumping ground for unwanted clothes tks Susanna Hasenoehrl
COP26 draft text criticised for lack of commitment to fossil fuel phase-out
Countries' climate pledges built on flawed data, Post investigation finds tks Marc Allen
'Net zero is not zero': carbon offsetting focus at COP26 under criticism tks Susanna Hasenoerhl
The World's First Digital Thread & Yarn Dyeing System. tks Robert Kirubi
'Your credibility is on the line': Greenpeace boss urges ad agencies to distance from oil
Few willing to change lifestyle to save the planet, climate survey finds
Small cuts in air traffic would level off global heating caused by flying
Singapore relies on fossil fuels more than any other country – study
UK boost to advance gender equality in climate action tks Robert Kirubi
'World designed by men has destroyed many things,' Cop26 warned
1bn people will suffer extreme heat at just 2C heating, say scientists
'Like a clown': what other countries thought of Boris Johnson at Cop26
More hot air than progress at COP26 tks Susanna Hasenoehrl
Can We Ever Make the Fashion Industry Sustainable?
Climate change: Seven ways to spot businesses greenwashing
Can Glasgow Deliver on a Global Climate Deal?
More Than 40 Nations Pledge to Cut Emissions From Their Health Industries
COP26: Obama tells young people to stay angry on climate fight
Real Solutions Not 'Net Zero' tks Robert Kirubi
COP26: Rich countries 'pushing back' on paying for climate loss
Climate change is becoming less a battle of nations than rich vs poor
New high-resolution climate model predicts more extreme weather events in the future tks Samantha Gayfer
COP26: First Movers Coalition – Podcast
BHP reaps up to $1.35bn from Australia coal mines in fossil fuels retreat
Saudi Arabian negotiators move to cripple COP26 – Greenpeace response
New Report Expects Global Emissions of Carbon Dioxide to Rebound to Pre-Pandemic High This Year
COP26: IT and climate change – Computer Weekly Downtime Upload podcast tks Susanna Hasenoehrl
Activist Jane Goodall on hope, making change happen – and climate summit COP26 – Podcast
Koch vs BlackRock and the War for Fourth Sector Supremacy
If the super-rich want to live for ever our planet is truly doomed
COP26: Fossil fuel industry has largest delegation at climate summit
White House-Backed Carbon Tax in Sight for Biden's Climate Bill tks Susanna Hasenoehrl
Australian government refuses to join 40 nations phasing out coal, saying it won't 'wipe out industries'
We know almost for a fact that Cop26 will fail – this is why tks Susanna Hasenoehrl
COP26: What is happening on each day of the climate conference?
What's happening in the second week of the Cop26 climate talks?
What will be the focus of COP26?
Week 44: Showbiz in the era of "sauve qui peut" tks Susanna Hasenoehrl
Climate change: Thailand scientists performing 'coral IVF' in attempt to protect reefs tks Teressa Bayes
Bioenergy In All Its Complexity : The Good the Bad and he Ugly – tks Susanna Hasenoehrl
COVID19
As COVID-19 rages, more in Singapore go hungry tks Cheryl Tan
People 'unvaccinated by choice' in Singapore no longer can receive free covid-19 treatment
Netherlands imposes lockdown measures as Covid cases hit new high tks Gabe Rijpma
Austria bans the unvaccinated from restaurants as COVID-19 cases surge
Japan has zero daily COVID-19 deaths for first time in 15 months
Aaron Rodgers Has COVID, Trump Has Expensive Wrapping Paper & DeSantis Has Another Terrible Idea!
Global Politics
Jacinda Ardern interrupted by daughter Neve during livestream: 'You're meant to be in bed, darling'
This government has unleashed something far worse than "sleaze"
Democrats' Spending Bill Is Costly. But Not Passing It Is Far More So.
Belarus migrants: EU accuses Lukashenko of gangster-style abuse
Afghans facing 'hell on earth' as winter looms
Kyle Rittenhouse trial: Judge's phone keeps ringing in court with Trump rally theme
The Dueling Ideas That Will Define the 21st Century
Here's what's in the bipartisan infrastructure bill
Democrats Thought They Bottomed Out in Rural, White America. It Wasn't the Bottom.
Owen Paterson: Boris Johnson's actions corrupt – Starmer
Fox News Caught Deceptively Editing Biden Speech
Business and Technology
Phuket to invest B100m to build 3 new landmarks tks Charlie Pulaski
Is the secret to this year's Black Friday success not offering discounts?
Elon Musk: Tesla boss sells $5bn of shares after Twitter poll
Retailers lose love for Asia: Snarled supply chains force manufacturing exodus to Balkans, LatAm
LinkedIn: how the professional networking site got personal
The CEOs of Microsoft and LinkedIn Agree: We're in the Middle of the 'Great Reshuffle,' Not the 'Great Resignation'
Social issues (#BlackLivesMatter) and humanity
A Bad Solar Storm Could Cause an 'Internet Apocalypse'
'Cannibal CME' sun storm marks rise of new solar cycle in space weather
Scientists Built an AI to Give Ethical Advice, But It Turned Out Super Racist
How the evangelical church messed up and lost its way
Astroworld: Criminal investigation into Texas festival crowd surge
Ozzy Man Reviews : Travis Scott & Astroworld
Passion, humour, history
What I Learned About Life at My 30th College Reunion
Let me know what jumped out at you? Or share with me what you're reading? I love that!
Cheers
Andrea
Uncommon Courage – my new book – is available
You can buy it on Amazon, Apple Books, Barnes & Noble, Book Depository, Booktopia, Smashwords, Kobo, Gardners, Odilo and Scribd.
You can read the reviews, including a five-star review on ReaderViews, an excellent one on Booklife, and I'm collating reviews on my Website too. Have a look and grateful to everyone who has written or recorded one.
Come and join the conversation in my Facebook Group Uncommon Courage.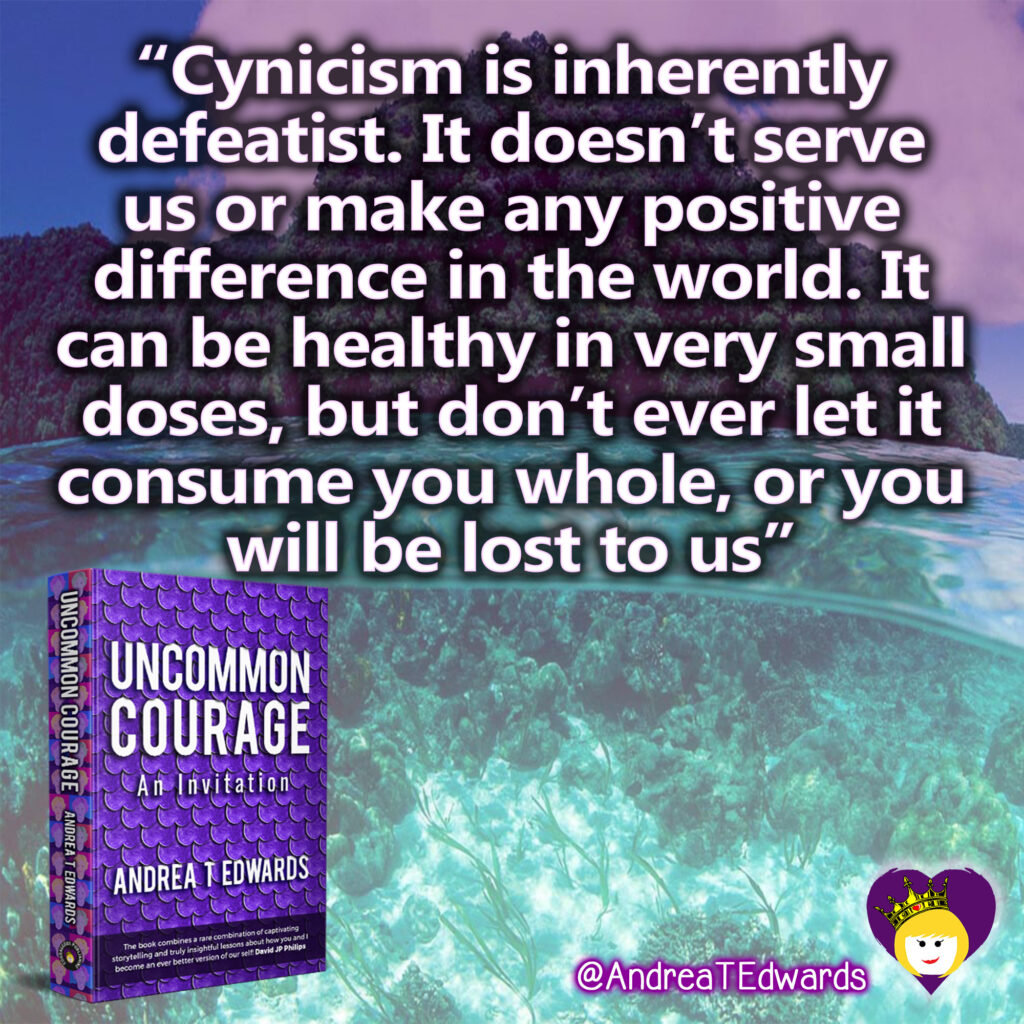 Connect with me
Website, LinkedIn, Twitter, Facebook, YouTube, Instagram, Medium, SlideShare, Amazon.
The Know Show
Check out The Know Show. It's a weekly wrap up of the news!
Listed by Book Authority in the 100 Best LinkedIn Books of All Time and 22 Best New LinkedIn eBooks To Read In 2021 categories. Grab it today if you want to take your professional presence to the next level! When it comes to LinkedIn, it really is time to ask — can you really afford not to have this book in the hands of every employee?
Feedback
Have I done a great job for you? Can you write a reference on my LinkedIn profile or on my Google Business page? If not for me, why not write one for someone else who inspires you or has helped you? Join the #GivingEconomy
Check out Second Nature Social on my YouTube channel.
Want proof social leadership transforms business and attracts customers? Check out this case study with IBM Asia Pacific.