Obviously my attention was glued to the news coming out of Cop26. The overarching goal was ambition, action, acceleration. We went in on a 2.7C pathway, and had a late announcement that we'd achieved 1.8C, however really, anything above 1.5C is not a great result.
Equally, Selwin Hart, UN special adviser and assistant secretary-general for climate change, warned Cop delegates that the fight to limit global heating is "far from over".
"… based on the NDCs that have been submitted, the world is on a 2.7 degree pathway, a catastrophic pathway, and therefore we are a long way away from keeping the 1.5 degree goal of the Paris agreement alive," he said. "We cannot be complacent. We cannot celebrate before we've done the job. We must recognise that this is a fight that we cannot afford to lose. I urge all of you to keep up the fight."
Just a reminder that 1.5C = too hot to live, and at 2C, rainforests will no longer be able to survive. Everything increase is a big deal.
Historically, there isn't much to hang our hope on either. A piece in the Guardian by George Monbiot, said:
A study in the scientific journal Nature suggests that to stand a 50% chance of avoiding more than 1.5C of global heating, we need to retire
1. 89% of proven coal reserves
2. 58% of oil reserves
3. and 59% of fossil methane ("natural gas") reserves.
If we want better odds than 50-50, we'll need to leave almost all of them untouched.
And we're not reducing. The World Meteorological Organization warned recently that the amount of heat-trapping greenhouse gases in the atmosphere had reached a record high in 2020 despite the pandemic and is rising again this year.
Big take-aways or pledges
The $100 billion promised to countries most impacted by climate change and not responsible for creating it, hasn't been paid, and now developing countries are asking for much more. Prime minister of India, Narendra Modi, stated well over $1 trillion is needed by India. Regardless, payments won't happen before 2023….
More than 40 countries pledge to quit coal, this included major coal-using countries including Poland, Vietnam and Chile. China and the US did not sign up
A Global Methane Pledge was signed, aiming to limit methane emissions by 30% compared with 2020 levels. Major emitters like Russia, China and India are not part of the pledge. Australia didn't commit either
More than 100 world leaders have promised to end and reverse deforestation by 2030., and Greenpeace condemned it as a green light for another decade of forest destruction. The Amazon cannot survive another decade
There were financial industry commitments and of course, our old friend, the Carbon offset market looks set for explosive growth. We need to reduce everywhere. Offsetting is not the right path
Where's the hope?
In us. In the young too. Vote for leaders who really give a damn, or become that leader yourself. Look at your lifestyle and live in balance with earth. Be an activist in your business and drive change. If you have solutions, get to work and start making it happen. Share information and what you're learning on social media, so others can learn and be inspired.
We need billions to change how we live and work. It starts with each of us. We are not powerless. Action is where the hope lies too.
Friend's content and mine
Podcast How can we be more courageous? I so enjoyed doing this podcast with Anupama Singal, Marianna Pascal and my sister, Phillipa Edwards. If you're looking for some courage inspiration, have a listen!
40 ideas you can adopt OR influence to drive substantial change in your community or business following the podcast with Michelle Mouille, Susanna Hasenoehrl, Tim Wade and Joanne Flinn, we've written this into a blog for those who prefer to read. This will give you many ideas on what you can do to live more in alignment with earth.
Donation time
If everyone gave #just10percent of their time, talent, money or voice, we'll change the world. Can you donate? Make it a regular donation to the World Food Programme. Help us feed people in Phuket or donate to the UN Refugee Program, PowerOf , Kiva.org , Soi Dog Foundation. It's a time for giving and taking care of each other.
Content to read
And here's the content I've been reading this last week. Scan the headlines, read the ones that jump out at you, read or watch them all. Knowledge is power, and global knowledge is even more powerful.
Climate crisis
Attenborough tells COP26 conference delegates: "The World is looking to you"
Asian Development Bank announces plans at COP26 to partner with investors to buy and retire coal power plants tks Susanna Hasenoehrl
Podcast The Fight Over Climate Change's Price Tag
Indonesia says Cop26 zero-deforestation pledge it signed 'unfair' tks Kevin Cottam
Cop26 day four: New commitments could limit global heating to 1.8C – as it happened
Australia puts fossil fuel company front and centre at Cop26 tks Susanna Hasenoehrl
Climate justice for climate change: How Narendra Modi stole the march over his peers at COP26
COP26 promises could limit global warming to 1.8C
COP26: More than 40 countries pledge to quit coal
DiCaprio Breezes In as Security Blocks Delegates: COP26 Update tks Susanna Hasenoehrl
'Not next year. Not next month. Now': youth activists demand real action on climate at COP26
Chomsky and Pollin: COP26 Pledges Will Fail Unless Pushed by Mass Organizing
Greta Thunberg: COP26 is a failure and PR exercise
Biden's COP26 Strategy Is to Blame China and Russia While Securing Climate Deals
COP26: More than 40 countries pledge to quit coal
Cop26's worst outcome would be giving the green light to carbon offsetting
Mia Mottley, Prime Minister of Barbados at the Opening of the #COP26 World Leaders Summit – tks Susanna Hasenoehrl
Cop26 has to be about keeping fossil fuels in the ground. All else is distraction
Cop26: world leaders agree deal to end deforestation
COP26: What's the climate impact of private jets?
COP26: US and EU announce global pledge to slash methane
COP26: Wheelchair-using minister unable to attend summit
COP26: World leaders promise to end deforestation by 2030 tks Susanna Hasenoehrl
COP26: World at one minute to midnight over climate change – Boris Johnson
The COP26 Climate Talks Are Opening. Here's What to Expect.
COP26: 'Moment of truth' as world meets for climate summit
Earth to COP26|#COP26|UN Climate Change – tks Susanna Hasenoehrl
As winter looms, reports of starvation in North Korea
Fancy a 'charbonnay'? How France's coal belt reinvented itself as a tourist destination tks Kevin Cottam
An Open Letter to the Global Media by Greta Thunberg and Vanessa Nakate
Air Quality Index: Delhi air turns toxic after Diwali fireworks
Countries have failed to adapt for unavoidable climate damage, UN says
Half world's fossil fuel assets could become worthless by 2036 in net zero transition
Biden launching wide-ranging plan to reduce global methane emissions
Patagonia doesn't use the word 'sustainable.' Here's why tks Hedvig Lyche
Sustainability-linked finance: the unresolved dilemmas
California Factory Producing 50,000Lbs of Lab Grown Meat Per Year
OPEC+ Set for Geopolitical Showdown as U.S. Demands More Oil tks Susanna Hasenoehrl
Stephen Colbert Perfectly Explains The Climate Crisis Using Jim Carrey Movies
Climate change: Carbon emissions show rapid rebound after Covid dip
Unextractable fossil fuels in a 1.5 °C world
Carney Vows 'Hard Numbers' as Big Finance Faces CO2 Reckoning
US rejoins coalition to achieve 1.5C goal at UN climate talks
Act now for our children, Queen urges climate summit | COP26
Big oil CEOs just lied before Congress. It's time they're held accountable tks Susanna Hasenoehrl
The creative sector is slowly owning up to its role in the climate crisis
Saudi Arabia starts construction on its $100 billion eco-city that will have NO STREETS and be ready for residents in 2024: 105-mile-long 'linear' paradise will have no cars and no carbon emissions tks Teressa Bayes
The science everyone needs to know about climate change, in 6 charts tks Susanna Hasenoehrl
'Fight for the soul of the industry': adland under scrutiny from watchful green activists
Diversity in the boardroom drives climate action: study
Humanity is not trapped in a deadly game with the Earth – there are ways out tks Brian Sibley
WFP: Madagascar families facing world's first potential climate change famine
Gazprom says European requirements being met after pipeline stoppage
Australia Rejects U.S., EU Call for Global Methane Agreement
Lessons From A Climate Comeback
California condors: Virgin births discovered in critically endangered birds
COVID19
Your unvaccinated friend is about 20 times more likely to infect you with COVID-19
UK Approval Of Molnupiravir May Create New And More Dangerous Covid-19 Variants
With fourth wave raging, Germany agrees booster shots for all
High-risk Covid gene more common in South Asians
Europe once again at centre of Covid pandemic, says WHO
COVID-19 restrictions in Sydney to ease weeks ahead of schedule
COVID-19 vaccination side effects in the USA
Tonga records first coronavirus case since start of pandemic
COVID-19 vaccination side effects in the USA
Global Politics
US lawmakers approve $1tn in infrastructure spending
Simon Holmes à Court: 'If it works, the payoff will be enormous'
'I wish I'd voted to stay in': Brixham fishers on the cost of Brexit
The Nationals are just a bunch of denim-clad coal fondlers pretending to be farmers tks Phillipa Edwards
Business and Technology
The Art of Saying "No": Design Refusal tks Willie Wahlin
There is already a company called Meta and it is asking for several million to give the name to Mark Zuckerberg
Job Gains Offer a Brighter Picture of the U.S. Economy
Jack Ma, Trump and Xi: How Chinese billionaire flew close to the sun
Are You Missing Out on the Metaverse?
Kellogg's to give staff fertility, menopause and miscarriage leave
LinkedIn rolls out its freelance services marketplace globally after picking up 2M users in smaller US beta tks Lavinia Thanapathy
Facebook To Shut Down Facial Recognition Technology and Delete Data on A Billion People's Faces
The Social CEO: How Social Media Can Make You A Stronger Leader by Damian Corbet
Barclays boss Jes Staley in shock exit angry at Epstein probe
Inside Google Billionaire Eric Schmidt's $1 Billion Moon Shot Plan To Fund The World's Most Promising Teens tks Mireille Barber
Social issues and humanity
How two BBC journalists risked their jobs to reveal the truth about Jimmy Savile
Stress Is Not Happening to You, You Create It!
EXCLUSIVE Baby handed to U.S. soldiers in chaos of Afghanistan airlift still missing
There is a generation of men who have been caught flat-footed tks Phillipa Edwards
Three blasts from the Sun to hit Earth very soon, one is 'cannibal'
She drew millions of TikTok followers by selling a fantasy of rural China. Then politics intervened
Whatever Is Taken for Granted Will Eventually Be Taken Away
Cleo Smith found alive by WA Police at Carnarvon house, man with 'no family link' in custody tks Jenni Thorman
Britiam Leads The Way For Reining in Facebook, Twitter, YouTube
Lonsdale Calls Men Who Take Six Months Off to Parent 'Losers' tks Sandra Marichal
Why women may wait decades for an ADHD diagnosis
Passion, humour, history
Nostalgia-soaked photos immortalise LA roller rink
Let me know what jumped out at you? Or share with me what you're reading? I love that!
Cheers
Andrea
Uncommon Courage – my new book – is available
You can buy it on Amazon, Apple Books, Barnes & Noble, Book Depository, Booktopia, Smashwords, Kobo, Gardners, Odilo and Scribd.
You can read the reviews, including a five-star review on ReaderViews, an excellent one on Booklife, and I'm collating reviews on my Website too. Have a look and grateful to everyone who has written or recorded one.
Come and join the conversation in my new Facebook Group Uncommon Courage.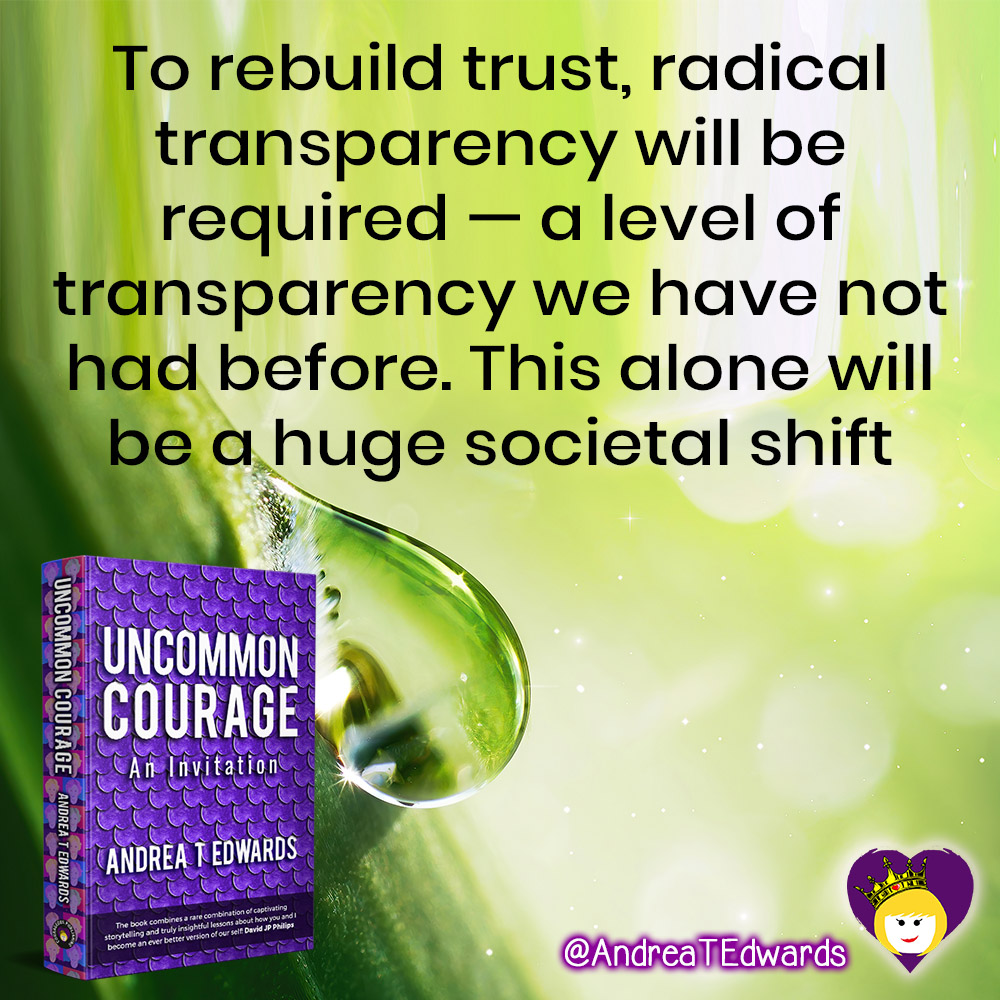 Connect with me
Website, LinkedIn, Twitter, Facebook, YouTube, Instagram, Medium, SlideShare, Amazon.
The Know Show
Check out The Know Show. It's a weekly wrap up of the news!
Listed by Book Authority in the 100 Best LinkedIn Books of All Time and 22 Best New LinkedIn eBooks To Read In 2021 categories. Grab it today if you want to take your professional presence to the next level! When it comes to LinkedIn, it really is time to ask — can you really afford not to have this book in the hands of every employee?
Feedback
Have I done a great job for you? Can you write a reference on my LinkedIn profile or on my Google Business page? If not for me, why not write one for someone else who inspires you or has helped you? Join the #GivingEconomy
Check out Second Nature Social on my YouTube channel.
Want proof social leadership transforms business and attracts customers? Check out this case study with IBM Asia Pacific.