Big news this week, as Facebook announced its parent company will be called Meta. And no, based on the conversations I've been seeing on social media, Facebook will remain Facebook, Meta is the name of the parent group, like Alphabet is for Google.
This announcement is part of the company attempting to address its shattered image, and is in line with its plans to build the "metaverse," which is an online world where people can game, work and communicate in a virtual environment, often using VR headsets.
What's a metaverse? Stay tuned…. But if you want to get an inkling, watch your teenager (or adult child) playing games and all it entails. It encapsulates what a metaverse potentially looks like, although the long term idea is definitely a bigger, broader vision.
I know a lot of people might find this all a bit frightening, which is often the case when looking at new technology before its fully defined or understood. However, this capability is already with us, we just can't seem to get a handle on what it looks like, or means, in regards to how we live our lives, long term. Something to watch closely, perhaps?
Regardless of anything else that Meta (previously Facebook) says, considering how divisive Facebook, Instagram, and WhatsApp have been, this all-in to the metaverse leaves me feeling apprehensive. Until Meta actually addresses the big issues that have created so much harm in the world, including sorting out the underlying technology algorithms, and more, well I'm not so keen on this company leading the way and sucking us all into its version of the "metaverse."
They have lost our trust, and a new name will not change that. I hope they have heard this feedback. Change doesn't require a fancy new name and logo, but a real commitment to rebuilding trust, and transparency like we've never seen before. All businesses need to be focused here.
Friend's content and mine
Solving Phuket's plastic problem: 7 reasons to stop drinking bottled water one of Phuket's frontline champions for the environment – Palmer Owyoung. This is a message that can reach well beyond Phuket.
How Social Media Platforms Are Supporting the Climate Change Conversation, and How Businesses Can Get Involved a new friend, Luan Wise, has just published this whitepaper. Dig in.
5 Things That Will Sabotage Your Success – I've always enjoyed Andrew Bryant's five tips. Have a listen. So much goodness in here about how we get "framed" before we're even born, and what we can do about it.
And my latest podcast Youthful arrogance or leadership failure? with Joe Augustin. Such an interesting discussion that is great for ambitious youngers, or leaders who may be missing vital talent.
And very happy to receive a five-star review for Uncommon Courage – Delighted with a five-star review for Uncommon Courage.
Donation time
If everyone gave #just10percent of their time, talent, money or voice, we'll change the world. Can you donate? Make it a regular donation to the World Food Programme. Help us feed people in Phuket or donate to the UN Refugee Program, PowerOf , Kiva.org , Soi Dog Foundation. It's a time for giving and taking care of each other.
Content to read
And here's the content I've been reading this last week. Scan the headlines, read the ones that jump out at you, read or watch them all. Knowledge is power, and global knowledge is even more powerful.
Climate crisis
Climate scientists fear tipping points (maybe you should too)
The Beginning of the End of the Great Pacific Garbage Patch – tks Dominic Powers
The COP26 Climate Summit preview with Diana Olick
What Big Oil knew about climate change, in its own words
G-20 Climate Talks Threatened by Clash Over Coal Ahead of COP26
COP26: Arnold Schwarzenegger angered by world leaders' climate policies
Greta Thunberg: Activist calls on banks to stop funding climate 'destruction'
Pope urges 'radical' climate response in exclusive BBC message
Why the COP26 climate summit will be both crucial and disappointing
Sign The Massive Call For Climate Action!
Australian wines changing as industry adapts to warming climate
100 Awesome Minutes to Help Fix the Planet – tks Tim Wade
Australia's net-zero plan fails to tackle our biggest contribution to climate change: fossil fuel exports
Climate change: Major US oil companies to be quizzed in Congress tks Steve Johnson
Thousands of sea creatures wash up dead on UK beaches in 'worst case ever seen'
Climate change: Human activity makes forests emit carbon
Ending world hunger by 2030 would cost $330bn, study finds
We need to stop buying stuff – and I know just the people to persuade us
Life at 50C: Surviving in Kuwait's 'unbearable' heat
Scoop: Biden plan expected to include at least $500B for climate
What To Do About Climate Change? Everything You Can.
Can Lego help save Singapore's coral reefs?
Climate change: UN emissions gap report a 'thundering wake-up call'
Climate change: Australia pledges net zero emissions by 2050
These households are ditching gas, slashing bills and going 'net zero'. Here's how
Wildfire Is Transforming Alaska and Amplifying Climate Change
Climate change: Greenhouse gas build-up reached new high in 2020
Exxon calls for carbon price, working on CCS projects across Asia
We can't go back to our old ways, Phuket marine industry cautioned
Climate change: Sir David Attenborough in 'act now' warning
Officials temper expectations ahead of COP26
COVID19
Figures show how S'pore fell victim to its own success – yet, its worst killer is not COVID-19
10 states sue Biden administration over COVID vaccine rule
Covid: FDA officials back Pfizer jab for children over five in US
An FDA Panel Approved Pfizer's COVID-19 Vaccine for Children 5-11—Here's Why This Is So Important
Merck Will Share Formula for Its Covid Pill With Poor Countries
How Puerto Rico became the most vaccinated place in America
Delta 'Plus' Covid variant may be more transmissible
Global Politics
'We are so divided now': how China controls thought and speech beyond its borders
Japan election: How the elderly keep the ruling party in power
A Farewell to Readers, With Hope
Dwayne Johnson Shares 'Honest Feelings' on Running for President
An Open Letter in Defense of Democracy
How Democrats Would Tax Billionaires to Pay for Their Agenda
Sudan coup: Why the army is gambling with the future
Brazil senators back criminal charges against Bolsonaro over Covid handling
Huma Abedin: Clinton aide details unwanted kiss by US senator
Donald Trump Jr.'s 'Sick' Stunt Earns Him Scathing New Nickname From New York Daily News
Sudan coup: Military dissolves civilian government and arrests leaders
Turkey moves to throw out US envoy and nine others
Michigan Republicans Are Quietly Replacing Officials Who Certify Vote Totals
The Moral Chasm That Has Opened Up Between Left and Right Is Widening
Business and Technology
A Shot at Social-Media Fame Lures 50 Million Contenders—and Lorenzo Mitchell
Five windows of opportunity for postpandemic Asia
The Fight Between Texas and Wall Street Is About to Get Bigger
Facebook changes its name to Meta in major rebrand
Facebook invests billions in metaverse efforts as ad business slows
Let's replace the term 'work-life balance'
Social issues and humanity
Dove | Reverse Selfie | Have #TheSelfieTalk tks Mireille Barber
Horrifying and hilarious lies that have been used to boss women tks Phillipa Edwards
Huge solar flare could supercharge northern lights on Halloween
Solar storm: NASA warns 'significant' flare set to batter Earth: 'Direct hit on Halloween'
Active October Sun Emits X-class Flare
Massive X-class Solar Flare Erupted from Earth-Facing Sunspot
Is internet addiction a growing problem? tks Steve Johnson
How Donald Trump, Elon Musk, and Gwyneth Paltrow Short- Circuit Your Ability to Think Rationally
Why We Hurt Each Other: Tolstoy's Letters to Gandhi on Love, Violence, and the Truth of the Human Spirit
Charlottesville: Why are the 'Unite the Right' organisers on trial?
Grace Tame and Brittany Higgins are leading the next wave of feminism. And it's time to act now. tks Phillipa Edwards
Becoming the Marginalian: After 15 Years, Brain Pickings Reborn
Passion, humour, history
Sitting Bull's great-grandson identified through DNA fragments
Origin Mystery of Perplexing Tarim Basin Mummies Solved with DNA Study
Lost 'ghost ships' rise from the Pacific Ocean after volcanic eruption
Nasa finds first possible planet outside our galaxy
Alec Baldwin was pointing gun at camera in Rust rehearsal, legal papers say
Japan's Princess Mako Loses Royal Status as She Marries a Commoner
Broadway's 'Phantom of the Opera' plots a cautious return to the stage
Honest Government Ad | COP26 Climate Summit tks to a LOT of people who shared this with me privately. This is not one to watch if you're offended by swearing… #justsayin
Let me know what jumped out at you? Or share with me what you're reading? I love that!
Cheers
Andrea
Uncommon Courage – my new book – is available
You can buy it on Amazon, Apple Books, Barnes & Noble, Book Depository, Booktopia, Smashwords, Kobo, Gardners, Odilo and Scribd.
Do check out my new Website uncommon-courage.com.
Come and join the conversation in my new Facebook Group Uncommon Courage.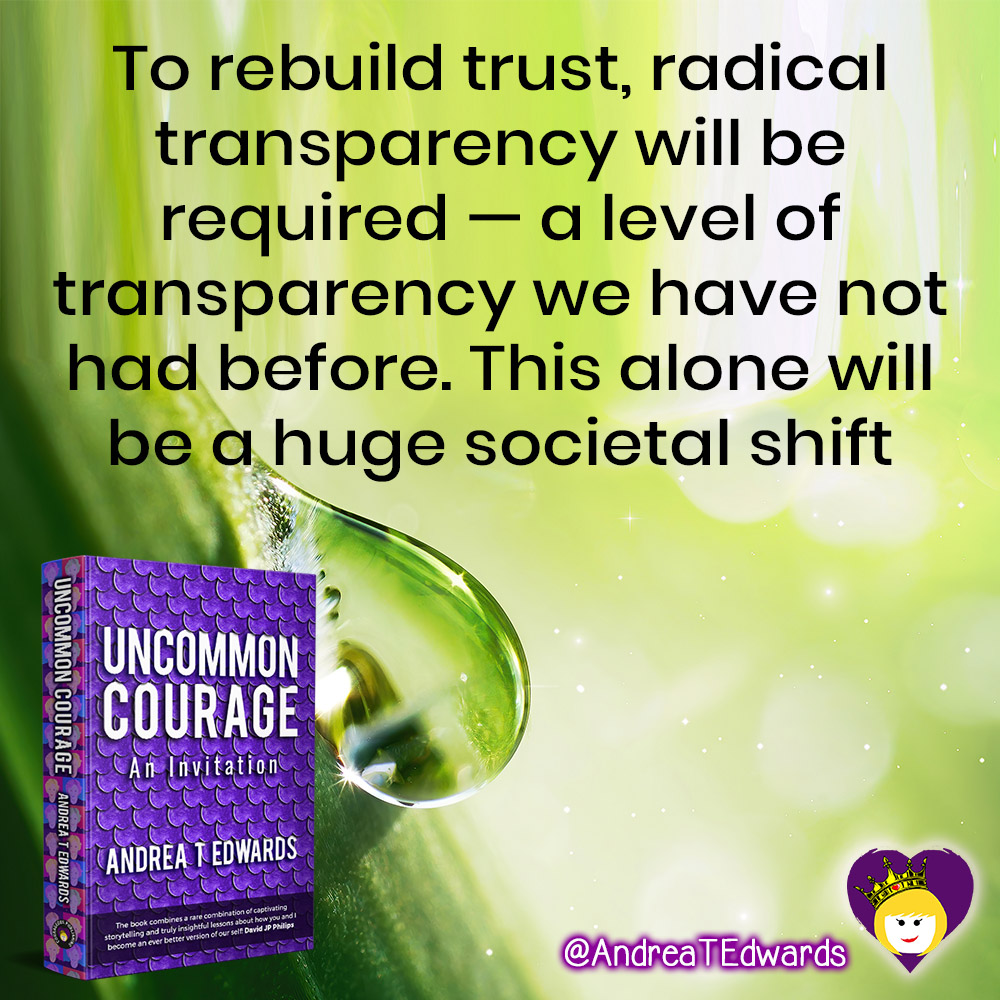 Connect with me
Website, LinkedIn, Twitter, Facebook, YouTube, Instagram, Medium, SlideShare, Amazon.
The Know Show
Check out The Know Show. It's a weekly wrap up of the news!
18 Steps to an All-Star LinkedIn Profile
Listed by Book Authority in the 100 Best LinkedIn Books of All Time and 22 Best New LinkedIn eBooks To Read In 2021 categories. Grab it today if you want to take your professional presence to the next level! When it comes to LinkedIn, it really is time to ask — can you really afford not to have this book in the hands of every employee?
Feedback
Have I done a great job for you? Can you write a reference on my LinkedIn profile or on my Google Business page? If not for me, why not write one for someone else who inspires you or has helped you? Join the #GivingEconomy
Check out Second Nature Social on my YouTube channel.
Want proof social leadership transforms business and attracts customers? Check out this case study with IBM Asia Pacific.